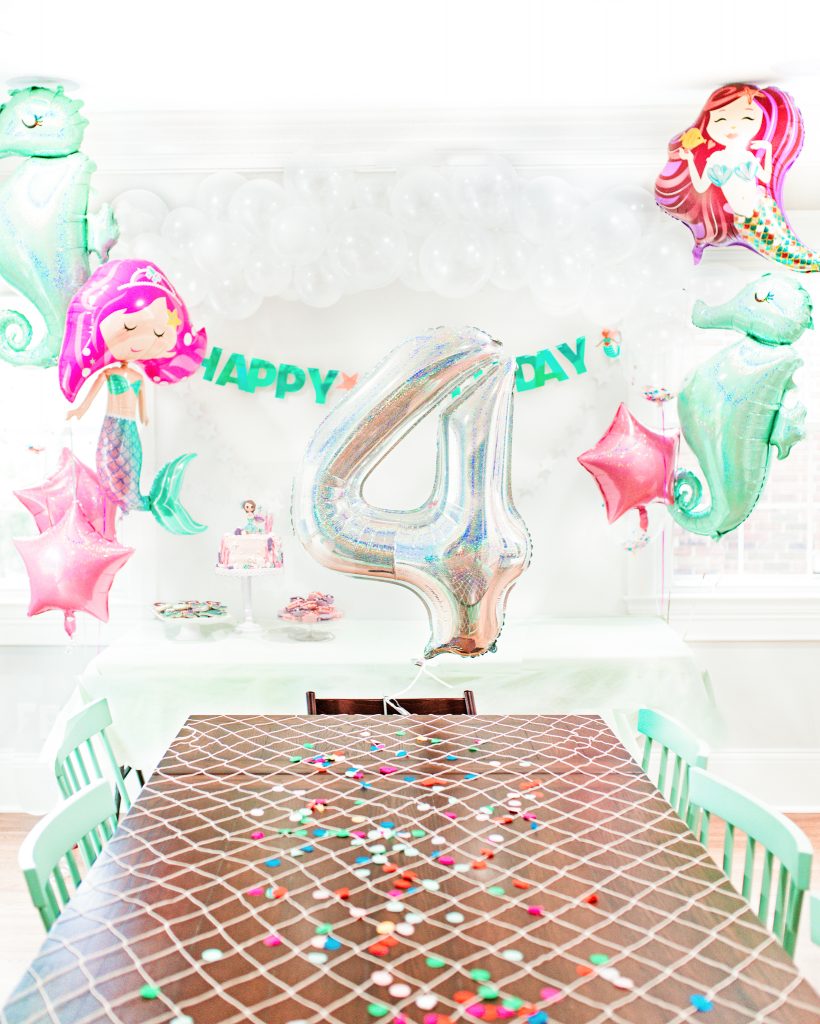 2018 was the year of all things mermaid in our house, so it only made sense for Harper to have a Mermaid themed 4th birthday party. I'll share some photos below of how I put together an adorably sweet under the sea Mermaid Birthday Party, including: whimsical decor, a treasure chest craft / party favor, and a DIY (with help from etsy 😉 ) cake.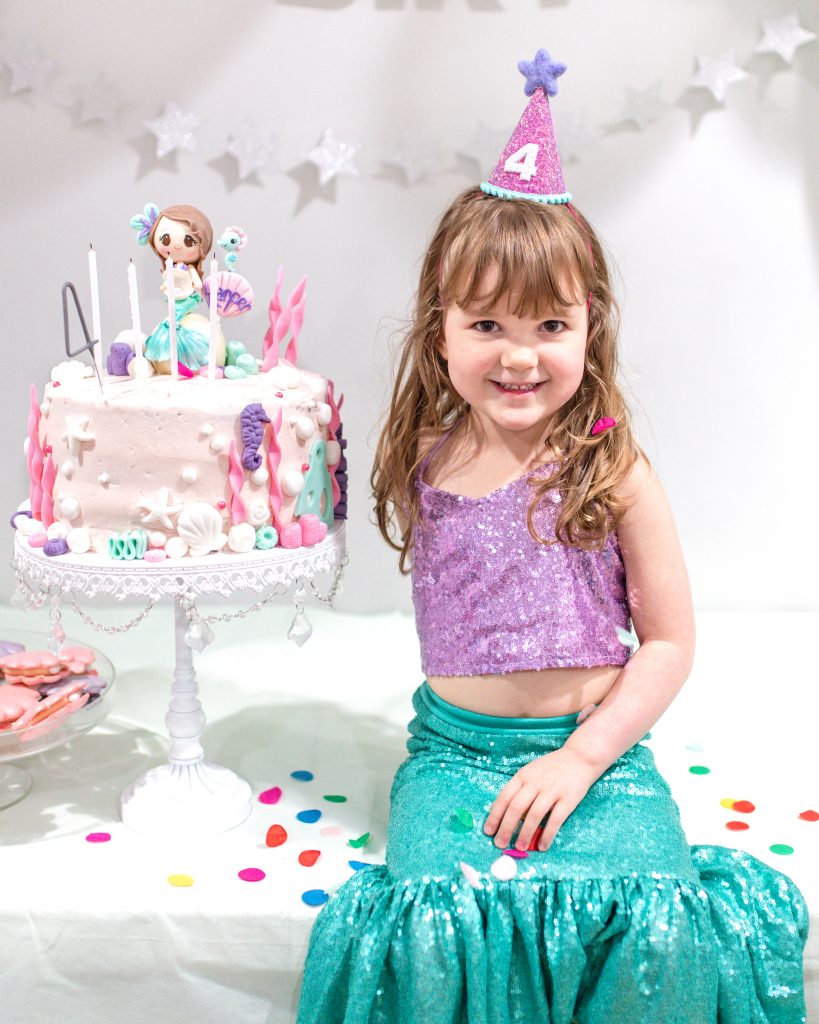 Styling a Mermaid Birthday Party
I focused on bringing bright pastels into the decor to compliment her party-ready, sparkly, mermaid outfit. Our friends at Little Blue Olive made her a custom party hat (which can now be found in their shop !) I added a variety of balloons and a bubble balloon arch to bring in more elements from under the sea. The fishing net table covering and scalloped edges on the dessert table tablecloth were small details that really finished off the whimsical look!
Making a DIY Mermaid Cake
Harper's cake was a result of lonnnng hours (or at least it felt that way) of browsing Pinterest with a 3 year old while she picked out every completely over the top cake design she saw – a girl after my own heart. As we were going out the door to the bakery to order her final selections, she told me she couldn't wait to bake it with them… Uh, as in, she thought she was going to get to join in on making her extravagant creation. After I explained how that was not in fact going to happen (yikes), we decided it would be more fun if we put together our own cake at home! So back to the drawing board – or should I say Etsy this time- and I was able to find this amazing cake topper that was customized to look just like Harper and a set of decorative fondant that we could place on the cake to replicate all of those extravagant and inspiring Pinterest creations (at a fraction of the cost). I think her homemade, personalized, DIY cake ended up absolutely adorable!
Treasure Chest Party Favors
Now that Harper and her friends are getting older, I wanted to make sure we had a fun activity and craft for them to do during the party. Combining it to also serve as the party favor is something that I will definitely plan on doing again in the future!
For this activity, we started off with unfinished treasure chests- that I scored at a bulk price (plus, there is usually a coupon you can use) ! I filled the table with craft supplies to decorate their boxes – like glitter glue, gems, and this mess-free tempera stick paint set. We aimed to do the activity at the beginning of the party so that everything had time to dry (if you're short on time, I would eliminate the glitter glue!) Before they left, her party guests were able to fill their treasure chests with a variety of little favors, like beaded jewelry.
This theme was one of my favorites, check out some of Harper's other birthday parties here:
"Favorite Things" First Birthday Party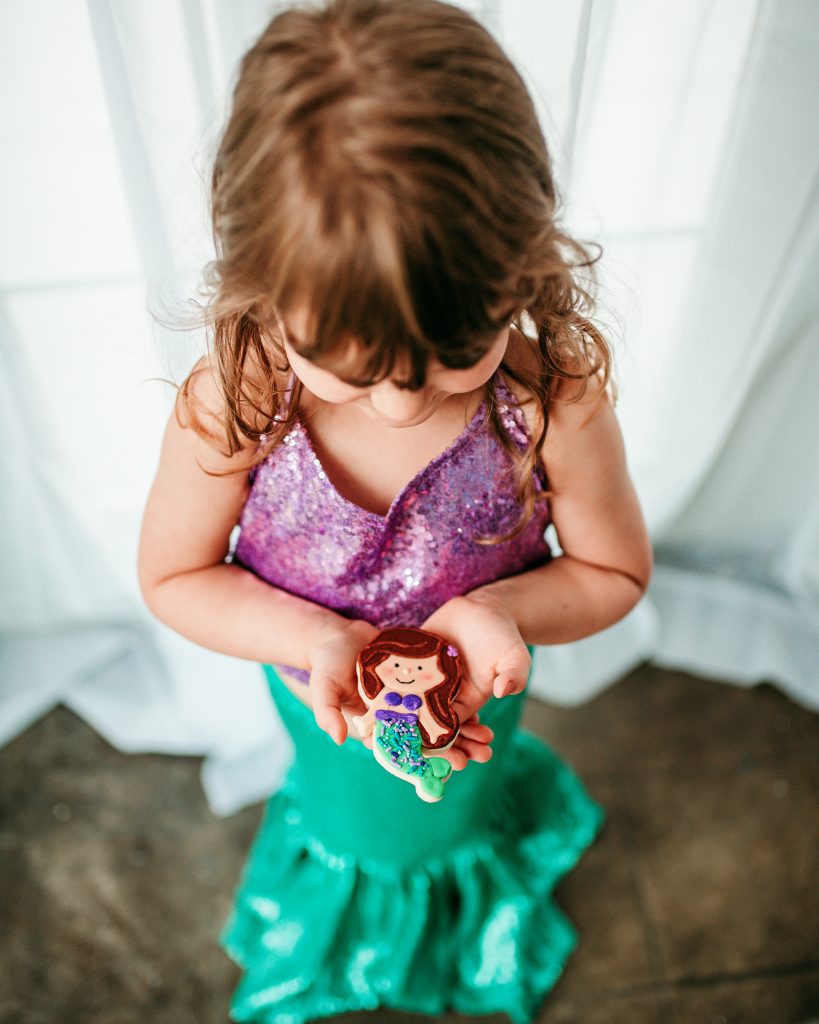 Shop my Mermaid Party Source List!