This little boy gift guide is inspired by my 4-year-old little guy that loves all things building, art, puzzles, and cars. A few of these items are favorites that we already own and a few are things I just know he'll love to open on Christmas!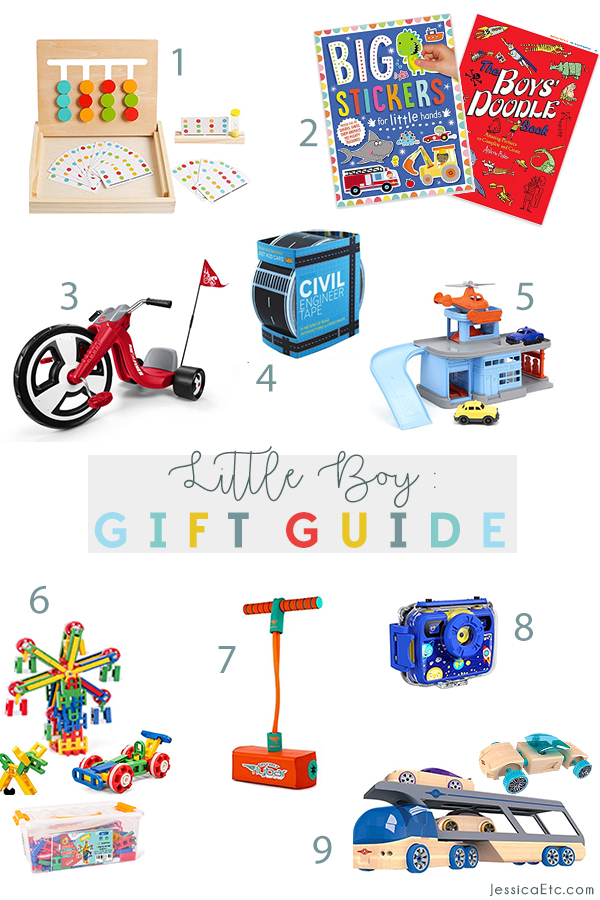 1. Logic Puzzle – This sliding logic puzzle seems like such a fun way to stretch his little brain. I love that it will promote independent play and comes with so many different puzzles and a timer to make it even more challenging!
2. Activity books– I always like to replenish our activity books that we use for quiet time throughout the day. The Boy's Doodle book is full of prompts to get him creating and the Big Stickers Book for little hands is perfect to work on some cognitive skills and hand-eye-coordination.
3. Big Wheel – What a blast from the past! Did you have a big wheel when you were younger?? This bike is such a fun ride-on that fits somewhere between trike and bike. I know he'll have a blast zooming around the neighborhood and backyard on this!
4. Engineering Tape – One of my kids favorite activities is when we use painter tape to create a road. They're going to flip when they see this tape that's an actual roadway for them to use and build their cities with!
5. Garage – I am really aiming to get pieces that fit into the pretend play the kids love the most; right now that's building cities ! This garage will be a perfect addition for all of their cars ! Green Toys is one of my favorite brands and I always love the quality and simplicity of their toys.
6. Engineering Blocks – We own this set of building blocks and I love that it comes with a set of instructions to build different things. They're a little tricky- in a good way ! And it takes a little more effort and visualization to build with them than, say, legos. Ethan has had them for about a year and from 3-4 years old he has gone from needing help to follow the instructions to being able to build independently to now coming up with his own creations.
7. Beginner Pogo Stick – Kids can practice coordination and balance while also burning energy. The flexi-handle bar makes it easy to store and the soft base makes it perfect for indoor use! Tip: the base squeaks every time you jump – we stuck a sharp edge in the hole in the side to pop it before giving it to him because nooo thank you.
8. Camera – These cameras are one of the most used toys in our house! The kids each got one when baby Josie was born and still use them almost daily. They always run to go get them as we're headed out the door on an adventure so that they can look back on their memories! Perfect for nature walks, trips, or just documenting every day life. They even come with a waterproof housing so they can go in the pool or sprinkler! I love this set because it comes with a memory card, easy to hold case, tripod, and it is rechargeable via a cord so you don't have to swap batteries.
9. Automoblox – These cars are SUPER cool for kids that love to build. We have a few of the mini cars and Ethan is constantly taking them apart to reassemble them. The pieces are interchangeable so the more you have, the more variations you can build. We put this hauler truck that transforms into a dump truck on his list because it will be perfect to store his little collection of minis! The quality is excellent and they come in a lot of different styles and appealing colors! Warning: there are small parts !
I hope you found something fun and unique in my little boy gift guide for your little guy (or girl!!) ! If you're still looking for ideas,
Check out these other Christmas Lists:
Baby's First Christmas Gift Guide