I'm so excited to start Christmas shopping this year and I decided to create some gift guides to share with you all as I start to plan! They will be filled with a combination of favorites we already have that I recommend checking out for your lists as well as new things I'm excited about this year! First up is the little girl gift guide I created for Harper! I think it's a great fit for around 5-8ish years old (definitely some wiggle room in there for certain items) !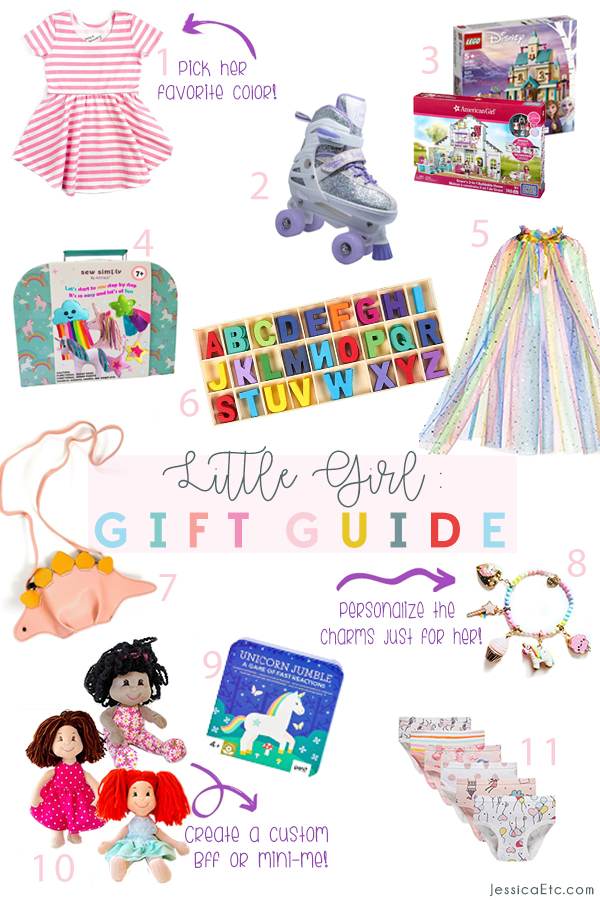 I am adding my affiliate links for easy shopping below ( meaning I receive a small commission if you purchase through my link at no cost to you!) Happy Shopping!
1. Colorful Dress – These dresses are Harper's absolute favorite and come in a whole rainbow of colors and patterns. I plan on sizing up in a few of her favorite colors! (Items 7 and 9 are also from this shop if you want to combine shipping!)
2. Roller Skates – Harper got these skates for her 6th birthday and, while they are a bit of a challenge, she has been having so much fun learning a new skill! They come in purple or pink glitter (it does not flake off). Remember to add pads and a helmet !
3. Lego Building Kits– This STEM activity is perfect for Lego lovers and more intensive than free-building. It includes a step-by-step book of easy-to-follow directions with photos so that kids can independently build. It's an activity we bring out on bad weather days and the kids work on it all day long! The dollhouse and Frozen castle also come with little figures that make it fun to keep out for a few days of pretend play before taking it apart and starting over again!


4. Rainbow & Unicorn Felt Sewing Kit – This beginner sewing kit includes all the materials needed to make 6+ sewn felt projects! Instructions show how to cut patterns and how to do simple stitches to DIY their own little plush crafts including unicorns, rainbows and stars! Plus- the case it comes in is SUPER cute and we'll be able to use it even when the sewing project is finished.
5. Rainbow Dress-up Cape – (available in several colors!) Harper already has a purple one of these and wanted to put the rainbow one on her Christmas list for more dress up fun! This sparkly cape is great quality and beyond perfect for open ended pretend play for everything from princesses to fairies to unicorns!
6. Wooden Alphabet set – I'm so excited to incorporate this alphabet set into our learning-at-home activities. It's under $10 and comes with 5 of each letter. Perfect for sight words, alphabet recognition, and word building! (Natural wood set here)


7. Dinosaur Purse – This purse is SO fun for a little dino lover to carry all her treasures ! I know Harper will love filling this with her jewelry, art supplies, and rock collection !
8. Charm Bracelet – Harper got this charm bracelet for her birthday and I could not love it more! This company has the CUTEST charm collection to create the most perfectly personalized gift. We chose to build a bracelet full of Harper's favorite things and I'm also looking forward to adding more charms for holidays and milestones! I think it would be such a fun and meaningful group gift to have family members each pick out a different charm!
9. Unicorn Jumble – We have been playing a lot of board and card games at home and I think Harper is going to love adding this matching game to our collection (plus- if you haven't noticed unicorns are always a win around here!) !


10. Custom Doll – This was another one of Harper's birthday presents that I am so obsessed with- a one-of-a-kind handmade "Harper" doll 😍; I communicated with them to make every little detail ALL Harper; from skin tone to hair color, length, and texture, to ideas about the outfit she's wearing (totally eclectic and 100% something Harper would pick out for herself 🌈). I can't even explain how beautiful the quality is. It's exceptionally made and I would definitely consider it heirloom quality yet still soft enough to be played with all day long! 💜They generously offered me a code to share with you: JessicaGrant14 for 20% off !! Get your Christmas orders in sooner than later!
11. The best underwear EVER – What's Christmas without underwear and a toothbrush in the stockings 😅 Really though, this set of tagless underwear is the absolute best quality (I'm talking equivalent to Hanna Andersson at a fraction of the price) and I always throw a new set in as a stocking stuffer 😉 Available in TONS of fun prints.
More Gift Ideas (Click photo to visit post):
Baby's First Christmas Gift Guide !
Stay-At-Home Faves & Activities