It is that magical time of the year once again, sometime around the day after Thanksgiving or first day of December: the Elf on the Shelf arrival from the North Pole! When my kids were younger, our elf always came on December 1, but now that they are in school our elf drops in over the weekend so that we can have a welcome breakfast! It gives us more time time to enjoy the excitement without rushing out the door. Enjoy these ideas to plan your own Elf on the Shelf arrival!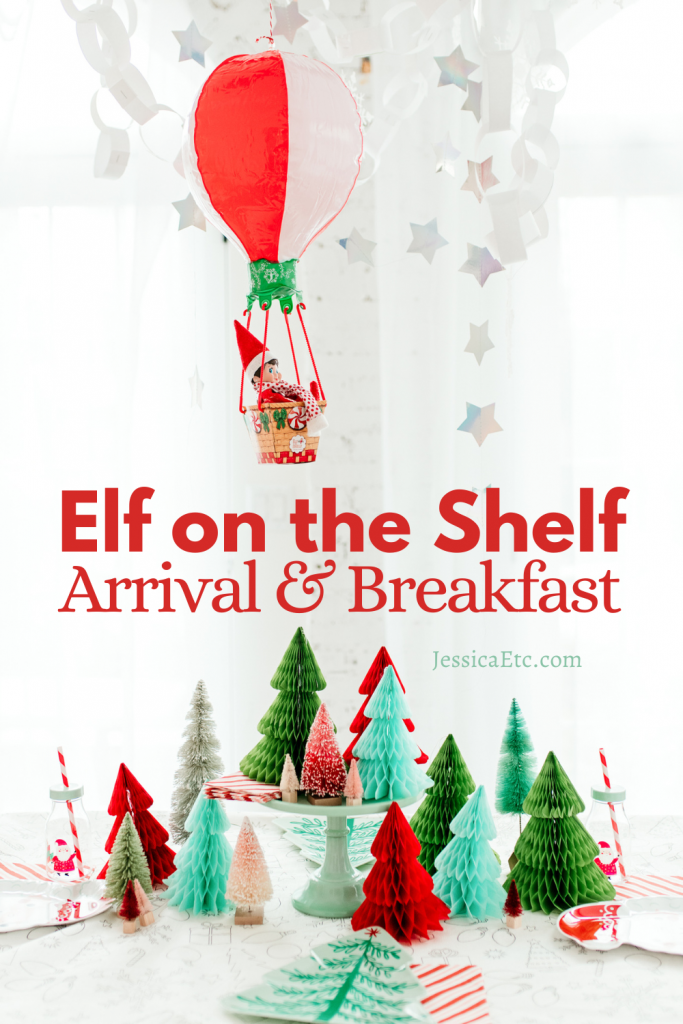 Over the years, we have come up with a little backstory in our house that our elf, Elfie, catches a ride on a snowflake from the North Pole. Cue the extra Christmas magic when it actually snows on the day of her arrival! Of course, the weather doesn't always cooperate with that narrative so sometimes mommy has to make her own magic 😉.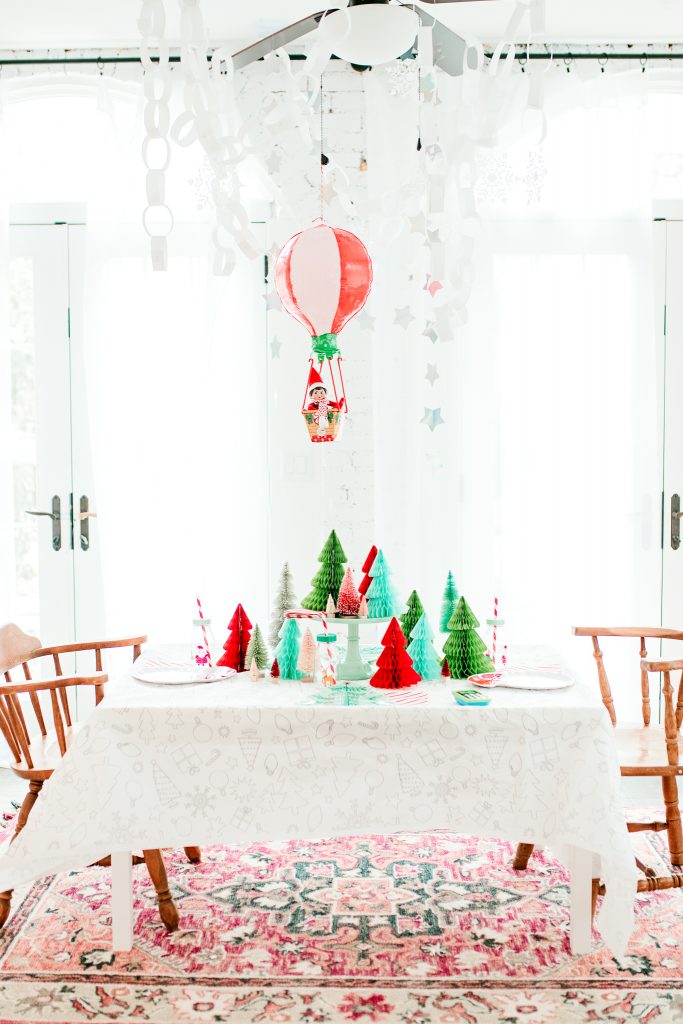 The DIY snow is one of my favorite details of our Elf on the Shelf arrival. The kids love helping cut and staple simple white paper chains that we drape around the room to welcome Elfie. I hung up star garland and snowflake ornaments to add some extra sparkle. These paper fan snowflakes are also a beautiful touch that I've previously used.


There was no snow in our forecast, so Elfie recently surprised the kids by arriving to our welcome breakfast in the CUTEST peppermint hot air balloon.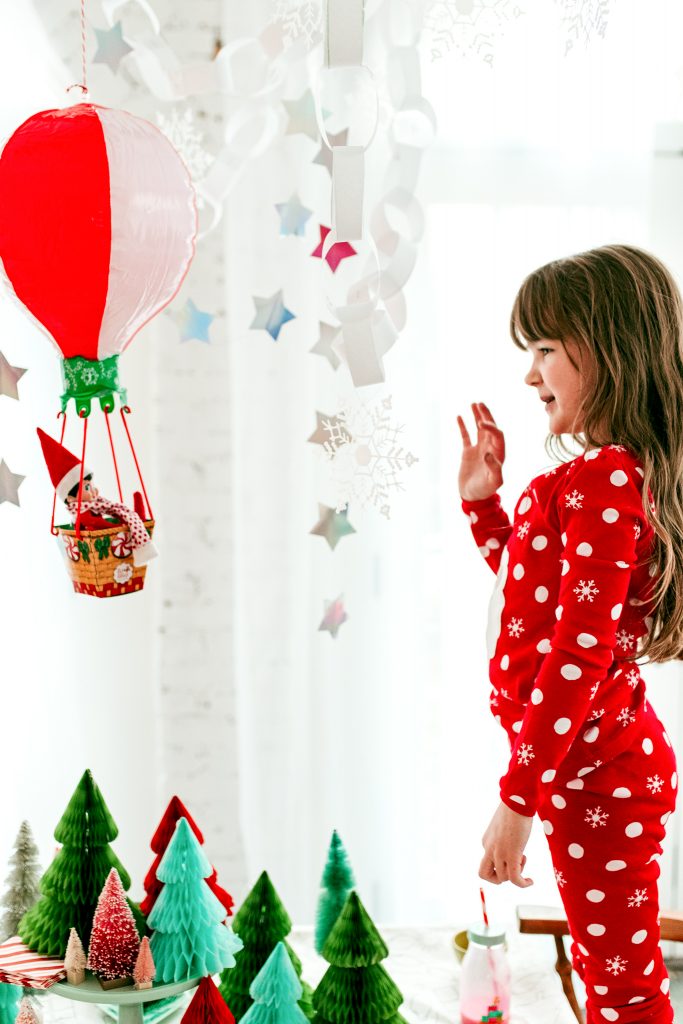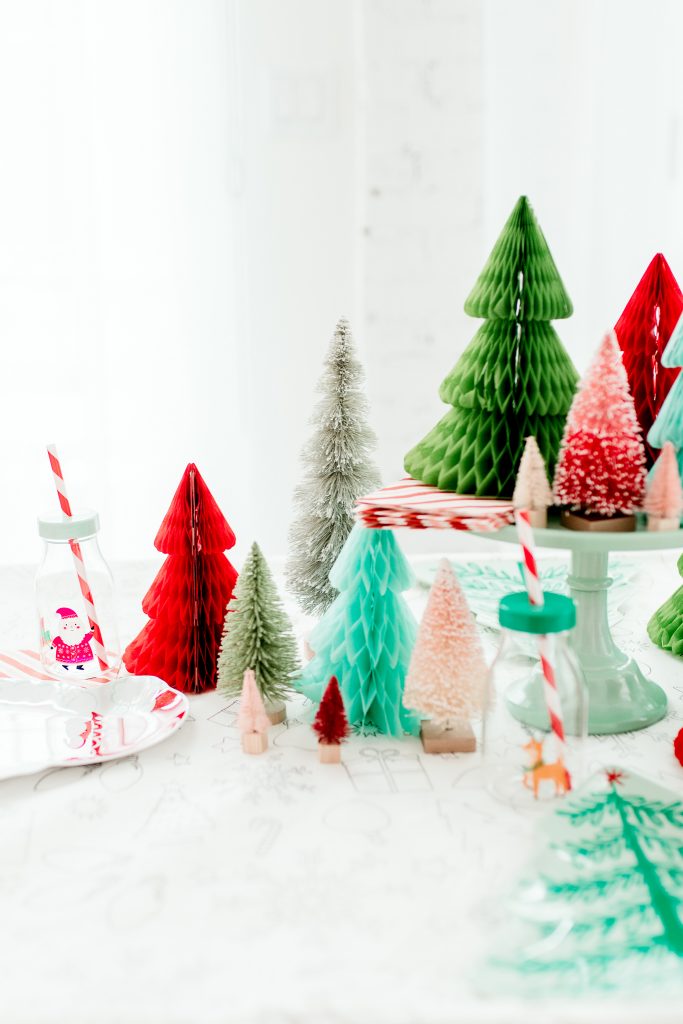 The table was covered with a Color your Own tablecloth, the kids love coloring it throughout the month. I put together some bottle brush and honeycomb Christmas trees on the table and love how it looked like the hot air balloon was floating over a magical Christmas forest. The whimsical Christmas dining collection of kid friendly melamine plates and plastic drinkware is always my favorite! If you prefer paper / throw away options, My Mind's Eye always has the best holiday collections!


Elf on the Shelf Arrival Breakfast Idea
I made Christmas tree waffles that the kids can arrange and decorate with fruit along with yummy strawberry milk! I used a Belgian waffle maker to make our tree triangles, but you can also use this Christmas tree or snowflake mini waffle maker. Top with whipped cream, sprinkles, fruit, or even sparkle syrup! If early morning waffles aren't your thing, just grab a box of Elf on the Shelf cereal!


I hope this Elf on the Shelf arrival idea inspires you to plan your own! It is always such a special and memorable way to start the most magical season with my little ones!
Be sure to follow along on Instagram to see this year's Elf on the Shelf arrival on December 1!