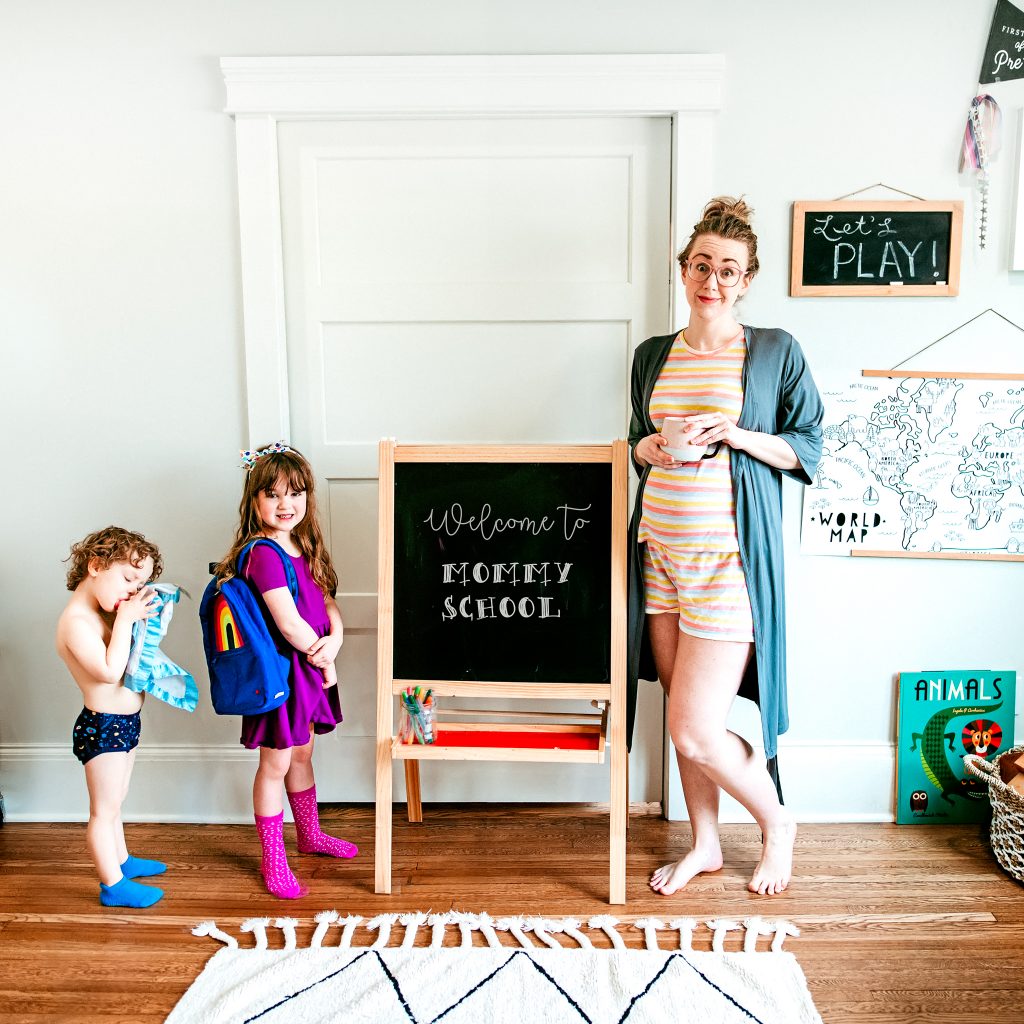 Holy moly, this just got really real, really fast. The governor just shared the unprecedented order that each and every school in our entire STATE would be closed for 3+ weeks due to COVID-19 mitigation. If you're in the position of staying at home with your young kids while they're on this Coronavirus "extended spring break" – as our district called it- you may be feeling a little overwhelmed to say the least! With buzzwords like "social distancing" and "self-quarantine", TBH, this sounds like it has the makings of just about the worst spring break ever: no play-dates, no adventurous vacations or staycations, zero. plans. at. all. Just you, your littles, and if you're lucky, a few rolls of toilet paper 😅.
First of all, listen, no one is judging all-day TV and iPad time right now. But if you are looking to add a little more to your day, I wanted to share how we'll be navigating a mini preschool program from home, as well as a curated selection of our favorite activities and toys ! I was a preschool teacher for years before becoming a stay-at-home mom. I naturally already include lots of learning-through-play ideology into our day, so this is fortunately a relatively easy transition for our family. Now that school is closed for the foreseeable future, I am stepping it up a notch and really incorporating a stay-at-home preschool into our day.
Routines and Schedules
For me, establishing and/or keeping a routine is key. That's just the type of person I am. Even if it's just scheduling very loose time blocks; it helps keep things a little more sane around here, especially at a time that kids may feel uncertain about changes happening around them. It keeps things moving so that we aren't getting bored, but at the same time makes our days more predictable; I don't know about you, but I cannot handle the chaos of a free-for-all all day, every day.
We already live by our daily routine, so it won't be a huge stretch to implement more of a schedule over the next few weeks. Look to your child's current school schedule for guidance on this one. Figure out how to flexibly keep the principles of different parts of their day in a home environment. Harper comes home every day talking about Circle Time; she absolutely loves it. So guess what I'm making sure we add to our morning? A time to sit together, read a book or two, talk about the weather, and sing some songs. BAM- Circle Time. Maybe this is stuff we would do anyways but having a point on a schedule to reference just makes it feel like it belongs as part of our day.
So, we sat down together to create our new schedule. For my 3 and 5-year-olds, I find that 30 minute time blocks of organized activity are about all they can handle. (And make that closer to 15 on some days.) The beauty of a flexible schedule (AKA not having a single commitment over the next 3 weeks due to social distancing) makes it easy to modify these times by extending them if they're enjoying an activity or cutting it short if they're ready to move on. It's a nice day? Add in another hour of outdoor time. It's raining 24/7? Add an extra free-play or free-art session.
Here's what we came up with :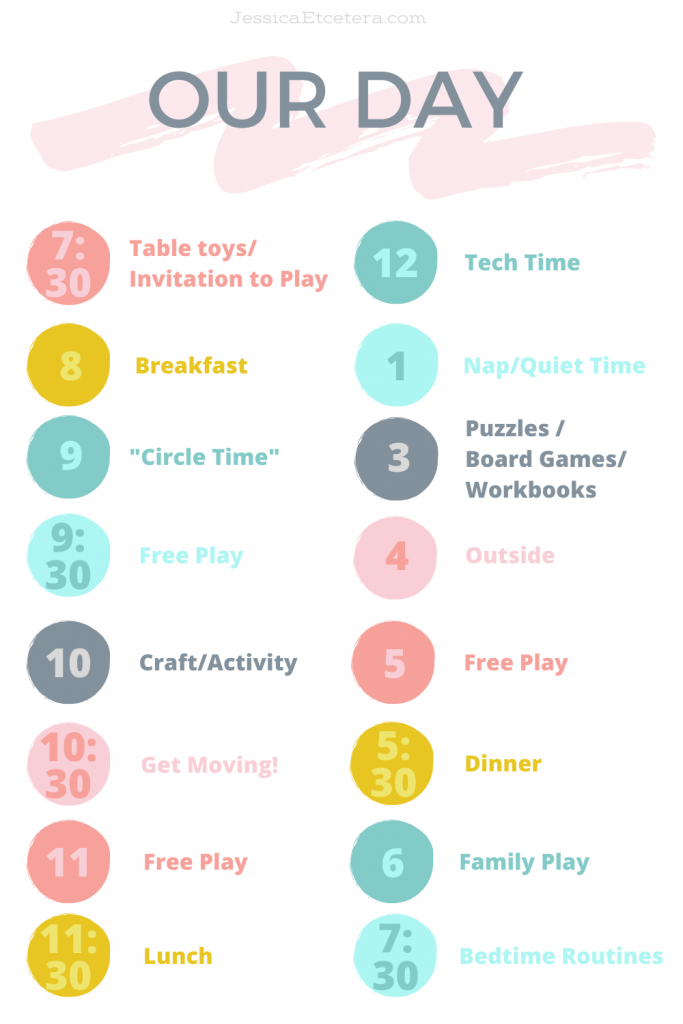 Keep in mind this was created for MY 3 and 5-year-old; this is what works for us. It's a starting point that you can use as a guide to inspire your own daily routine. Modifications might and probably will be necessary to fit your own family dynamic! Maybe you want to simplify it into just 4 generalized blocks. Maybe you just want to grab an idea from one of these blocks because you feel like you're in a rut with your day. Maybe you need more time blocks for movement. Maybe you would prefer more/less tech time. Maybe you need to add in time for e-schooling or take-home packets. Harper's pre-k is not requiring any schoolwork right now so we are just going to continue our learning through play model that I typically factor into our planned activities – and that's okay, too!
I also made sure to mold this into a schedule that also worked for ME. Free Play strategically comes before an activity that needs to be set up or a meal that needs to be prepared. I gave myself a large block of time starting after lunch so that I can also have some time to work, get things done around the house, or just catch up on some silence and recharge.
Breaking It Down
*Photos link directly to affiliate products to which I may earn a small commission at no cost to you!
Table Toys And Invitations to Play : These will be mostly independent activities that I like to set up the night before or earlier in the morning so that they're ready to go when the kids start waking up. The idea is to get them started on a task while I make breakfast and have a cup of coffee before the chaos day begins- but you can do it any time of the day! I generally don't provide much direction or guidance and let them either figure it out or make up their own way to do things. Below you'll find some of my favorite manipulatives to use for table play. I'll be sharing my nightly prep and invitations to play in my Instagram Stories. I also suggest searching Pinterest or Instagram for "Invitation to play", #invitationtoplay, it's a wealth of fun ideas!


Circle Time : We're using this as a time to come together each morning and get ready for the day ! You can start with a song (or if you are a little rusty on your preschool music, "Hey Google, play preschool songs" works well, too!), some stretches, read a book, talk about the weather, and maybe go over some ideas about what you're going to do that day! These wall charts are beyond extra , but like I said, Circle Time was Harper's #1 thing to put on our list and she is INTO it. Plus, they're super cute!


Free Play: Anything goes! Harper really wanted to keep her "Centers" time at school, which I think I can rework into just picking a basket from our playroom shelves. Perfect time for legos, magnatiles, cars, free art, etc. It also mainly serves as MY time to either get something set up, cleaned up, or to sit down for a quiet 5 minutes (hello, 31 weeks prego)


Craft / Activity : I think this is the part that intimidates parents the most, right ? Let me point out that it is actually such a small part of our day! I think the biggest takeaway is that I'm planning for this block to specifically be intentional time – planning something to engage creative minds and/or cognitive thinking. It doesn't have to be earth-shattering, your kids will love it anyways! I will be sharing activities as we do them in my Instagram stories, so make sure to come follow along! If you have trouble coming up with creative ideas, Pinterest is a GOLD MINE for easy to recreate crafts and activities! You can check out my boards to find a million and one ideas for both preschool and toddler age groups.


If the idea of planning art and activities is still making you cringe, here are a few EASY ideas:
Invitation to Create : Throw down a mix of art supplies (coloring tools, scissors, paper, glue, etc.) on the table and your kids will take it from there!
Sensory bins : You can put ANYTHING into a plastic bin and your kids will practically dive in. Some of our favorite fillers are beans, waterbeads, or kinetic sand. Add in a few kitchen utensils, containers, or figurines that they can bury/find and you're all set! My favorite table is this one from Ikea.
Journaling : Let your little ones draw using their imagination or by following a prompt you give. When they're done, ask them about it and write down their words to go along with their picture (or have them write their own if they're able!). My kids have enjoyed stapling it all together in the end to create their own books 🙂
Bath time : Baths aren't just for getting clean- Playtime baths are a perfect way to mix up the day and provide a little change from the norm! Pour in some bubbles, take some extra toys (legos are a big hit!), "paint" the walls with shaving cream, there are endless possibilities ! I don't know about your kids, but around here everything is more fun when water is involved!
Get Moving! : This is the time to get up, burn some energy, and get those little bodies moving with high movement. I try to add in activities like a dance party, building a fort, an obstacle course or games like "The Floor is Lava", "Mother May I", and "Simon Says"! If you'd prefer someone else supply the energy and lead your kids, we love Cosmic Kids! yoga on Amazon Prime and GoNoodle (Youtube) for active dance-alongs. If the weather is nice where you live, getting outside for some fresh air is always a good choice!


Tech Time : Technology is a beautiful thing! I know parents go back and forth on this, but I love adding iPad time to our day for additional learning and play. Especially now, give yourself some grace and unlock the iPad. Some of my favorite apps are :
Puzzles / Games : This time block is fluid and playful, but serves so many purposes get those little brains working! Did you realize that puzzles and board/card games feature elements of cognitive, social and cooperative play, fine motor skills, coordination, problem solving, and sense of accomplishment ? Linking some of our faves here:


Workbooks : Most of our day will be spent not doing worksheets or traditional schoolwork- and that's very intentional on my part. However, I do recognize the need for it ! Especially for kids that have been pulled from- and will be returning to- a traditional school setting. Some schools are sending home packets of work which can fit nicely into this time block. Our school didn't send anything home for Harper's age group, so I will be googling free printables and using some of the following books to incorporate some fun preschool and toddler workbook activities. Bonus: adorable stickers, unicorns, trucks and dinosaurs- amiright?? :


Outside : Obviously, pretty self explanatory- get outside! The weather is warm enough in most parts of the country that little ones can be outside almost every day. I'm going to challenge myself to get outside even when the weather isn't ideal. Take a walk, do a neighborhood scavenger hunt, ride bikes, chalk, plant a vegetable or fairy garden, blow bubbles, jump in puddles, hike and explore! Once it warms up a little bit, I think we may even build a mud kitchen, so stay tuned!
Family Play : This is basically a free-for-all involving any and all of the above (plus bringing in the reinforcement of my husband who is done working for the day)! We also add in a movie night every once in a while!
Whew- okay I think I'm done !
Remember that these are just ideas. Even if you don't apply any sort of full time school-ish schedule to your day, I hope you're able to incorporate some of these ideas anyways to make your days with your kids at home easier, more flexible, and fun! Honestly, I always see so many parents (myself included) wishing they had more time back with their young kids, wishing time could slow down, and I just want to say- this is our chance. Take the uncertainty and stress of this strange, unprecedented time, and spend it with your little ones: Join in a dance party. Get messy. Make memories!
Click here for my fully curated collection of Amazon Finds !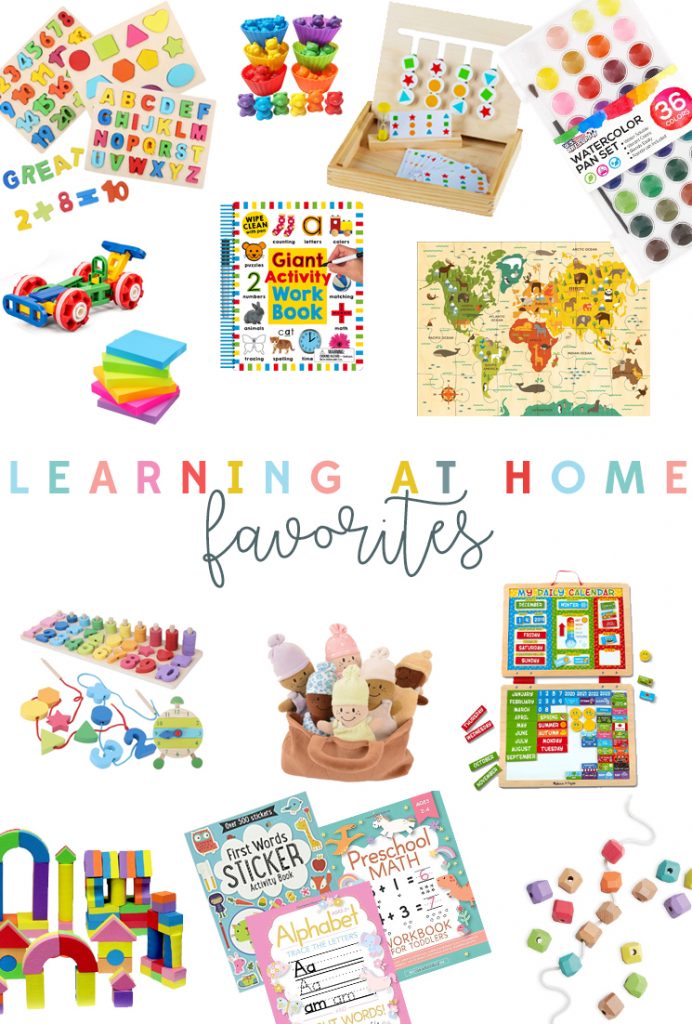 *Just a note- Please know that you do not NEED to buy anything to have a successful day! I wanted to share some top picks to give examples and because I have had a few requests for different things. However, I will be sharing plenty of ideas that you can do with supplies you already have around the house