I am sooo excited to finally be sharing this post- It's a long one, but I promise it's worth it! First take a tour inside my DIY dollhouse's bright and colorful makeover. Next, scroll down to check out my shoppable guides below for a collection of the very best houses, families, furniture, and accessories to create your own!
Updated Links: October 2022 !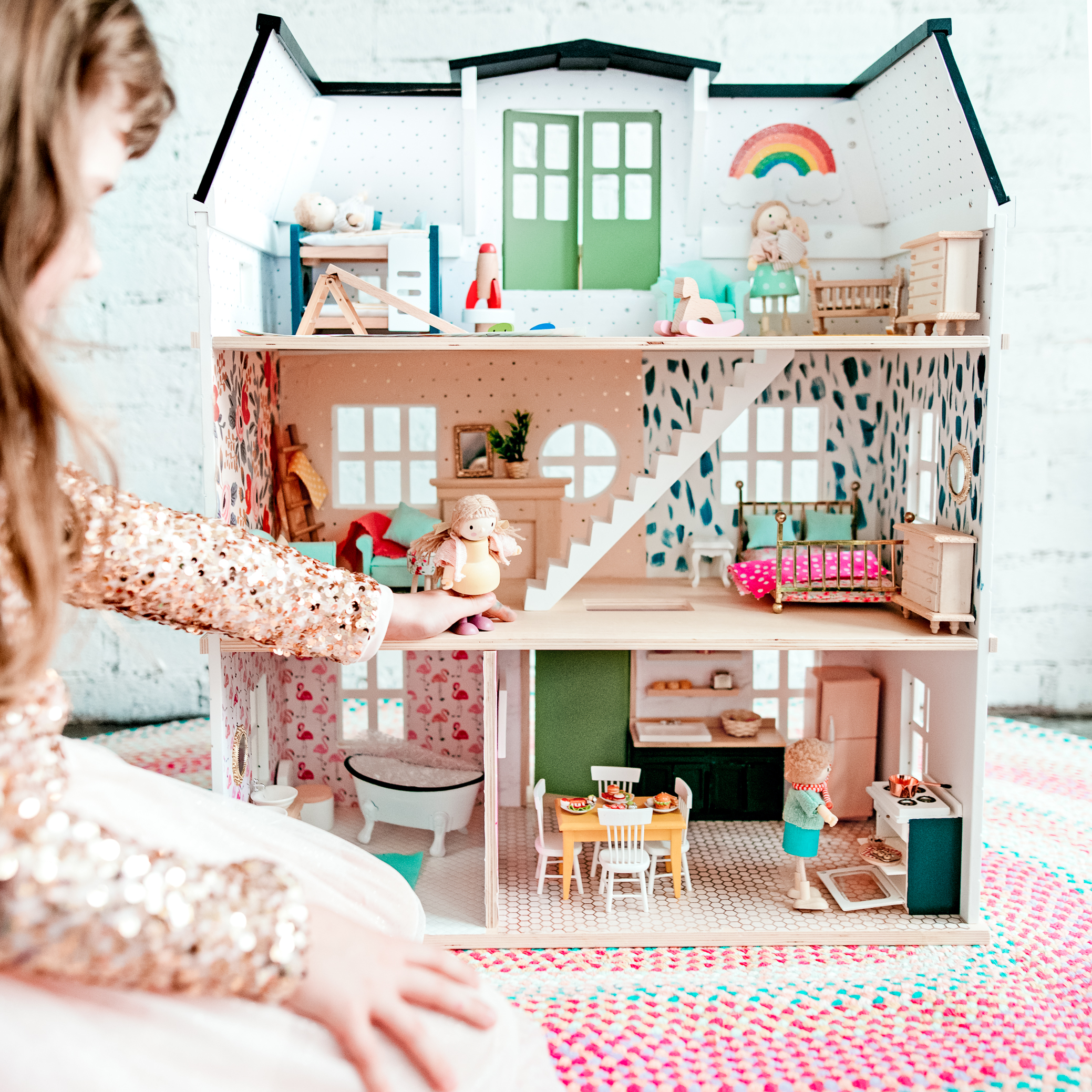 Renovating a dollhouse is definitely a labor of love, but I really enjoyed it as a late night project! Now I just wish I could move in 😉 It's kind of like making your dream house at 1/1000th of the cost- BUT I will say that's what gives this project the potential to be quite expensive. You start falling in love and buying all the cute itty bitty things and they surprisingly add up quickly! And if that's your thing, more power to you, I bet it will look amazing! At the same time, that route wasn't for me given that I didn't even know if Harper would be into playing with it and I had mega sticker shock when I started looking at all the exceptional dollhouse small shops and talented Etsy creators. I wanted to mix a little bit of that, a little Big Box store, and a little DIY to create a fun but budget friendly house for my daughter for Christmas. I will say that through the process of trying to DIY certain things, I wish I had just purchased an already complete set (especially the furniture!) and saved more of my time for DIYs like painting/papering the walls and floors.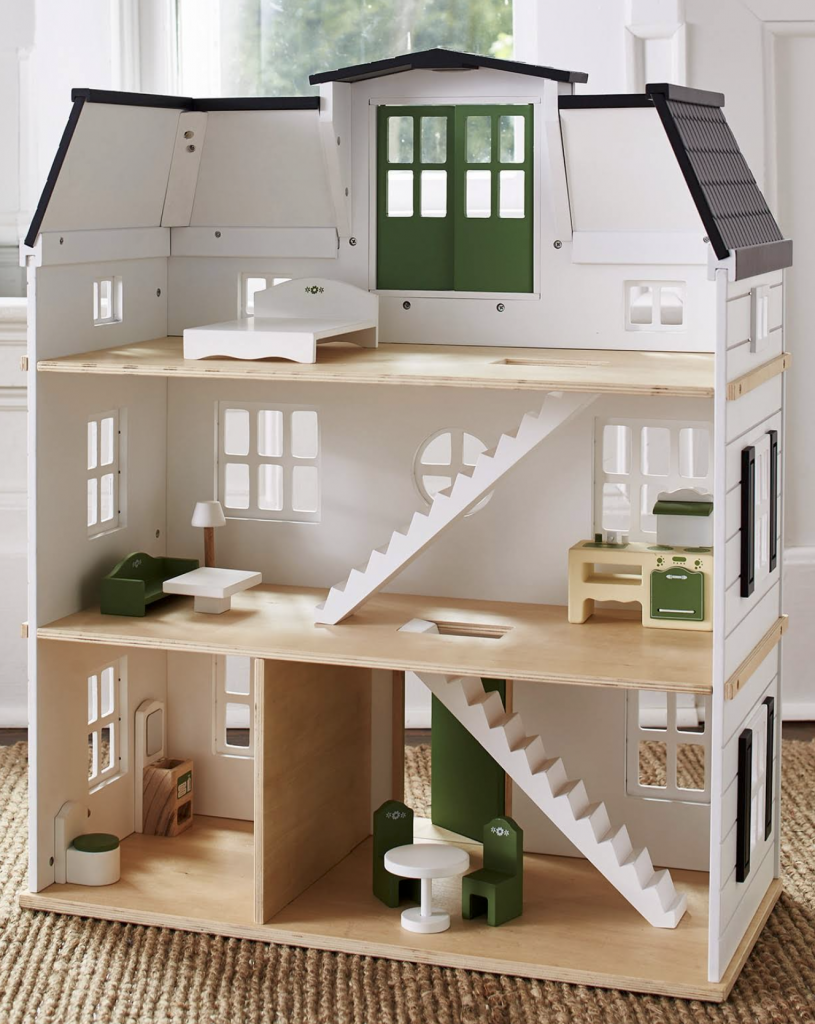 For reference, this is the interior "before", it's the Hearth and Hand Wooden Dollhouse (it goes in and out of stock pretty frequently; if it's gone, just keep an eye on it or sign up for a restock notification).
Come on in for a tour!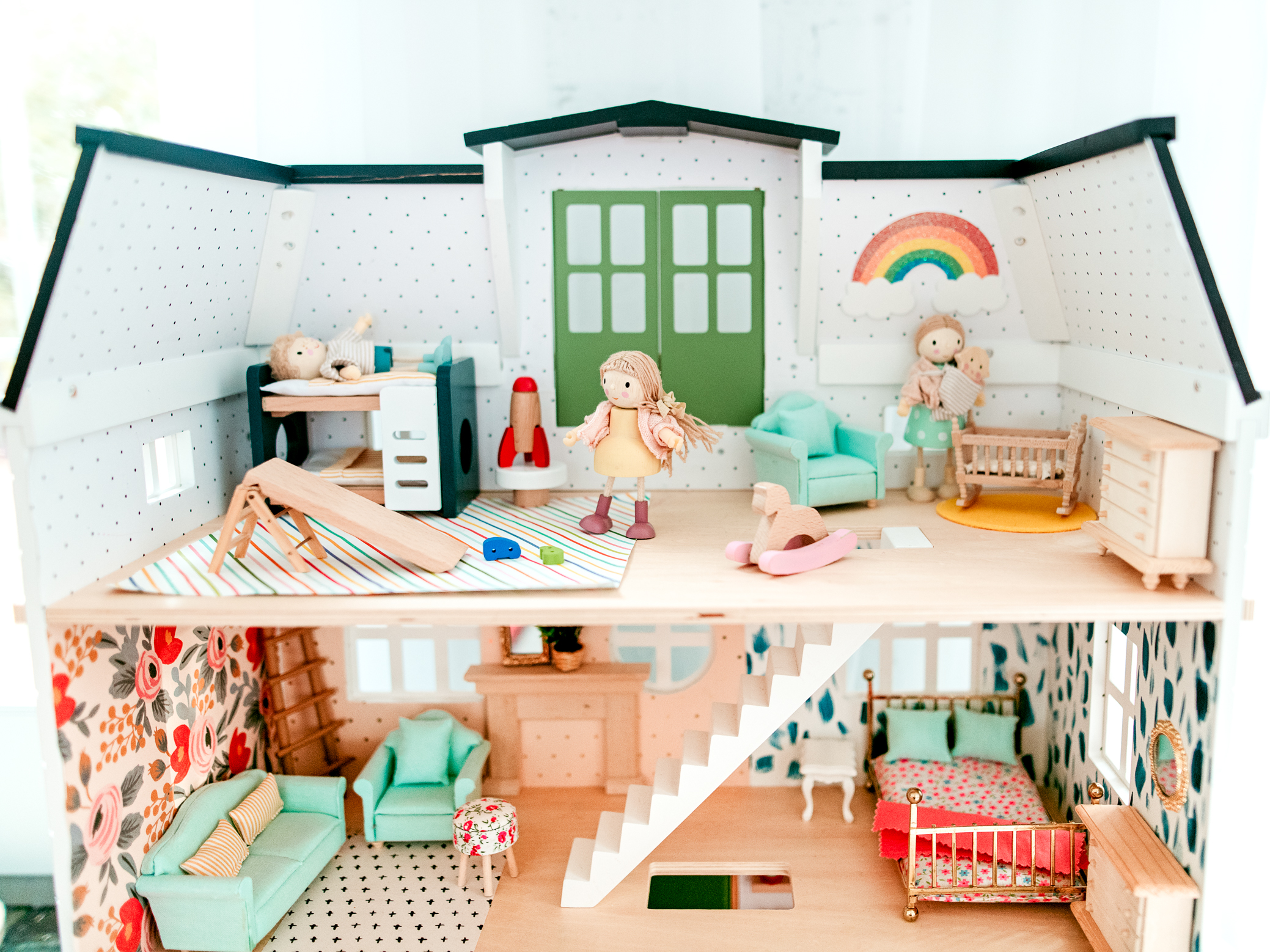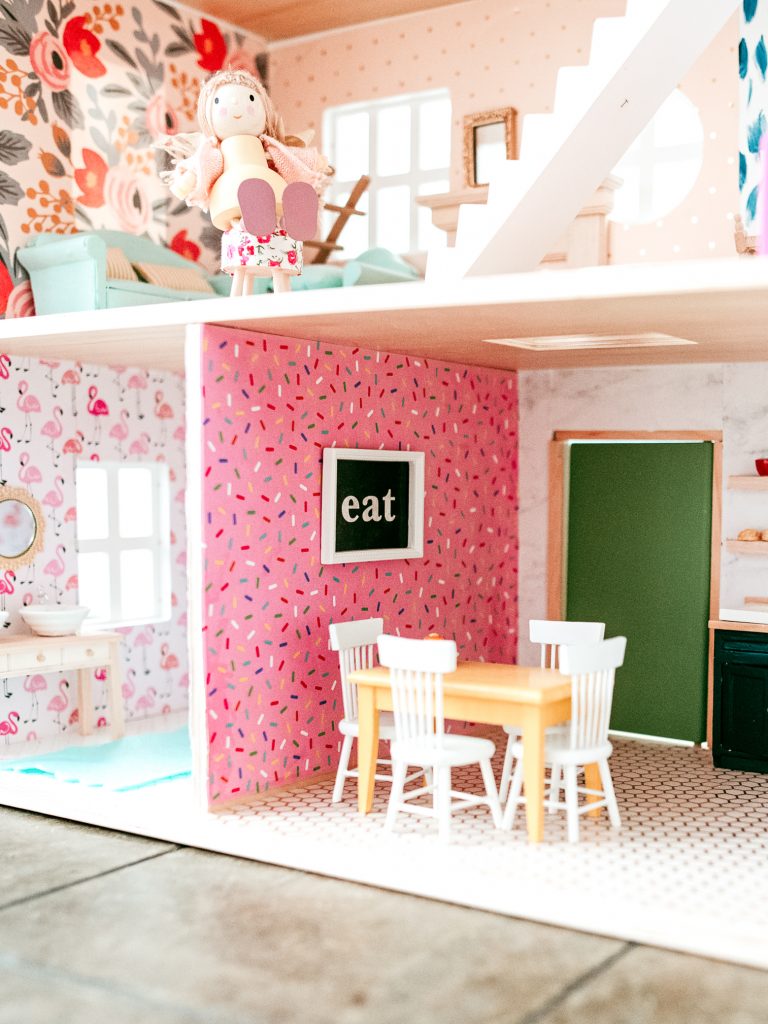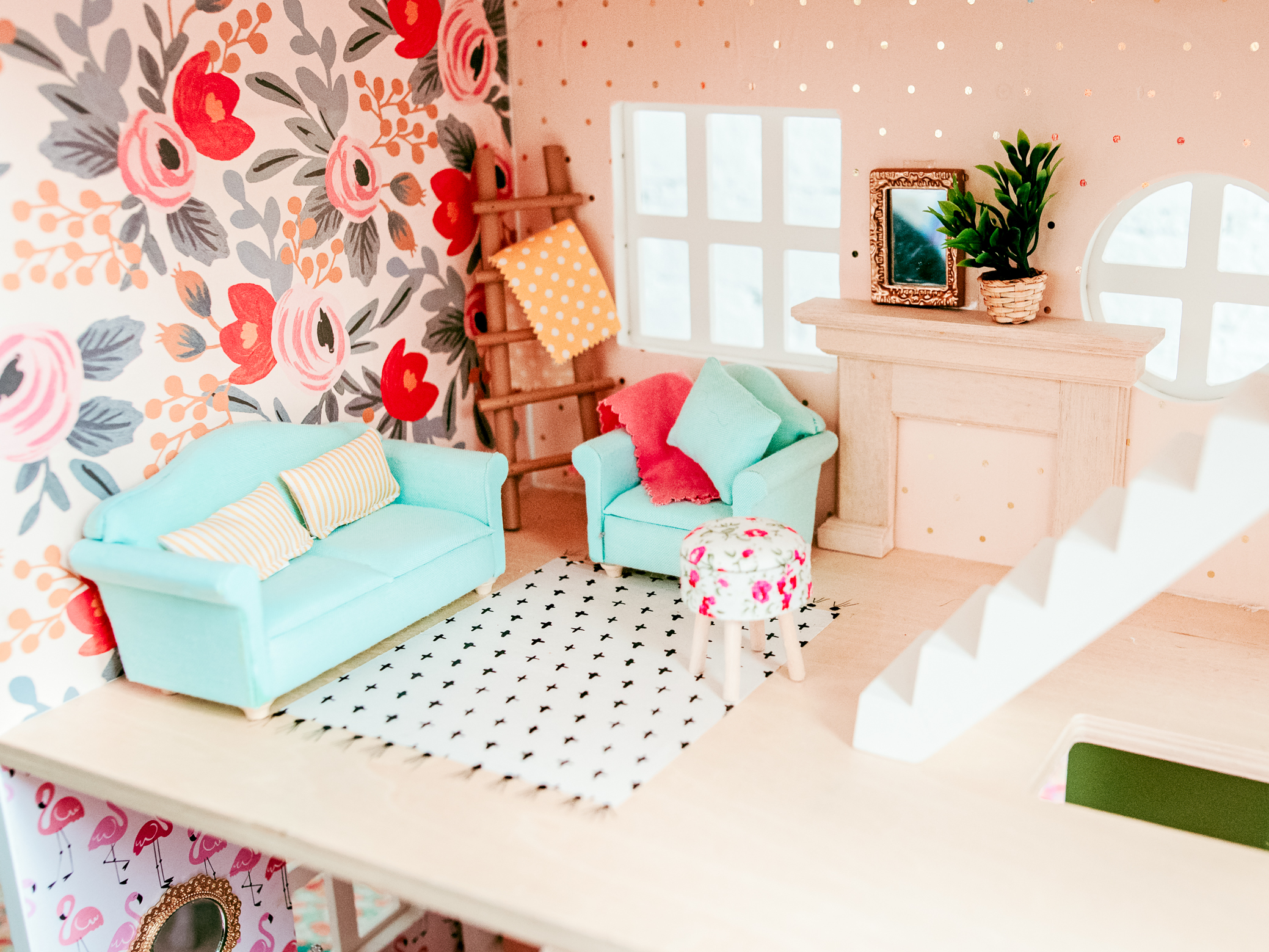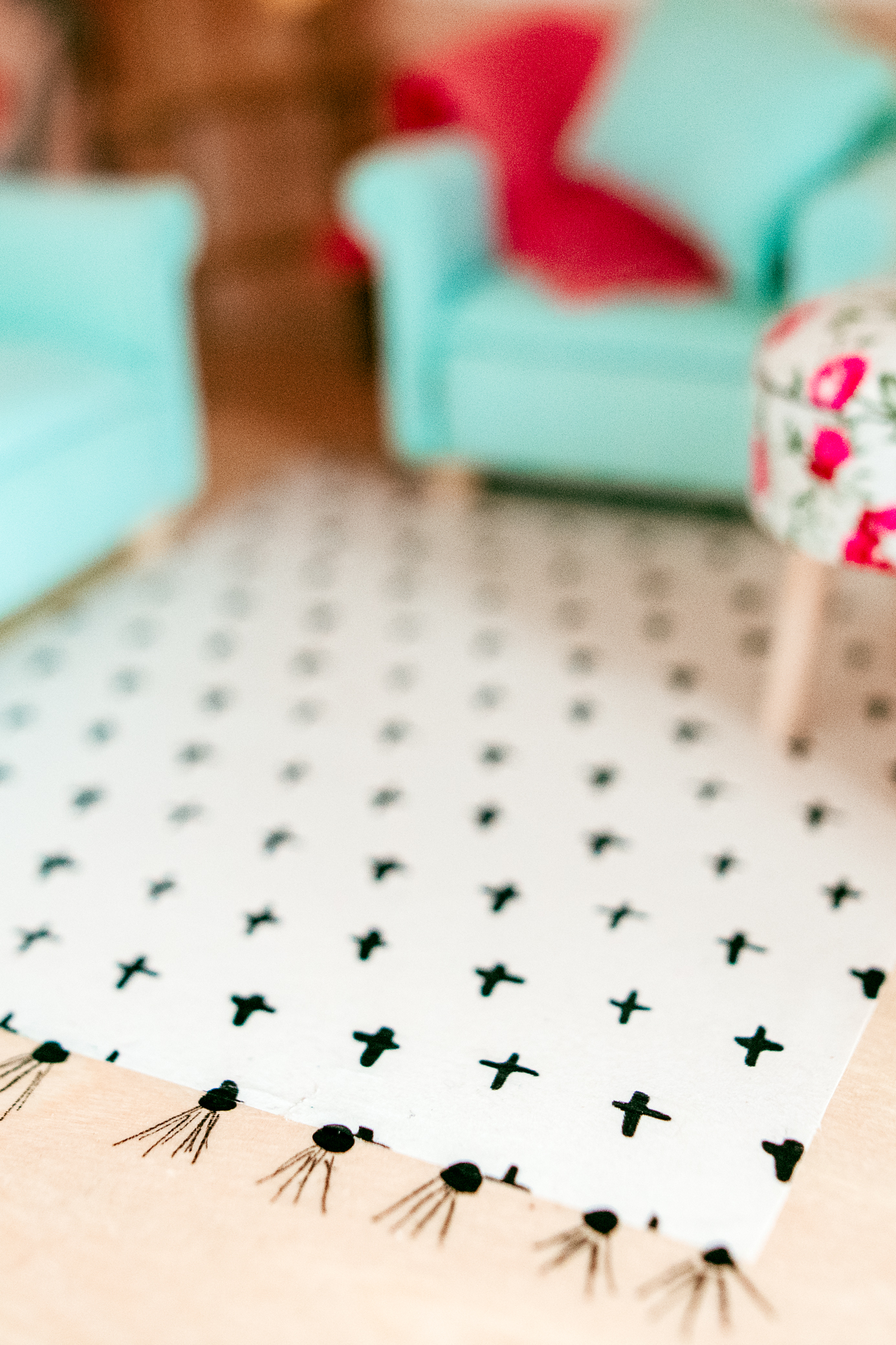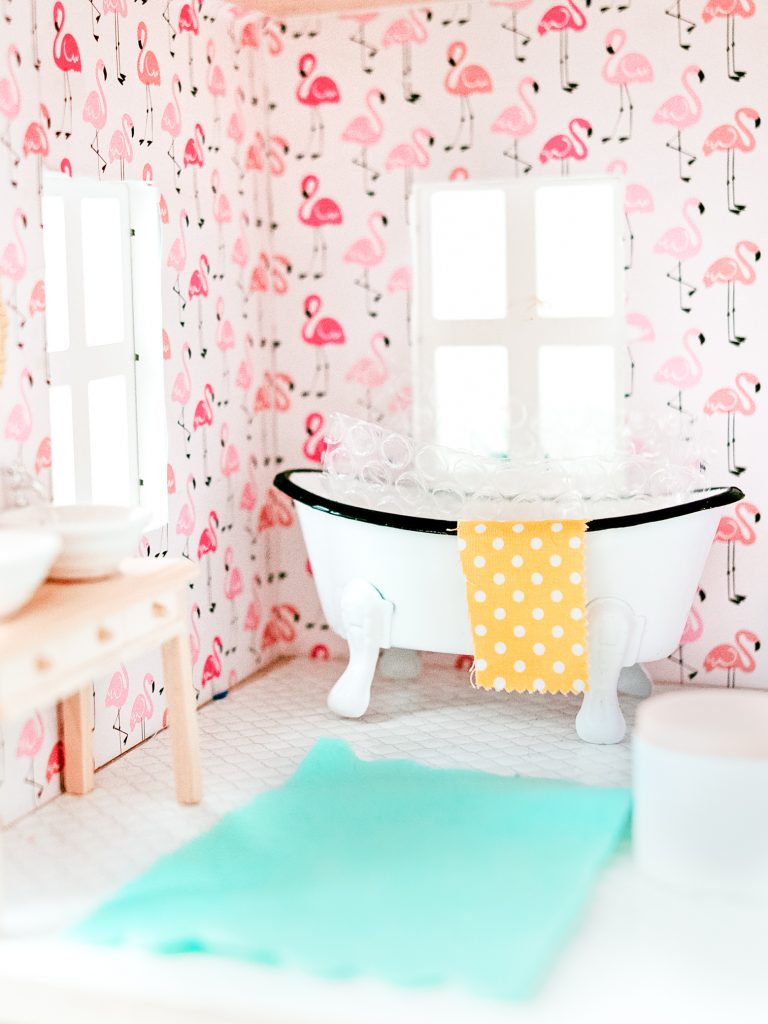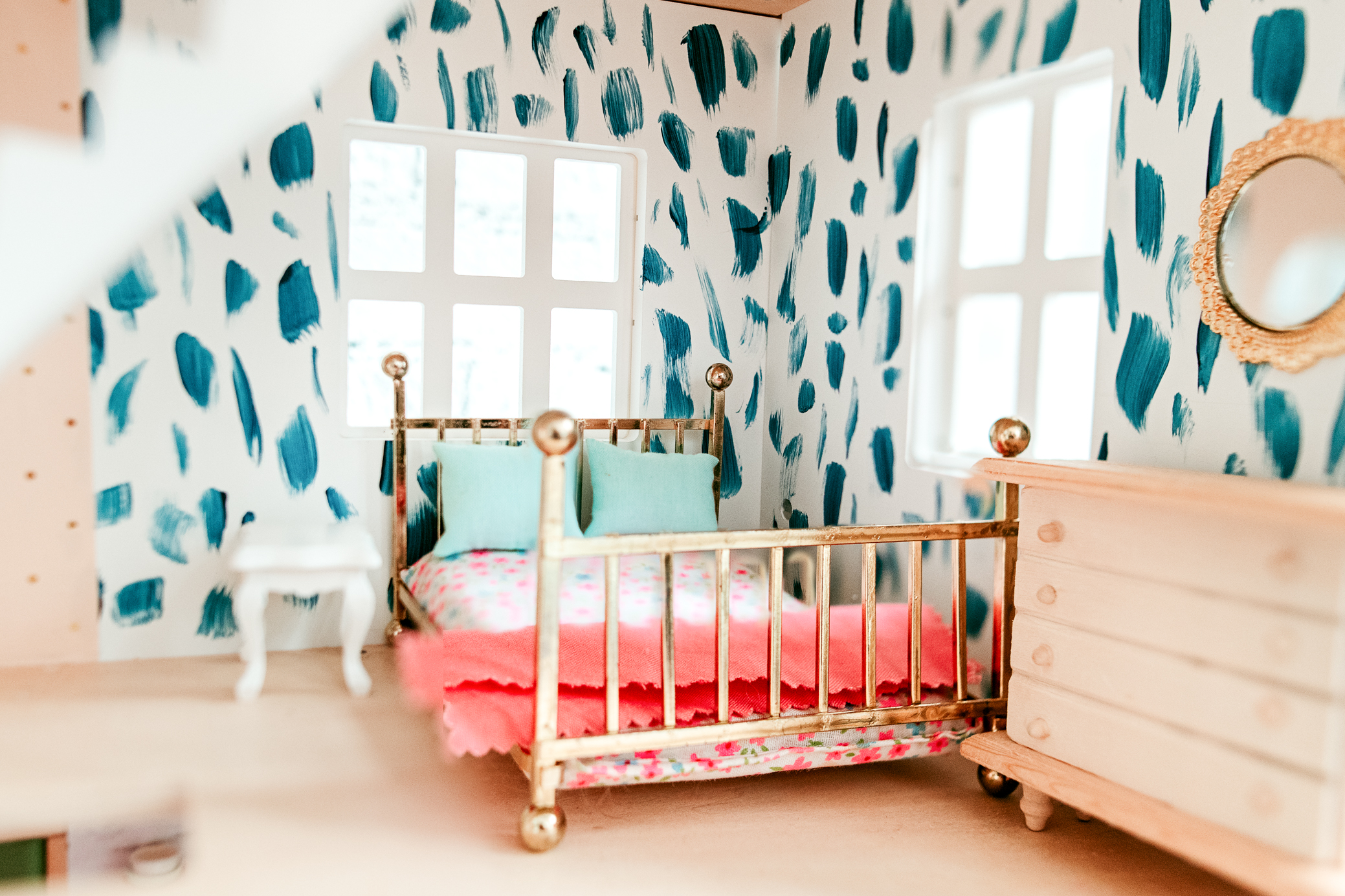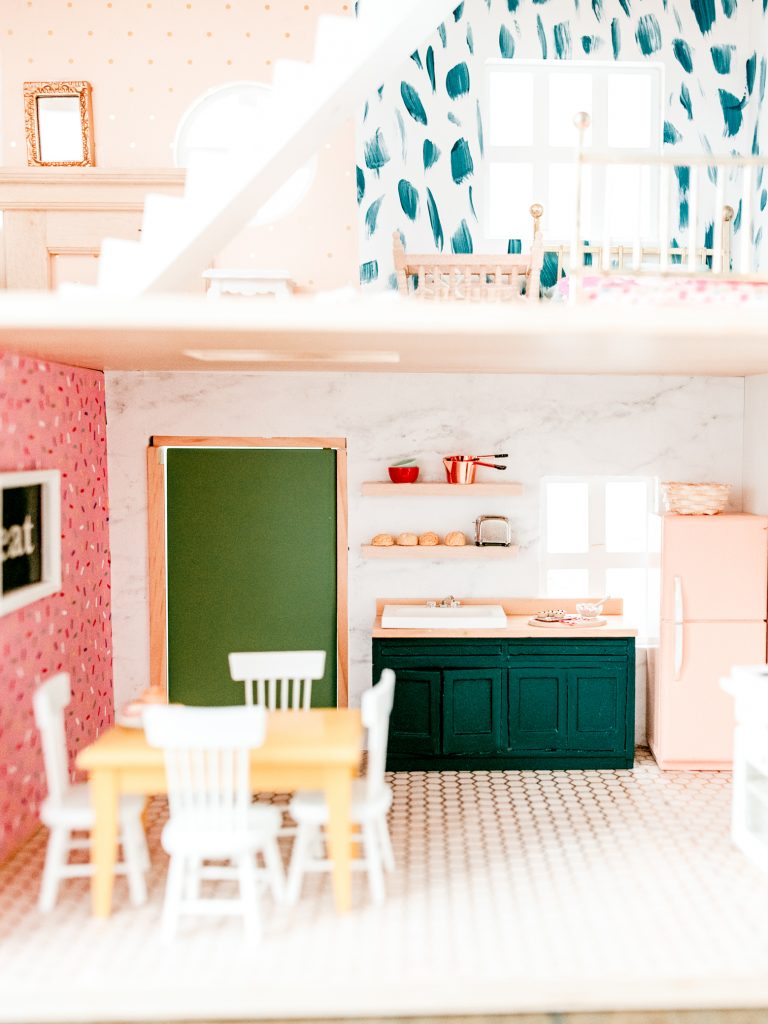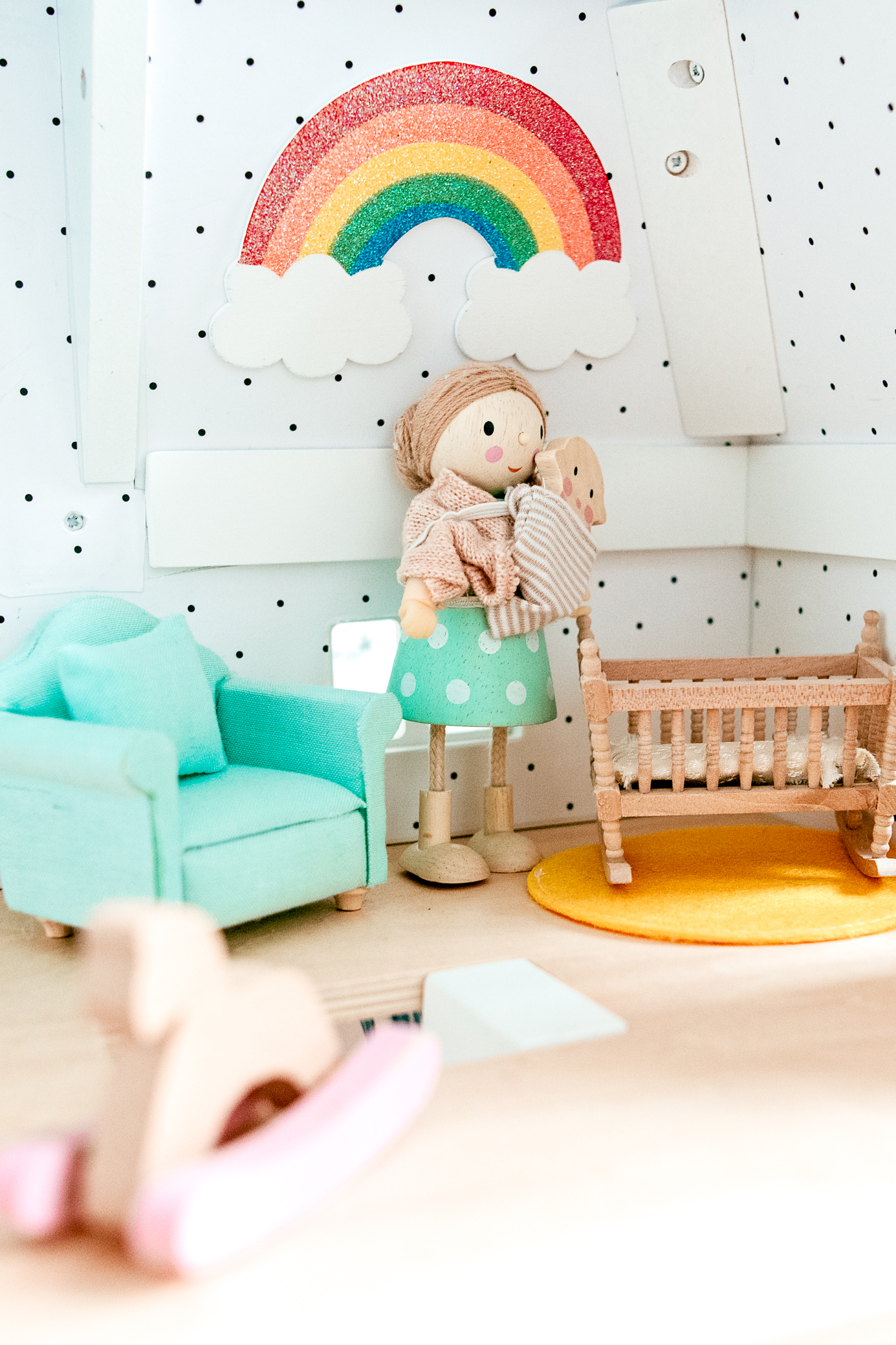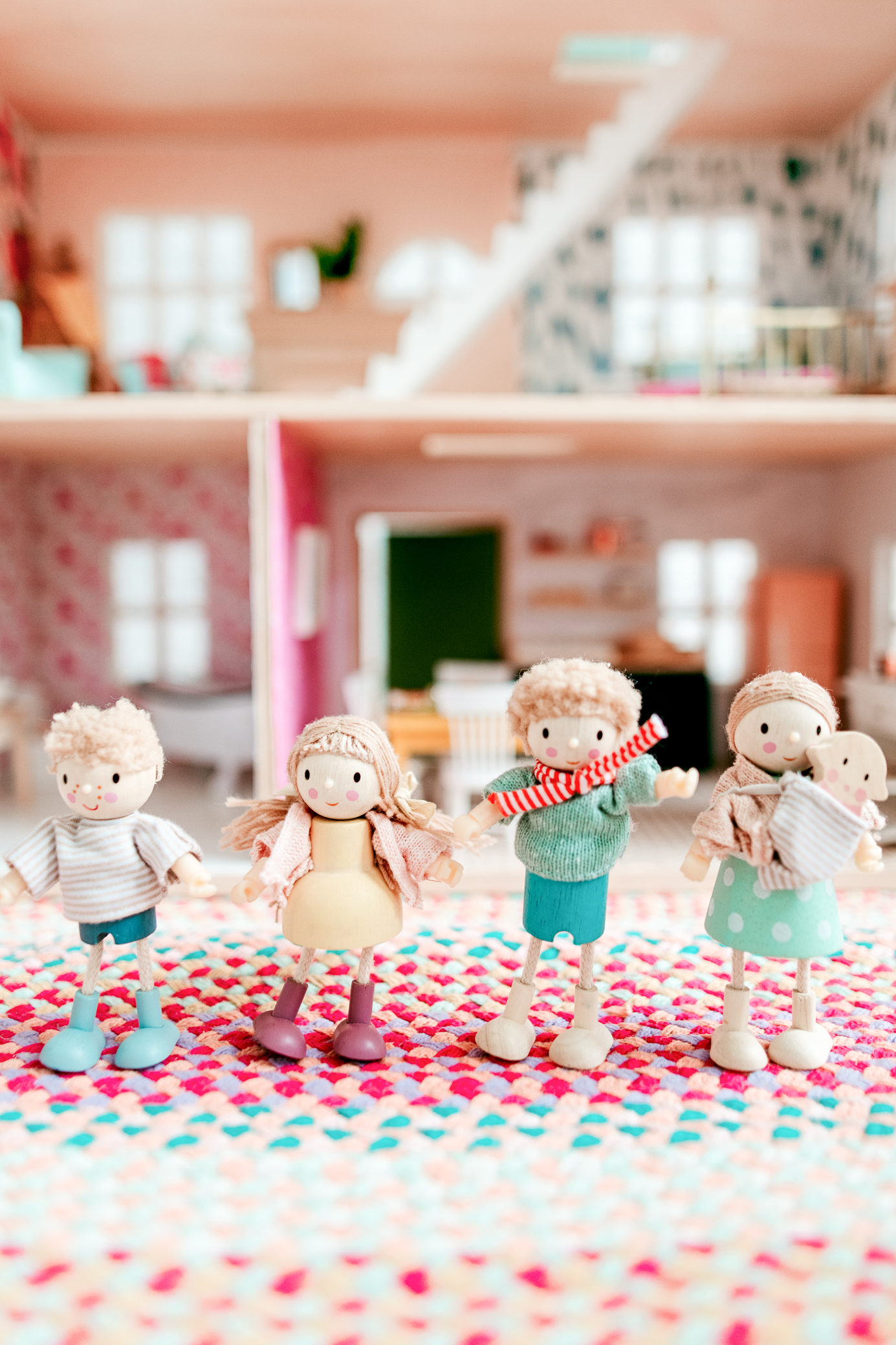 Click to shop this adorable Dollhouse Family: Boy | Girl | Dad | Mom
This Family is Also Available on Amazon! HERE
Wallpaper & Flooring
Most of the wall coverings and flooring in the house were found the scrapbooking aisle of the craft store! It was a cheap way to add a lot of pattern and color to the house. The attic polka dots, bathroom flamingos, kitchen marble & sprinkle walls are all just cheapo 50 cent scrapbook paper. The hex kitchen tiles and bathroom tile floor is from the scrapbook aisle as well but a little more expensive (and, by that, I mean $1.50 🤣)! Another option for wallpaper is gift wrap; there are always a lot of fun options around the holidays! I particularly love the Sugar Paper collection at Target! I used peach and gold polka dot for the living room wall and a Rifle Paper Co. floral print as an accent wall. The living room rug is also wrapping paper (I used a permanent marker to draw on the fringe details). And if you can't find anything you like, you can free-hand paint a fun pattern like I did in the bedroom!
For the wall and floor coverings, I used a ruler to measure and cut my paper using a detail knife for precision before adhering it using a foam brush and mod-podge. Another coat of mod-podge over top helps seal it from peeling or getting nicked. I tried to do as much as I could before putting the house together, but it got kind of tough to see where the rooms were going to line up. If you're doing the Hearth & Hand house, I highly recommend as least doing the "attic" space before assembling!
Furniture & Accessories
My furniture and accessories source lists can be found below along with some other options that I love! For dollhouses like mine that fit 4″ dolls, you're going to want to look for 1/12 scale furniture and miniatures. This is where it's easy to fall down the rabbit hole because miniature stuff is so freaking cute and if you can dream it up, you can probably find it in miniature form. I almost had an all-out playroom, science center, and arts & crafts room for this dollhouse before I pumped the brakes and realized my 5 and 3 year olds would lose all of those tiny pieces in .05 seconds. But it is a fun option to really personalize it if your kids have specific interests! I also recommend checking places like facebook marketplace, eBay, Etsy, and believe it or not- the Dollar Store! The "master" brass bed was found on eBay (for $8!). Almost all of the accessories like the sinks, bowls, crib, food, and fireplace were from this seller on eBay (and it was much cheaper to buy them all in one place and only have to pay shipping once). The wooden bathroom vanity and dressers were found at the dollar store!
I added a few little details with scrap fabric/felt I had- like the blankets, bathroom rug, and towels. The "bubbles" in the bathtub are a sheet bubble wrap!! I made floating shelves using itty bitty wooden square dowels from the hardware store trim section.
Another tip I have is to purchase a set and stretch it across the house. I bought this kids bunk room set because I saw the opportunity to add furnishings to 3+ rooms. I moved the rug and rocking horse to the nursery, the round table to the bedroom, and combined the slide that came with the bed to a miniature ladder to make a pikler-inspired play piece. I swapped the bunk room pillows to the couch and put the couch pillows on the bed to create a more cohesive space throughout. Using the same idea for the living room set, I moved the end table to the bedroom and one arm chair to the nursery.
Don't be afraid to buy (ugly 😆) pieces or use what comes with the dollhouse and paint them (I recommend acrylic paint and seal with poly or mod-podge) if you see potential. The Hearth & Hand toilet got a fresh new look just by painting the lid pink. I painted the bunk beds, rocking horse, kitchen table, kitchen cabinets and appliances. That said, I regretted it when some of them needed 10 coats and chipped as soon as the doors were opened and closed (I didn't seal them the first time and needed to repaint after almost immediately after the kids played with them- ugh. But they did hold up to play better when they were sealed properly). I really wished I had just spent the money on buying a set I loved (see my furniture recommendations below!) that would be more play-resistant and not take hours to paint!
FAQ
I'm going to leave this section open to answer any questions you guys have – ask in the blog comments or on Instagram!
---
---
---
Shop My Finds for your DIY Dollhouse Makeover!!
Click the number under the photo to be taken to the corresponding link. These may be affiliate links in which I receive a small commission at no cost to you; I appreciate you shopping my links!
Cutest Dollhouse Family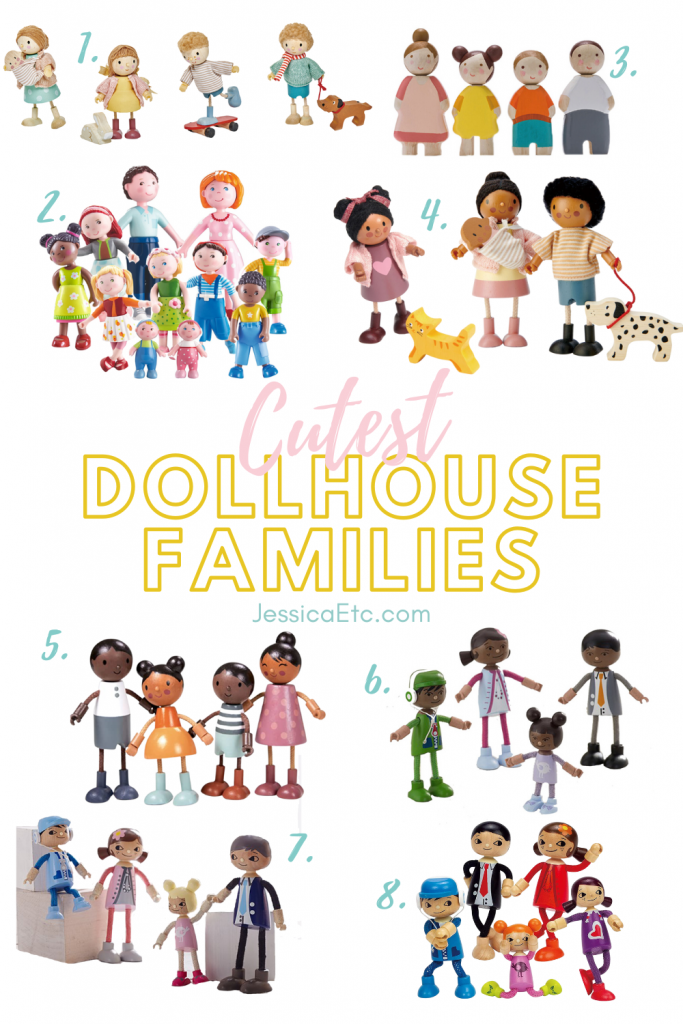 1 / 2 / 3 / 4 / 5 / 6 / 7 / 8
My number one ALWAYS asked question is where I found our dollhouse family because, well, do one search for dollhouse people and you'll be mortified by the results ! I tracked down these cute and diverse families to make part of your home!
Click the Images below to shop Dollhouse People!


Best Dollhouses: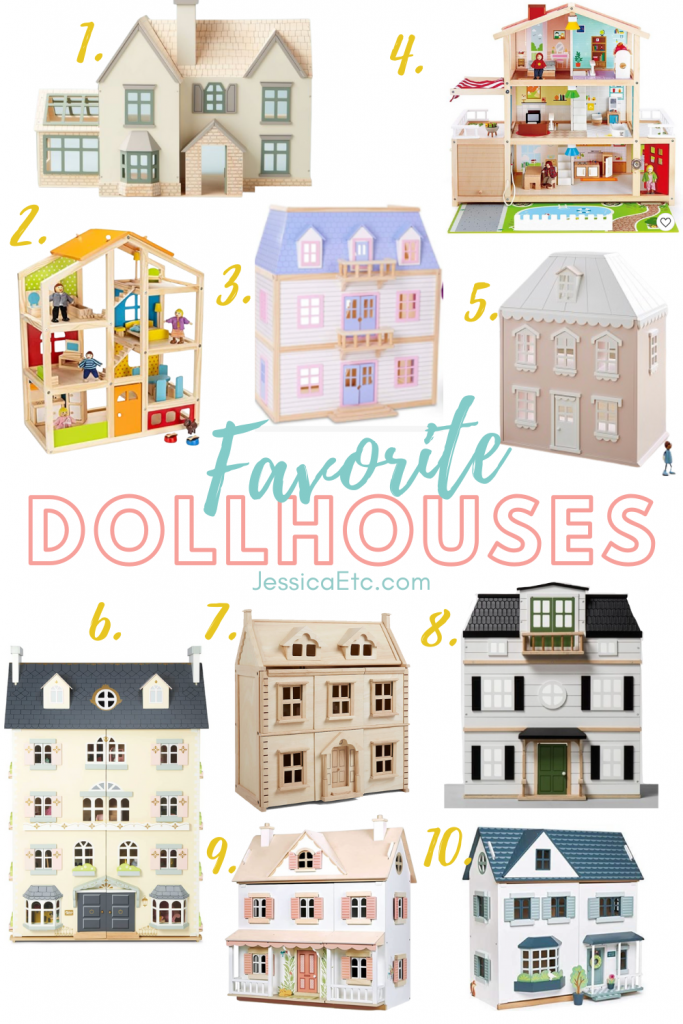 These picks are so subjective based on budget, how much work you want to do and how much space you have! Also keep an eye out on facebook marketplace; you can oftentimes score great deals on dollhouses, especially if you're planning on renovating! A lot of these fly off the shelves around Christmastime, so make sure you buy early and set restock notifications!
Click the Images below to shop Dollhouses!


Dollhouse Furniture: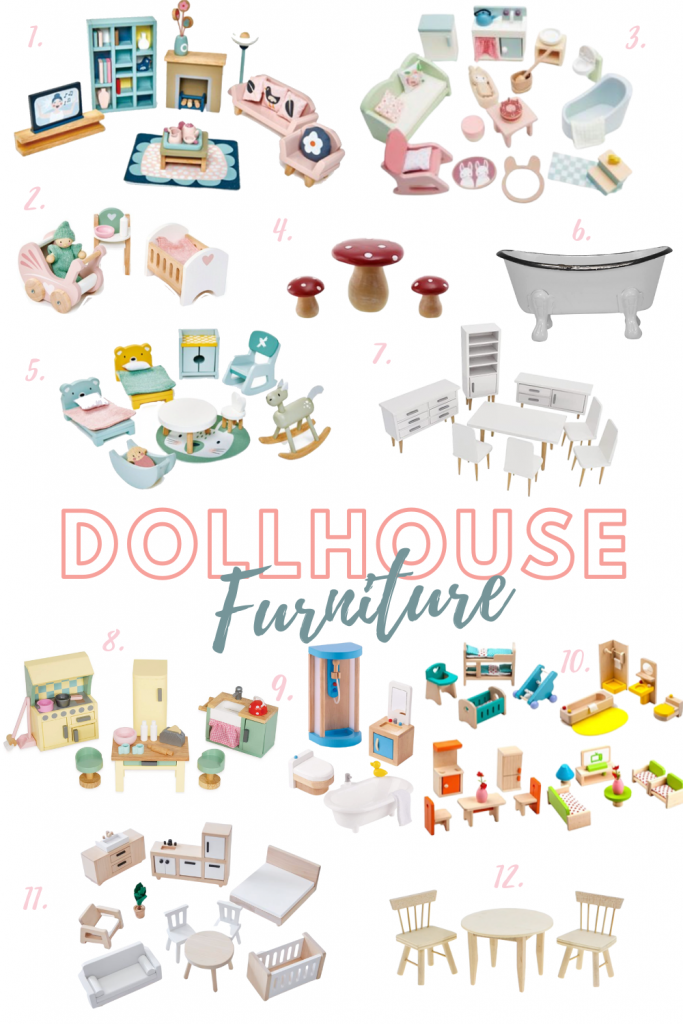 Click the Images below to shop Dollhouse Furniture!


Dollhouse Accessories: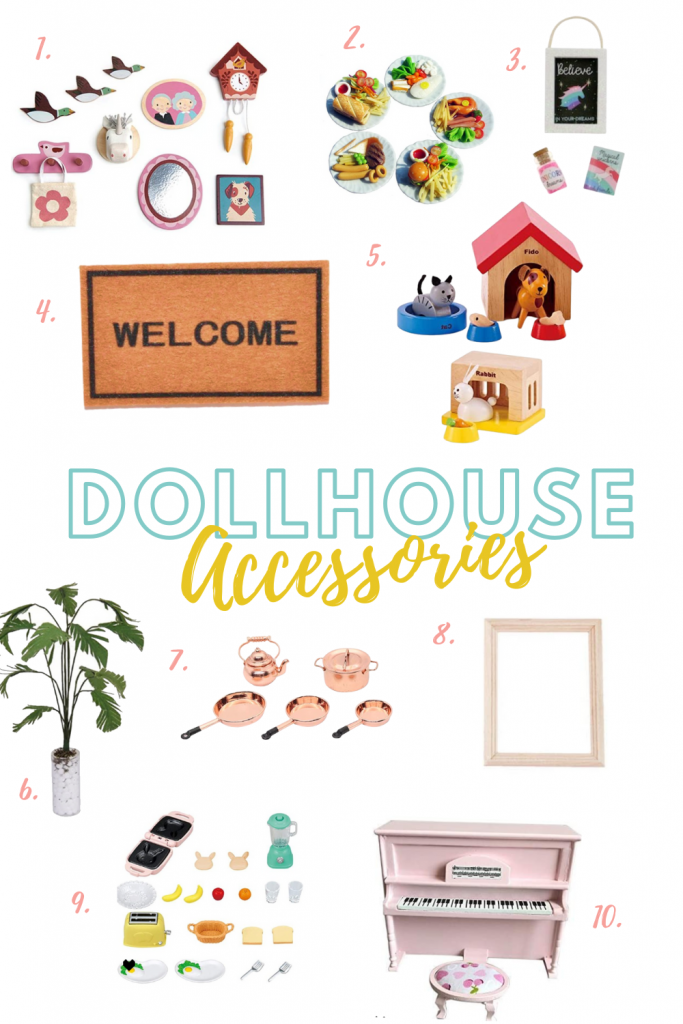 Adding accessories is SO fun and a chance to really add personality to the house! Whether it's decor, activities, food, or stocking the kitchen, I feel like these items are what really brings the house to life! I linked a few fun finds from stores like Amazon and Target, but be sure to check out Etsy; there are so many talented dollhouse accessory makers!
Click the Images below to shop Dollhouse Accessories!


Love it? Pin it !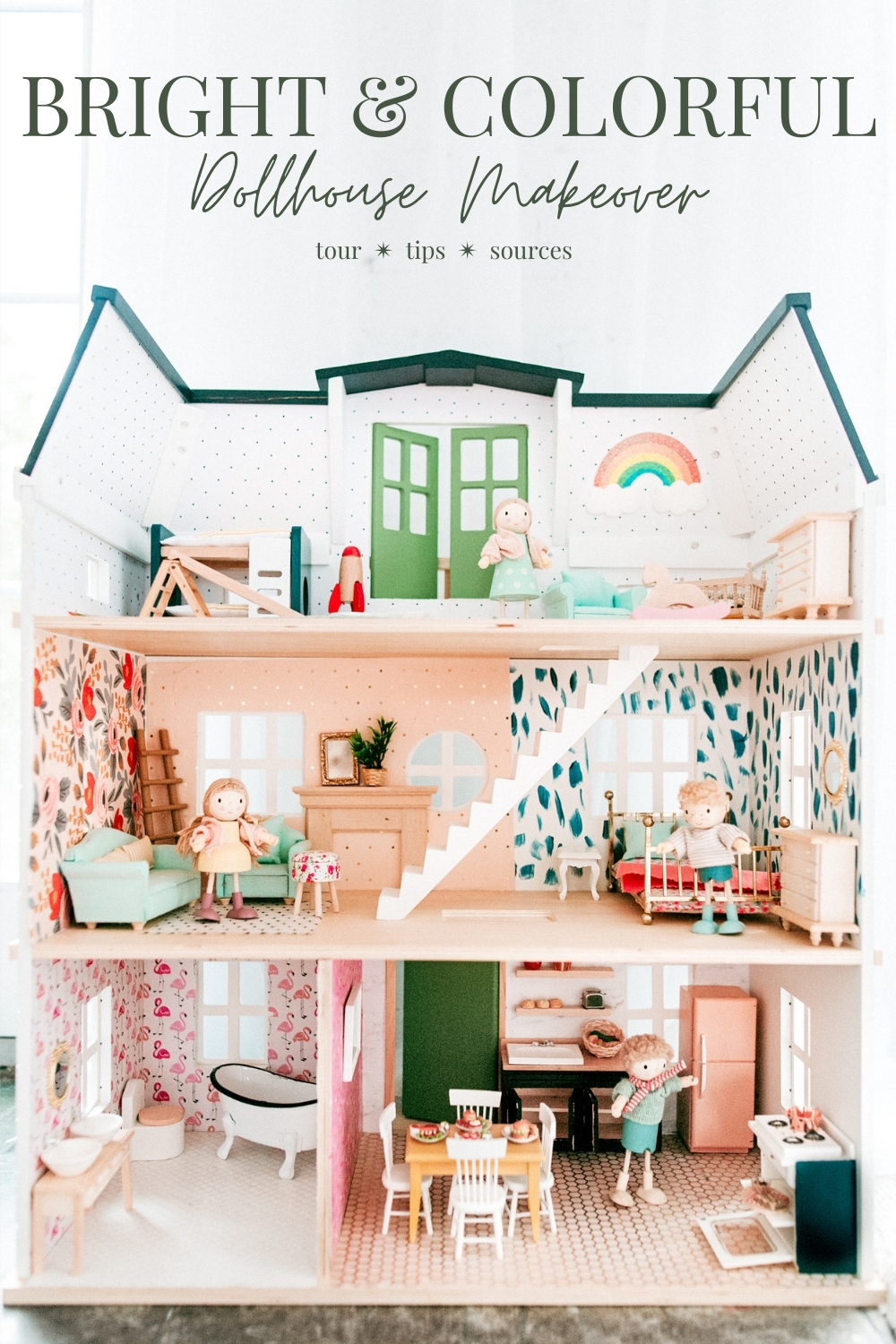 Have fun Creating!
If you need more holiday gift ideas, check out my gift guides below!
Baby's First Christmas Gift Guide