Guys, I am so obsessed with this gift guide; how cute is it ?? I'm tempted to just leave it all unwrapped under the tree! I know Santa- and Santa's relatives 😉 – are always excited to celebrate baby's first holidays, so I loved putting together this little Baby's First Christmas Gift Guide for you to shop and share from! I try to think ahead when shopping for little ones and come up with gifts they'll grow into or be able to continue to use over a wide age range. I'll be shopping off of it for Josie and it also includes some of my all-time favorites to grow with baby within the first year+.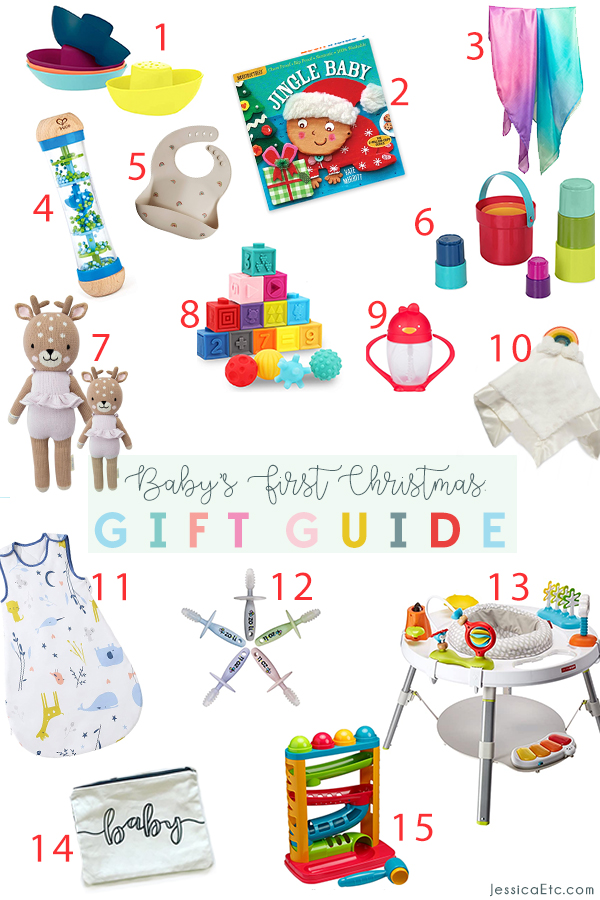 To shop: Simply match the number with the item description below and click on the pink link! This post may contain affiliate links which means I make a small commission from purchases made at no cost to you. I appreciate you shopping through my links!
1. Bath Boats: A total bathtime fave! They float, they stack, they pour, and best of all they are easy to wash with no hidden nooks for mildew/mold buildup.
2. Baby books: I'm going to add a few more of these chew proof, tear proof, baby-proof Indestructibles books to our collection – this Jingle Baby book is adorable! Some other favorites are Baby Night-Night and Baby Babble, but they have all kinds of topics from animals to transportation! I also really like this bright board book collection by Jane Foster. "If I were a…" is a fun tactile series!
3. Play Silks: I've heard great things about these for open-ended play for all ages and I'm planning on getting them for Josie because right now she loves playing peek-a-boo and these look like they'll be perfect! I know she'll also love the silky texture and can't wait to see all the different ways she'll use them as she grows!
4. Musical Rainmaker: Babies are hypnotized by the falling beads and it's an easy shaker for them to make their own music!
5. Silicone Pocket bibs (lots of prints & colors): These are the absolute BEST for mealtime. The adjustable neck fits a whole range of sizes, from babies eating their first solids all the way up to my big kids that still occasionally wear a bib for spaghetti night! The pocket catches dropped food so it doesn't end up on their lap and you can just pop them in the dishwasher to clean.
6. Stacking/Nesting Cups: This type of toy was an all time favorite of my older kids to stack, nest, fill and empty over and over. I love that this one all fits inside a bucket that I think will make it even more fun to play with and carry around!
7. Cuddle & Kind Doll (lots of choices!): These are heirloom quality, hand-knit dolls. They really are beautiful and created with lots of love and attention to every little detail! For every doll sold, the company donates 10 meals to children in need. Use my link for 20% off your first purchase!
8. Sensory Blocks & Ball Set: With multi-textured surfaces, fun squeaking sounds, and bright colors this set is perfectly sized for baby to hold and eventually stack! The sides also have different pictures to eventually introduce shapes, fruits, and numbers.
9. Weighted Straw sippy cup: The weighted straw makes it easier for baby to drink from no matter the orientation and the straw top is recommended by experts! Plus, you can't beat a cute little chicken cup!
10. Lovey – My kids have all started cuddling loveys around 5-6 months. This one is the SOFTEST with snuggly faux fur and a satin trim that my kids all love holding onto. My kids have all also loved this lovey for sleeping (be aware of safe sleep practices- I am personally comfortable with this one because it is made of breathable muslin)
11. Sleep Sack (more cute prints & colors!) – I love these sleep sacks to keep baby warm at night and are recommended as a safer sleep solution than a blanket! I'll be getting Josie this winter weight version.
12. Teether– These gummy teethers are the best! Perfect for their hands to hold, a gummy textured chewy end, and a safety stop so they can't gag themselves. There's also this option that's perfect for reaching back to molars.
13. Activity Center – This is my all-time favorite activity center because it grows a with baby. My kids have started being able to sit in it around 5 months old up to 25lbs. Once they start standing/cruising/walking you can remove the seat and put the center piece in to make an activity table. Stage 3 is removing the toys and it transforms into a toddler table.
14. Organization Pouches – These handmade pouches are one of my favorites! This small shop is stocked with ready to ship options like "baby", "diapers", "snacks", "ouch", "play" or join a waiting list for a personalized pouch!
15. Ball Run – The perk of being the third child is that your older siblings have test run all the toys – this one is a major winner ! My kids have all loved this ball run! I love that it grows with them. Younger babies like watching the ball go down the track. As they get older they like pushing the ball into the top holes over and over and over. Then as they finally are able to coordinate their gross motor and hand eye coordination, they can retrieve the ball themselves and use the hammer to push it back down. Tons of fun! (My older kids still ask me to bring this up from our storage box for them to play with🤣)
Check out more gift guides: