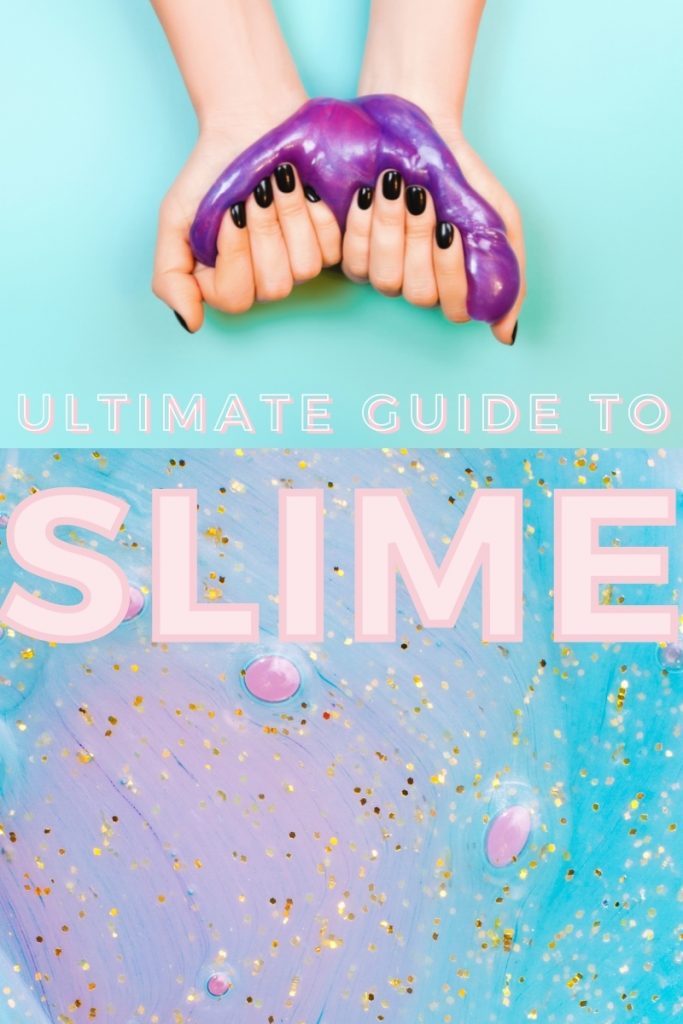 Are you wondering how to make slime? Slime only requires a few ingredients and provides hours of playtime fun! Hit save now because this is the only slime recipe guide you'll ever need!
Slime is soaring in popularity; from preschoolers to high schoolers, kids of all ages love slime! While you can purchase the ooey-gooey concoction in many stores, it can also be made at home by following an easy slime recipe! Kids love to be able to personalize their own slime recipe with add-ins like glitter or confetti, solid or swirled colors, and textures like styrofoam balls or sand; there is no limit to the types of slime you can create. Using a specialty glue like glow-in-the-dark, metallic, or glitter can really take your slime to the next level!
While one's initial thought about slime may be that it is a fun toy or science experiment, it also acts as a sensory tool for children to squish between their fingers which helps to build and strengthen fine motor muscles. Many children find slime play to be calming due to its tactile sensory feedback. Because of this, it is even finding a place in the classroom as a fidget tool.
So, how do you make slime? Here is a collection of recipes from basic, to fluffy, and even edible slime! Slime will stay pliable for weeks and up to a month or longer if it is kept in an airtight container. Choose a slime recipe below to get started on making it for yourself!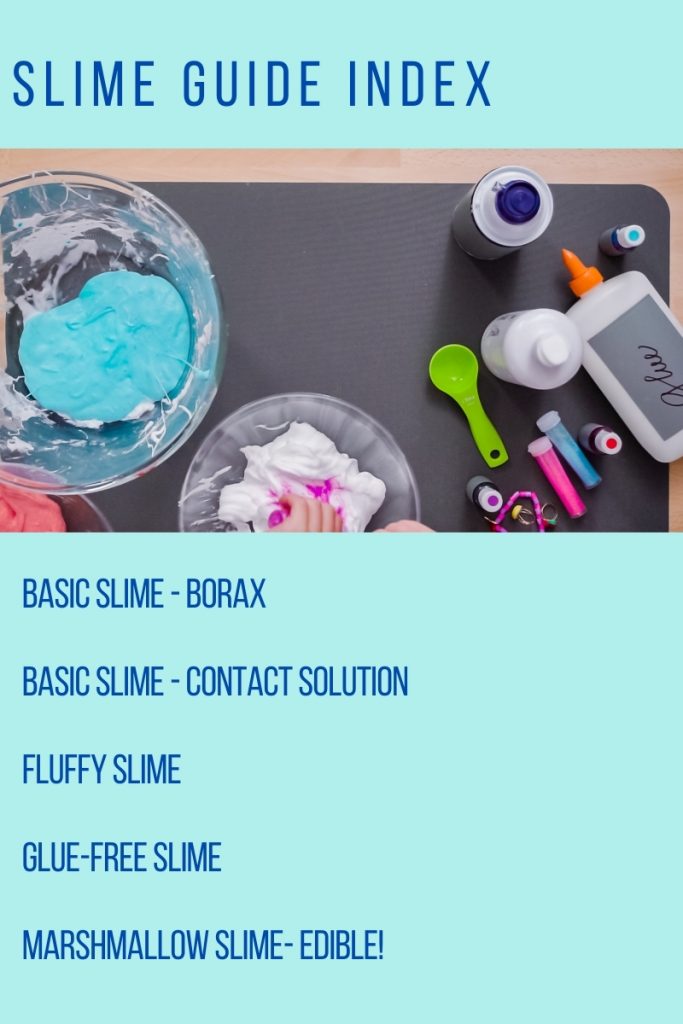 Basic Easy Slime Recipe- Borax Activated
Ingredients:
1 bottle (4 oz) school glue (white for opaque slime, clear for a more translucent slime, or even use a special edition glue like glow-in-the-dark or metallic!)
1½ cup water, divided
½ teaspoon Borax
Optional mix-ins such as glitter, food coloring, acrylic paint, beads, etc.
Step 1: In a small bowl, mix 1 cup hot water with ½ tsp Borax. Stir until dissolved and set aside.
Step 2: In a medium-sized bowl, miix ½ cup of water and 1 bottle of glue. Add any mix-ins.
Step 3: SLOWLY add a few drops at a time of the diluted Borax solution into the glue mixture while stirring constantly until it begins to pull together. For a thinner, stretchy slime, use less borax solution. For a thicker slime, use more. Use your hands to finish kneading it together.
Basic Slime Recipe without Borax
Ingredients:
1 bottle (4 oz) school glue
½ Tablespoon Baking Soda
1 Tablespoon Contact Lens Solution (must contain boric acid)
Optional: Mix-Ins
Step 1: Empty the bottle of school glue into a medium sized bowl and mix in ½ Tbsp baking soda. Any additional items like glitter, food coloring, or beads should be added now.
Step 2: While stirring, slowly add approximately 1 Tbsp contact lens solution until a ball begins to form. Adding more contact lens solution will create a thicker, putty-like, slime. Less contact lens solution will make a thinner, stretchy slime. Use your hands to finish by kneading the slime.
How To Make Slime Without Borax
Slime Recipe without glue
Ingredients:
½ cup gel shampoo
2 ½ cups cornstarch
½ cup of water
Optional: Food coloring
Step 1: Mix ½ cup gel shampoo, food coloring, and 2 ½ cups cornstarch.
Step 2: Start stirring in 1 Tablespoon of water at a time until your mixture reaches the desired "slimy" consistency.
Edible Slime Recipe!
That's right, this slime recipe is edible and taste-safe for even your smallest sensory seekers! Whether their fingers casually end up in their mouth or you want to serve it up as a playful treat, this easy edible slime recipe is a safe- and yummy!- option. This edible slime only lasts for a day or two in a sealed container before it is no longer stretchy.
Ingredients:
1 bag of Mini Marshmallows
1/4 cup Coconut or Vegetable oil
¼ cup Powdered sugar
¼ cup Cornstarch plus additional if needed
Food Coloring
Step 1: Empty 1 bag of mini marshmallows into a large bowl. Microwave in 30 second increments until marshmallows have melted.
Step 2: While still hot, stir in ¼-⅓ cup oil, food coloring, ¼ cup powdered sugar, and ¼ cup cornstarch.
Step 3: Mix until the consistency begins to resemble slime or putty. You may have to finish mixing it with your hands (rub oil or cornstarch on your hands to keep it from sticking to them). If the mixture is too sticky, sprinkle in a little bit more cornstarch.
Slime Recipe Safety:
Keep in mind that several of these recipes use chemicals as activators and, as such, making slime should be done with the help of or under the supervision of an adult. I choose to mix and handle the Borax dilution myself and keep the Borax powder away from my children. Boron (and its derivatives that are found in Borax, contact solution, and liquid starch) is considered a potentially toxic irritant and its use in slime-making is often debated. The diluted amount used to make slime is considered to be safe, however some individuals may be more sensitive. Discontinue use if any irritation occurs. Slime should not be ingested apart from the edible recipe posted above. Wash hands and play surfaces before and after handling slime to avoid any residue being rubbed into eyes or mouth and to keep your homemade slime fresher for longer.
Now that you know how to make slime, let your creativity guide you to create some cool custom slime! Split your homemade slime into a few small containers to trade with friends. Have fun!
For more slime fun, check out my recent post on Zulily !