It's August; cue the Back to School Scaries. Along with the excitement of a new school year comes changes to normal routine and the build-up of anticipation anxiety. If you didn't know, before becoming a mom, I was a preschool teacher, so I have experienced a whole lot of first days and seen the range of emotion kids go through! Whether it is starting a new school, their first day of school, or the return to school after a year of learning at home, it's totally normal and expected for there to be some worries! I'm taking some of the tips I shared with tons of parents while I was a teacher and applying them at home with my own kids this year. My oldest, Harper (6), has always had a level of separation anxiety and my middle, Ethan (4), will be going to school for the first time so I'm planning my bag of tricks early this year to begin easing their back to school scaries. Check out some of the tools below that I'll be using at home to prepare for the beginning of school!
Read Picture Books Together
Books are always at the top of my list because they are a phenomenal and accessible way to address any childhood concern. I check out back to school picture books from our local library that address things like worry, uncertainty, and also mix in a fair amount of titles that show the different parts of school and all the fun to be had! Here are some favorites (affiliate links):


The Kissing Hand : A sweet classic about Chester Raccoon going to forest school and feeling a little worried. Mama Racoon shares The Kissing Hand story to reassure him if he feels scared. Check out the DIY below to go along with this book!
What If…? : A book that addresses first day jitters like only Sesame Street can! Their favorite characters take turns answering first day of school questions like, "What if I don't know where to sit?" It can give kids some direct and comforting insight on things they might be worried about and also encourage them to ask their own questions!
School's First Day of School : A cute and silly twist on the first day of school that depicts the perspective of the school itself feeling nervous about all the new students arriving!
All Are Welcome: A look inside a welcoming school that celebrates and embraces every student. The loving poem and illustrations let children take a peek inside a school environment that can spur conversations and help kiddos look forward to all the fun times ahead!
Mommy & Me Bracelets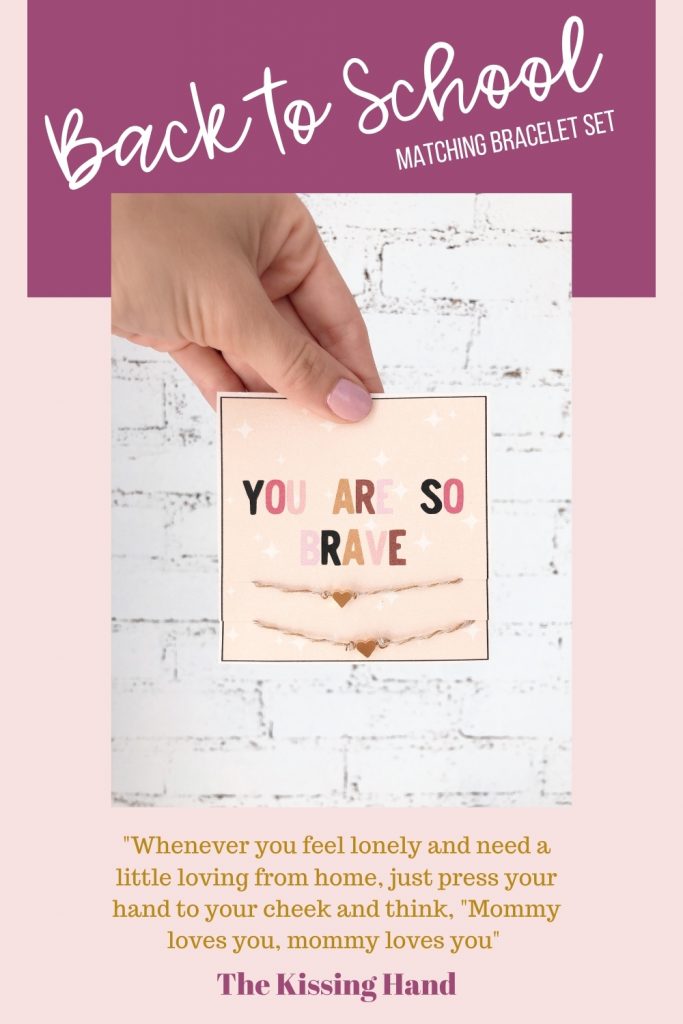 (Or daddy & me, or big sister, or granny, etc etc.)
We made these bracelets for Harper's first year of Pre-K and she has already requested that we make a new set! The idea behind them is inspired by The Kissing Hand book. When I taught preschool, I had a sweet mom that would kiss her son's hand and draw a heart in its place every morning. The sentiment was precious and meant the world to him but -uh, oh- after washing hands and playing hard, the heart would typically wear off before the day was over. When Harper was heading off to school I remembered that sweet hand drawn heart and decided to make a simple set of matching bracelets that would carry the same meaning and last all day long!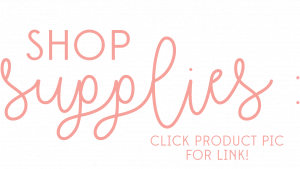 To make the mommy & me bracelets, I threaded a small gold heart bead onto a piece of bakers twine and tied them around our wrists. Another idea is to use ABC beads to write your names or a short and sweet love message!
I love that this can be a tangible reminder that I'm thinking about her and also functions as a fidget if anxieties arise.
Print a Family Picture
Another thing that seems to aid my anxious-hearted kiddos is having a family picture. I order the cheap wallet sized prints (4 usually come on a sheet) and stick one in the front pocket of their backpacks. Some kids may want to carry it with them the first day and a wallet size is small enough to fit in their pocket. Others may just want to get a little boost of reassurance with a quick peek into their backpack every so often.
Harper measures her confidence by coming home to proudly tell me "I only had to look at our picture 2 times today!" and eventually not at all.
Practice, Practice, Practice!
You can boost kids' confidence about a new situation by giving them a whole bunch of practice. Play "school" at home and incorporate some of their real supplies that they may need help putting on, opening, or organizing.
We'll be working more on putting coats and shoes on, bathroom routines, putting things into the backpack, and even introducing themselves by name in the weeks leading up to school. Any little things like that that may cause them to get flustered if it doesn't go as planned are helpful to get a handle on before they become an issue at school. For my first grader that has never eaten lunch at school, I plan to pack her lunchbox and give it to her at home to practice opening, getting her things out, and repacking the empty containers herself.
An open house, school tour, or even a walk around the outside of the school building is a great way to help them complete the picture inside their head and leave a few less "unknowns" floating around causing jitters.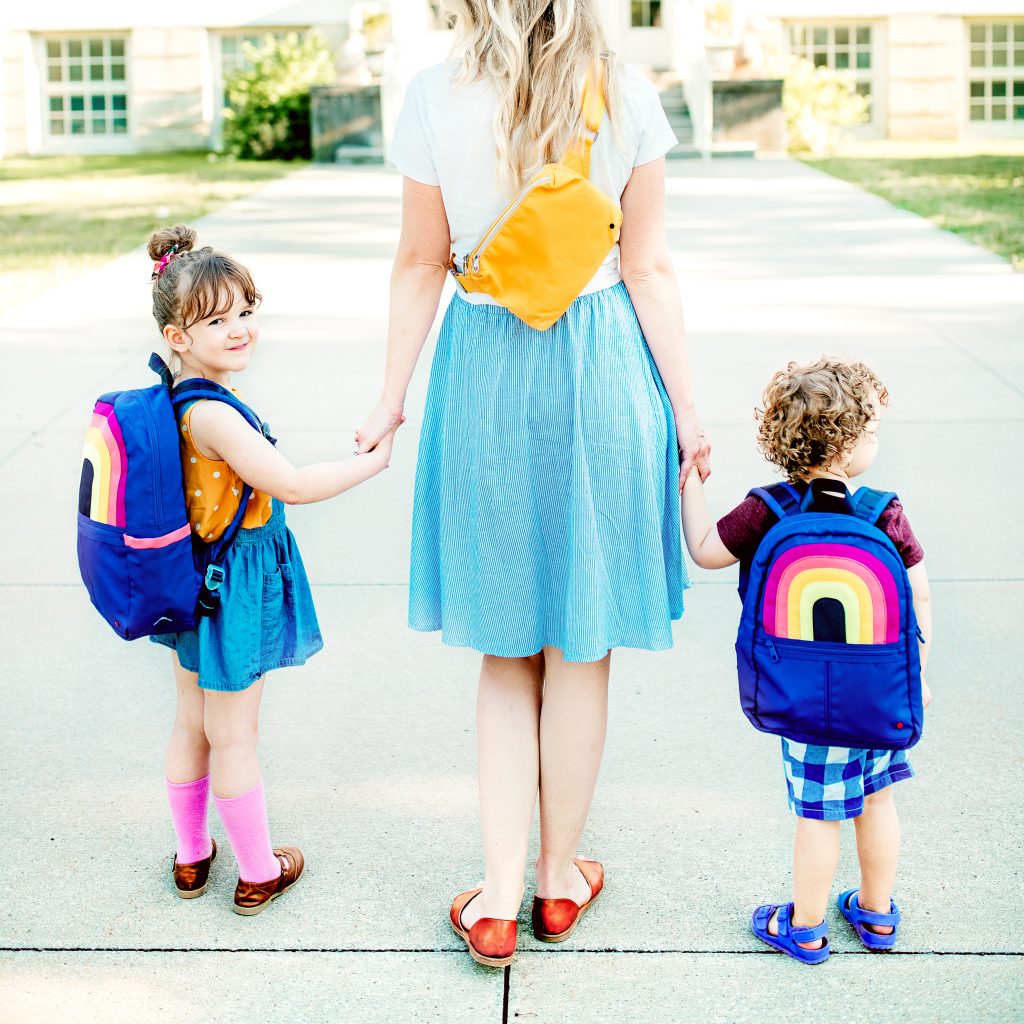 Back to school season can be a little nerve-wracking for everyone (I see you, mama!). With a little preparation at home, the first few days can go a little smoother. I'll be talking a lot more about our experience this year on Instagram so come on over, visit, and let me know how it's going!
Oh, and after their first day, plan on having a fun snack or celebration to hear ALL about their new adventure!