As soon as the second line appeared on my pregnancy test, I foolishly thought to myself, third time around, I've got this 🙌🏻 Let me tell you though, they're right when they say every pregnancy is different. This one just so happened to take a little bit of the "bad" from each of my previous pregnancies and put it all together for one last hurrah. Name a problem- severe aches and pains, forever nausea, worse-than-a-teenager breakouts, and everything else that goes along with your stomach stretching to accommodate a tiny human – and I had it all. BUT the good news is that I'm now able to share all of these pregnancy favorites for common ailments that really worked for me! (Please be safe and check with your doctor before starting anything new like skincare or supplements!)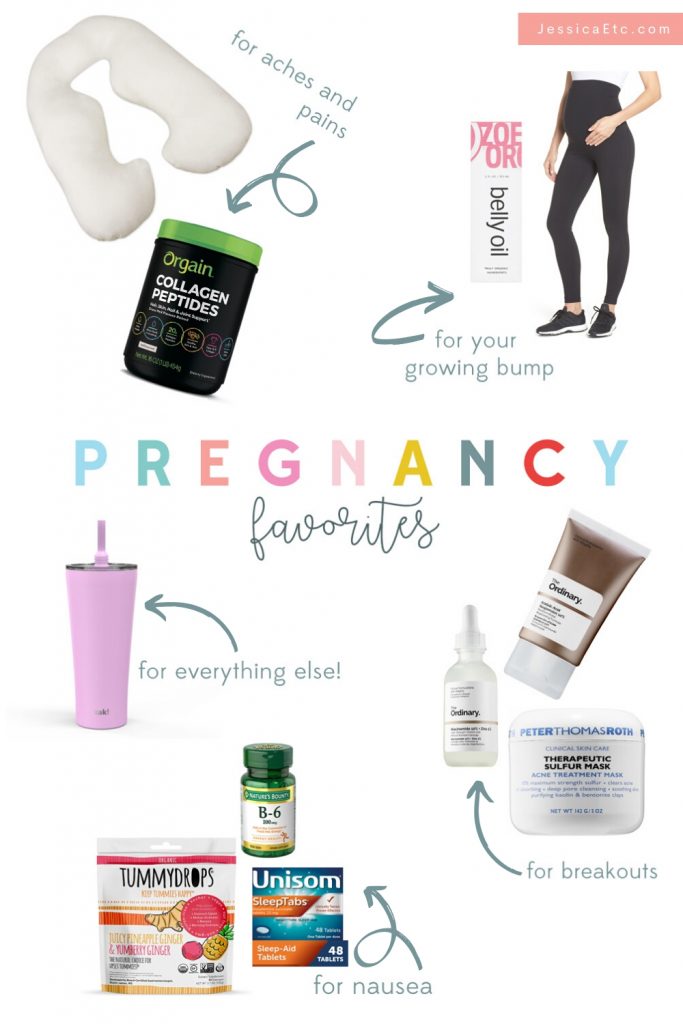 This post contains affiliate links.
Aches & Pains
I had recurring Symphysis Pubis Disfunction (SPD) in each of my previous pregnancies to the point of having very limited mobility and needing physical therapy for months after giving birth. I was honestly terrified that it would return, possibly worse, and wanted to do everything possible before even getting pregnant to try to build up my core strength and relieve some of the stress to my pelvis. So while I do believe I had a better foundation this time around, I still experienced minor pelvic girdle pain, and found these two products to be incredibly helpful.
Pregnancy Pillow: This one was my absolute FAVE, and I have no shame in saying I brought it out realllll early this time around. There are a lot of different options for pregnancy pillows, but IMO this one that wraps all the way around offers the most support to your bump, back, and hips.
Collagen Peptides: I started using Orgain Collagen Peptides about a year ago and continued throughout my pregnancy. I use a scoop or two in my coffee every morning (I highly recommend mixing it into something warm, like coffee or broth) and my joints and muscles simply just feel better. It's purely anecdotal, but this is the first pregnancy I've taken collagen peptides and the first that I haven't experienced significant pain throughout. It's also a great way to get some protein into your diet in early pregnancy when you're feeling a little blah. As with any supplement, ask your doctor before using. You can use code AMBASSADOR803 for 30% off your Orgain order!
A Growing Belly
Sure, that growing bump is adorbs, but for me it was also itchy, stretchy, and in major need of some extra support!
Belly Oil: While stretch marks are majorly linked to genetics, I feel confident that by consistently using a belly oil like this one from Zoe Organics, I was doing everything I could to help my skin stretch comfortably. It minimized the itchiness caused by stretching, felt great on the skin, and smelled amazing!
Supportive Leggings: My number one wardrobe purchase of this pregnancy were these Zella Mamasana Maternity Leggings. I have both Lululemon and Zella and I feel like the further along I get, the more I prefer the compression and weight of the Zella leggings! I feel a little more held together, both in the sense of extra weight gain and bump support.
Breakouts
I've always struggled with my skin, but this pregnancy took it to a whole new level. My entire T-zone has pretty much been one angry red eruption since about 10 weeks. I was definitely missing the pregnancy glow (unless you counted the shine from all the extra oiliness!). While there was nothing that really completely cleared up my pregnancy breakouts, these products seemed to calm and refresh my skin.
This. Mask. Is. Life. I've heard a lot about sulfur treatments for acne prone skin so it seemed like a good option during pregnancy since a lot of my other go-tos with active ingredients are off the table. I really noticed that my irritated, angry, skin seemed refreshed and soothed after each use (plus it feels great -almost cooling?- when you apply it). I plan to continue using it after the baby is here – and another wave of new hormones terrorizes my skin- as a breastfeeding-safe option.
Another brand I've turned to is The Ordinary. I love the combination of Niacinamide + Zinc and Azelaic Acid as pregnancy safe options for breakouts. Plus, you can't beat the price!
Nausea
In my previous two pregnancies, I was able to find ways to manage nausea by eating certain things (gimme all the carbs) or making sure to eat small snacks throughout the day so that I never got hungry (that triggered the worst nausea when I was pregnant with Harper!). These fruity and ginger flavored tummy drops are amazing for early on!
However, it just never let up with this one! I was well into my second trimester and STILL nauseous all day and night, I decided to (finally) flip open my OBGYN pregnancy pamphlet and saw their recommendation of 10-25mg of B6 3 times a day + 25mg Unisom before bed for morning sickness. It only took a few days of that combo and I was finally feeling alive again!
Everything Else
This is one that I had to remind myself a lot during this pregnancy – find (or make) time to take care of yourself mentally and physically. So hear me out, while it may not be a cure for EVERYTHING that comes along with pregnancy, I found that a lot of my discomfort could be solved by finding the time to sit down, put my feet up, and stay hydrated. (This was my go-to cup to keep filled and by my side all day long- it's huge and actually keeps your drink cold!) Start a good book, browse Pinterest, binge on Netflix, whatever. Just be sure to make a little time in your day for whatever recharges you! Enjoy this time, mama, it goes by so quickly!