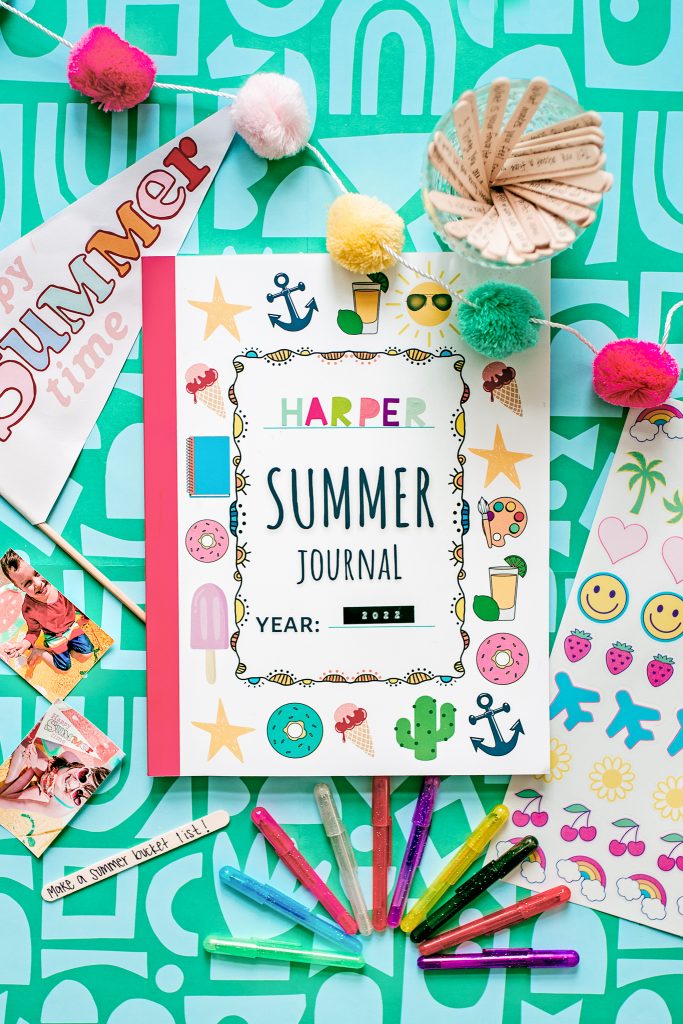 Summer break is almost here so I want to put together this guide to one of our newer traditions: a summer journal. Throughout the next few months, their journals will become a combination of memory keeping and creative writing. Journaling an engaging way to keep writing and phonics skills sharp for the fall's inevitable return to school. It is always fun to look back on the previous year and I know this is a tradition we will continue to enjoy as the kids grow.
We start each new journal with a summer bucket list! They each write down their top 3 things they want to do or places to go over summer break. Then, each day(-ish), they open to a new page to draw a picture and write a few sentences about their summer adventures. If your child cannot write yet, they can dictate while you write down their words!
Affiliate links; I receive a small commission for any purchase made through links on this page at no extra cost to you.

How to Make a Summer Journal
First, choose a journal. I order new journals every year and it's something they will find in their kickoff to summer baskets! Below are a few of my favorite journal picks available on Amazon, just tap the image to shop! I like these notebooks because they offer the perfect layout for my early elementary schoolers to draw and write on each page.
Next, add some creative flair! At the beginning of summer, along with the journal, I also buy a new package of fun coloring or writing tools, like these scented glitter gel pens, and a big book of stickers as a way to keep this summer writing project fun and special!
Extra, extra! One additional way to highlight our summer adventures is adding photos! The kids take along their instant camera or I can print from my phone's camera roll. This portable printer even has sticky paper to easily attach photos right to the journal pages!
Summer Journal Prompts for Kids
The majority of my kids' journal pages are filled by recounting fun summer activities like zoo trips, sports, beach visits, special treats, etc. On days that we don't have plans and they still want to write, I keep about 20 prompts on hand to spark creative writing. I write the prompts on popsicle sticks and store them in a mason jar so they can randomly choose an idea. I love that these creative entries capture a glimpse of their personalities each summer! Here are 25+ summer journal ideas I give them:
If you could invent something, what would it be and how would it work?
My favorite place to visit is …
If I had 3 wishes they would be…
If you were in charge of the world, what rules would you make?
What is your favorite memory?
My favorite tv or movie character is …
My favorite book is…
What are 3 things you're grateful for?
When I grow up I want to be…
If you could have one super power, what would you choose?
Draw a robot and tell me what it would do
What is one good thing you did for someone else?
If you were in charge of a meal today, what would be menu be?
One place I really want to visit that I've never been is…
Draw a self portrait and tell me about yourself
What makes you feel scared or nervous?
I feel calm when…
If you had a time machine, where would you go?
Draw your dream house and tell me about one of the rooms
If animals could talk, what would you ask them?
Describe your favorite ice cream treat
I'm looking forward to …
The best present I ever received was:
If you could have ANY pet, what would it be?
Tell about a time you got hurt
The best thing to do on a rainy day is:
Tell me about your best friend and what you would do on a playdate with them
What makes you happy?
I hope you enjoy a new tradition of summer journaling with your kids! Be sure to follow along with us on Instagram to see more summer fun!