A bunny birthday party theme for a 2 year old girl! Keep reading to find all the details including source links, bunny birthday decorations, cake, and more party ideas.
Josie turned two and the perfect theme kind of all just fell into place: a bunny birthday party! Her favorite lovey is a darling muslin rabbit; a love of which has evolved into pure joy whenever she spots ANY bunny. A few weeks ago we started showing her that she'll be "two" by holding up two fingers like, you guessed it- bunny ears! Soon she started referring to her "bunny birthday" and from there it turned into the perfect birthday theme to celebrate our JoJo!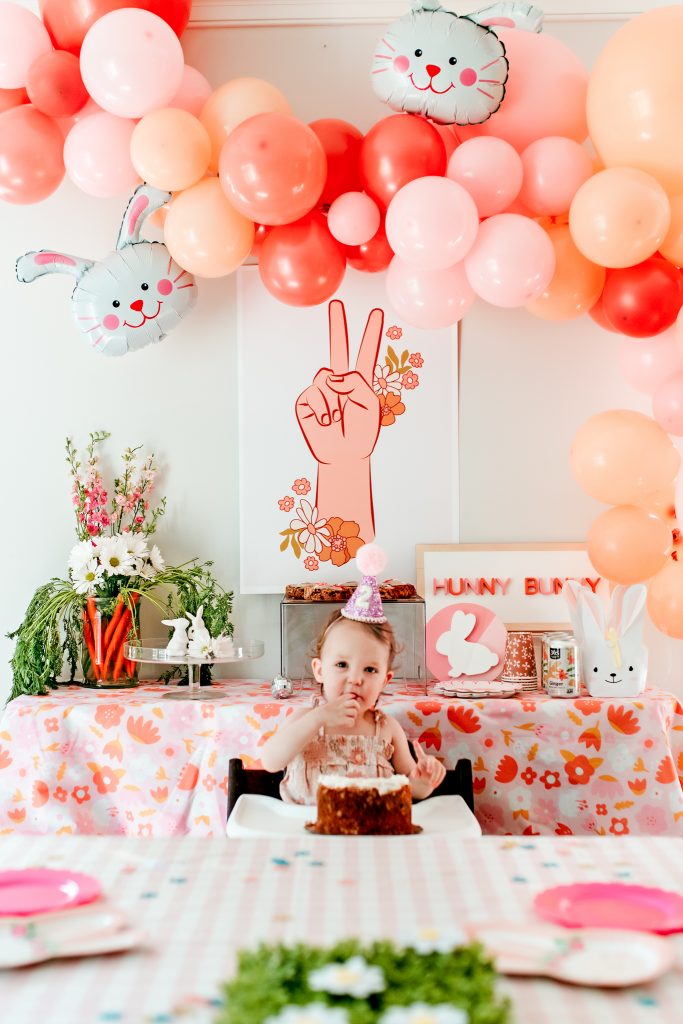 Bunny Birthday Party Supplies
Here are the sources to find all the sweet little details I used for Josie's party. Tap the image for easy-to-shop links:

Whimsical Bunny Decor
This whimsical bunny birthday party incorporates flowers, white bunnies, and bright coral, peach, and pink. Luckily, her birthday fell shortly after Easter, making it easy for me to shop all the cute bunny decor this spring!
I wanted to highlight the number two "bunny ears" as a main focal point because the correlation she made is just such a sweet memory I have of her at this age. This peace sign print from Thread Mama was just perfect so I had it printed at Walgreens on 20×30 paper board to display.
The sign was surrounded by a colorful DIY balloon garland and balloon bunnies.
Check out my post on Instagram to learn how to easily make your own garland!
The "Hunny Bunny" and two toned rabbit wooden signs are from Against The Grain's Easter collection. The coral and pink Hunny Bunny sign inspired so much of the color scheme!
A few other favorite details of this uniquely adorable party were the carrot flower arrangements and boxwood table-runner. My boxwood tiles were from Target dollar spot but an artificial grass runner would also be great! Paper products are from Lucy Darling's "Garden Party" Party in a Box.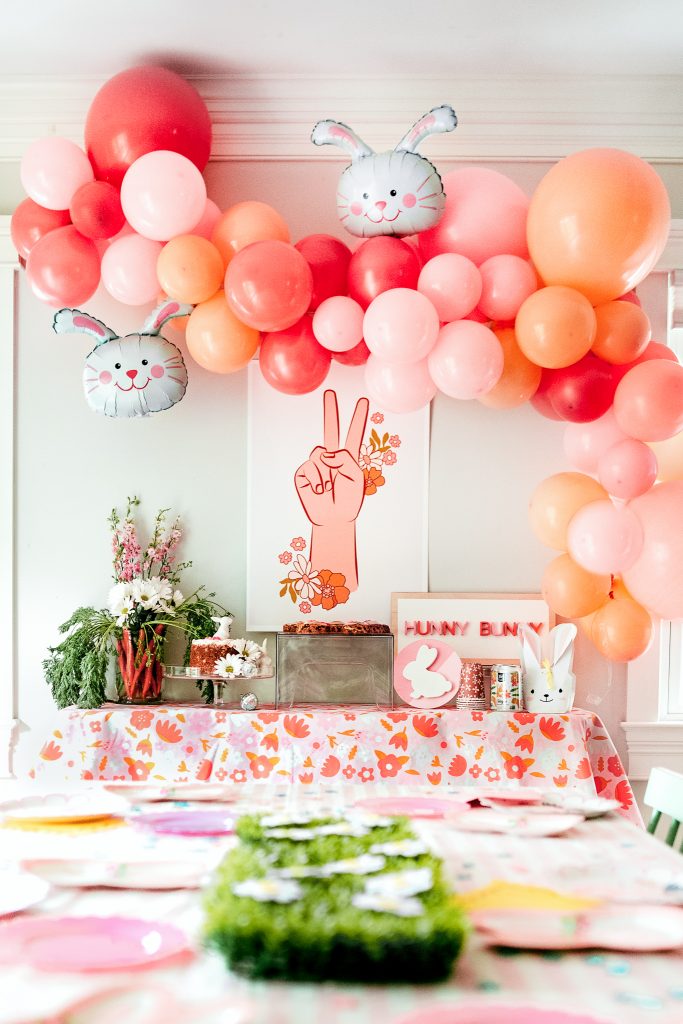 Bunny Birthday Cake
I made Pinterest-inspired bunny shaped cinnamon rolls for Josie's bunny birthday. I decorated the cinna-bunnies with crowns made using flower sprinkles. Since it was just a small family party, I was going to stop there until we were walking through the grocery store the day before the party. We found a carrot cake in the bakery case and I couldn't imagine not having a carrot cake at a bunny birthday party- right??! It was decorated with simple white icing and a crumb coating, so I added a ceramic bunny, flower sprinkles (small flowers; large flowers), daisies, and a mini disco ball to decorate it for her party.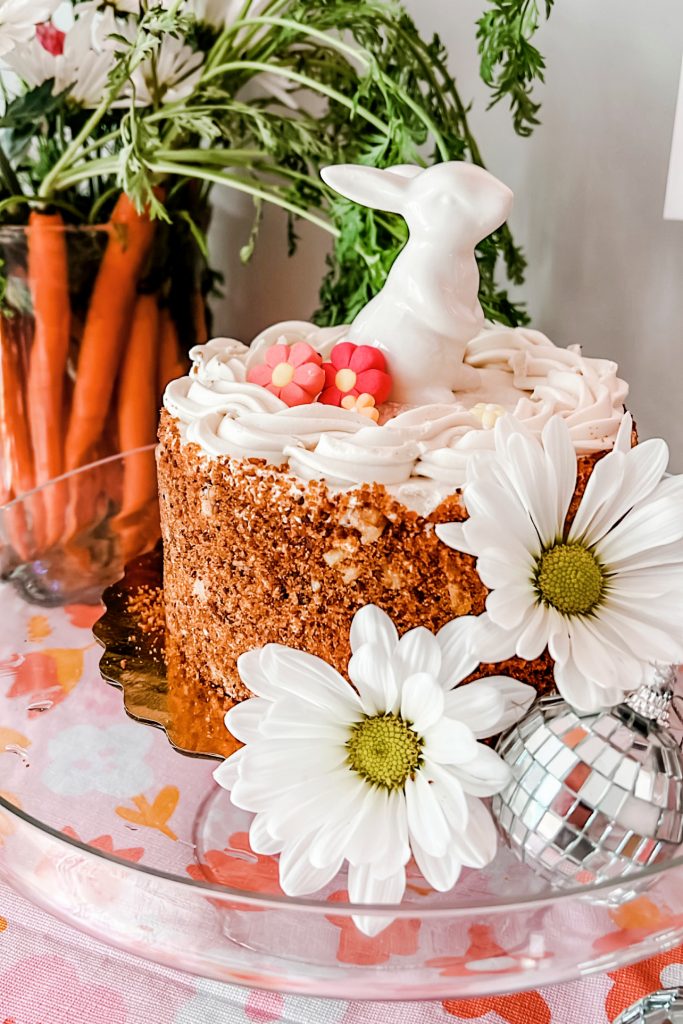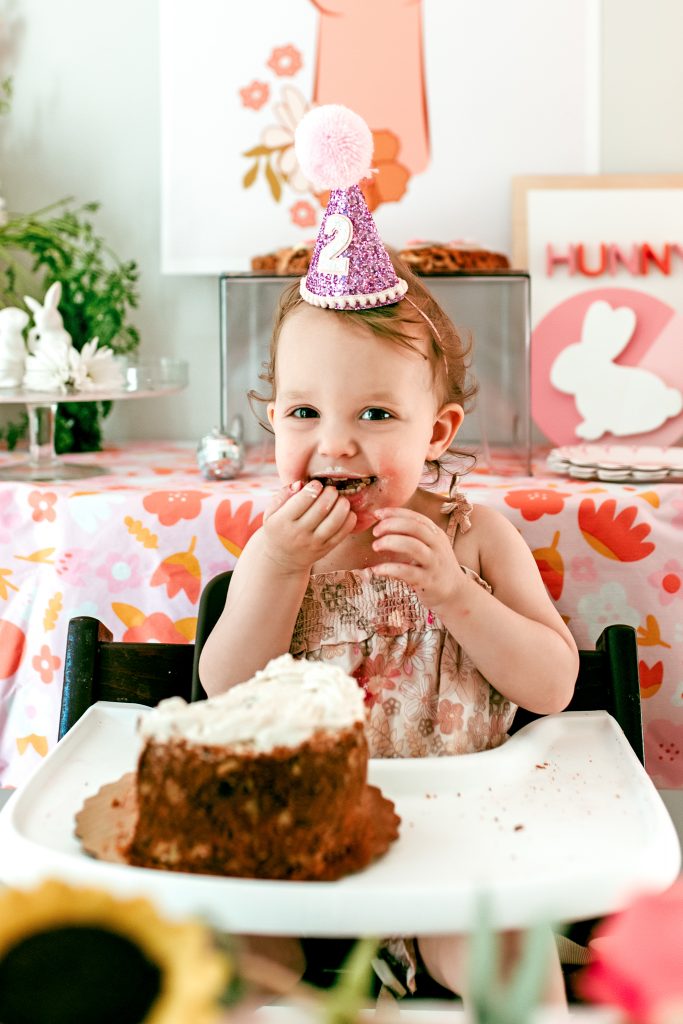 I love seeing her sweet faced filled with the excitement at all of these bunny birthday party ideas. I hope you enjoyed seeing it all as well!