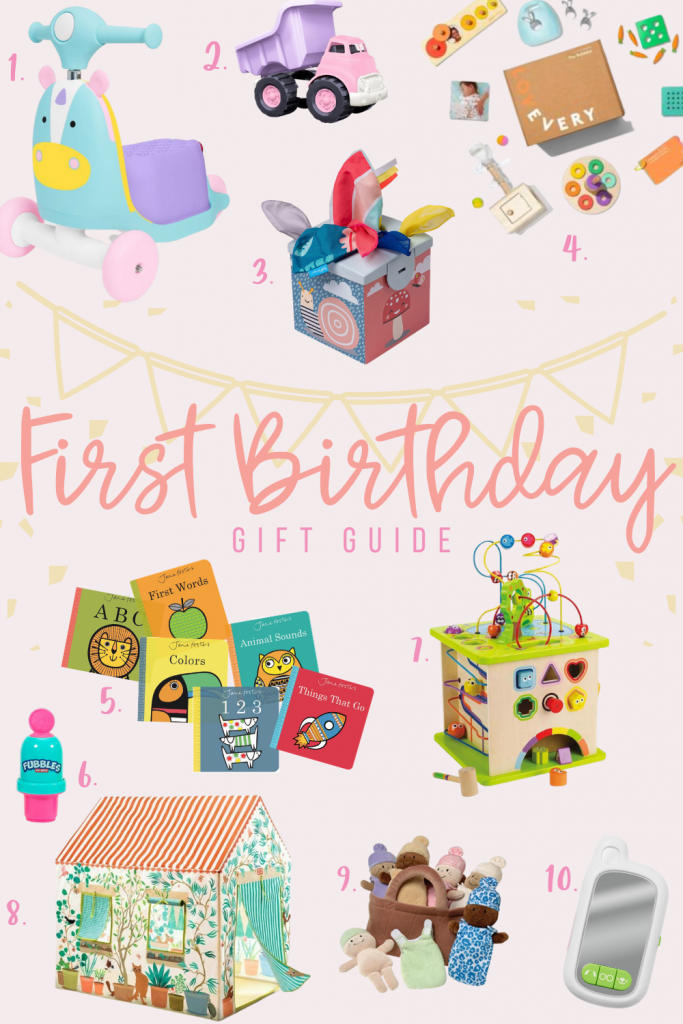 Be sure to hit the pin button to save these first birthday gift ideas for later!
This guide is full of First Birthday Gift Ideas made up of tried and true one-year-old favorites in our house as well as some new items that I found this year that I knew Josie would enjoy opening on her first birthday!
Unicorn 3-in-One: Well I think this is just about the cutest and I love a toy that can grow with the child! So, first, this ingenious little unicorn can be used as a push wagon. It can eventually be turned into a ride-on toy by simply flipping the wagon "bucket" seat over. And finally, it turns into a scooter. A blue puppy version is also available!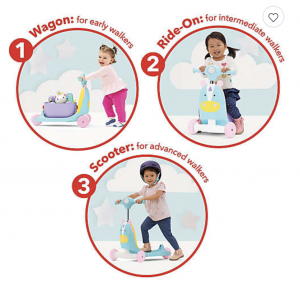 2. Dump Truck: My big kids have each had a version of this large dump truck and it's always a favorite to fill, push, dump and repeat! I love the pink and purple, but it's also available in a red/yellow combo.
3. Sensory Tissue Box: When I asked on Instagram for first birthday suggestions, there was an overwhelming number of "boxes", "tissues", and "tissue boxes". Which is SO true and always a favorite! Josie can joyfully annihilate a box of tissues in .05 seconds so I'm so glad I found this adorable one that's actually a sensory toy that she'll be able to use over and over!
4. Subscription Box: These early years continue to be a time of such immense growth and development. I love the idea of asking for subscription boxes when thinking of first birthday gift ideas. Two favorites are Lovevery and KiwiCo because their kits send age appropriate toys and fun right to your door! 10% off 3 Play Kits at Lovevery HERE . Get 50% off your 1st month of a KiwiCo subscription HERE .

5. Beginner Books: Josie has already accumulated quite a few of these board books over her first year and I continue to add new titles. We love the bright, bold illustrations and simple words to learn and identify objects! Each page has a single large illustration and word.
6. No-Spill Bubbles: Babies + bubbles is always a purely magical combination and I love these no-spill containers for both toddlers and big kids. Perfect to toss in the bottom of the stroller. It's refillable for endless mess-free fun.
7. Standing activity cube: The standing activity cube has been an essential in our house since the kids have been able to pull themselves up. Along with the beads on top that included in similar activity cubes, I love that this one is full of activities for young toddlers like shape sorting, a ball run, and a puzzle maze; it combines several of my favorite toys for this age into one!
8. Playhouse: This adorable playhouse is made of thin plastic rods and a durable fabric shell. It's able to be broken down and reassembled within minutes. My 1, 6, and 4 year old can all sit inside comfortably!
9. Basket of Babies: Yep, my favorite basket of babies made it onto another gift guide. It's because they're really just the best! They're the perfect size and softness for a toddler, include a variety of diverse skin tones, and come with easy to dress and match sleep sacks.
10. Mirror Phone: This was a last minute toss into my Amazon cart but I'm so glad I did because it was an instant fave! The cute mirrored phone plays songs (on/off switch included 🙃) and has different buttons to add cute "filters" like glasses, puppy ears, and whiskers.
In the comments, I'd love to hear what your child's favorite toy is at this age??