Whether you are passing this list to a partner 😉 or treating yourself to a little something for being a Super Mom (because you are!), here is a list of my favorite gifts for mom that you can find on Amazon! My 2022 gift guide for mom is full of my favorites, some wish list items, and a few amazing dupes I've had my eye on. Take a look at what I found on Amazon!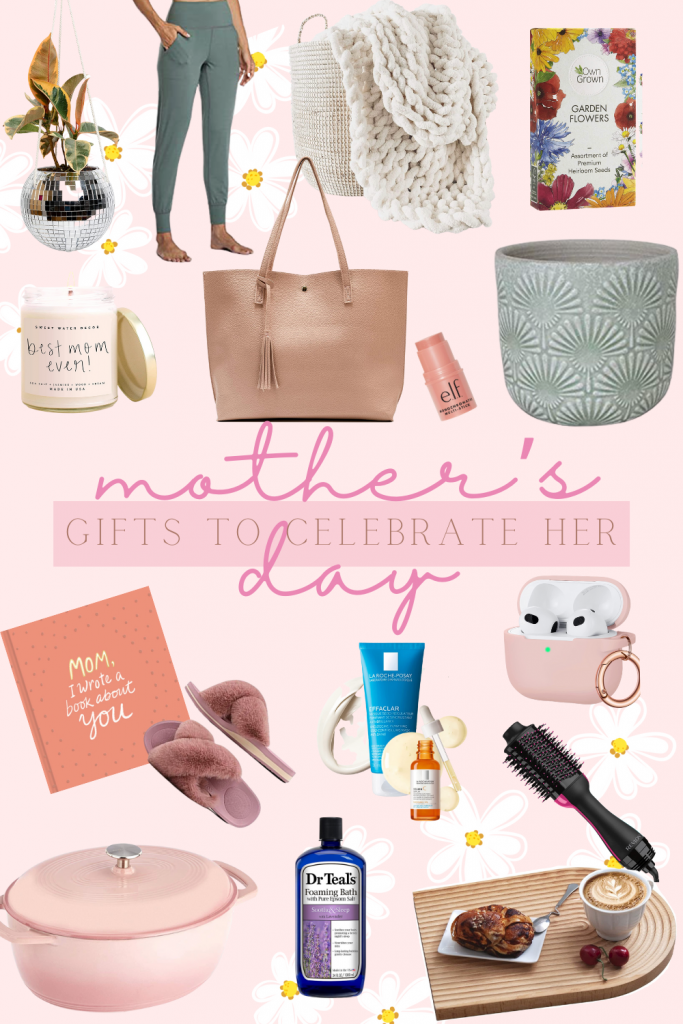 My Favorite Gifts for Mom from Amazon
To shop, just tap the product photo or the link. To skip the descriptions and see everything in one place, you can go directly to my list on Amazon here!
A big thank you for shopping my affiliate links as it provides a small commission (at no cost to you!).
Mom I Wrote a Book About You: This book is made for children (of all ages!) to fill in about their mom. The artistically designed pages provide prompts to share all their favorite parts about mom! Such a sweet momento that is sure to capture some fun responses!
Lulu Dupe Joggers: My lululemon Align joggers are my all time favorite and I have heard these Amazon dupes are legit. At less than a third of the price of the OG, they're on my list to add to my mom closet!
Jumbo Chunky Throw Blanket: After a long day, I love to curl up with a cozy throw. This jumbo chenille knit blanket looks like an absolute dream!
Best Mom Ever Soy Candle: This clean candle is a beautiful choice for any candle lover! Sea salt, jasmine, cream and wood scented. Add a jar of multicolor matches to complete this gift!
Espresso Machine: File this one under mom's mega wishlist! This is a best seller for good reason. But a Starbucks giftcard would work, too 😉
Cast Iron Dutch Oven: I've had a dutch oven on my wish list for a while now and did I mention that this one is pink?? If the 7-quart oval is out of stock, you can check out this 4.3 round version.
Disco Ball Planter– This is SO FUN. Perfect for an office, patio, or let's be real- anywhere, really!
Fluffy slipper slides: Laughing as I type this because my "pros" for these include arch support, memory foam, and indoor/outdoor soles. IYKYK (and chances are you're also a 30-something mom). But really, they're so good!
Vitamin C Serum: Vitamin C serum is a relatively new addition to my beauty routine and I love how it has evened out my texture and brightened my skin. If you aren't using Vitamin C yet, I highly recommend!
Rifle Paper Co. AirPods Case: One of my favorite splurges within the past year are AirPods . I find myself listening to music or a podcast daily while walking, working, cleaning, or any other mom duties! I love Rifle Paper Co. and the always fun floral designs are a must.
Mama Crewneck: I basically live in a good crewneck sweatshirt and I just love the sweet "mama" script on this one! (Available in more colors)
Embossed Stone Planter: I love the beautiful color and embossed pattern on this decorative planter. A perfect spot for a pretty indoor plant on a bookshelf or windowsill.
$12 Tote: FRIENDS! Check out this find- 156 options, 18 thousand ratings. And only $12. Being that I'm still in the thick of the diaper bag season of motherhood, I love this super budget friendly option for days when I want to try to sneak a little style into mom-life.
Revlon Hot Air Brush: I credit this hair dryer as being the only reason I feel put together most days. A silky smooth blow out and quick dry time make it a mama must-have!
Rainbow Cutting Board: I mean. This is basically the cutest board for serving charcuterie or snacks, not to mention how great it will look displayed in the kitchen!
Heirloom Flower Seeds: Such a great assortment of 10 garden flowers! We plant a backyard wildflower garden every year and I love the variety of colors and blooms in this packaged set!
Clay Mask: I love, love, love this mask. I have been using this mask once a week for a few months now. I have sensitive combination skin and my skin always feels refreshed, clean, and smooth after using!
Epsom Salts & Bath Foam: Not sure I could think of a better way to end the day than with this relaxing grown-up bubble bath combo. Pour a glass of wine, open a book, and enjoy, mama!