Are these muffin tin mini pies the absolute cutest thing ever? Yes, yes they are! What's more, they are also arguably the perfect ratio of crust to fruit filling in every bite 👌🏻
No worries if you're a novice baker (or one that's in a hurry!), these pies can easily be made with a few rolls of premade pie dough and canned pie filling. Here's how: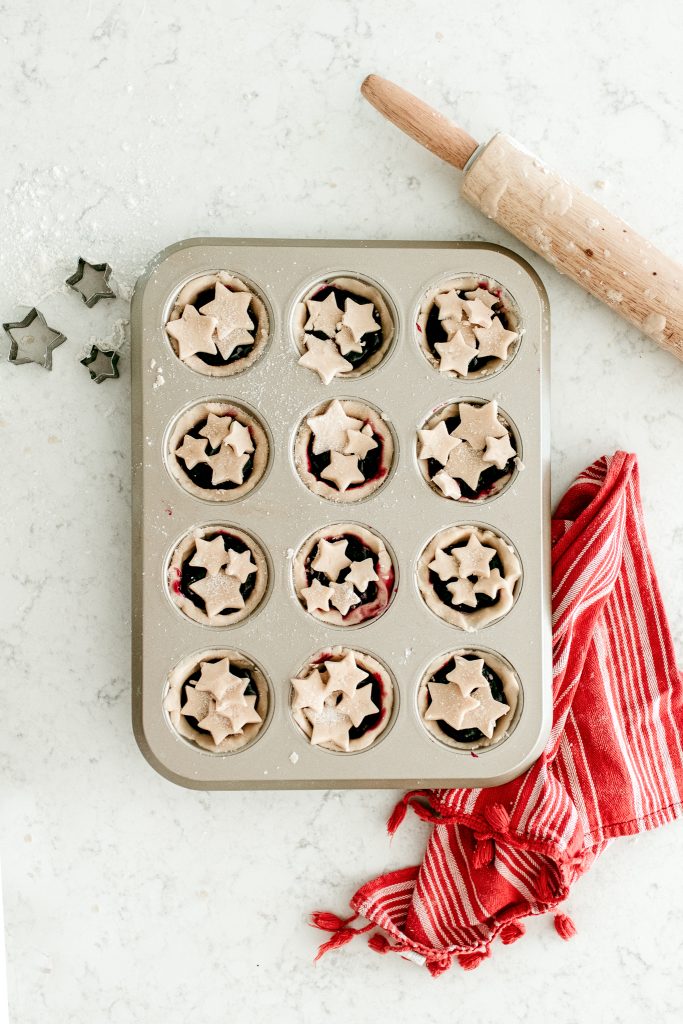 First, choose a fruit filling (or 2!). I made these as a Fourth of July dessert and filled them with blueberries. I'm already imagining how delicious they will be using the apples from our fall orchard trip.
I rolled out the pie dough on a floured counter and used a 4″ round cookie cutter to cut 12 circles. Each circle fills one cup of non-stick muffin tin by pushing it into the sides and bottom.
Fill each crust 3/4 full with fruit filling.
Using the leftover dough, I cut stars with mini cookie cutters and set them atop the fruit filling.
While you can brush a traditional egg wash on the top of the crust, I skipped this step due to my son's egg allergy. Instead, I sprinkled sugar to finish the pies.
The pies cooked for about 15 minutes before I increased the temperature to 425 for an additional few minutes until the top and edges turned golden brown.
Let cool and serve with a scoop of vanilla ice cream!
Looking for more 4th of July food ideas; check them all out here!
How to Make Blueberry Muffin Tin Mini Pies
You'll need:
Blueberry Pie Filling (diy or canned)
Pie crust (diy or store bought)
Non-stick muffin tin
Round cookie cutter
Star cookie cutters
Sugar (optional)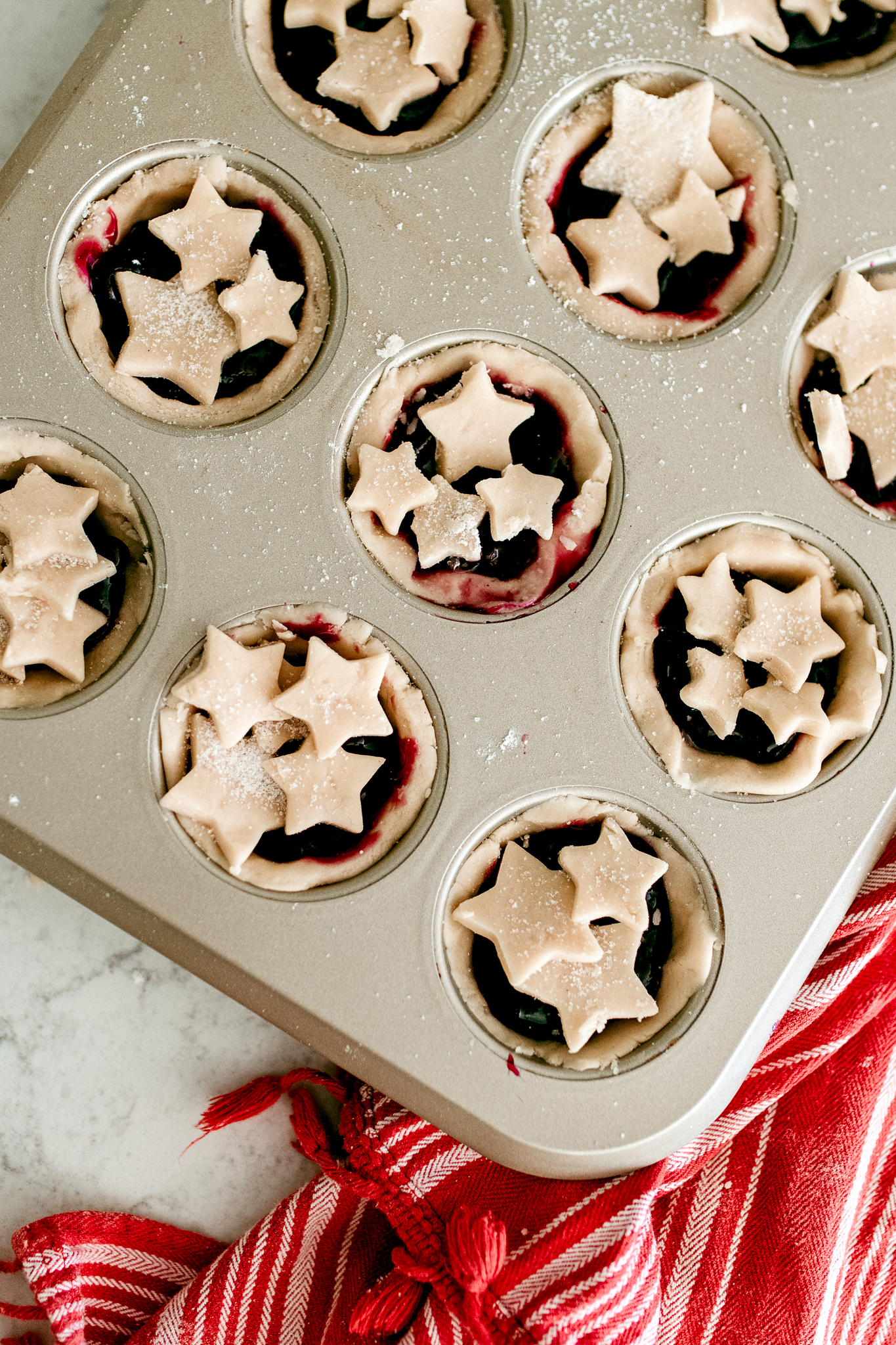 Directions:
Preheat oven to 350.
Roll out the pie crust to about 1/8"-1/4" thick.
Use a round cookie cutter to cut out the crust.
Place each circle in a muffin cup, pressing it into the bottom and sides.
Scoop fruit filling into each pie crust, until about 3/4 full.
Use leftover dough to cut star shapes (or any other design)
Layer stars on top of filling
Sprinkle top with sugar (optional) for a little sparkle
Bake for 15 minutes, turn up to 425 for an additional few minutes until crust is golden brown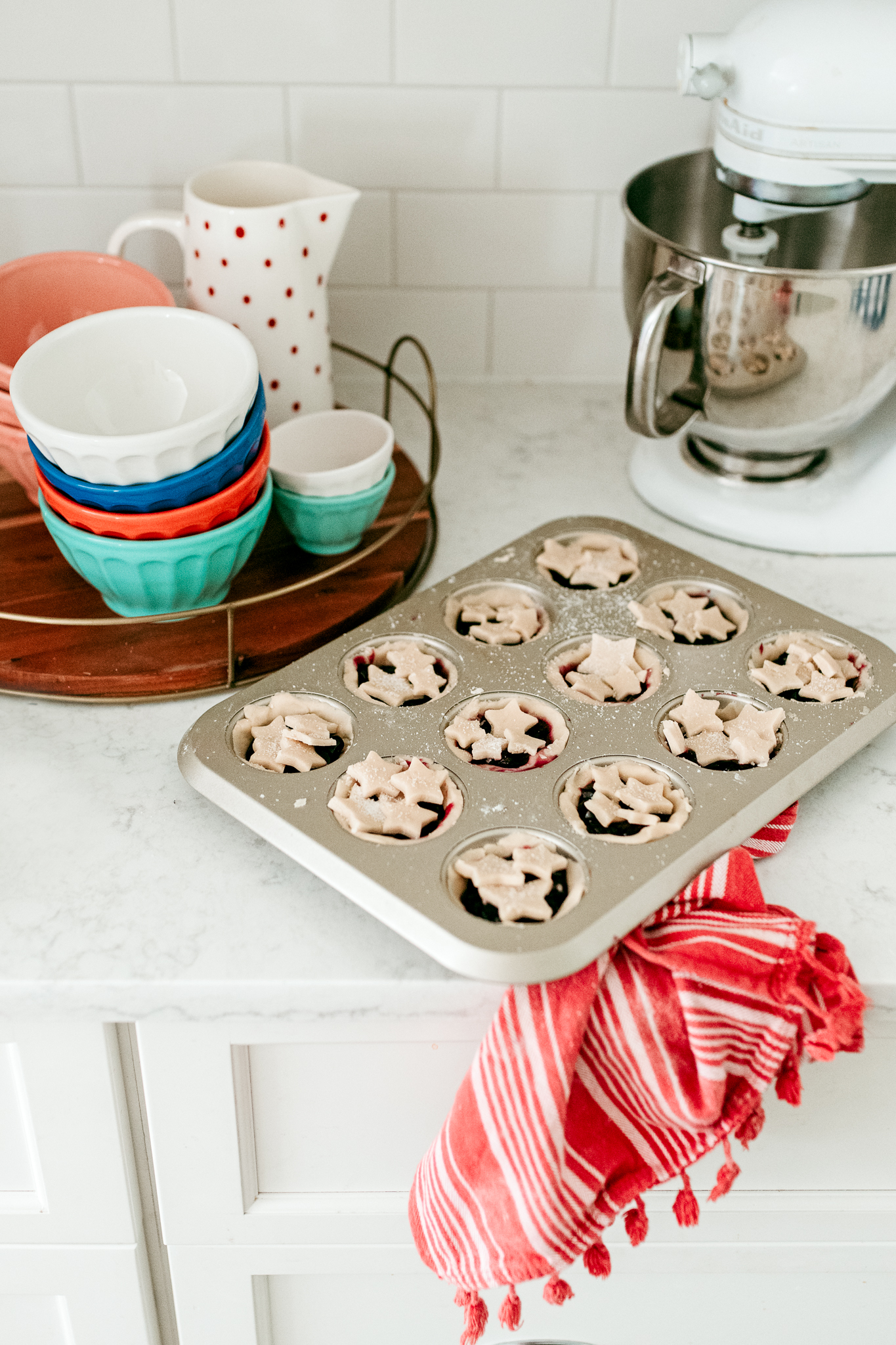 Enjoy!