Homemade playdough is a playtime and learning essential in our house; it is SO easy to make and the activities are endless! Keep it  fun and interesting by modifying the recipe to fit the season, an upcoming holiday, or activity. Today I'm sharing my all-time favorite simple playdough recipe and some of my kids' favorite activities.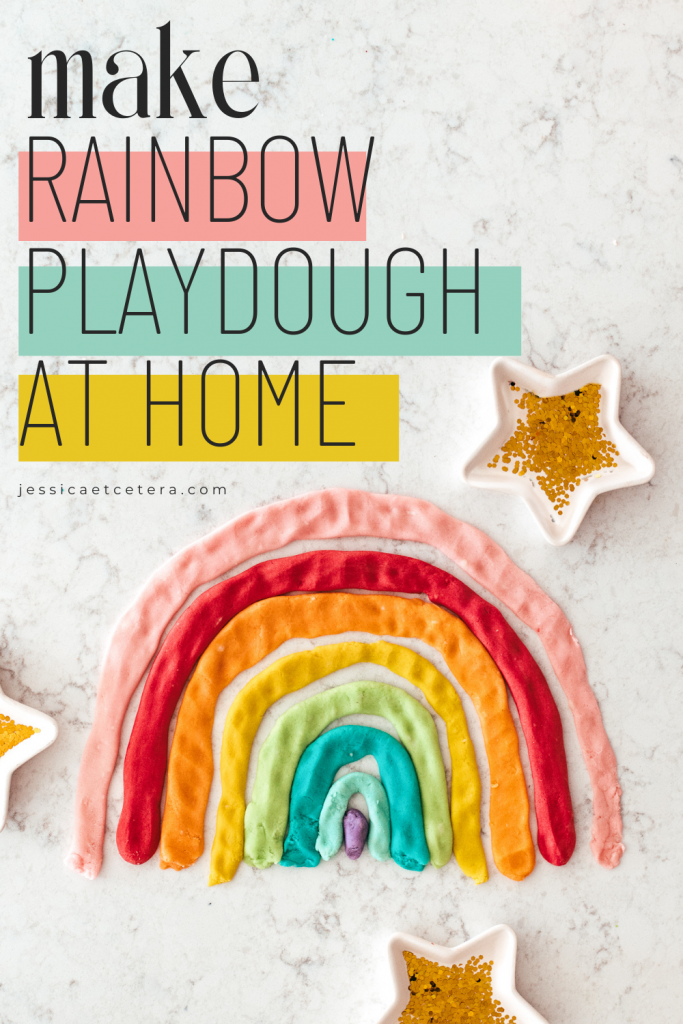 One of the greatest benefits of playdough for kids is that just by squishing and moving it around, children are working to strengthen fine motor muscles. "Fine motor control is the coordination of muscles, bones, and nerves to produce small, exact movements" (Medline Plus). These are the muscles kids will use as they develop skills like holding and writing with a pencil, using zippers or buttons, and many other key day-to-day tasks.
How to Make Homemade Playdough
It's easy to DIY playdough at home using ingredients found in your pantry or that can be easily picked up on your next trip to the grocery store. Below you'll find the easiest way to make soft, pliable, homemade play doh. My 5- and 7-year-olds love helping me whip up this playdoh recipe; cooking it together is almost as fun as getting to play with it afterwards!
Easy Homemade Playdough
Ingredients
1

cup

flour

1/2

cup

salt

2

tsp

cream of tartar

1

cup

water

1

tbsp

oil
Instructions
Combine 1 cup flour, ½ cup salt and 2 tsp cream of tartar in a saucepan.

In a separate container, mix 1 tablespoon vegetable oil and 1 cup water

Place saucepan over medium heat and slowly stir in the wet ingredients.

Stir constantly until a ball forms, about 3-4 minutes

Remove from heat and let cool on a piece of parchment paper.

Keep in a sealed container or plastic bag; it can be kept for months!
Now that I've shared the basic homemade playdough recipe, it can be customized in so many ways! Simple add-ins that can elevate homemade play doh to the next level include food coloring, scents, and glitter or beads.
For homemade rainbow playdough, divide the dough into as many colors as you would like. Add a drop of food coloring or squirt of paint (if using paint you may need to add a little more flour to balance the consistency). To avoid staining your hands you may want to use plastic ziploc bags to mix each individual color. (Don't worry, the color doesn't transfer while playing.)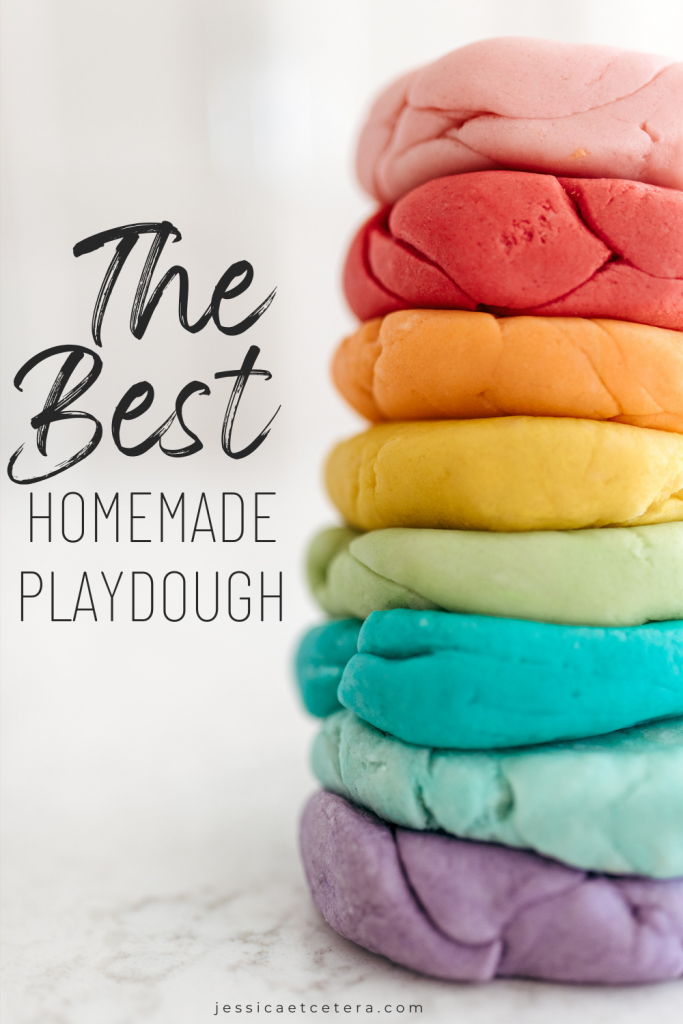 DIY Playdough Activities for Kids
Cognitive
Homemade playdough provides a fun, hands-on, sensory friendly option for learning. It easily scales as your child grows; from early literacy skills to spelling and math, there is probably an educational activity you can try! Little ones can roll out playdough "snakes" and copy shapes and letters from visual aids like flash cards. Cutting those same playdough snakes is a great introduction to using scissors!  Roll small balls of dough to be used as hands-on math manipulatives. Practice spelling words or their name using wooden letter stamps (or pieces of an alphabet puzzle!) 
Pretend
My kids absolutely LOVE role playing with their playdough. Their favorite is cooking and baking playdough cookies and pies. It is so easy to set up by simply borrowing some pots and pans from their play (or the real) kitchen! Check out apple pie playdough here!
Social-Emotional
Another intentional activity is talking about emotions by creating playdough faces. On a piece of paper, draw a head with no facial features. Talk to your child about different emotions. Have your child fill in the facial features using their playdough to represent that feeling. Discuss different situations with older children and have them create an appropriate facial expression to add to the blank face. This activity is a gateway to meaningful conversations and is an exercise for putting words to feelings that your child may be experiencing!
Creativity
Open-ended play dough activity kits provide creative freedom!. Kids revel in not having a "right" way to do something, letting their imagination pour into their play.  I provide my kids with a tray of options to add to their playdough and offer a theme or topic. Ultimately what they create or how they play is totally up to them! We have created monsters with a tray of googly eyes, pipe cleaners, pom poms and toothpicks. Some other examples of creative playdough kits include: making bugs, decorating christmas trees, planting a flower garden, and creating a dinosaur habitat. 
I hope you're inspired by these DIY playdough recipes and activities to provide enriching and creative play at home! Have fun and be sure to check out more playdough ideas below!