Happy February! Let's start LOVE month with a simply bright and colorful Valentine's Day DIY ! One of my goals this January was to clean out the depths of our cabinets throughout the house. The craft closet was an absolute disaster gold mine of broken and lost crayons in just about every container I came across. Instead of tossing them, I put them aside to make these melted crayon valentine hearts for Harper to pass out to her pre-k class! It's a great way to reuse perfectly good crayons that just didn't have a place in our nice and tidy art area anymore.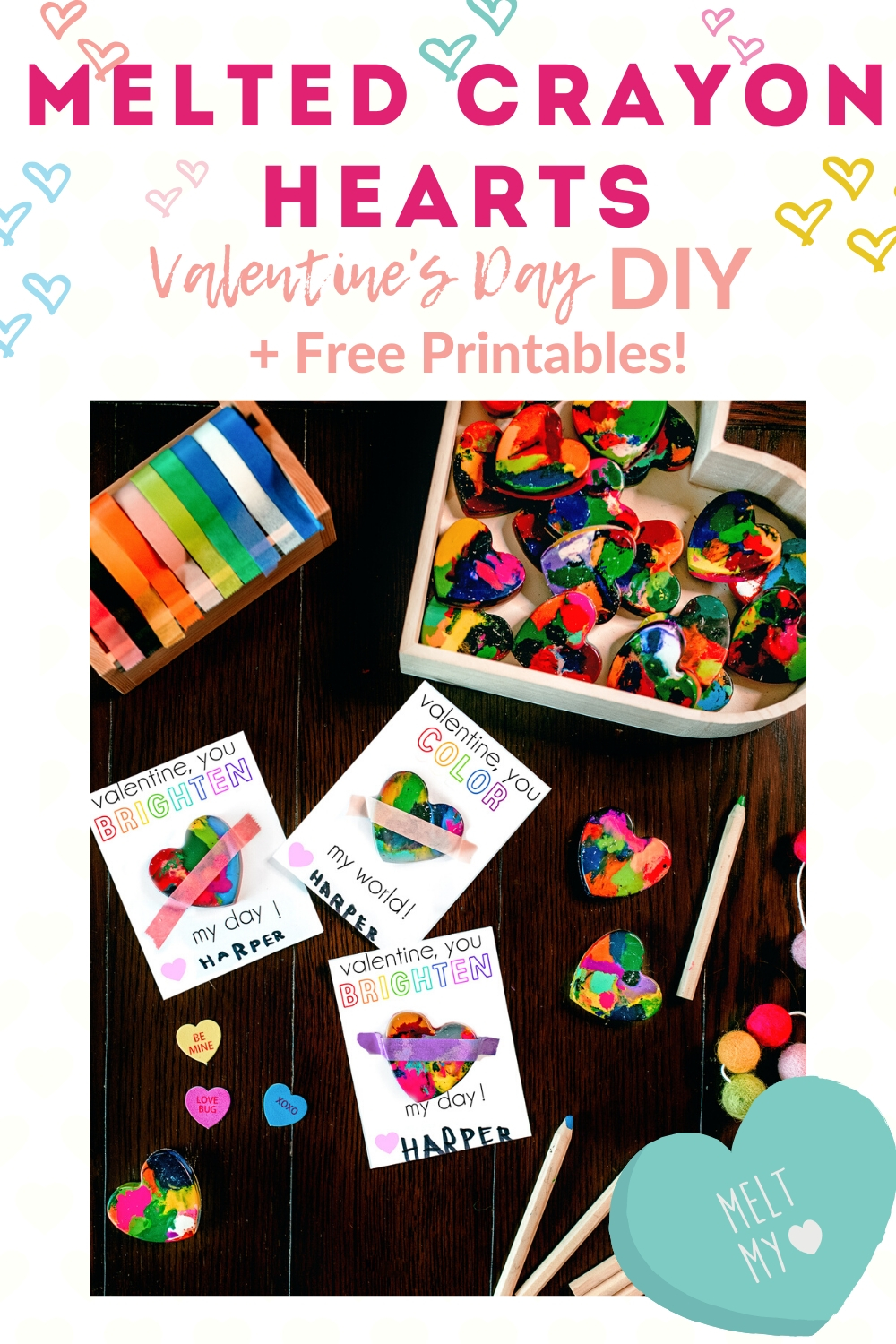 How to make Melted Crayon Hearts
STEP 1: Remove the paper wrapper from your crayons.
We started with the kids peeling the wrappers but that was going nowhere fast; I found it much easier to use my x-acto knife to make a clean cut and just let them unwrap the paper.
STEP 2: Break the crayons into 1/2″-ish pieces
STEP 3: Fill a silicone mold with a layer of broken crayons
Using this silicone mold , we arranged different colors of crayons in a single layer (it's okay if it's more, you'll just end up with a thicker crayon!). You can also separate by color family if you want to make a full rainbow set of heart crayons, which would make a great little valentine gift for your kids!
STEP 4: Bake your crayons for 20-25 minutes at 250 degrees or until melted.
Be careful removing the liquified crayons, the heart mold is a little flimsy and that wax is hot!
STEP 5: Let cool 20-30 minutes and pop out your new crayons!
This was the kids' favorite part; they loved being surprised by a unique pattern every time we popped out a new heart. No mixing is necessary, the colors just marbleize themselves!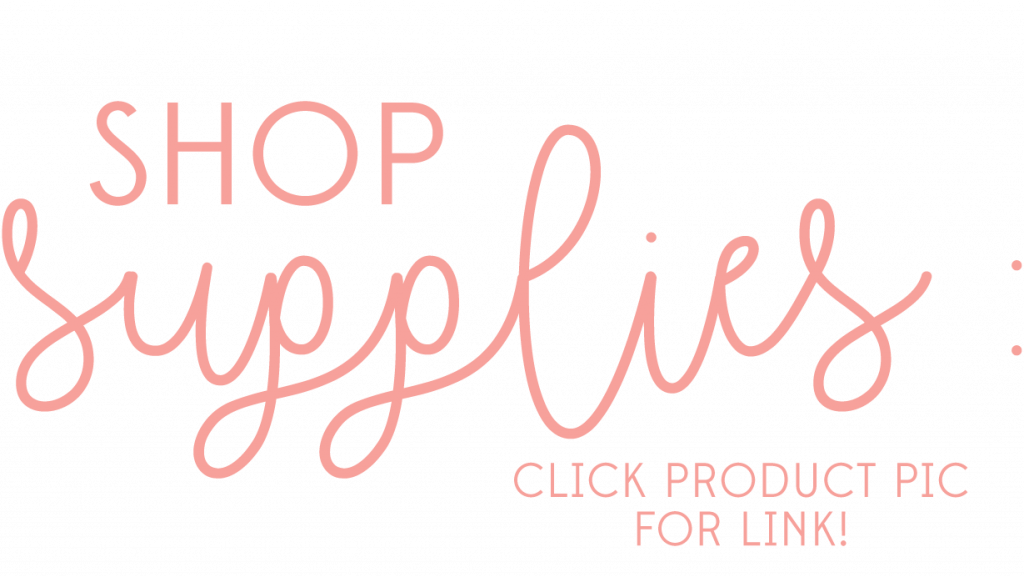 I love when I can get the kids involved in a quick and easy multi-part project; we had a blast following these super easy directions to make a whole classroom worth of melted crayon valentine hearts.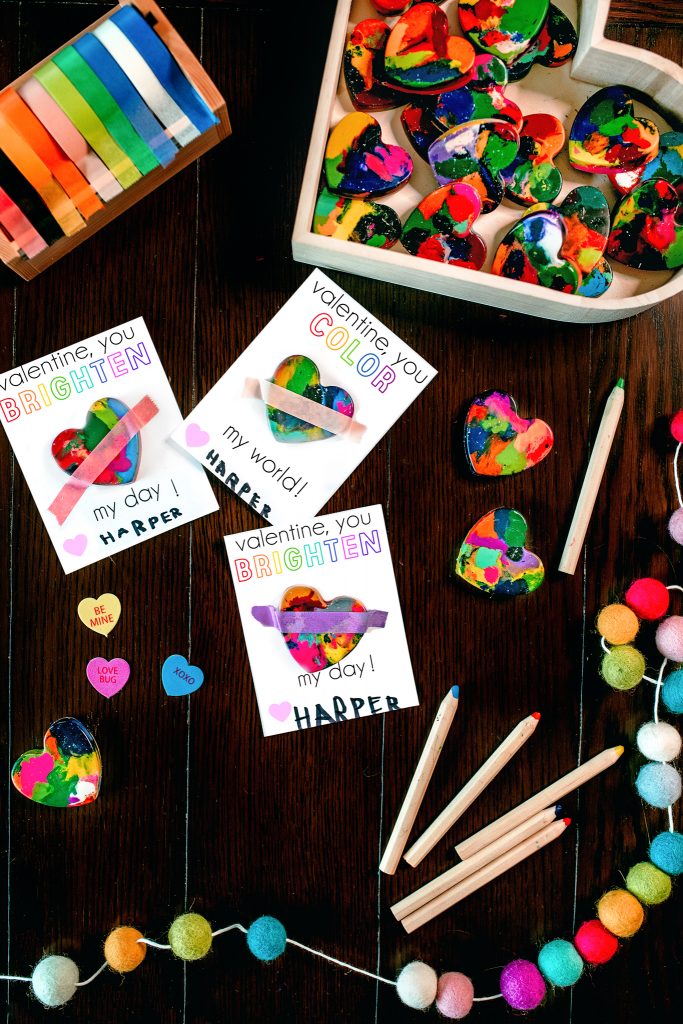 In addition to making a perfect non-food treat for classroom valentines, you can also wrap up a set as an adorable Valentine's Day gift for your kids or use them in a Valentine themed art station!
And because we LOVE you : make sure you download these free class valentine printables that I made to go along with this craft! Feel free to print your favorite or both.
Click here for the "valentine, you BRIGHTEN my day!" printable
Click here for the "valentine, you COLOR my world!" printable
To create your valentines, print the desired number of copies on cardstock (you can use plain paper, but cardstock will hold the weight of the crayon better) , cut each page into 4 cards, and use colorful washi tape to attach a melted crayon heart!
I'd love to see your creations! Tag me on instagram @jessicagrant14