Easter is a wonderful time of year, especially for young children. The holiday provides an opportunity to celebrate the arrival of spring and to spend time with loved ones. And of course a visit from the Easter Bunny! One of the most exciting parts of Easter for toddlers is the tradition of the Easter basket. On Easter morning, my kids love to run through the house to find their baskets that our Easter Bunny has filled with fun & functional items.
Check out some tips for creating a toddler Easter basket and shop some of my favorite finds this year!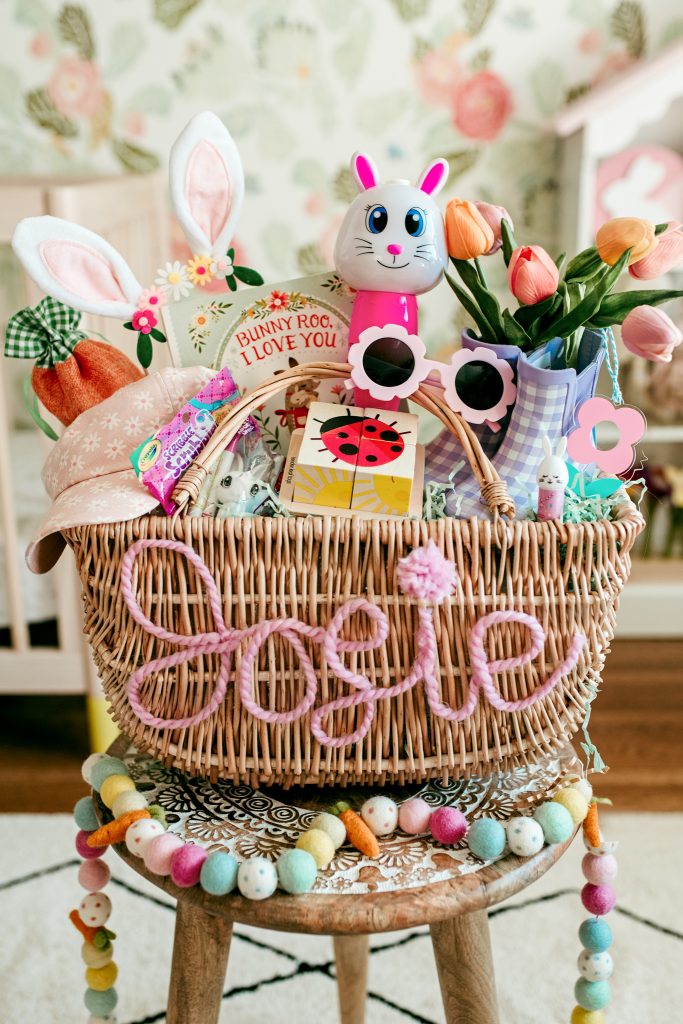 Her personalized basket was a DIY you can check out on Instagram here!
I LOVE finding cute Easter basket goodies for my kids. I'm excited to share my 2-year-old, Josie's, basket with you! New rain boots, a cute hat, and simple outdoor toys like chalk and bubbles are just a few of the items I added this year.
Tips for creating the perfect toddler Easter basket:
Toddlers are at a unique stage of development where they are exploring the world around them and learning new things every day. When selecting items for the Easter basket, keep in mind the age and interests of the child. Choose toys that are safe and easy to manipulate, such as soft toys, board books, and simple puzzles.
Toddlers love to explore and interact with the world around them. Consider adding interactive items to the Easter basket such as bubbles, chalk, gardening set, or a set of playdough. These items will allow your toddler to engage in sensory play, which is an important part of their development.
It wouldn't be Easter without a few sweet treats. Instead of filling the basket with traditional candy, I opt for healthier alternatives such as cereal, dried fruit, or granola bars.
Incorporate Easter themed goodies like bunnies, chicks, carrots and eggs. This can include little toys or Easter books (My favorite Spring/Easter books linked here). Fill plastic eggs with small items like stickers or finger puppets, little ones will love finding a surprise inside!
Don't forget practical items: While the Easter basket should be fun, it's also an opportunity to add practical items that your toddler may need. This can include a new sippy cup, pajamas, sandals, or a new pair of socks.
Enjoy this Easter gift guide for toddlers!
Simply tap the picture to shop

Find more Easter favorites in my curated Amazon Shop
Have fun filling your toddler's Easter basket; I hope I was able to help give inspiration for some special items to add! Follow me on Instagram for more fun ideas and holiday magic!