Ethan's 2-year-old rubber duck birthday party (affectionately named "Quack-y Birthday) was SO fun and one of my absolute favorites! Turns out that 2 is a unique age where your child is coming into their own personality but doesn't have full-fledged interests in much of anything. I had to dig deep into my creative reserves to come up with a birthday party theme that he would love! Cue obsessively making mental notes on everything that brings my soon-to-be 2-year-old joy and ultimately landing on his favorite part of the day- BATH TIME!
Are you Following all our Fun on Instagram?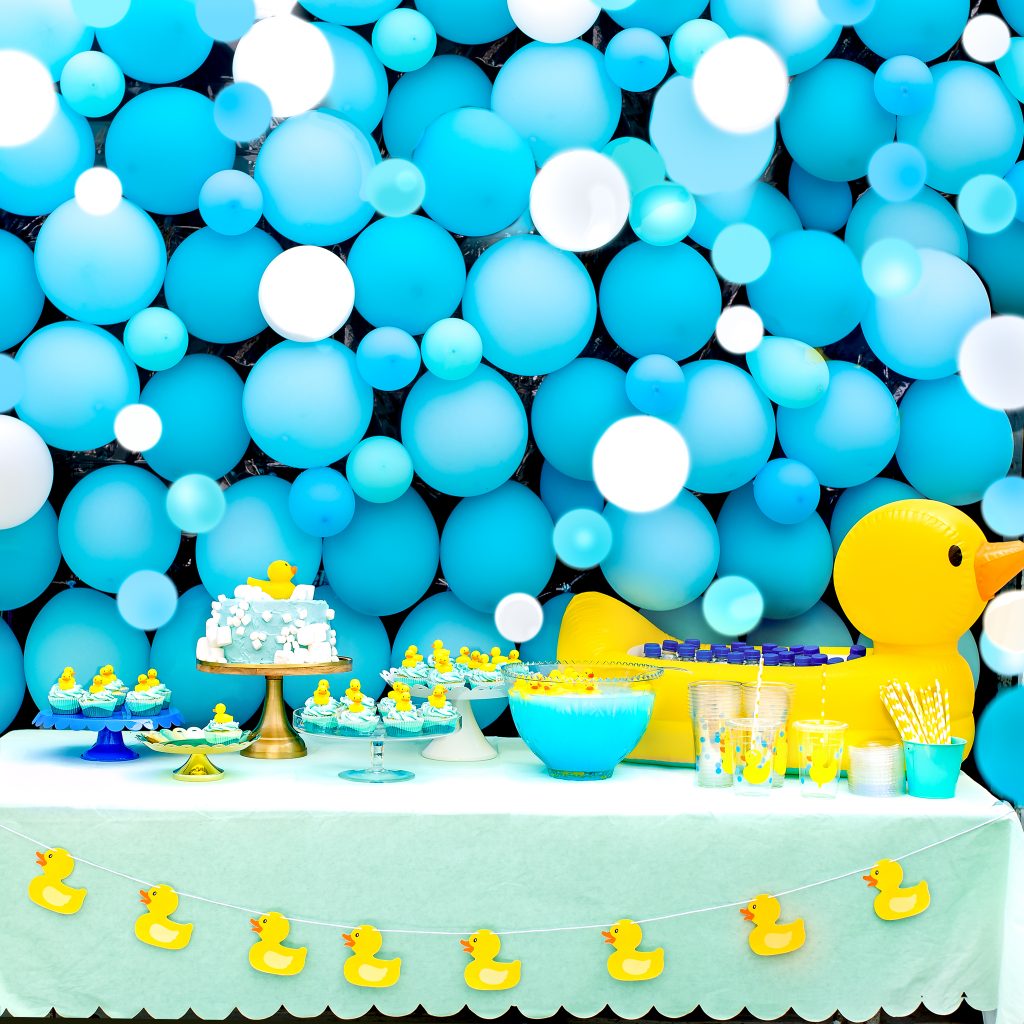 There isn't much better than bubbles, water fun, and rubber duckies in the eye of a 2-year-old. I hoped to bring all of those elements into his very splashy rubber duck birthday party. Theme-worthy mentions included approx 5 million mini rubber ducks placed on every surface, bubble-blowing stations, and a very bubbly balloon wall. My favorite details included the inflatable duck cooler (repurposed from a baby bath!) and the bathtub punch bowl (filled with blue raspberry kool-aid!). And because it was a hot and humid August day, we filled up baby pools and buckets of water balloons for the little ones to cool off in our backyard. The oversized rubber ducks floating around in the baby pools became a rubber duck party favor at the end of the party!
First, I want to share my rubber duck party supply list, then keep scrolling for even more rubber duck party ideas and photos below!
Rubber Duck Party Supply List
Check out my curated list of rubber duck party supplies! My color palette was shades of blue with pops of yellow. Below you'll find an easy to shop collection of table settings, decor, and lots of rubber ducks to plan a duck birthday party!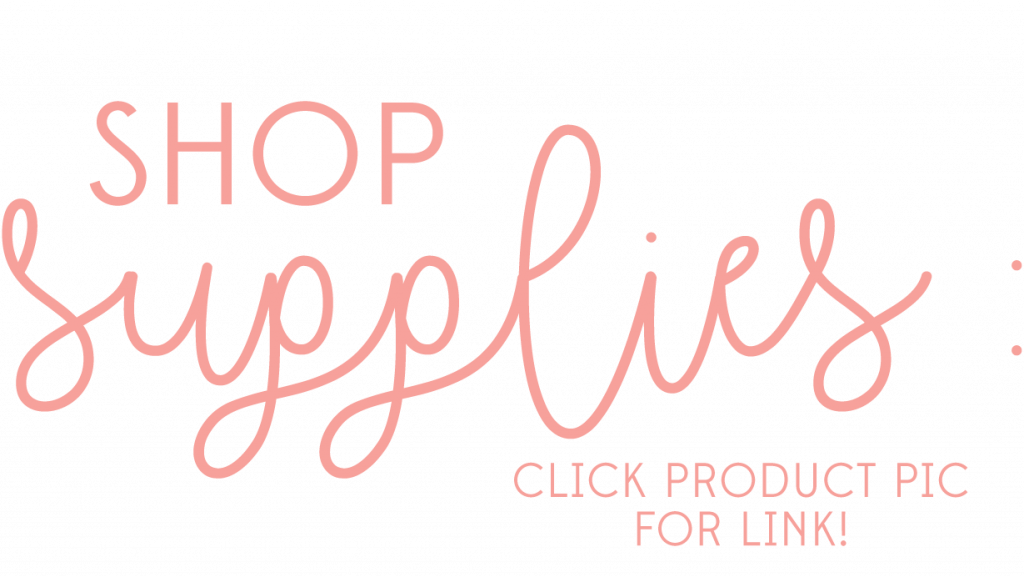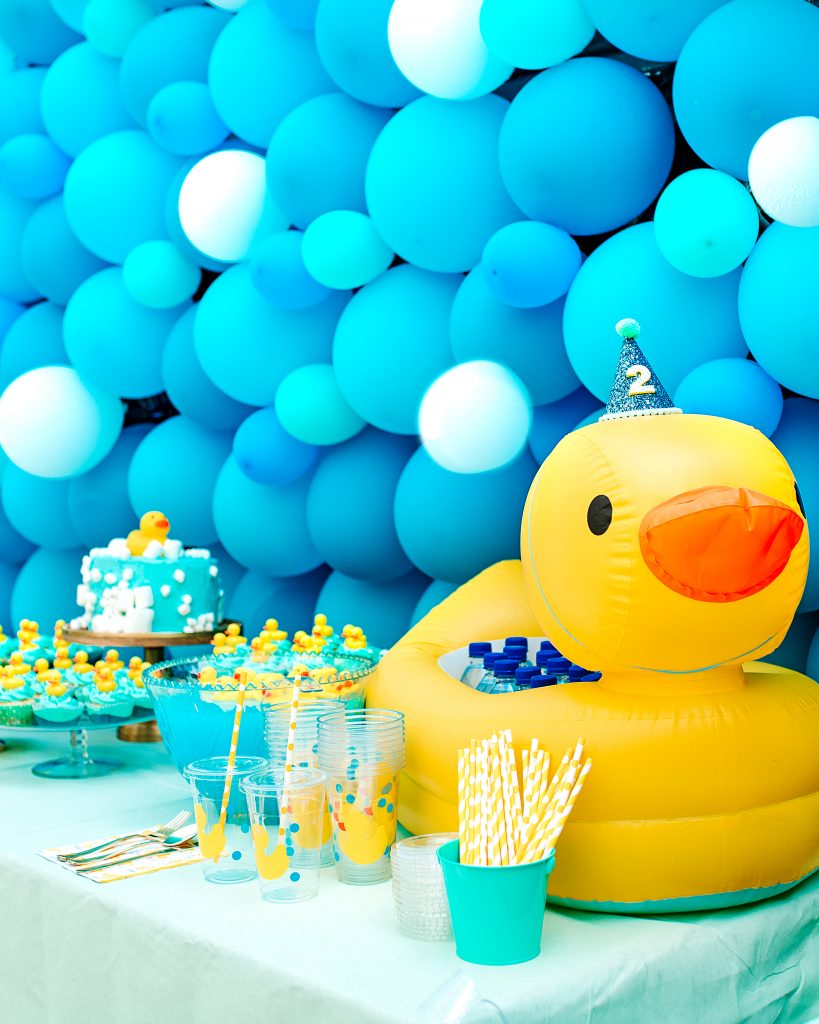 How to make a Balloon Wall
The balloon wall was really the crown jewel of our decorations. It made the perfect backdrop for this bubbly, sudsy, rubber ducky birthday party! Putting it together was surprisingly SO much easier than I had imagined. Thanks to this balloon backdrop kit that I came across at the party store, it was as easy as pulling the balloon ties through pre-punched holes in plastic sheeting (which would also be a pretty easy DIY with your own plastic and a hole punch!). Attach the larger balloons first and then use glue dots to attach smaller balloons right onto the larger ones, filling in gaps and arranging them to fit the look you're trying to accomplish.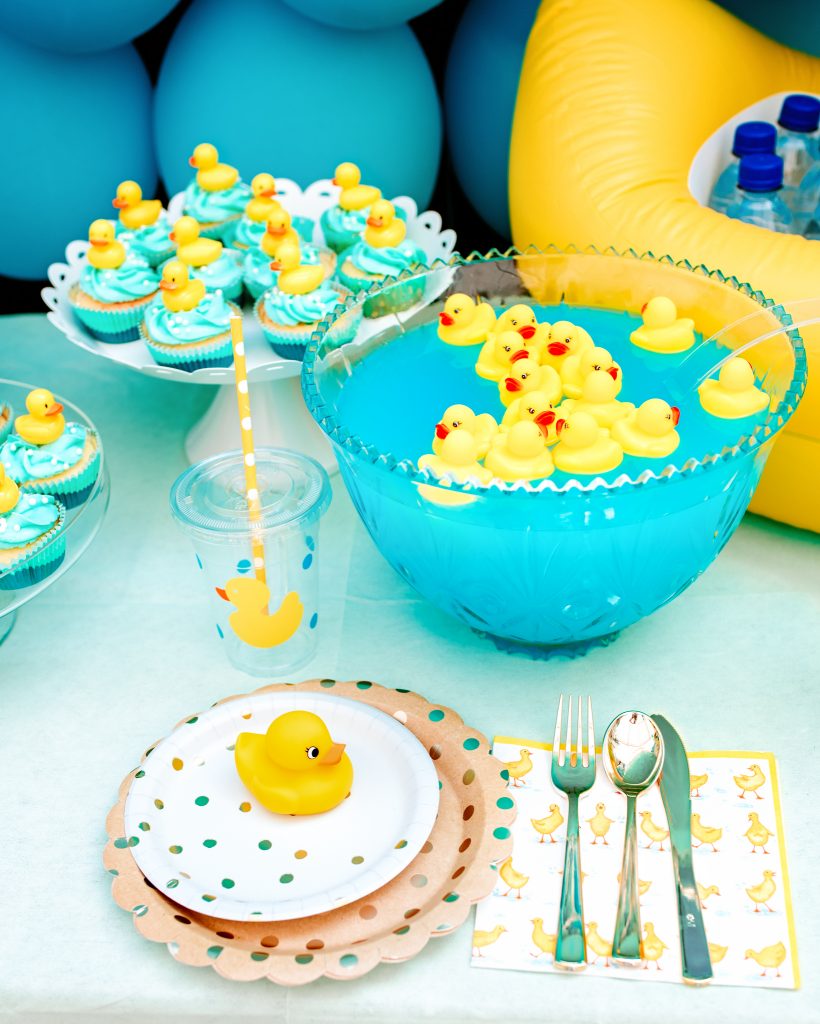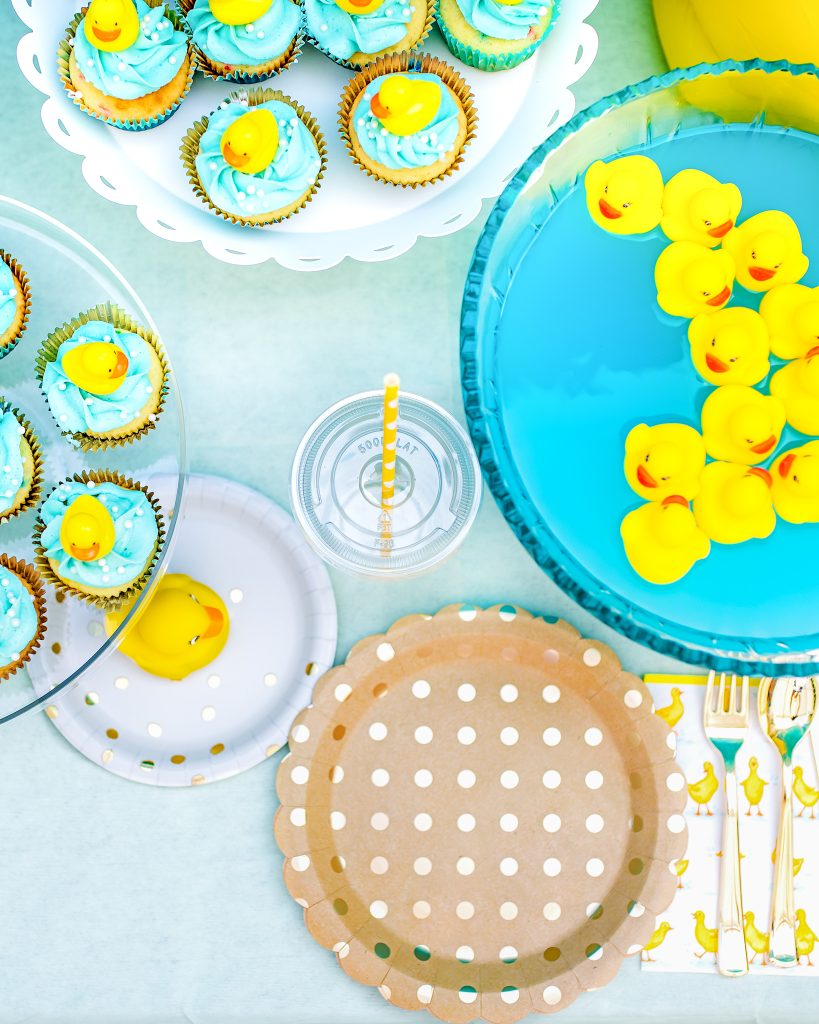 Rubber Duck Party Ideas: Food & Drink
Due to my son's food allergies, I typically bake his birthday cakes. Although I am no professional, I try to follow our theme and make him a fun cake! For this party, I focused on an abundance of bubbles and ducks. The cake was frosted with a light blue vegan frosting. Three different sizes of marshmallows in clusters to the top and sides, trying to replicate bubble bath suds. I added a rubber duck bath toy as a topper.
The punch bowl is another fun and whimsical bath time detail! I simply filled the bowl with blue raspberry lemonade Kool-aid. Add in a few handfuls of mini rubber ducks to float around on top! If allergies aren't a concern, spoon in a few scoops of sherbet to create a yummy bubble bath inspired froth!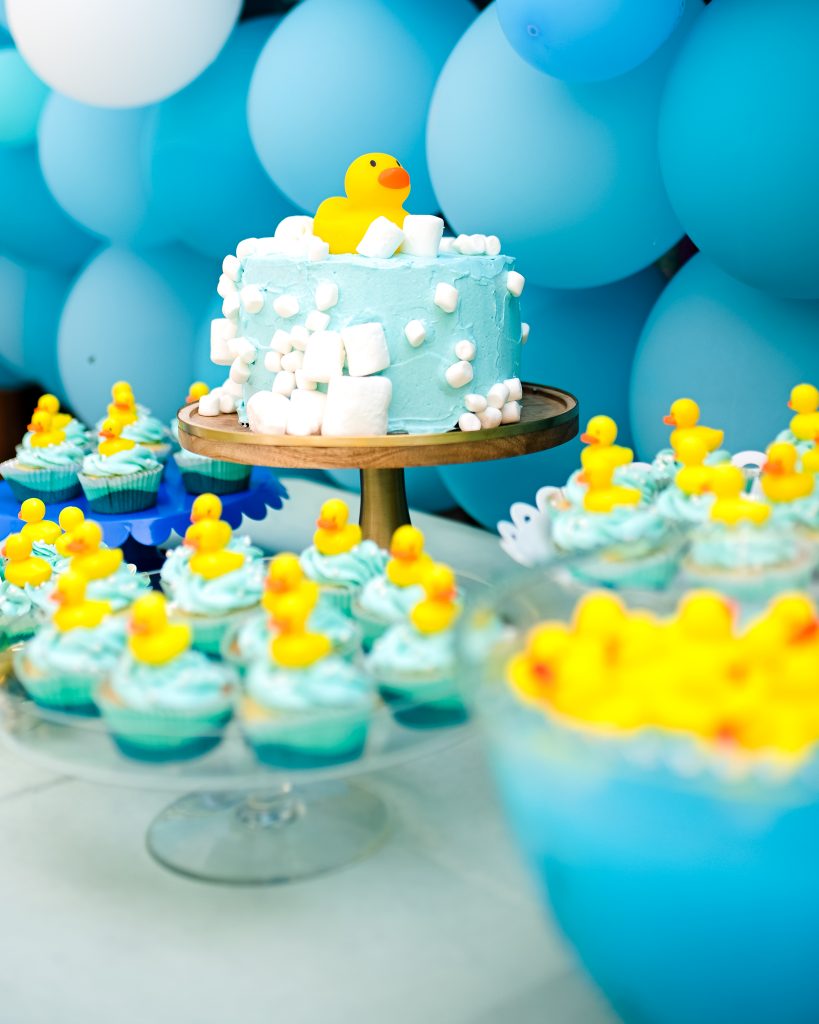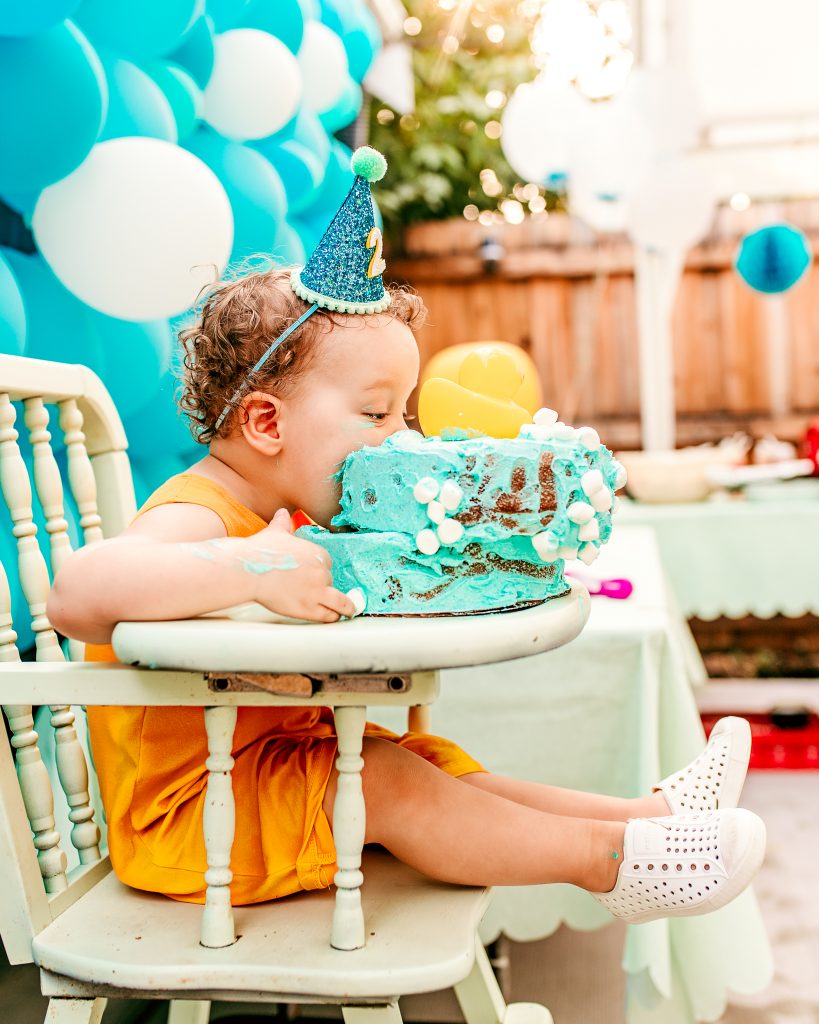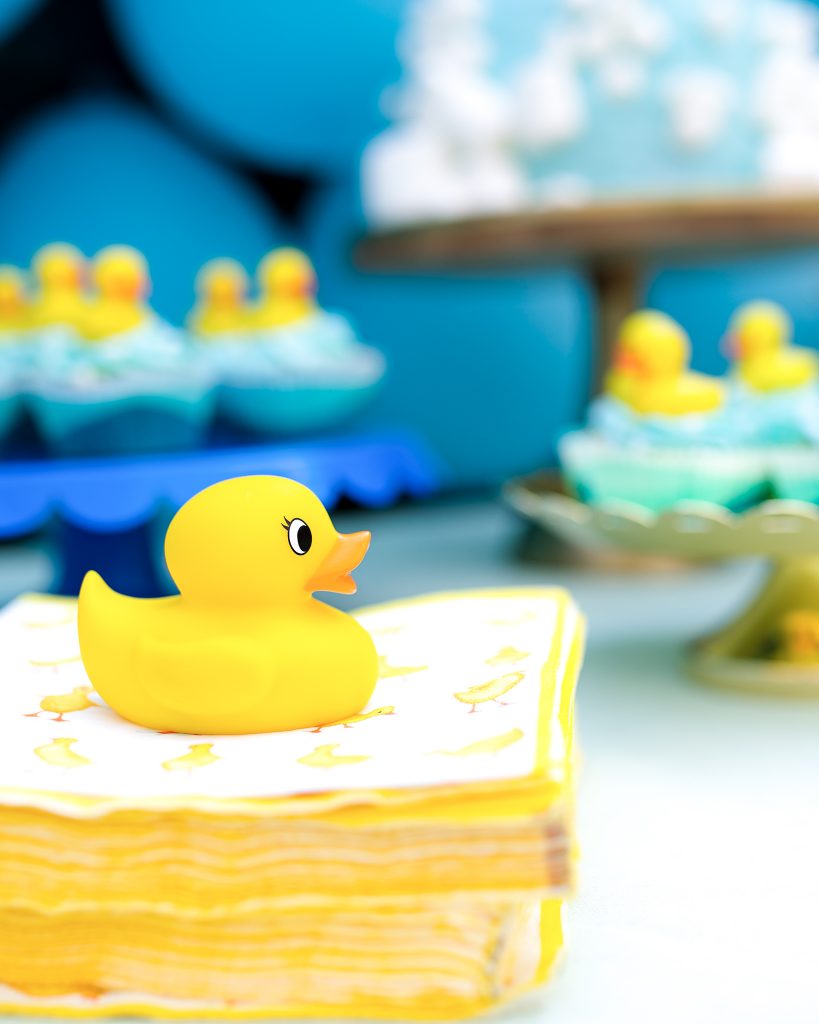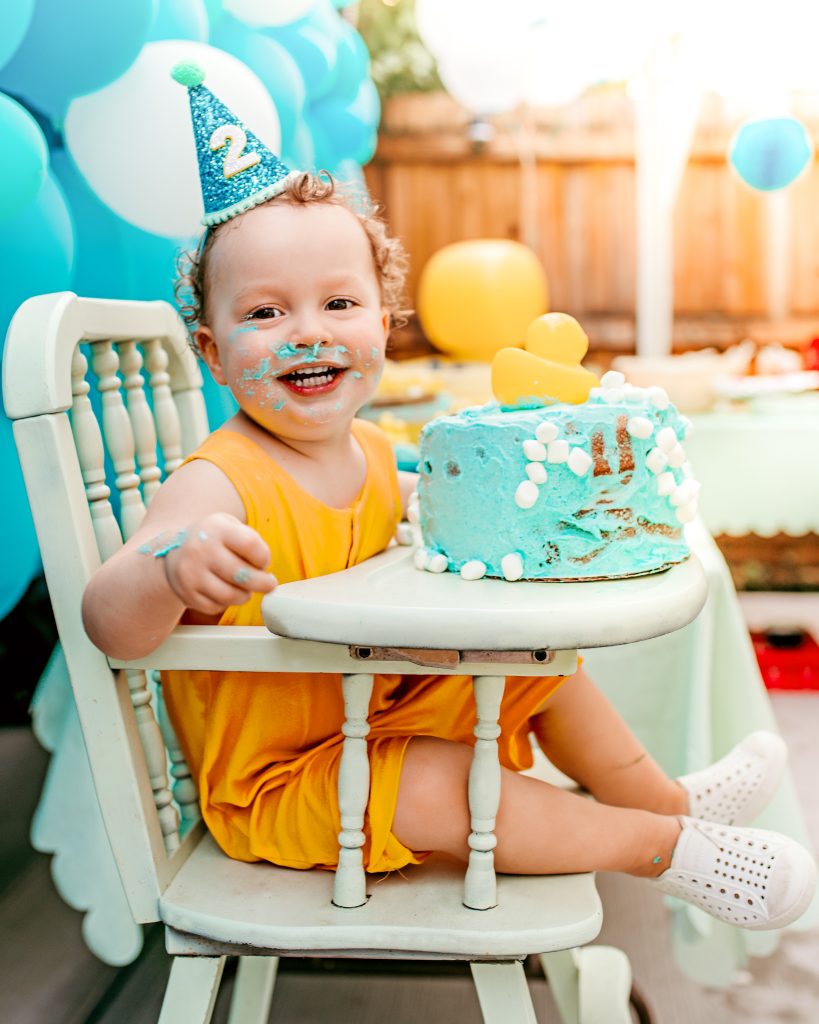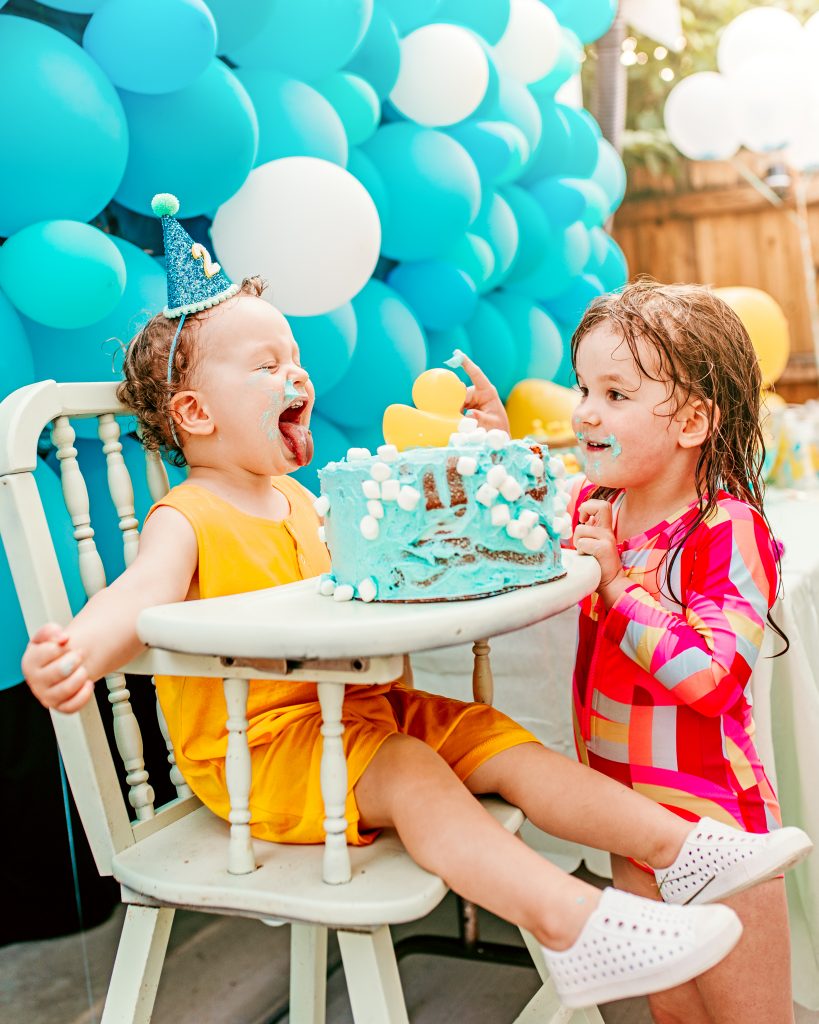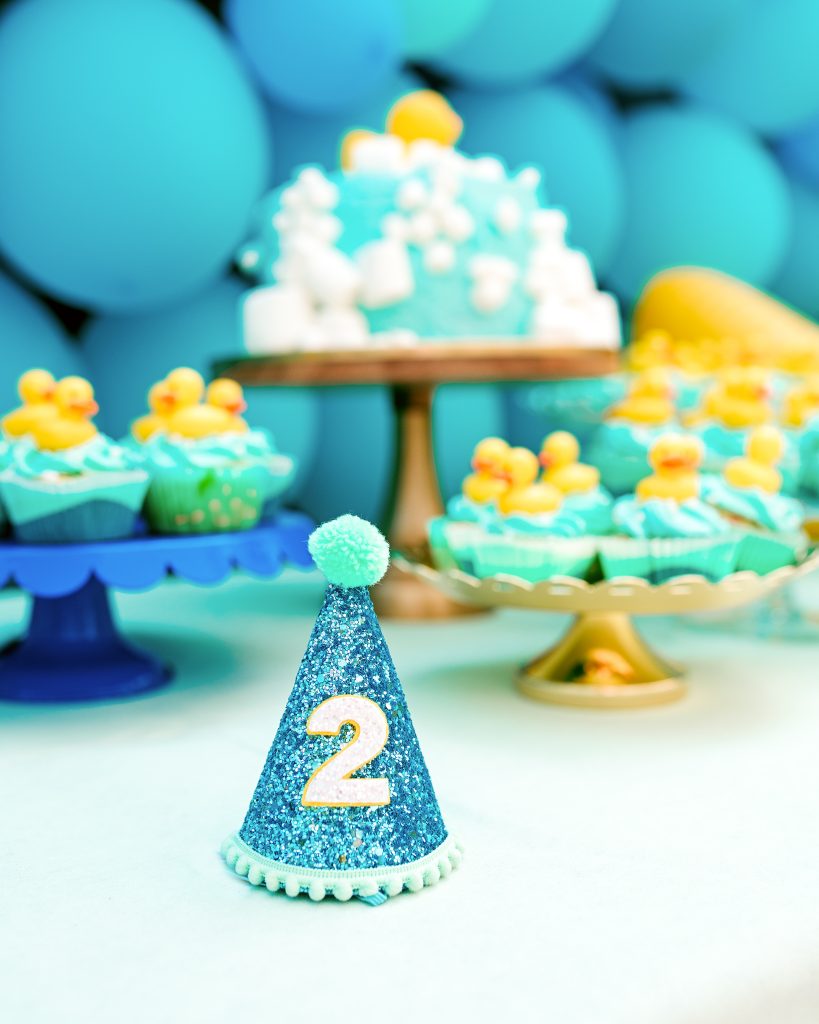 CHECK OUT ETHAN'S OTHER BIRTHDAY PARTIES: