Add this recipe to your list of Halloween snack ideas for fall! October's cooler weather has me ready to jump right into the coziest parts of the season- which for me includes cuddling up in an oversized sweater with a hot mocha, pastry, and a good book (or, ya know, an episode of Mickey Mouse Clubhouse with the kiddos). I love that these pumpkin hand-pies aren't overly sweet but are definitely still a treat!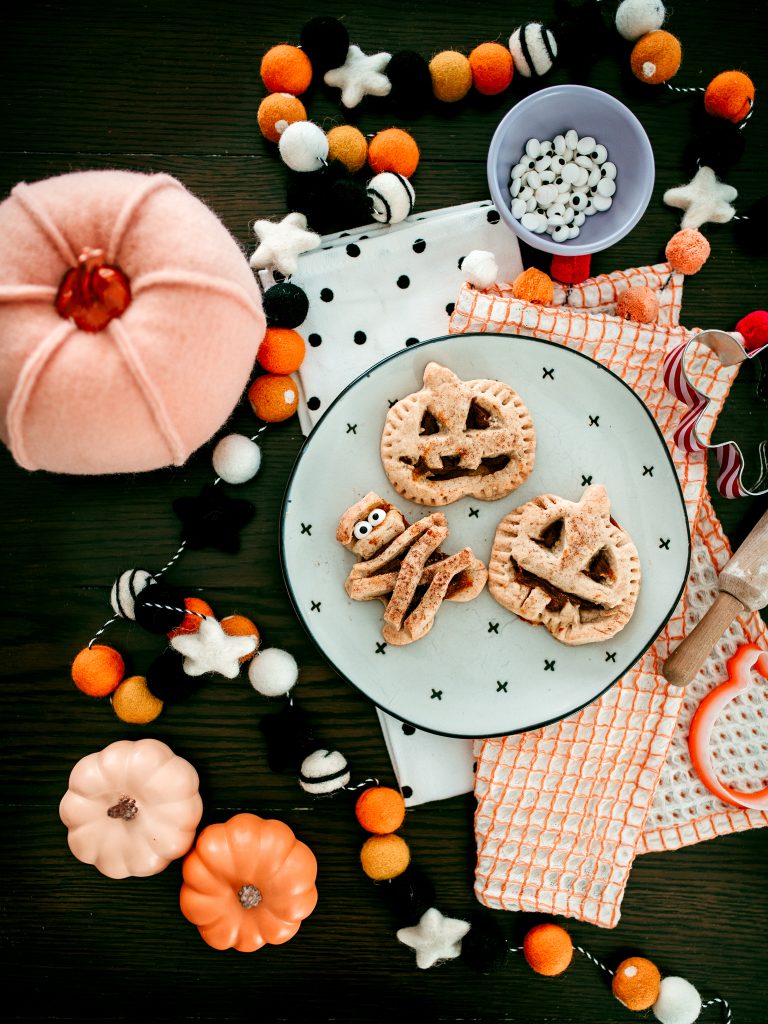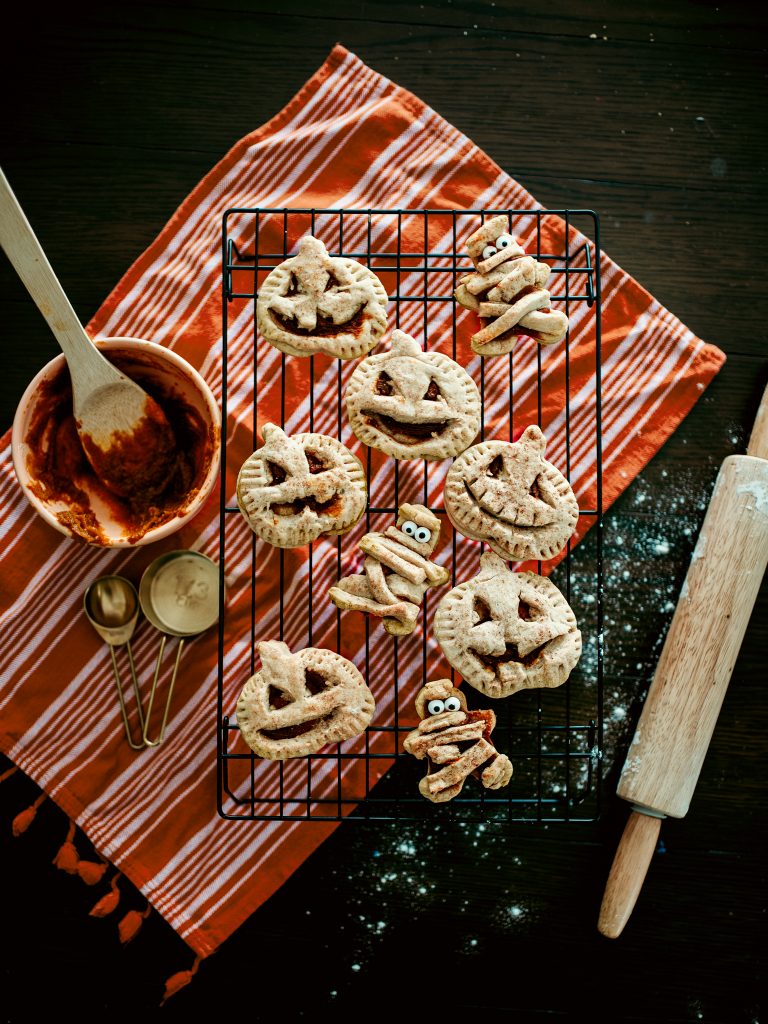 Making this cute homemade Halloween treat involves two parts: the crust and the filling. You can use pre-made pie dough (usually available in the refrigerated section of the grocery store) or your favorite recipe. Due to my kids' food allergies, I use the vegan recipe from Veganosity that I shared below: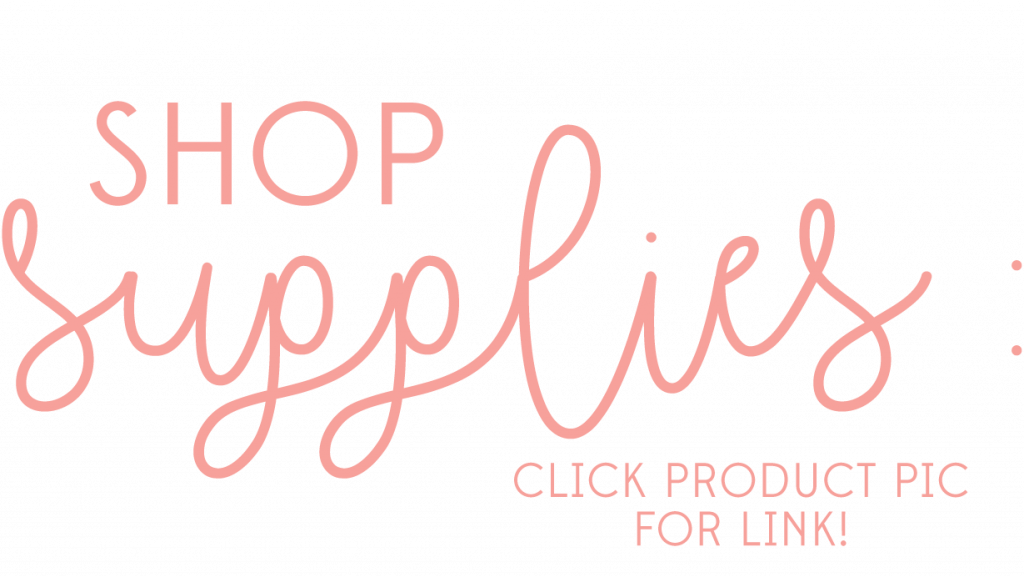 Pumpkin Filling
Feel free to modify the filling ingredient quantities depending on whether you'd prefer a sweeter or more savory tasting snack. As is, the recipe falls somewhere right in the middle!
Mix together:
1/2 cup canned pumpkin
3 tablespoons brown sugar
1/2 teaspoon pumpkin pie spice
Pumpkin Hand Pie Directions:
Preheat oven to 350・
Roll out chilled pie dough on a floured surface to approximately 1/8″ thick
Use cookie cutters to create desired shape; [ for the pumpkins cut out double, keep one to use for the bottom and cut a jack-o-lantern face in the other. For the mummy, use a gingerbread cookie cutter and cut stripes of dough to "wrap" him. If the dough becomes too sticky or flimsy, re-refrigerate your dough. (tip: I like working with half of my dough at a time so that I can always rotate it out for new chilled dough)
Spoon filling onto bottom and cover with jack-o-lantern or dough strips (Like a sandwich)
Pinch edges, either with your finger or a fork to make sure the filling stays inside.
Brush on melted butter / egg whites and sprinkle cinnamon sugar
Bake for around 15-20 minutes (will depend on thickness) until golden brown
Remove from oven and allow pies to cool
Add mummy eyes
ENJOY!
Vegan Pie Dough Recipe
Ingredients:
12 tbsp of chilled vegan butter
8 tbsp of chilled vegan shortening
1 teaspoon of salt
3 cups of all-purpose flour plus extra for dusting the rolling surface
1 tablespoon of sugar
1 teaspoon of apple cider vinegar
6-10 tablespoons of ice water
Instructions:
Cut the butter and shortening into small cubes, put them in a bowl and place them in the freezer while you're measuring out the rest of the ingredients.
Put the flour, butter, shortening, sugar, salt, and vinegar in a mixing bowl or food processor and mix on medium speed until the butter and shortening starts to break up and the mixture looks lumpy and sandy. Add one tablespoon of water at a time until the dough starts to form a ball.
Remove the dough from the bowl and knead into a disc on a floured surface. Fold the disc in half and knead. Repeat one or two more times until the dough sticks together in a ball. Cover with plastic wrap and refrigerate for an hour.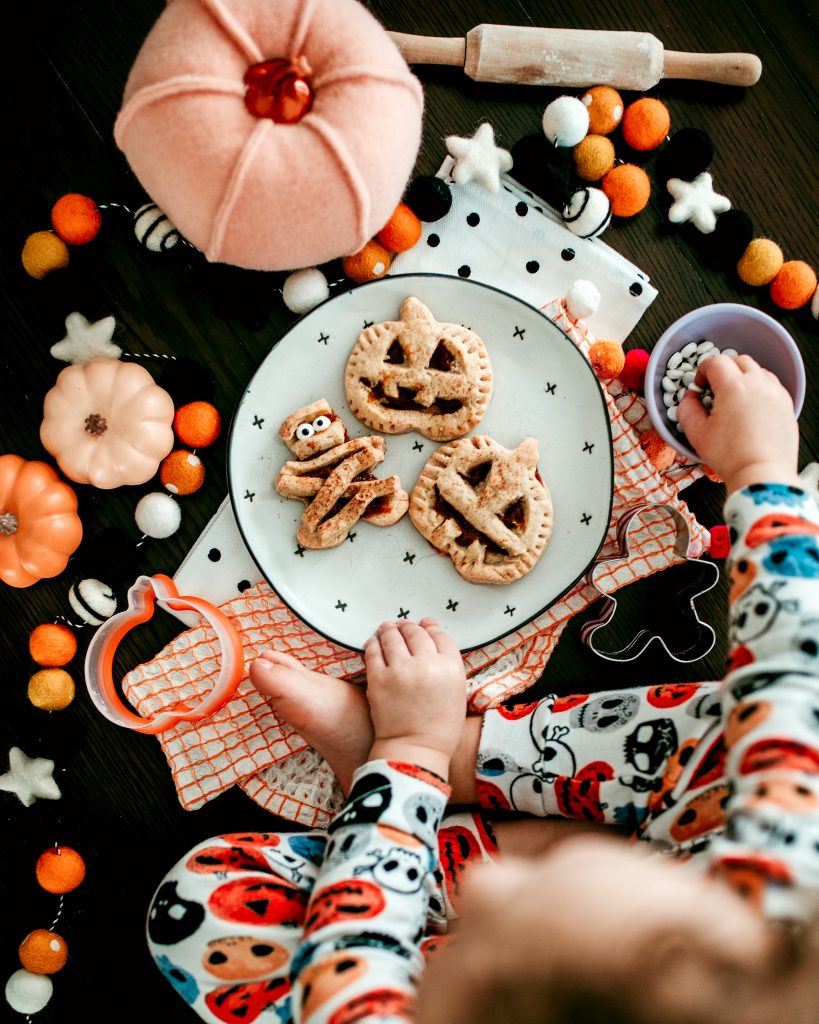 Homemade Halloween snack ideas are the perfect way to get your kids into the kitchen to bake together. Mine loved mixing the filling, rolling the dough, and decorating these cute Halloween treats almost as much as they loved eating them!
Note: This recipe is a vegan and allergy friendly Halloween snack idea!
Pin This Recipe to Save it For Later!