Although we are not technically Irish, we still have a little bit of fun celebrating St. Patrick's Day with all the shamrocks, rainbows, and, of course, lucky leprechauns! If you have never made or heard of a leprechaun trap, it is a fun and creative way to celebrate St. Patrick's Day. It may be something your kids have heard about at school, or you can introduce the idea with books like How To Trap a Leprechaun , How to Catch a Leprechaun , or The Night Before St. Patrick's Day.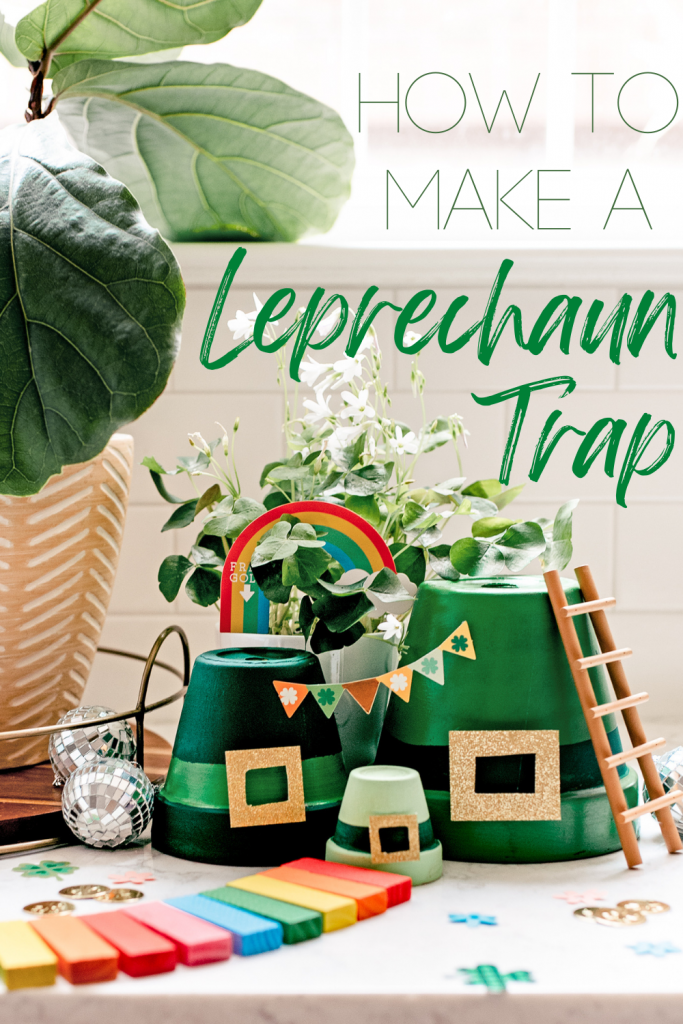 In short, on St. Patrick's Day a trap is set to try to catch a leprechaun. If you are able to catch one of these little tricksters, legend says they will give you their pot of gold or grant you a wish. The trap can be anything from a simple shoebox to something more elaborate; there's no limit to the creativity! Now that my kids are older, I enjoy seeing their creativity and logic as they plan their own leprechaun traps.
Take a look below at this fun St. Patrick's Day tradition that can be as simple or extra as you want to make it.
How to Make a Leprechaun Trap
Your child's imagination is the limit when making a Leprechaun Trap! In past years we have used painted cardboard or tissue boxes, building blocks, legos, and more.
This year, we turned a simple flower pot St. Patrick's Day craft into a Leprechaun Trap. Simply coat the outside of a clay pot green using acrylic paint, you may need a few layers for an even coat. These planters are typically anywhere from $0.50 – $10 at a craft or garden store depending on size.
Once it's dry, paint a contrasting stripe around the center. I used painters tape to keep the line clean.
Lastly, cut a rectangle from gold glitter card stock and glue it onto the pot to make the buckle.
Turn it upside down for a leprechaun hat!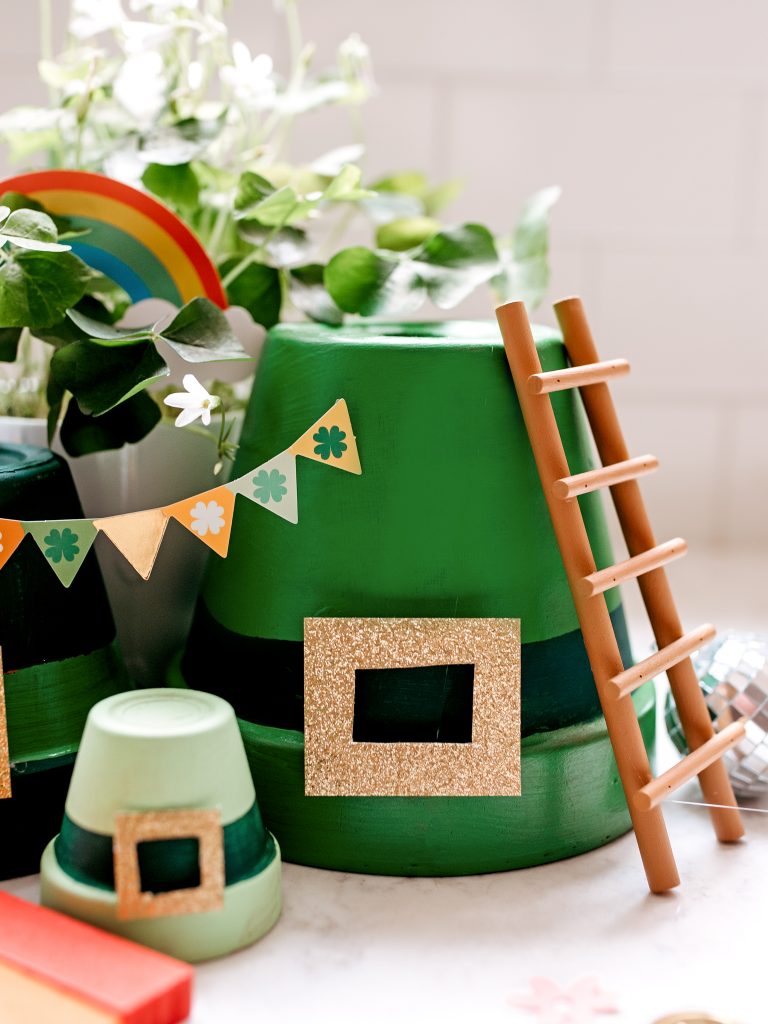 How to Trap a Leprechaun
If you are hoping to catch a leprechaun, of course you'll need to fill your trap with its favorite things! We added lots of shiny items like disco balls, a rainbow pathway, shamrocks, and a "free gold" sign to catch the little guy's attention. The night before St. Patrick's Day we always set our trap by leaving out a little bowl or trail of Lucky Charms cereal.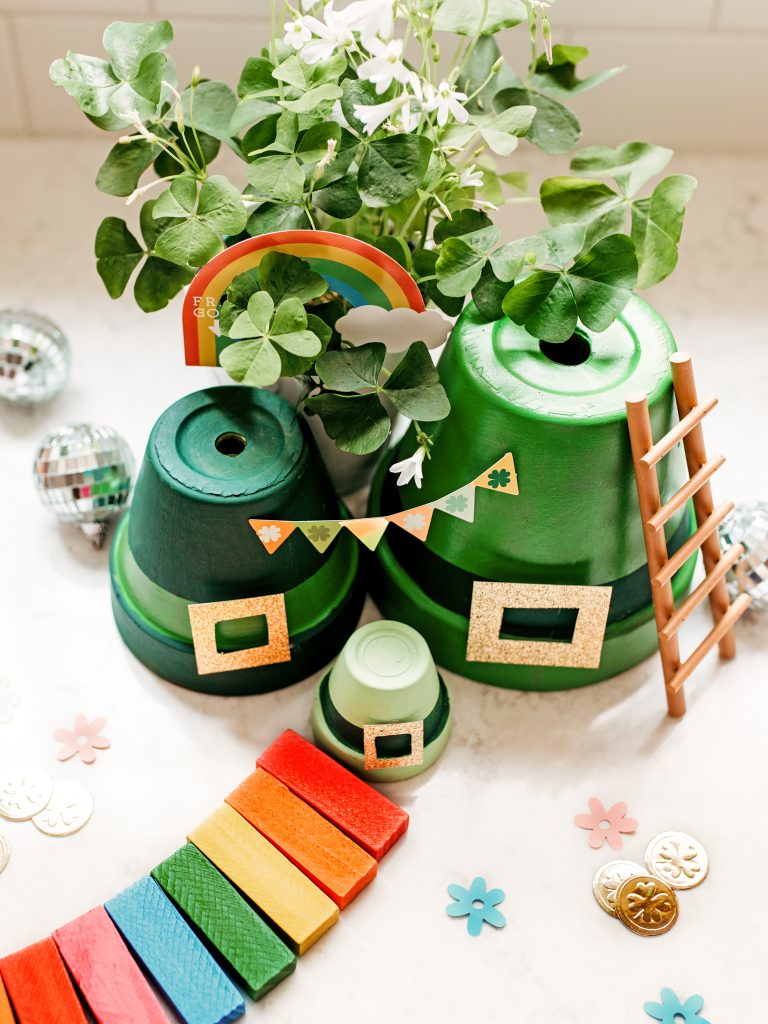 How to Make Leprechaun Magic
I love hearing my kids squeal with joy when they discover that a leprechaun was here and all the mischief left behind. All it takes is a little bit of mama magic to make St. Patrick's Day extra fun. Choose one or a few different ways to make your magic:
The first thing they see is the destruction left behind by the leprechaun's escape. Their traps are usually knocked over and pieces scattered across the table or floor.
Those mischievous little guys might also pull out all of the green toys in the playroom or green clothes from their closets.
Next, put a few drops of green food coloring in the milk carton for a fun breakfast surprise
Leave leprechaun footprints around their trap or other places they've visited. This year I'm using stickers from, but have also just dipped my finger tips in washable paint.
Hang a rainbow prism in a sunny window to shine little rainbows all over the room !
Green food coloring in toilet water is always the favorite
And, finally, few pieces of rainbow or chocolate coins are left behind ! This year they're inside a rainbow mini piñata.
Follow along on Instagram for more!