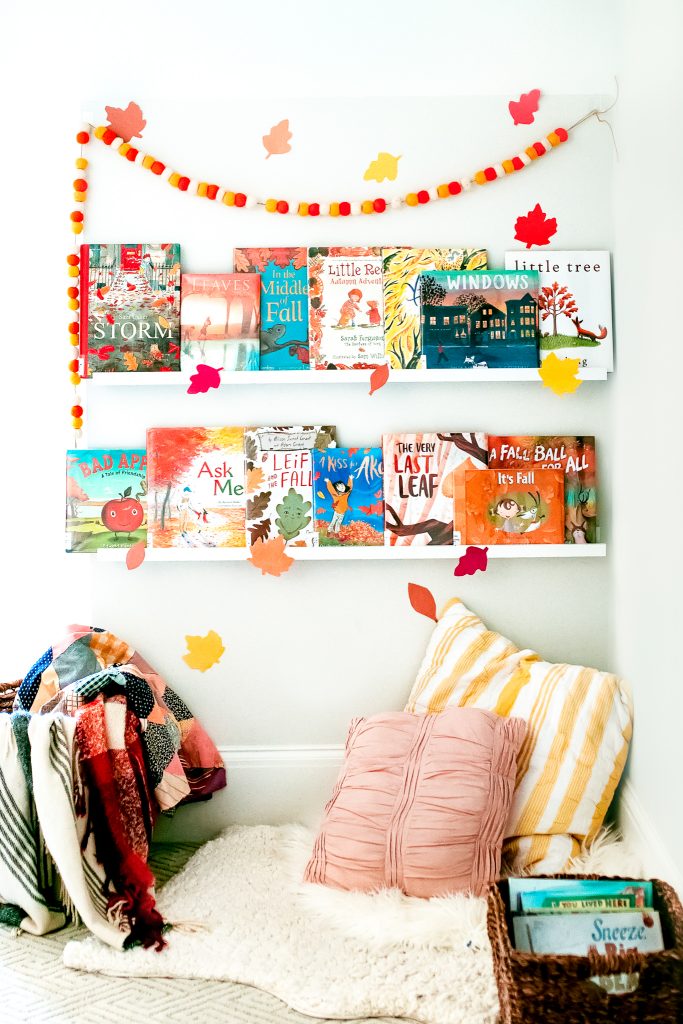 One of the first things I love to do with any season change is to swap out our bookshelves! In case you couldn't tell by the way I maxed out my library card again, fall books are quite possibly my favorites. The gorgeous illustrations are full of the textures and colors of autumn which makes them easy to read again and again. You can find our book list linked on my Amazon Fall Book Shelf along with their descriptions below! If Amazon's not your thing, you can scroll down below for a library list that you can screenshot or print!
The Very Last Leaf– New Release (2020). This adorable book is about a star-student leaf and his worries about falling (his final exam) because it's something new to him. He creates a plan and faces his fear!
In the Middle Of Fall – A simple book about the changes of the season and how quickly it goes by! Great for beginning readers (with a little help).
Leif and the Fall – New Release (2020). Leif is worried about falling and creatively tries to think of different ways down. None of his ideas work quite the way he was hoping, but his persistence pays off in the end!
A Fall Ball For All – This rhyming book tells the story of how all of the animals in the forest are invited to a fall ball. They gather their autumn harvest to prepare for the party – and winter.
Sneeze, Big Bear, Sneeze! – My kids love the Big Bear series and this funny story is no exception! Bear thinks his big sneezes are causing the leaves and apples to fall and geese to fly south, but soon learns it's the autumn wind.
Little Tree – The little tree is afraid to let his leaves fall; but as he sees everyone around him letting go and growing he is eventually able to feel brave and let go in his own time.
The Oak Inside the Acorn – A story with a meaningful message about becoming who God created you to be and finding your own purpose. This longer text is great for older kids.
Lawrence in the Fall – A little fox ventures into the fall forest and starts a leaf collection to share with his friends at school.
Windows – The story of a boy exploring his neighborhood in the autumn sunset and eventually returning home. We like to peak into all of the windows and imagine different stories for all of the people we see.
Fall Leaves – This gorgeously illustrated book is perfect to combine simple phrases on each page with a small paragraph of facts to answer all the "Why"s of the season.
Goodbye Summer, Hello Autumn – Another seasonal favorite series; this story is filled with gorgeous illustrations that show all of the changes as summer collapses into fall.
Little Red's Autumn Adventure – An adventurous story of how Little Red comes to the rescue of two field mice so that they can all enjoy the fall festival.
Bad Apple – A cute little story about the friendship of an apple and a worm and how they persevere to continue being friends despite the bullying they face.
Little Elliot: Fall Friends – Elliot Elephant escapes his big city life to explore autumn in the country.
Hello, Fall – A sweet story of a girl and her grandfather as they explore and welcome fall.
Yellow Time – A simple ode to the time of year filled with swirling, whirling, leaves that seems to paint everything yellow.
Wonderfall – A short read that incorporates plays on words and rhyming to invoke the events of fall.
Because of an Acorn – Quick, simple text makes this perfect for young readers to explore on their own. The beautiful illustrations lend themselves to extending the story in the reader's own words.
Leaf Man – A great book to stimulate little imaginations and encourage creative leaf artwork!
A Kiss for Akaraka – A more abstract autumn story about a little girl and her imaginary friend, Akaraka.
We're going on a Leaf Hunt – Based on "We're Going on a Bear Hunt", my kids love singing the Leaf Hunt song when we go outside to look for leaves. A definite must to set up a nature walk activity!
Storm – This series of books will forever be on my seasonal book lists; I adore the adventures of this little boy and his grandpa! As they look for their kite to fly in the autumn breeze, they recount many of their fun adventures.
The Leaves on the Trees – This book can be sung to the tune of "Wheels on the Bus" and the descriptions of different leaves and trees would make a fun pairing for a nature hunt.
Miss Maple's Seeds – A darling and imaginative book about Miss Maple, who gathers all of the lost seeds and keeps them safe over the winter until they're ready to grow again next spring.
From Apple Trees to Cider, Please! – A fun read filled with rhyming and whimsical illustrations. A educational story about how apple cider is made.
I've mentioned it before, but I love getting our seasonal books from our local library. I'm able to find them all online and reserve them for pick-up; it couldn't be easier! It's a great way to stock the bookshelves and sample lots of different books before buying a few favorites. I created a simple library list of all of our favorite fall picture book titles + author to make it easy to screen shot or print to find at your library!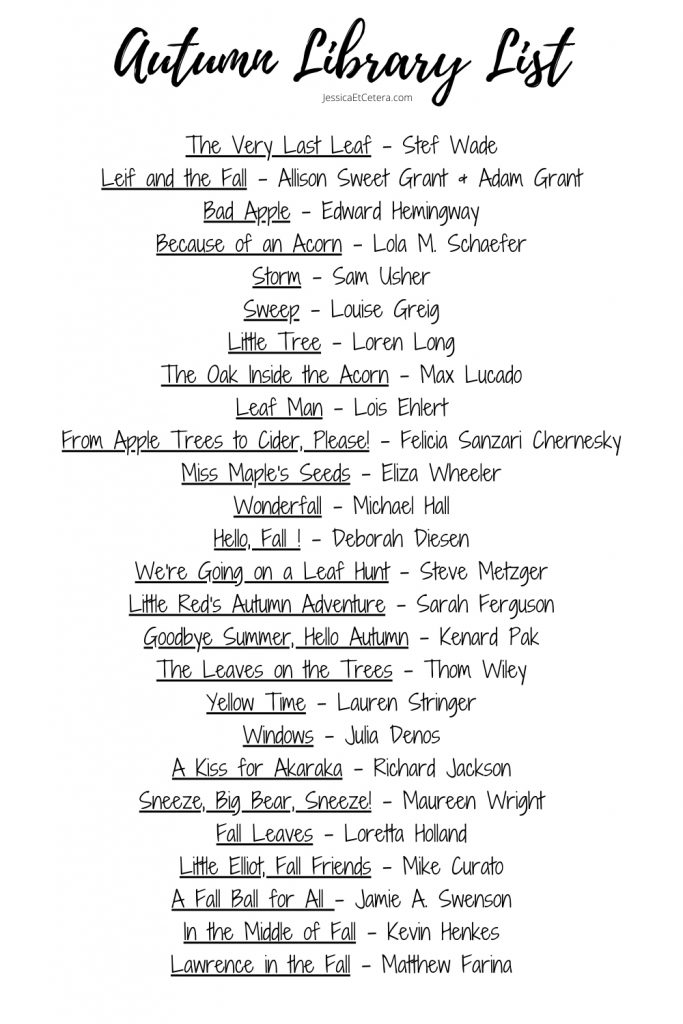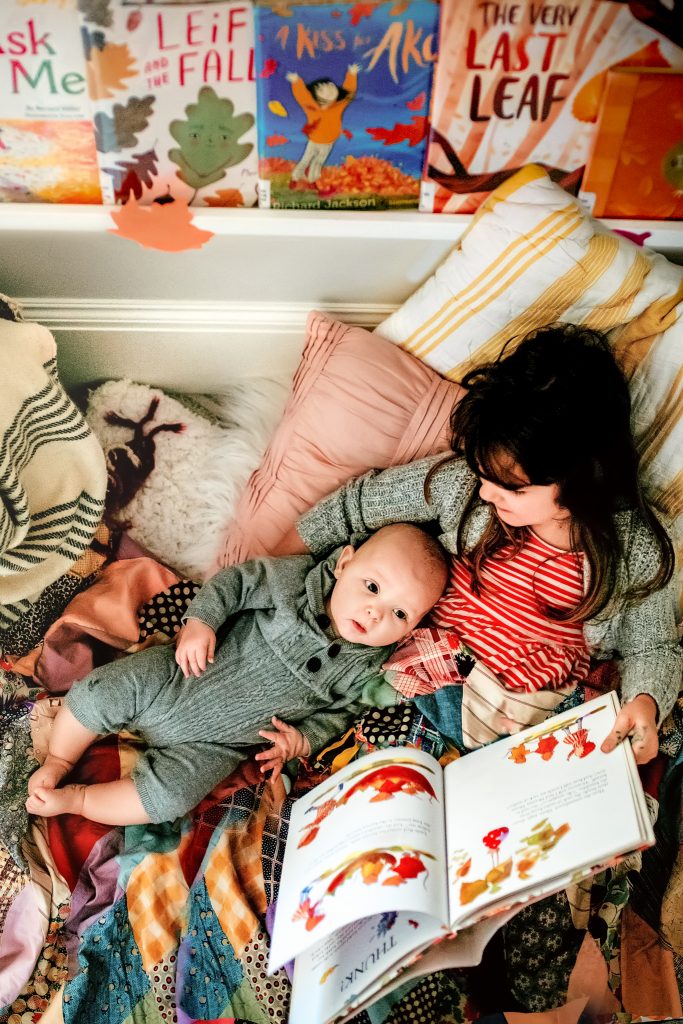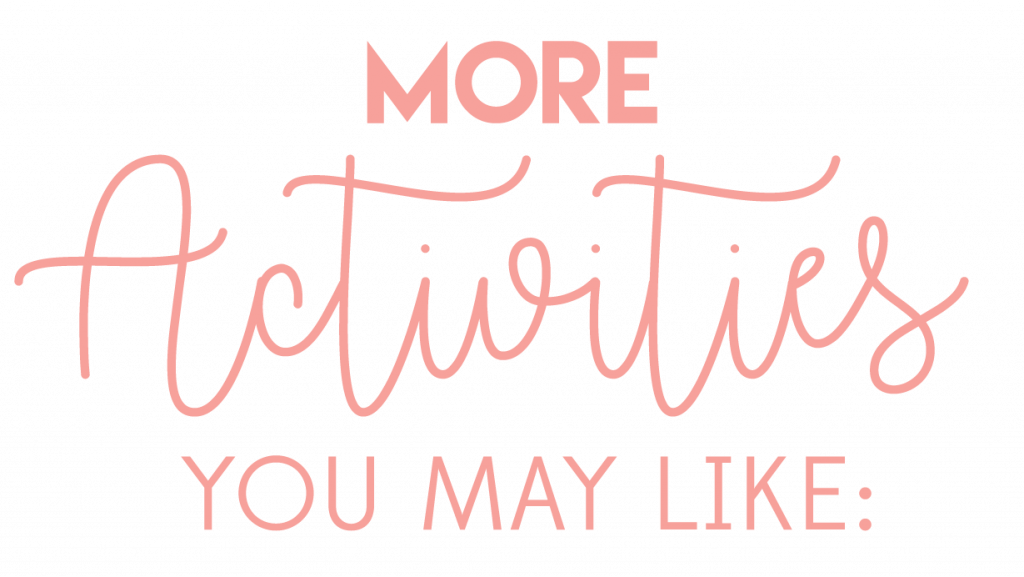 Fall Bucket List & Free Printable