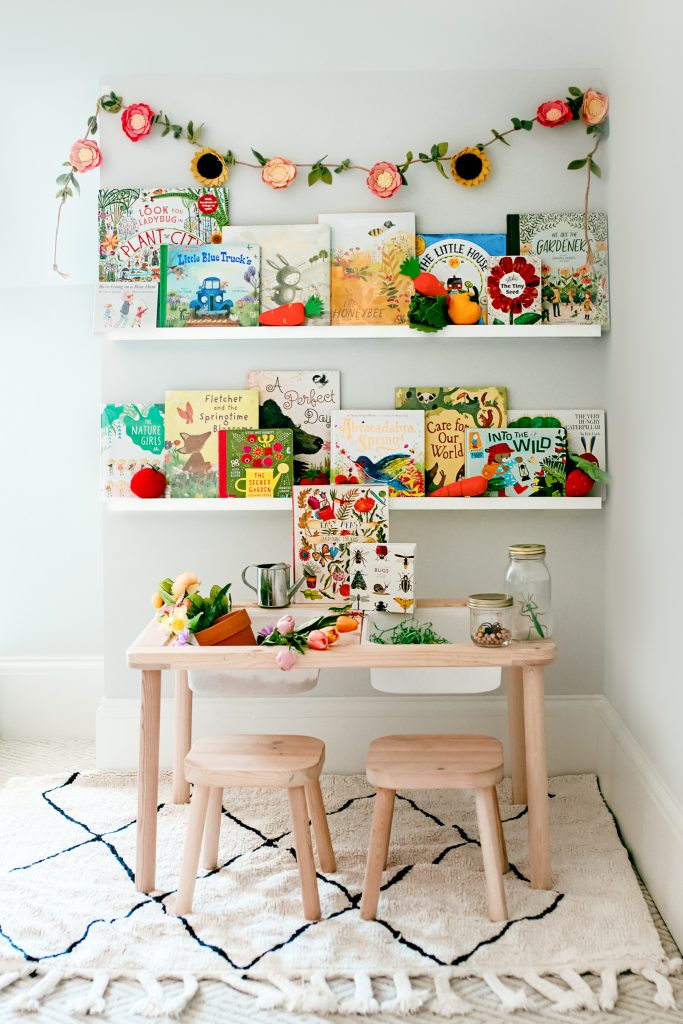 One of my favorite ways to jump into a new season is to do a little playroom update by bringing in some seasonal toys and activities. One of the easiest ways to refresh the room is to bring in themed books! Our spring children's books are full of gardens, bugs, and springtime adventures! This is a combination of books pulled from other bookshelves/storage in our home and from our local library!
Here are some of our favorite Spring Children's Books on our playroom shelf, you can click the book images below to shop on Amazon (affiliate link)!
The Honeybee (Kristen Hall)– A gorgeously illustrated day in the busy life of a honeybee. The rhyming and rhythmic text makes it a fun, informative, and appealing read-aloud!
A Little Bit Brave (Nicola Kinnear)– A timid little bunny goes on an epically brave adventure and finds out there is a whole amazing world outside. It's a funny but thoughtful book about conquering fears.
Watch out for Muddy Puddles (Ben Faulks) – This is 4-year-old Ethan's favorite book of the season! It talks about all of the possibilities lurking within a puddle: crocodiles, lost socks and the big, bad duck for example. A fun and imaginative read as we head into puddle-splashing season!
Easy Peasy Gardening for Kids (Kirsten Bradley): This one is 6-year-old Harper's favorite! We absolutely love the artwork and she is always excited for a hands-on activity book. "An introduction to easy gardening so you can grow everywhere and anywhere. Whether you live in the city or the countryside, there are plenty of places you can plant and grow. For a new generation of green fingers there are different ways to bring nature into the home. Make your own pots, build balcony boxes, create your own bird feeders and even get friendly with worms! The book will also feature non-activity spreads explaining the importance of why and how nature works."
Rain (Sam Usher): This is a series my kids get excited about every season change! This granddad and grandson duo always go on the best outings that are filled with adventure and imagination.
After the Rain (Rebecca Koehn): "The rain stops, and Levi runs outside to play in a stream of rain water. But Polly puts an end to his fun when she doesn't want to share. It's a puddle fight! Until they see that the water is disappearing fast. Truce! They find a way to save the water and discover that it is more fun to play together. After the Rain puts a new twist on the rainy-day picture book about sharing and learning to work together."
Free (Sam Usher): The same boy and grandad that we met in Rain are back and taking care of an injured bird. "When it gets better, Grandad puts it outside, but it keeps hopping back into the house, following Boy wherever he goes. Boy wonders what kind of bird it is. An eagle? An ostrich? A bird of paradise, perhaps? He wants to keep it, but Grandad says it must return to its natural habitat in the wild where it can spread its wings and be free. And so begins an exhilarating journey into the mountains."
Abracadabra, It's Spring! (Anne Sibley O'Brien): My kids immediately loved the silly words that lead to a fold out page detailing what happens when spring arrives!
The Tale of Peter Rabbit (Beatrix Potter): A springtime classic! The story of little Peter Rabbit as he ventures into the farmer's garden.
The Very Hungry Caterpillar (Eric Carle): Another classic! A perfect book for springtime counting, color identification, and the life cycle of a butterfly!
The Tiny Seed (Eric Carle): In autumn, flower seeds are blown by the wind and begin their adventure. The next spring The Tiny Seed is the only one to have made it through the too-hot sun, cold winter, children, and birds and grows into a giant wildflower. We love Eric Carle's illustrations in this one as he details the seed's life-cycle!
The Secret Garden (Mandy Archer): A beautiful and simplified retelling of The Secret Garden. (It does contain mention of death)
The Secret Garden-A Flower Primer (Jennifer Adams)- This is an even more simplified version of The Secret Garden for younger children to look through and see different colors, flowers, shapes, and line drawings. Contains quotes from the original book.
Fletcher and the Springtime Blossoms (Julia Rawlinson)- This springtime book is perfectly suited for us here in Ohio. Fletcher the fox sees snow starting to fall and runs to warn all the animals that winter has returned (sounds familiar!). They are all surprised to find that it is not snow but flower petals blooming throughout the meadow!
Some Bugs (Angela DiTerlizzi)- We love looking through this simple bug book! With only a few words per page, my kids get sucked in to the illustrations and love exploring the plants, bugs, and gardens on each page.
We are the Gardeners (Joanna Gaines)- A story of family gardening, but more importantly about planning, persistence, and overcoming obstacles.
The Little House (Virginia Lee Burton)- We love reading this nostalgic little book all year long but I put it in with our spring collection because I just love the blossoming trees around the house on the hill! A sweet story of a home returning- well, home, as it tells of a newly developing world around the little house and contains an important lesson about urban development.
Goodbye Winter, Hello Spring (Kenard Pak) – Another favorite seasonal series! This beautifully illustrated book describes the changes of going from one season to the next.
The Little Rabbit (Nicola Killen)- A cute story about the magical springtime adventure of a little girl and her stuffed rabbit. My kids loved to "peek" through the die cut pages!
Little Blue Truck's Springtime (Alice Schertle)- If you've read Little Blue Truck, you know it's an instant favorite! Little Blue's drive through the farm at springtime is just as endearing. My kids love the rhyming text and lifting the flaps to see all the brand new baby animals on the farm!
We're Going on a Bear Hunt (Michael Rosen)- Another absolute favorite that my kids recite all year long! It fits so well in our spring adventure bookshelves. The kids love acting out the obstacles while we read as well as pretending to go on bear hunts every time we go outside!