Spring feels like the perfect time to give baby's things a little update c/o the Easter Bunny! I started Josie's baby Easter basket with this adorable rope bunny bin that I plan to use for toy storage afterwards. Like the basket, I wanted to pick out some toys that had a spring "vibe" but that didn't scream Easter so that she can continue to use them as she grows into a toddler. Some of my go-to baby Easter basket ideas include new types of toys, sizing up clothes for a new season, snacks, and books.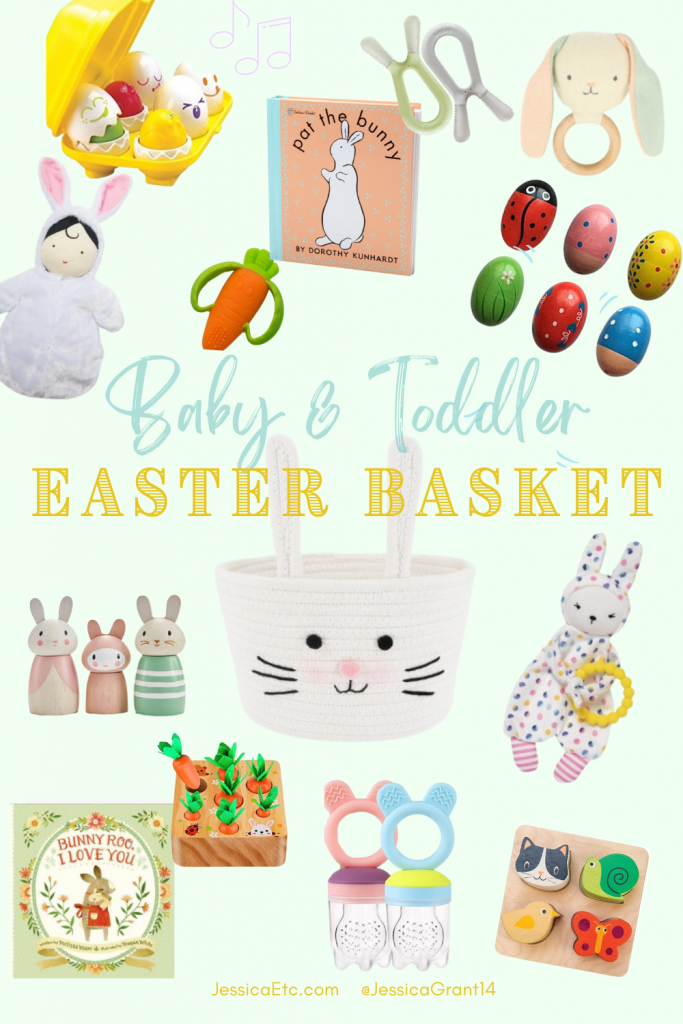 You can find links for everything I have included in the baby's Easter basket by clicking on the images below! I'll try to keep it updated as I come across more or as things sell out!
This post contains affiliate links

Toys
I stuffed Josie's basket with some new toys that she will be developing more interest in over the next few months like basic puzzles, shaker eggs, and a soft baby doll (honestly how cuuuute is this dolly in the removable bunny bunting). The yellow carton of squeaky eggs was an absolute favorite of Harper's and Ethan's and I can't wait to see if Jo loves it just as much. I also tossed in a few of her tried-and-true favorite teethers.
Spring & Summer Clothes
I bought a few new outfits for the bunny to bring because the timing of a new season lines up perfectly with moving into a new size. I really love the Little Co. line at Kohl's for both boys and girls; it is full of the cutest little mix and match pieces for spring and made with all organic cotton (Team LC all the way!). It's also the perfect time for a new bathing suit or summer accessories.
Snacks
Snacks make great baby Easter basket stuffers as well as plastic egg fillers for little ones. Hiding a few plastic eggs filled with puffs will keep your toddler busy all morning! I also got her these silicone food teethers to use for cold treats this summer!
Books
Holidays are always one of my favorite occasions to build my child's book collection. I either buy holiday specific books that we can take out year after year or add some classics to their library. Somehow we have never owned Pat the Bunny even though I have never heard anything but rave reviews from parents! Some other bunny classics include Guess How Much I Love You and Peter Rabbit. A new book I plan to add this year is Bunny Roo, I love You – so cute!!
If you missed it, I also shared more Easter basket ideas in Harper & Ethan's post here: