Did Easter sneak up on anyone else this year? It's less than two weeks away so I spent some time this weekend putting together some Easter basket ideas! I try to be intentional but fun when putting together their baskets. (So yes, they're definitely getting toothbrushes, but to be fair have you seen a cuter toothbrush than these?!) I have a rainbow and unicorn crazed 6-going-on-16-year-old girl, a dino loving 4-year-old boy, and a 10 month old baby that the Easter bunny will be making special deliveries to this year. Keep scrolling to check out the big kids' Easter baskets!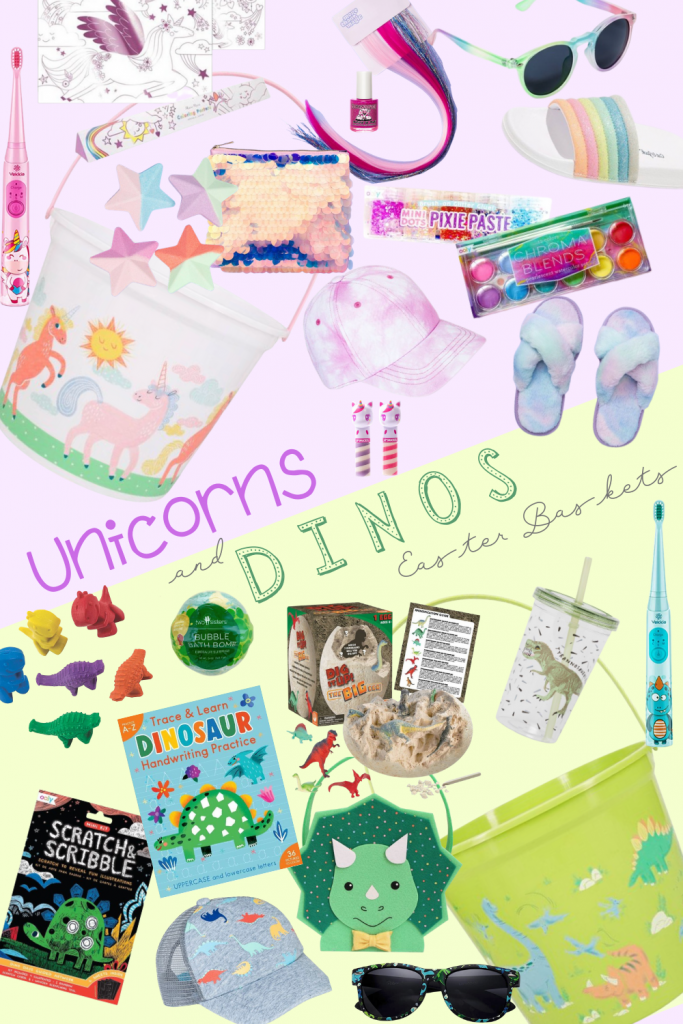 These guides were fun to put together while I was looking for Easter basket stuffers and I love the idea of creating a themed basket for each child's interests! You can find any of the links by clicking the individual photos under the descriptions below (I'll try to keep them updated with alternatives if I see that things are sold out or won't arrive in time!) :
Affiliate links below. By shopping these links, I receive a small commission at no extra cost to you!
Unicorn Themed Easter Basket Ideas
Harper's Easter basket is full of rainbows, unicorns, and tie dye! I included a bunch of fun summer accessories like the pink tie dye hat, sunglasses, and rainbow slides. There are some dreamy new craft supplies like glitter glue, metallic paint, and coloring posters! I think she's going to LOVE all the little "beauty" items like nail polish, lip gloss, colorful hair clip-ins, and bath bombs! The extra sparkly sequins pouch will be perfect to carry all her treasures!


Dinosaur Themed Easter Basket Ideas
I'm so excited for my dino lover to see his basket! My little guy is really into all kinds of activities right now so the dino dig egg, crayons, and art books are perfect. I may even be able to sneak in a little handwriting practice with this workbook 😉 My kids are obsessed with bath bombs but we only use them occasionally so he will be so excited to see one in his basket – the dino surprise will be a fun extra!


I hope this basket inspires you to put together your own themed baskets! What Easter basket ideas do you have?
Check out Josie's Basket here in my baby & toddler Easter basket stuffer round-up!