Check out Josie's Sesame Street Birthday: brought to you by the Letter J and the Number 3!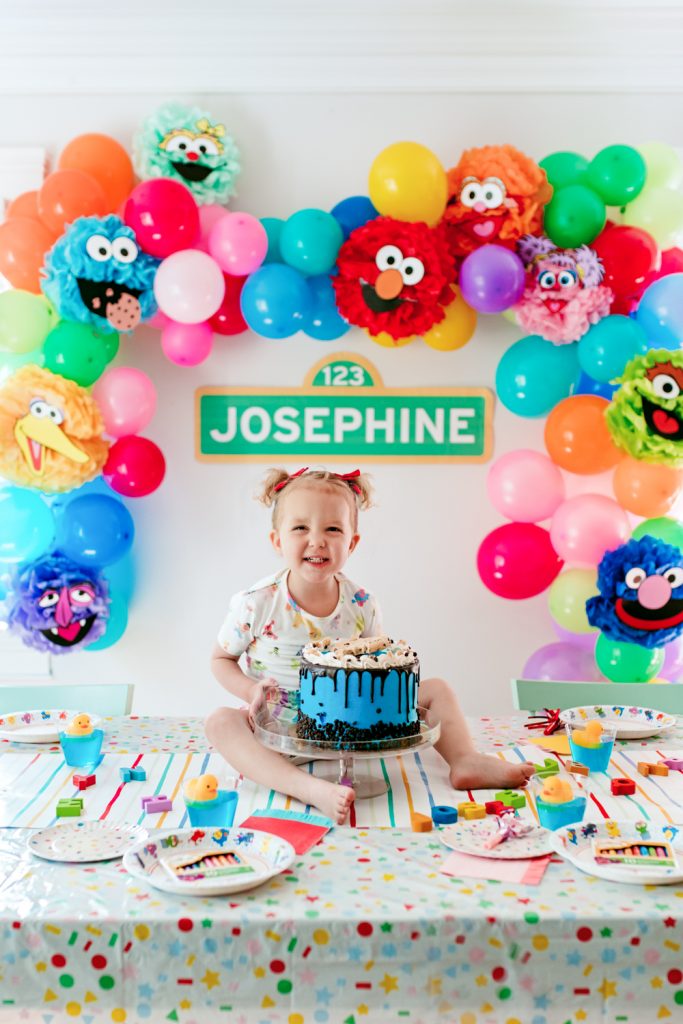 I'm excited to share with you all the details of Josie's Sesame Street themed birthday party! From vibrantly colorful and whimsical decorations to interactive games and, of course, plenty of chocolate chip cookies. Let's jump into the joyful atmosphere of a Sesame Street soirée!
Every year, my kids always look forward to choosing their birthday theme (take a look at all of our previous parties here!). I enjoy curating and DIYing a special day to celebrate them. It's always a fun way to look back on their changing interests as they grow! My Josie girl was in the thick of a Sesame Street obsession when I started planning her 3rd birthday party; I was so excited to bring the characters and energy of Sesame Street to life for her.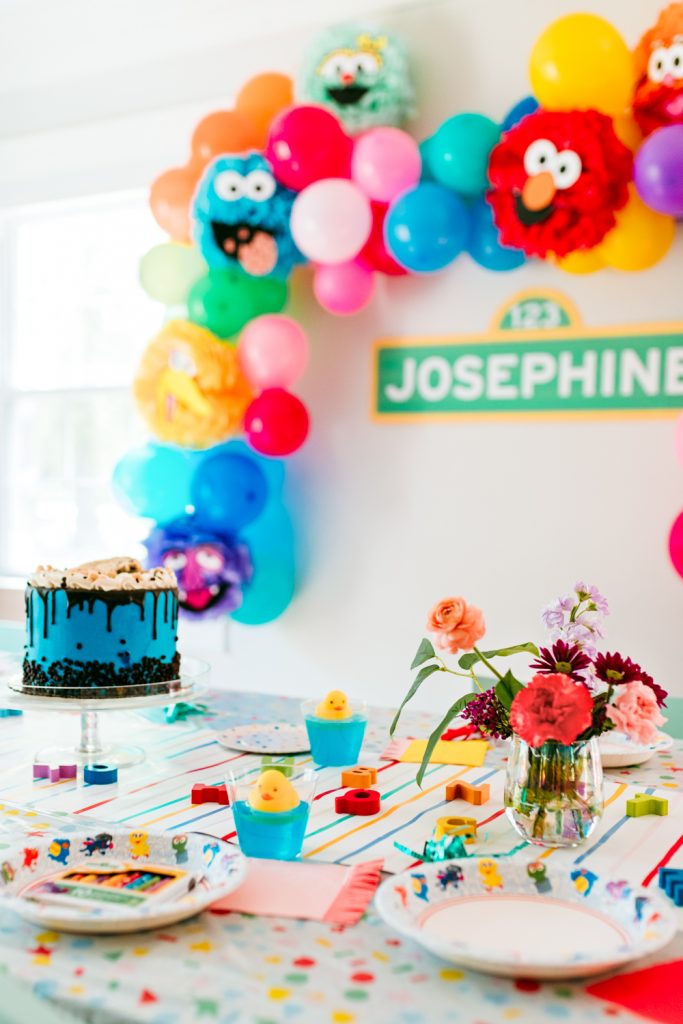 Whenever I am planning a character birthday party, I'm always inspired by colors and details. More often than not, I skip the overtly commercialized party decor in favor of something more subtle and reflected in the details. You'll notice Ernie's bathtub and rubber ducky as our signature drink, a Cookie Monster inspired chocolate chip cookie cake, and cutie little googly-eyed party favors so the kids could make their own finger puppets.
Sesame Street Birthday Decorations
Sesame Street inspired such a fun, bright, and colorful birthday party! Here's all the DIY details as well as some links to the products that brought the party all together.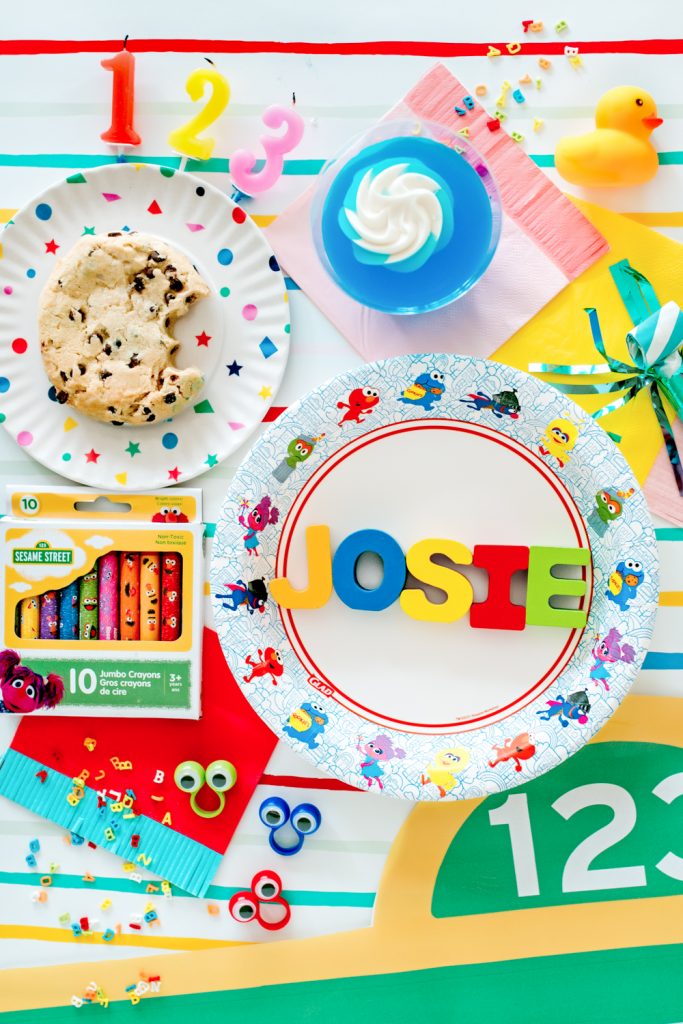 Sesame Street Birthday Party Supplies
The party decor was accented with a lot of fun colors, shapes, letters and numbers.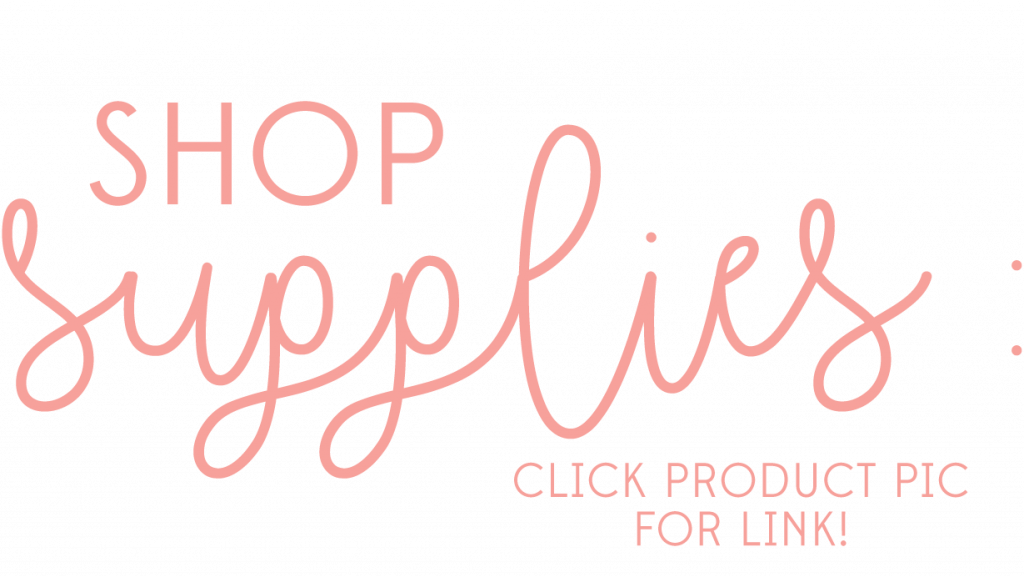 Sesame Street Tissue Paper Pom Poms
She LOVES so many of the lovable characters, I was inspired to make them a major focus of the party using an idea for Sesame Street tissue paper pom pom characters that I found on Pinterest. These pom pom character faces became my absolute favorite pieces of decor of the entire party!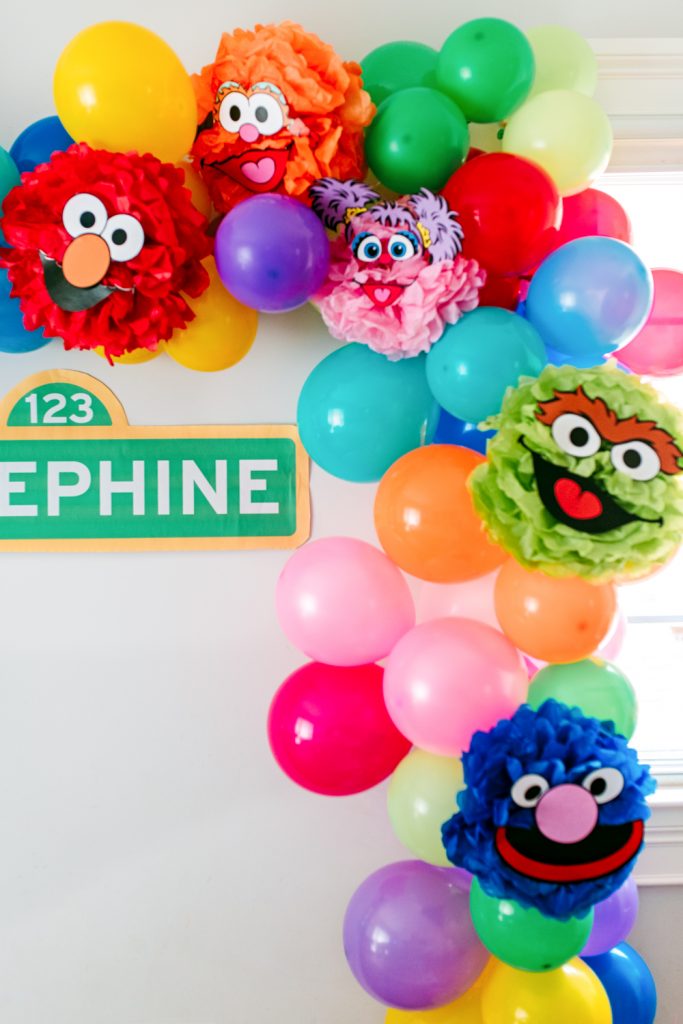 First, I made extra large pom poms so that they would stand out amongst the colorful balloon garland. You can watch my tissue paper pom pom tutorial here to see how I made these big guys (16″-18″) without breaking the bank.
If you'd rather buy than DIY, I did find this XL pom pom option on Amazon in a variety of colors 🙂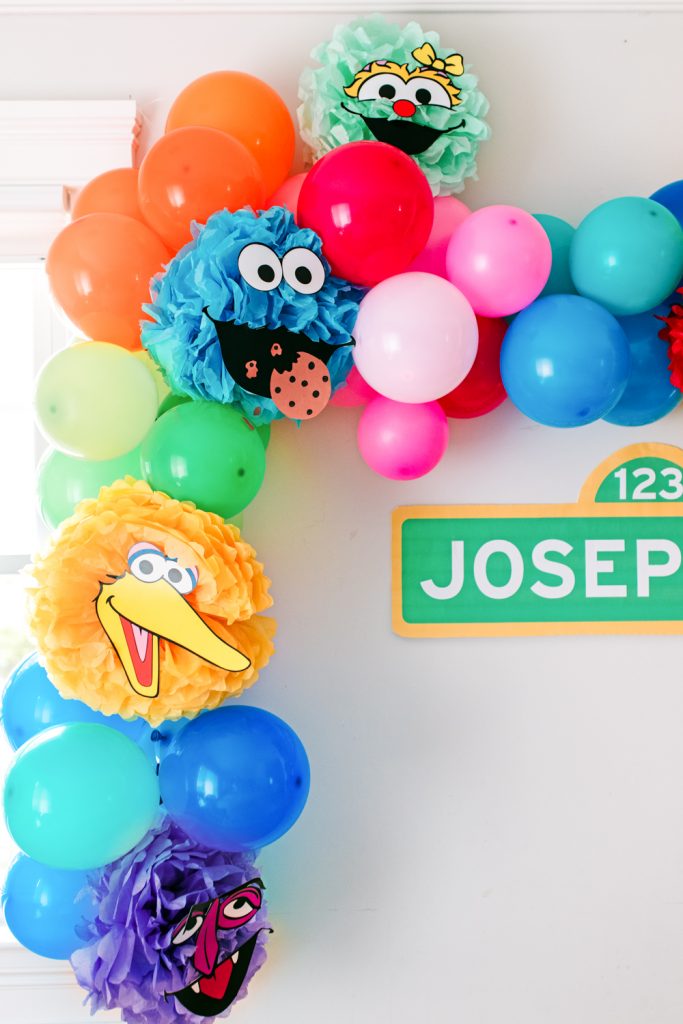 I printed character faces (this whole set is under $5!) and printed the png files on 110 heavyweight cardstock at Staples. It also includes svg files if you have a Cricut. I cut the pieces out and used floral wire to attach one face to each tissue paper pom.
I love, love, LOVE how they all turned out and they were the most perfect addition to the colorful balloon garland.
Personalized Sesame Street Birthday Banner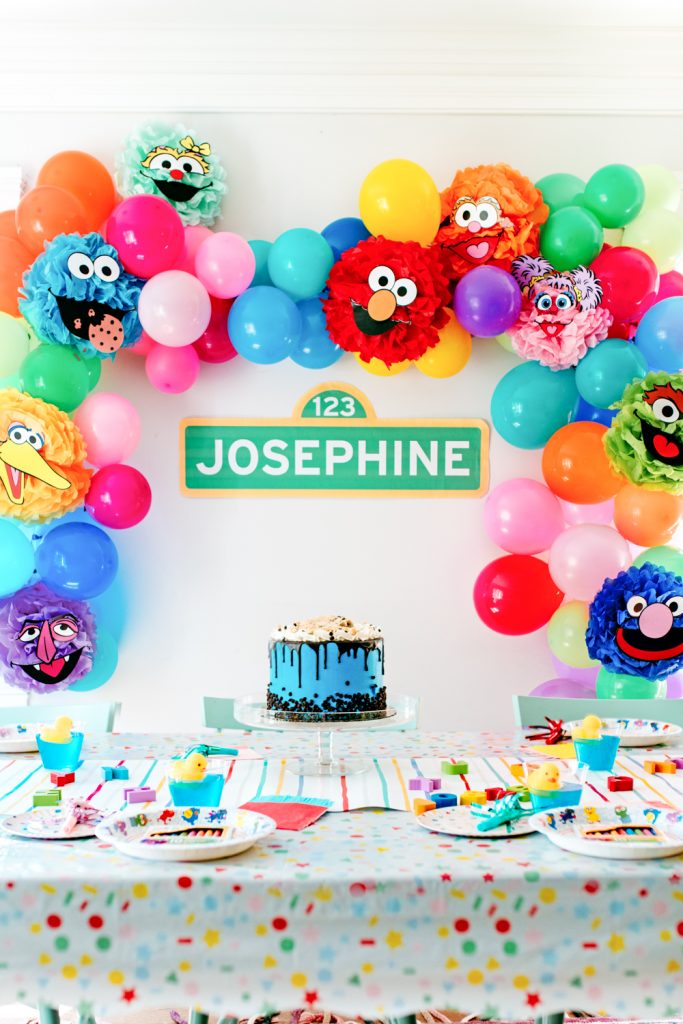 Speaking of Staples, I also had the large personalized Sesame Street birthday banner printed there – and guess what? It was under $10! I skipped the $$ posters and banners and decided to try printing an engineer – or blueprint – print. I've heard of people using them to make large scale, low-cost, prints for decor so I crossed my fingers that it would work!
I used Photoshop (Canva is another option) to add her name to the design and exported it as a png. I used the blueprint option to make a 24×36″ print. For the price, I wasn't expecting 10/10 quality, but I was happy with how it turned out! The colors were good and lines were clean. The only real issue I noticed was that the solid green background wasn't entirely even. Overall, it was perfect for a quick, low-cost, DIY personalized birthday sign that would only be used for a few hours.
I cut out the green sign and hung it on the wall using gaffer's tape so that it was easily removable.
Sesame Street Birthday Activities
Planning a Sesame Street birthday party for toddlers and preschoolers is a fantastic way to celebrate with colorful characters, engaging activities, and even some learning! Here are some ideas to make the party a memorable and age-appropriate experience:
Elmo's Dance Party
Prepare a playlist with kid-friendly tunes from the show, such as "Elmo's Song," "The Alphabet Song," or "If You're Happy and You Know It." It's a great way to get the party started!
Cookie Monster Cookie Decorating
Let the kiddos channel their inner Cookie Monster with a cookie decorating station. Provide pre-baked sugar cookies in various shapes, along with colorful icing and sprinkles (these ABC ones are perfect!). They will have a blast customizing their cookies, and it's a great opportunity to practice fine motor skills.
Oscar's Trash Toss Game
Set up a game inspired by Oscar the Grouch's love for trash. Use small bins or baskets from the Dollar Store and have the children toss crumpled newspaper into them. Assign point values to different bins, and let the kids take turns throwing their "trash."
Sesame Street Sensory Station
For smaller groups, try setting up a sensory station. Fill containers with different textures and materials for the little ones to explore; include cups and spoons for scooping and pouring. Add small characters for imaginary play. Set out homemade colorful play-dough for kids to create their own characters. Fill sensory bins with colored rice, large buttons, or feathers. If you're going to be outside, rubber ducks in water is a fun option!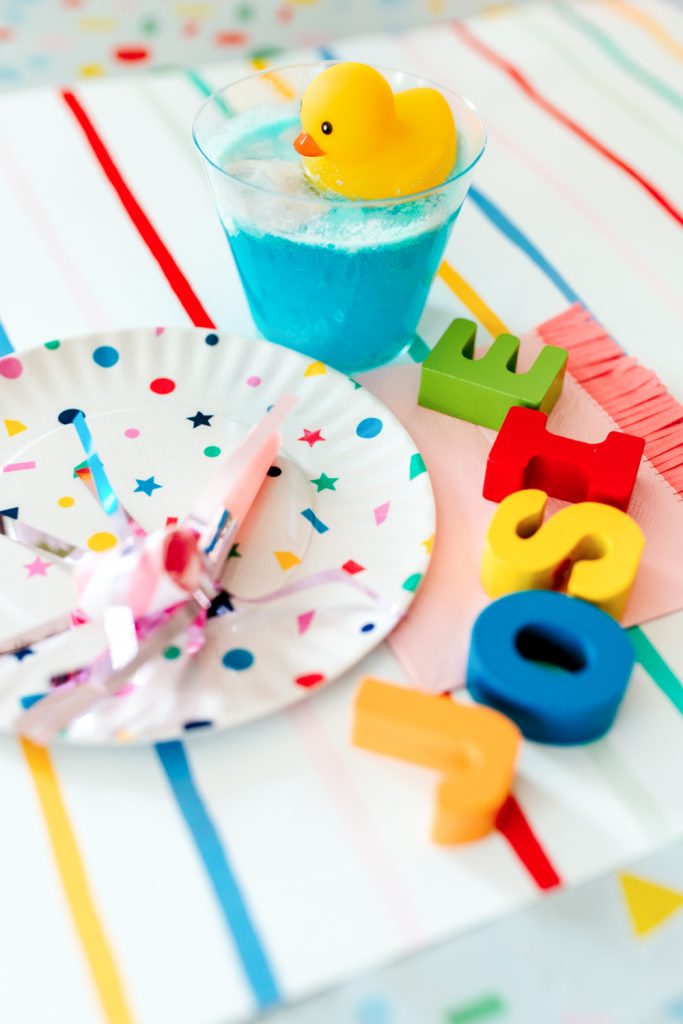 I hope you enjoyed taking a closer look into Jojo's Sesame Street birthday! Follow along on Instagram to see even more 🙂