Every year my kids get to choose a theme for their birthday party. Even though the last two years have led us to changing up our typical big birthday plans, my kids have kept the tradition of picking one of their favorite things as inspiration for a special day to celebrate them. This year, Ethan chose celebrate #5 with a Lego birthday party! Party supplies are linked throughout and in the "shop supplies" section below.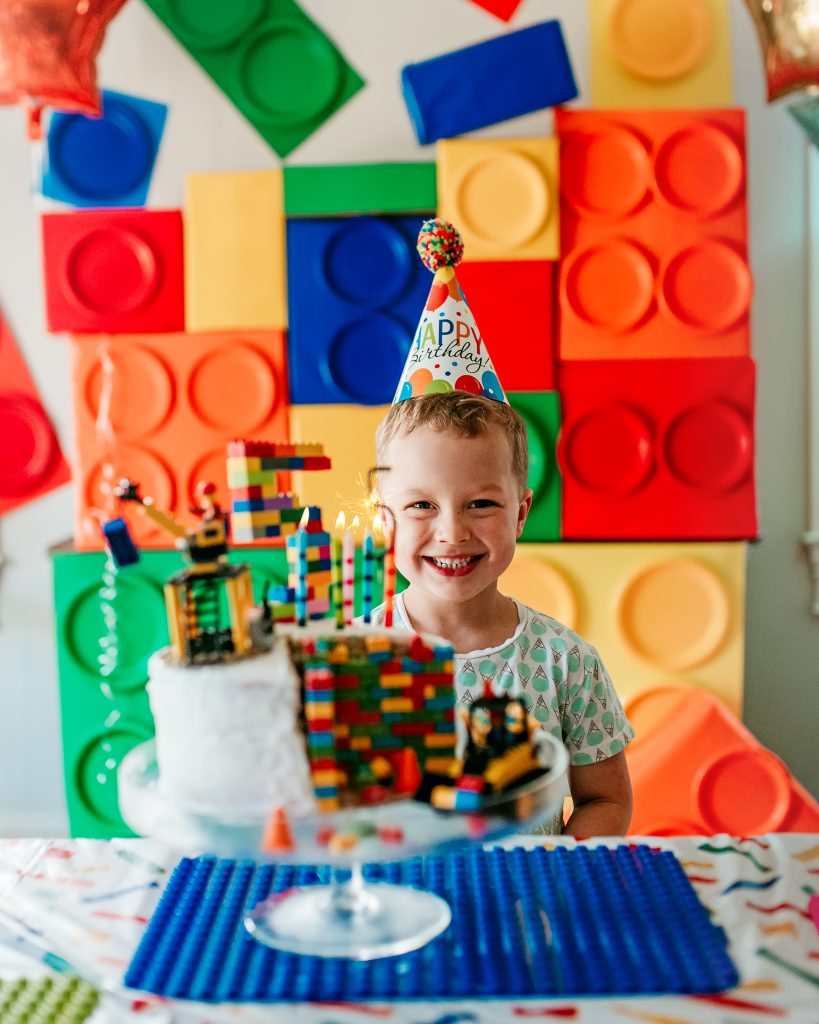 His lego birthday party was so fun to put together and, best of all, it was so budget friendly! I tried to incorporate as many legos as we already had (which tbh is a whole lot) and you can see them in the details of the lego plate placemats and lego cake decorations. Most of the other decorations came from Dollar Tree- they have an entire lego birthday party theme section!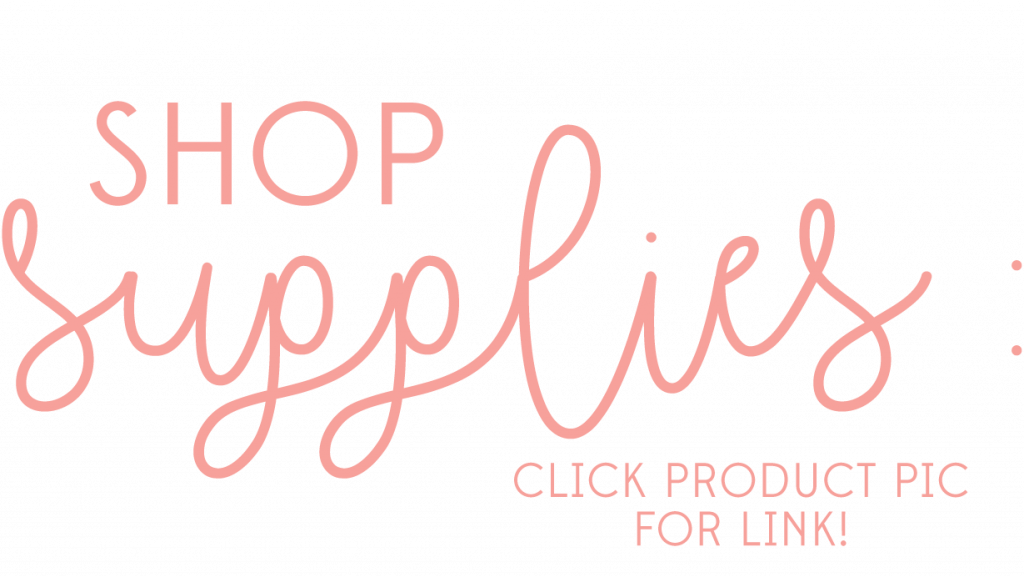 Lego Cake DIY
The lego cake was homemade and decorated by me. I've been baking his birthday cake every year due to food allergies and I really enjoy creating something special for him! After making a three layer cake, I cut out a 1/4 wedge. I made the walls using this block candy– they're edible and actually buildable!
I added this construction set to make it look like the mini figures are building his lego cake. The "5" was built from regular legos. I filled the cart and sprinkled a few more block candies around the base to finish it off. I thought these candles resembling stacked legos were perfect to top his cake!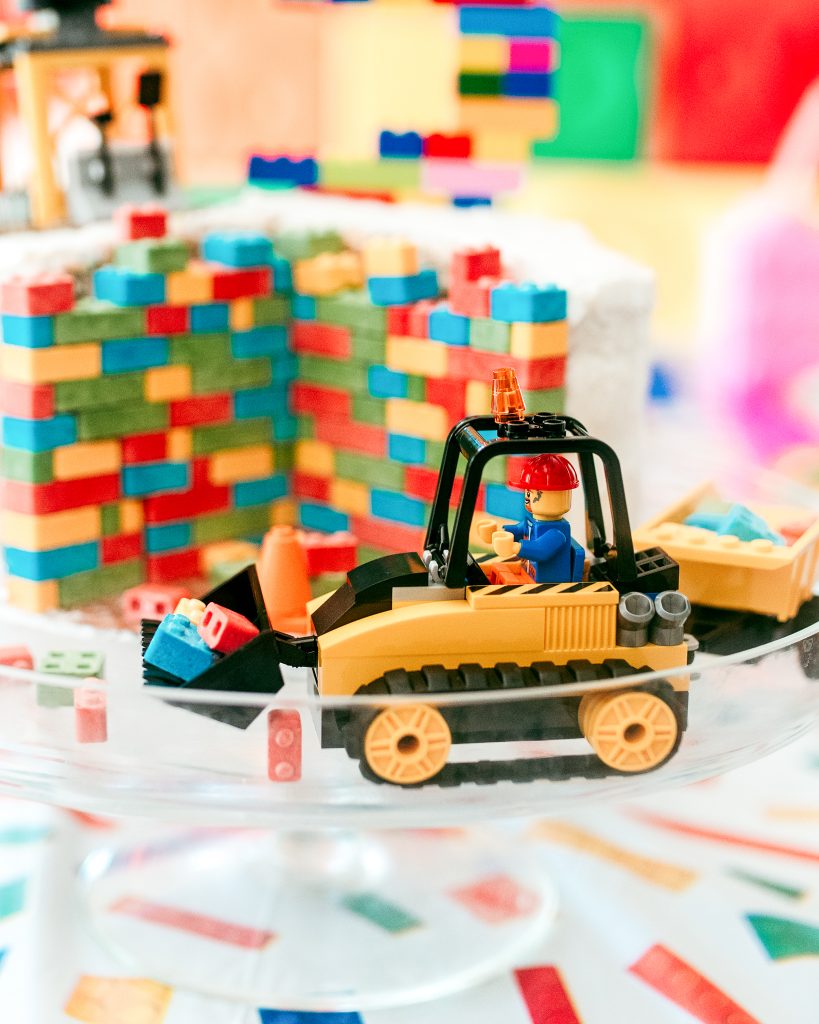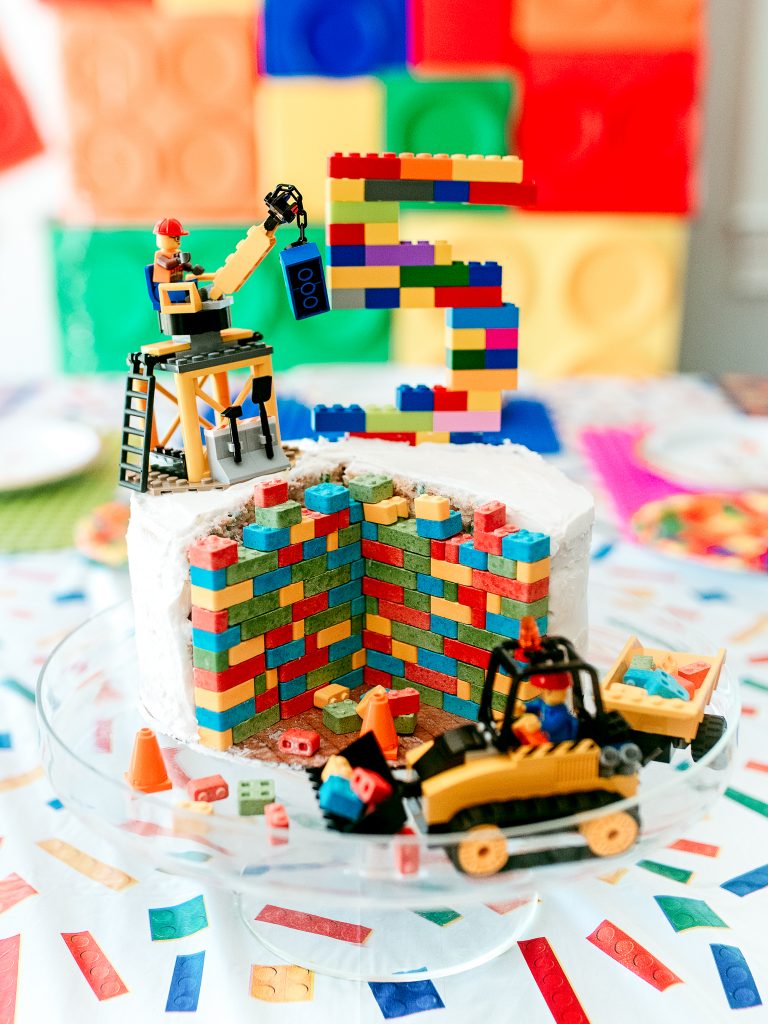 Lego Birthday Party Feature Wall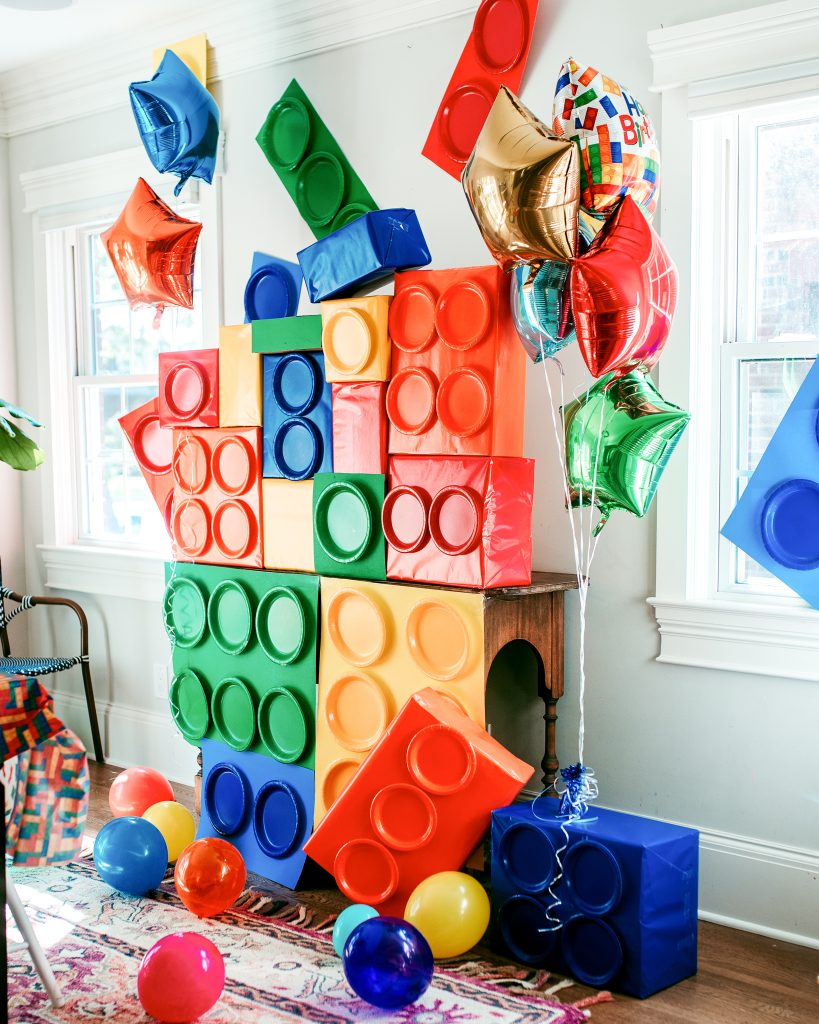 I LOVE a themed backdrop to bring the party all together on a large scale! While balloons are usually my go-to, this mega block structure was a creative endeavor built completely out of poster board, paper plates, Amazon boxes, and wrapping paper. I attached the plates using spray adhesive. The poster boards were hung on the walls with removable mounting squares.
Lego Table Decor
Dollar Tree had so many lego table decor finds! These lego drinking bottles are so fun! If you are shopping ahead of time you can check the site and place a bulk order to guarantee that you find enough (my stores were hit or miss and I had to visit 3 to find them!). Update: I recently found them on Amazon ! The lego dessert plates and table covering were also from Dollar Tree. I used these lego duplo base plates as placemats. These Happy Birthday plates pulled the tablescape together by incorporating the lego colors while breaking up some of the repeated lego patterns.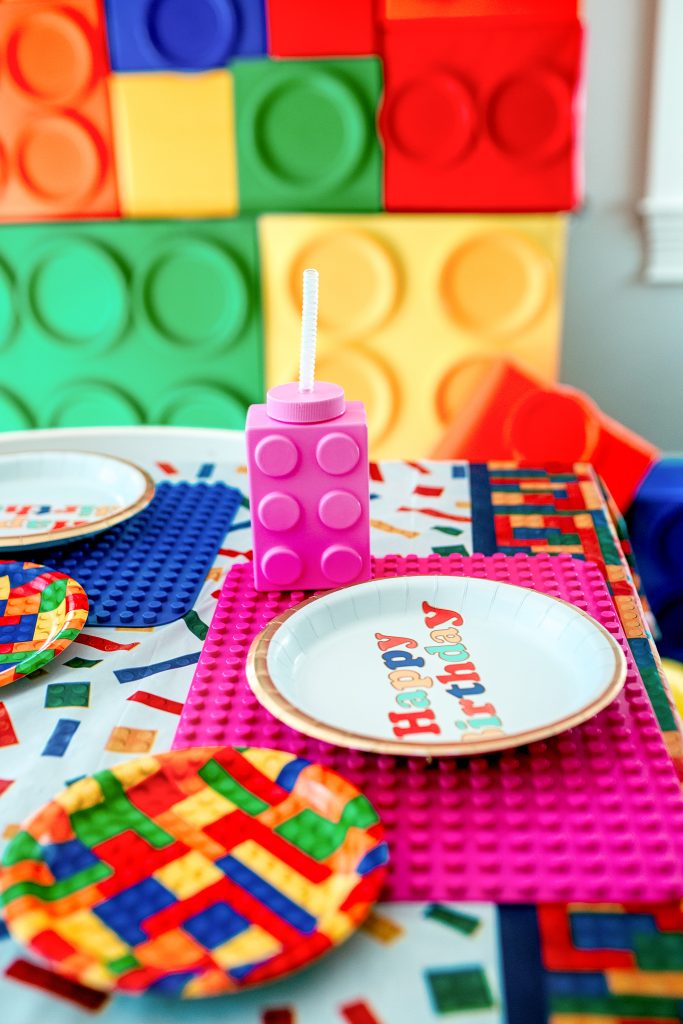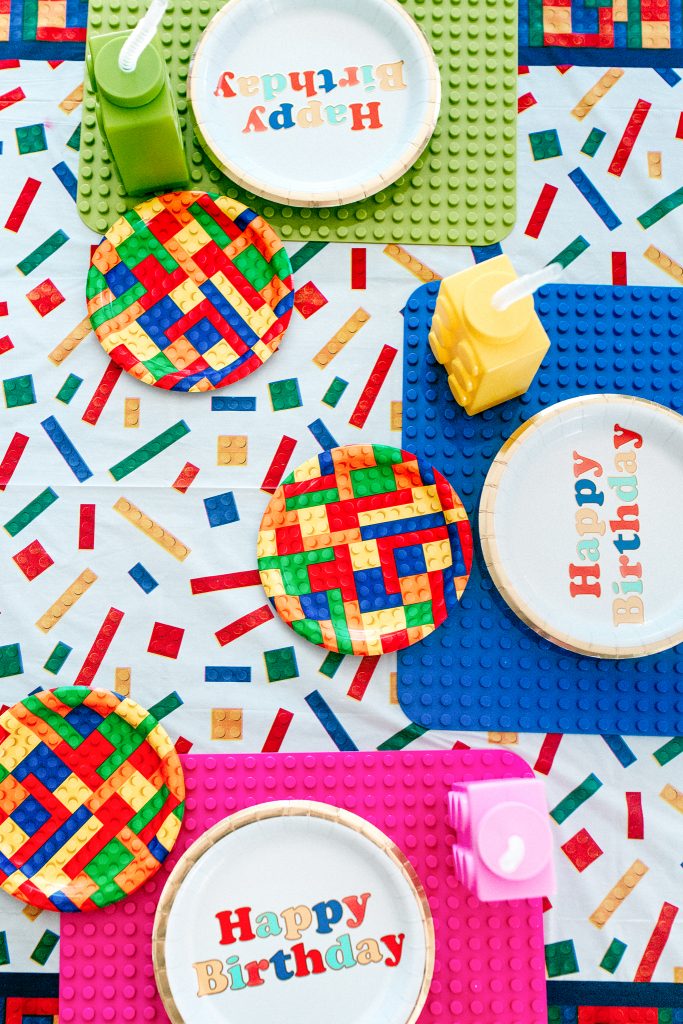 Follow along on Instagram for more fun! And tag me if you throw your own Lego birthday party!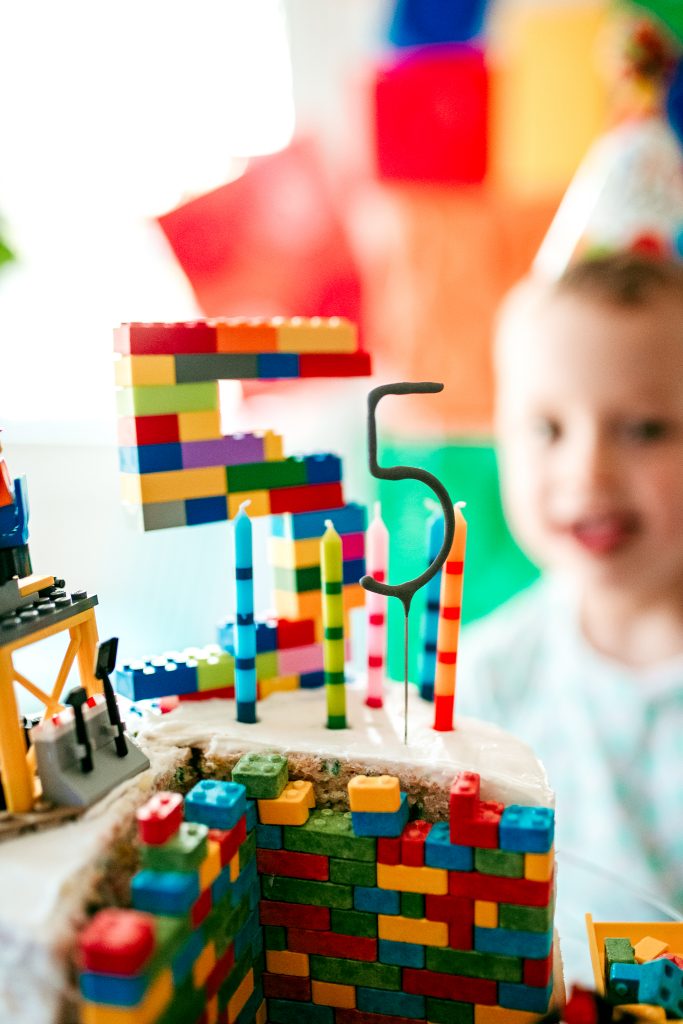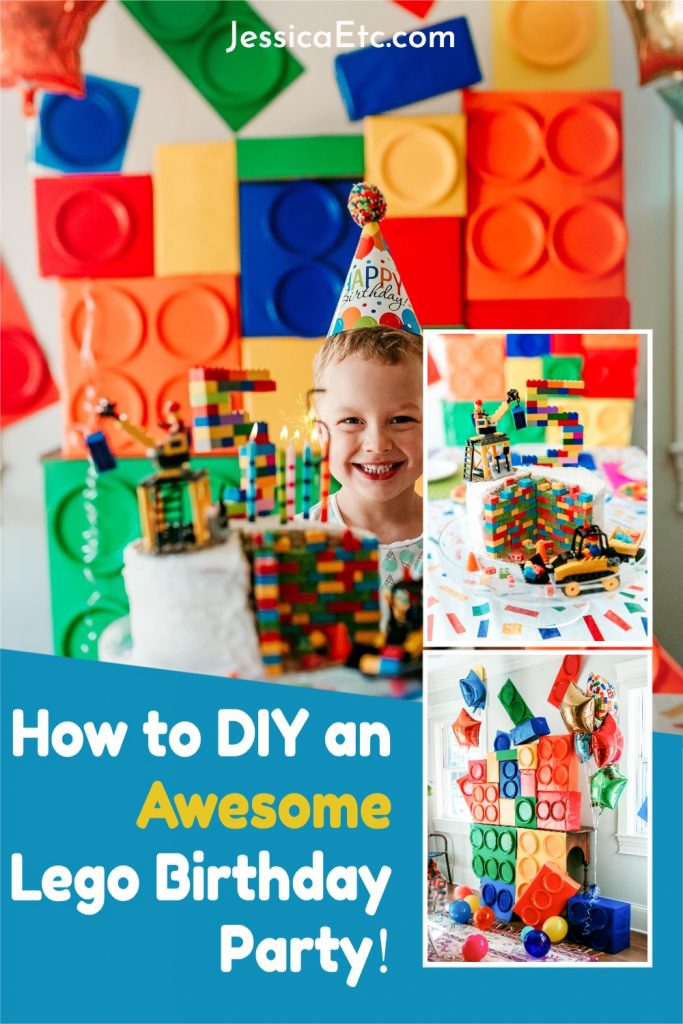 Check out more of Ethan's birthday party themes !