I recently had the incredible opportunity to partner with Harry Potter x Wizarding World to plan an at-home celebration for the 20th Anniversary of the first Harry Potter film. I grew up reading Harry Potter and eagerly anticipated each and every new release, it was definitely a 'pinch me' moment to have Harry Potter land in my inbox! I immediately felt the nostalgia of seeing the Wizarding World come to life on the big screen for the first time when I was younger. I wanted to recreate that feeling as well as incorporate my own brand of mama magic to introduce my own kids to Harry's world in honor of the 20th Anniversary and I excitedly put together these Harry Potter Party ideas! Check them out below!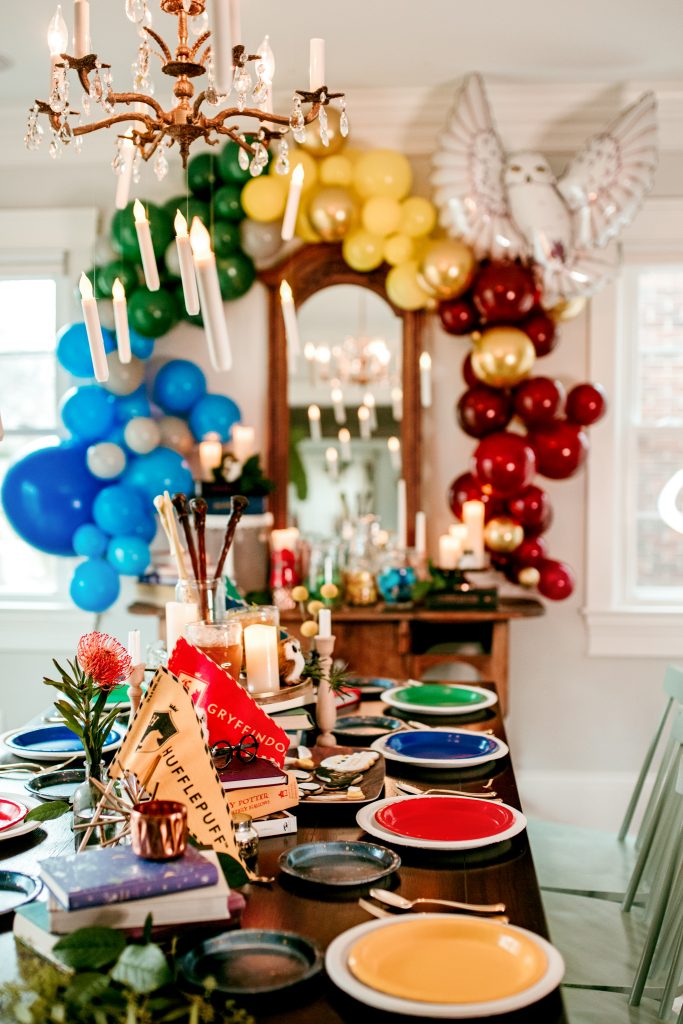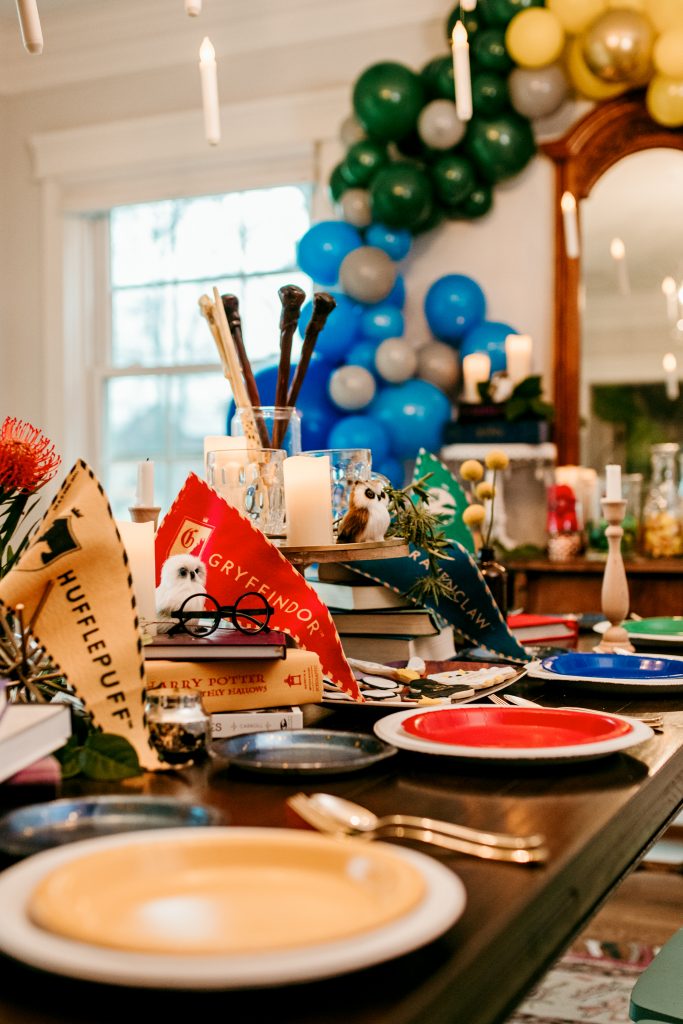 Harry Potter Party Decorations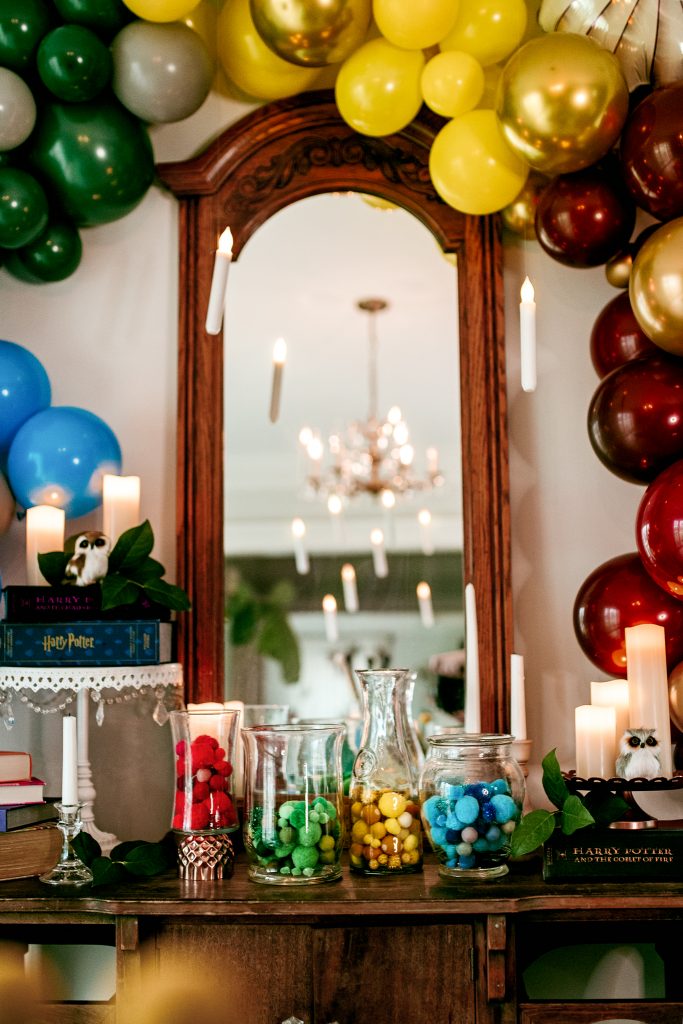 Enter our very own Great Hall! Many of my Harry Potter party ideas were inspired by the Harry Potter Film with a color scheme based on the House Cup Competition. Pops of House colors were brought in through a balloon garland, a color blocked tablescape, and pom pom points jars. We each even had our own set of Hogwarts robes!
Our dining room was transformed into the Great Hall by hanging floating candlesticks using Command hooks and fishing line. I was inspired by the historic and dark feel of Hogwarts and decorated the table using stacks of books and clusters of flameless candles styled on multiple levels of cake stands. I added vases of wands, fresh flowers, and small details like owls and eyeglasses.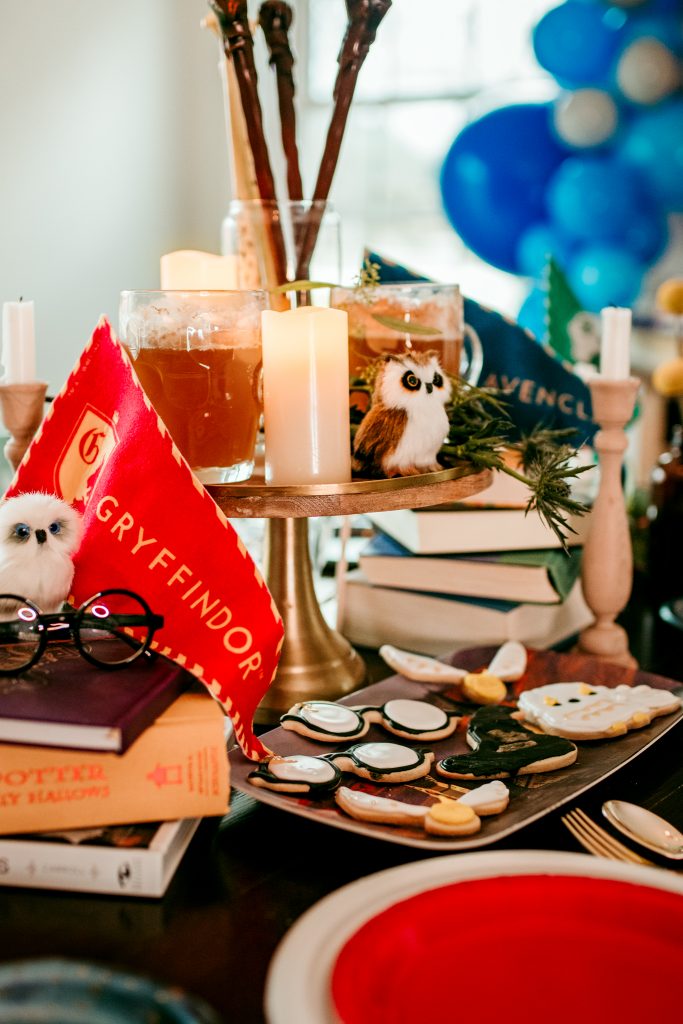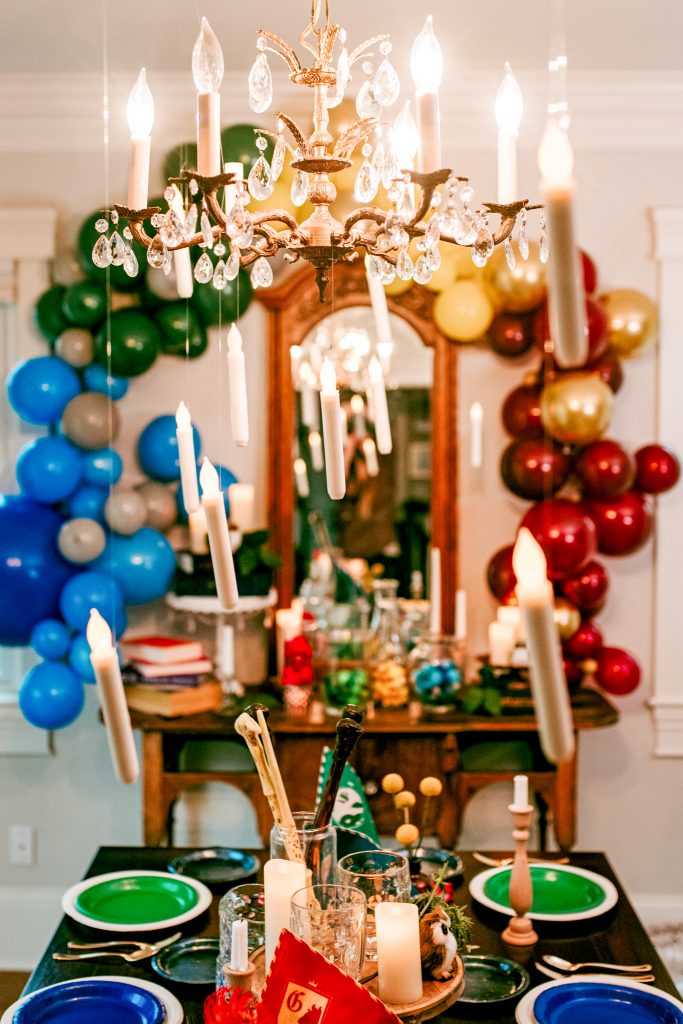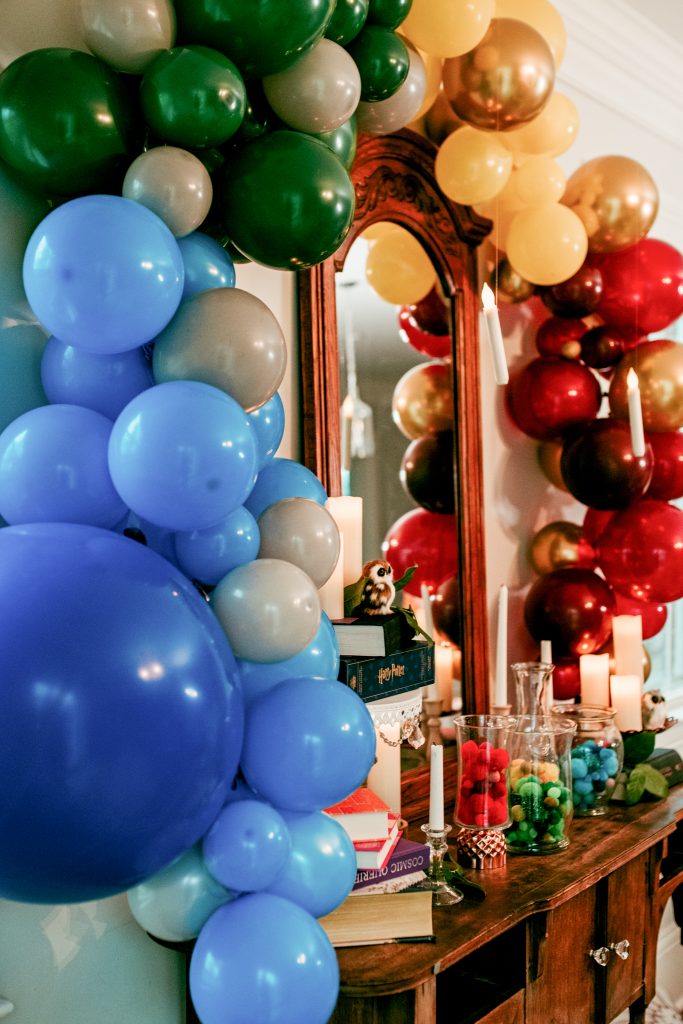 Harry Potter Party Food & Drinks
There are so many Harry Potter party ideas for fun themed food and drink! Since it was just us at our little watch party, I kept it simple with decorated sugar cookies and floats made with cream soda. This is the cookie baking kit we used!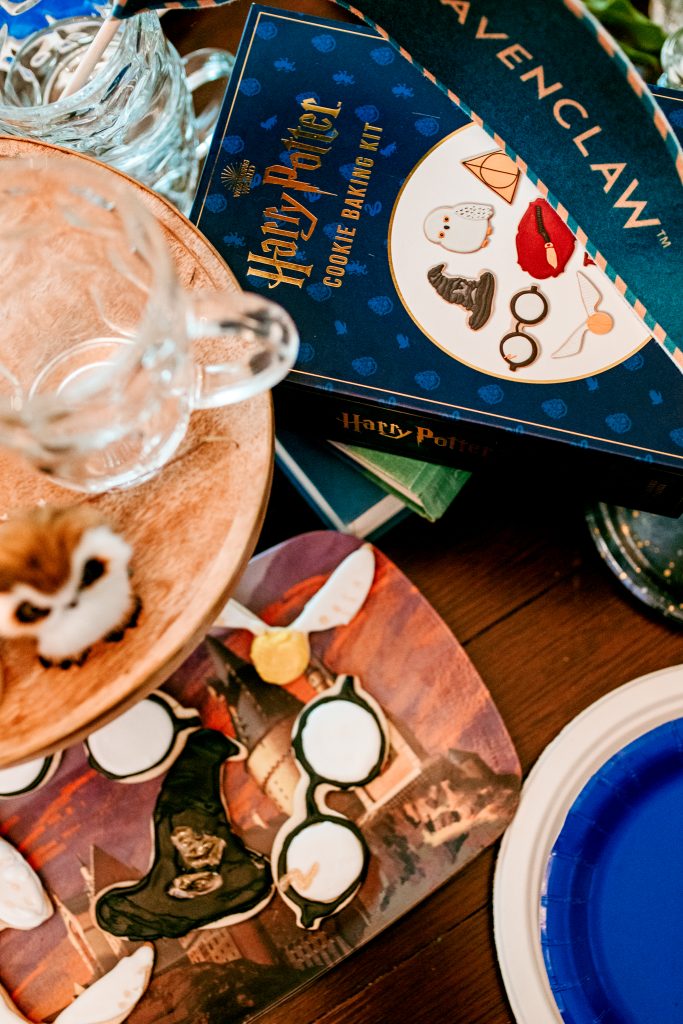 Harry Potter Party Games & Activities
Party guests can each be assigned a house (or even attend a Sorting Hat ceremony as they arrive to the party!) and compete for pom poms with Harry Potter party games like Pictionary, Pin the Lightning Bolt on Harry, and a "Don't Drop the Snitch" balloon game.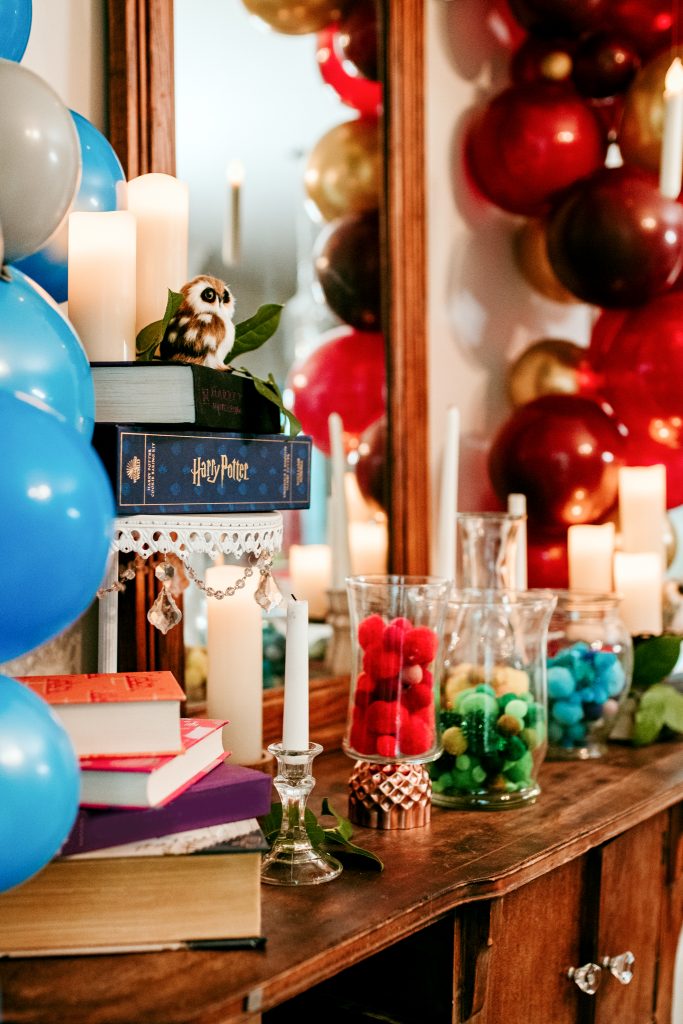 We also made an activity out of making and decorating Harry Potter cookies (made using these cookie cutters)!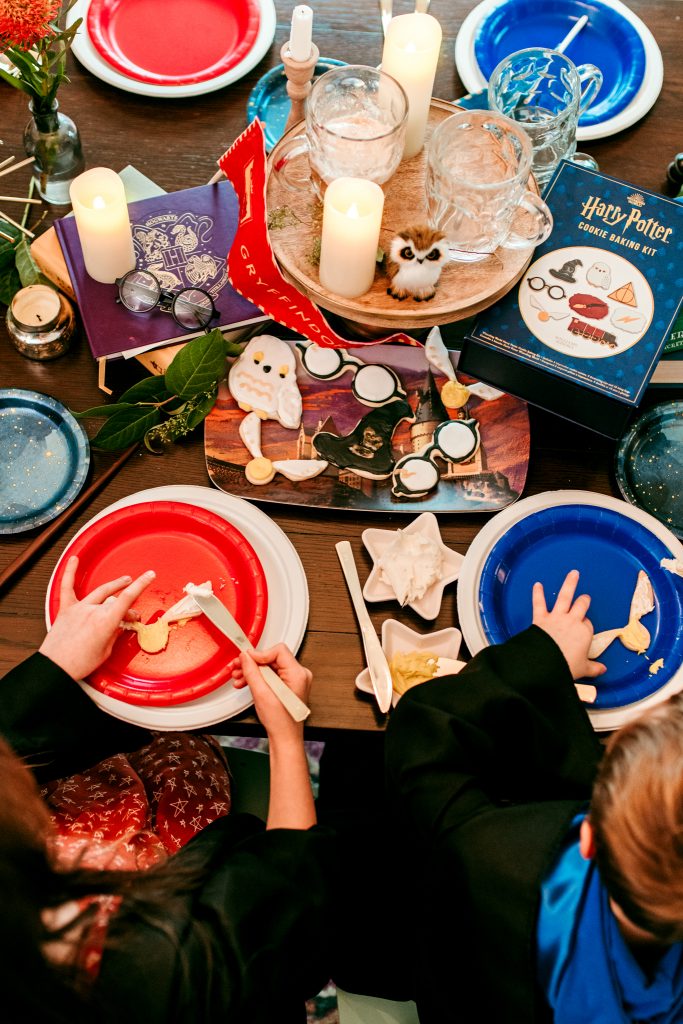 Throughout our Harry Potter Day, the kids used their Instax Mini to snap photos and we put them all together in their very own Hogwarts yearbook!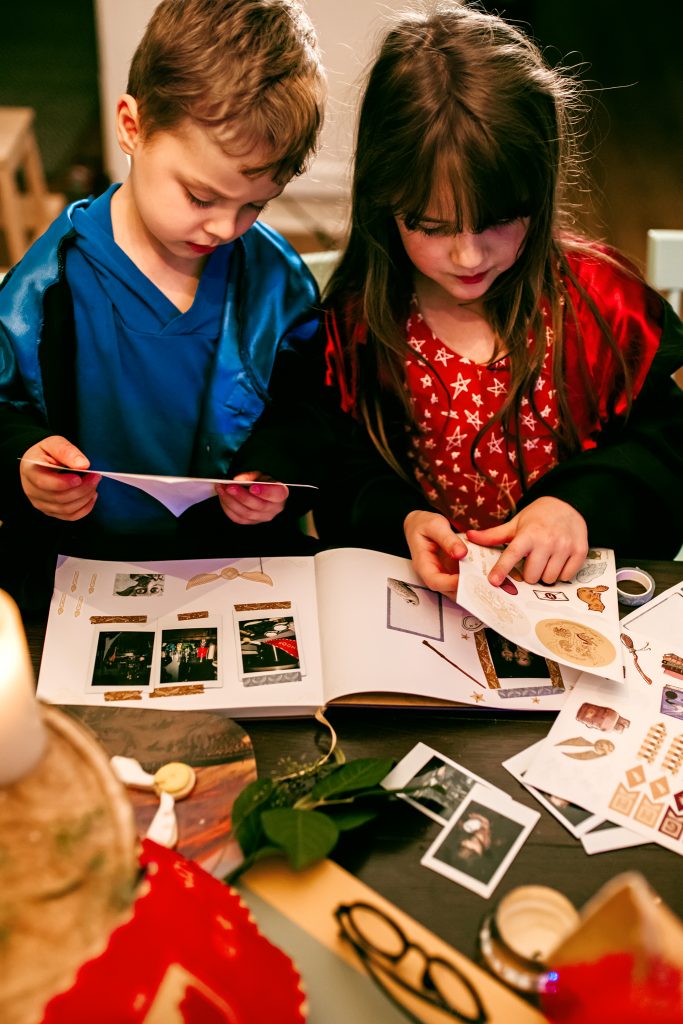 Harry Potter Party Supplies
Below you will find affiliate links to all of the Harry Potter party supplies that I used to put together what you see here! I HIGHLY recommend the book Feasts & Festivities – a Harry Potter entertaining guide to help plan DIY, food, and activities for the perfect celebration!