This year, my 7-year-old son's Pokémon obsession inspired me to throw a Pokémon birthday party. Join me as I share all the details and tips from our Pokémon celebration!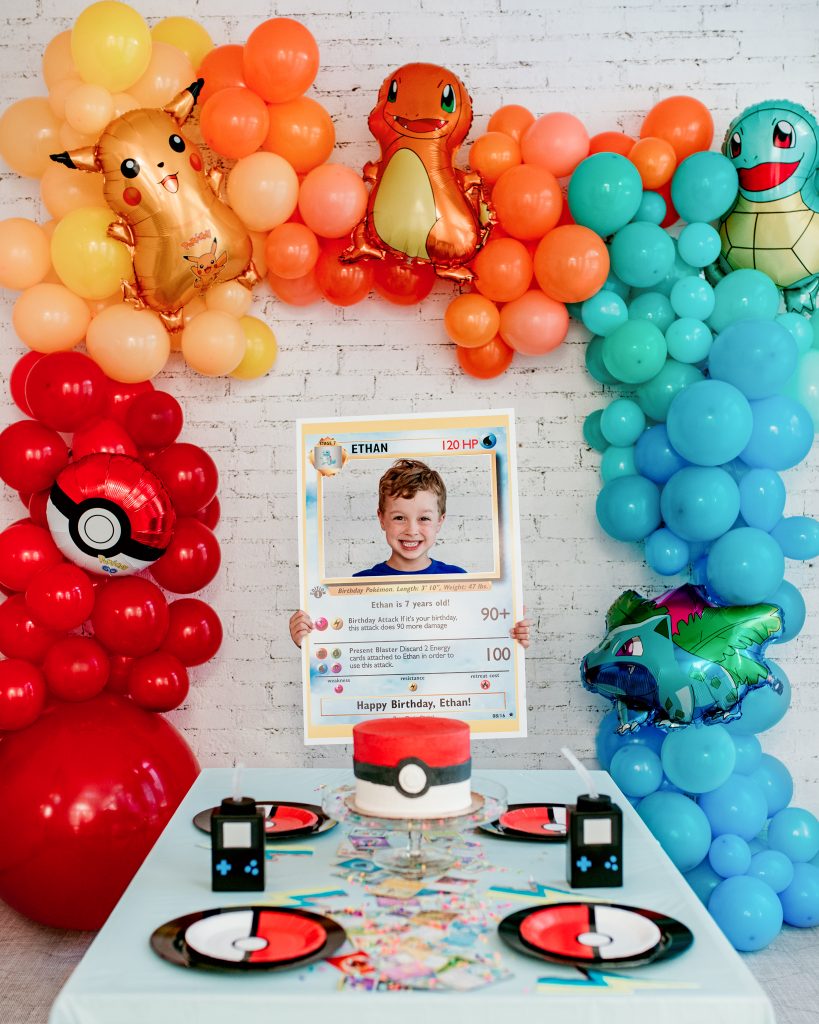 Admittedly, my Pokémon knowledge is limited; but with its colorful characters and exciting adventures, I love the way Pokémon ignites his imagination. I wanted to bring those elements into the party!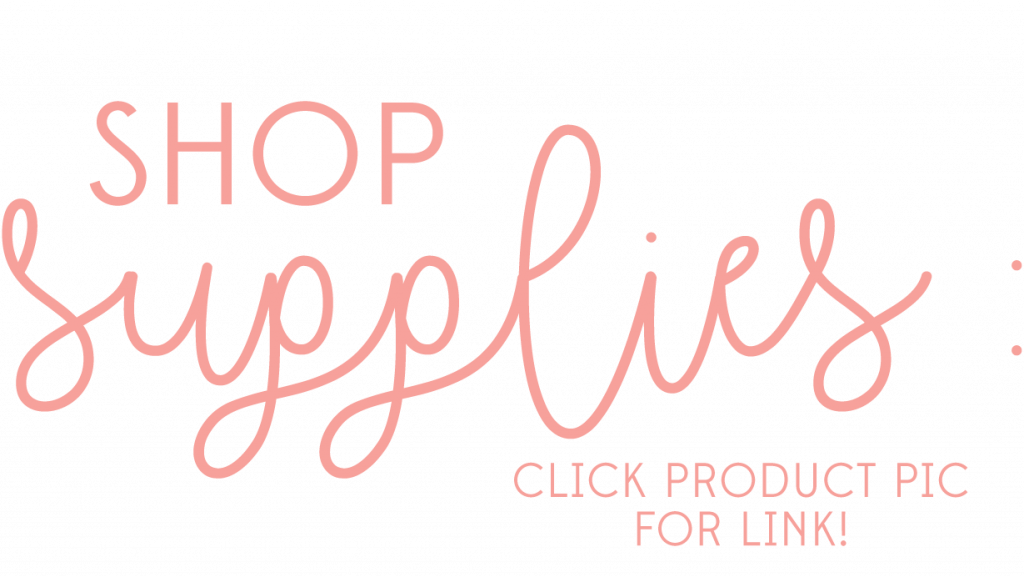 Pokémon Birthday Decorations
I was so thrilled to find the set of Pokémon foil balloons that included most of Ethan's favorites. From there, I pulled in vibrant colors of the characters for the decor (including the biggest balloon arch backdrop I've ever made)! I'm also a big fan of using things we already have, so when I set up and realized the table was looking a little empty, the scattered card table runner that I borrowed from the kids' card stash ended up tying everything together perfectly!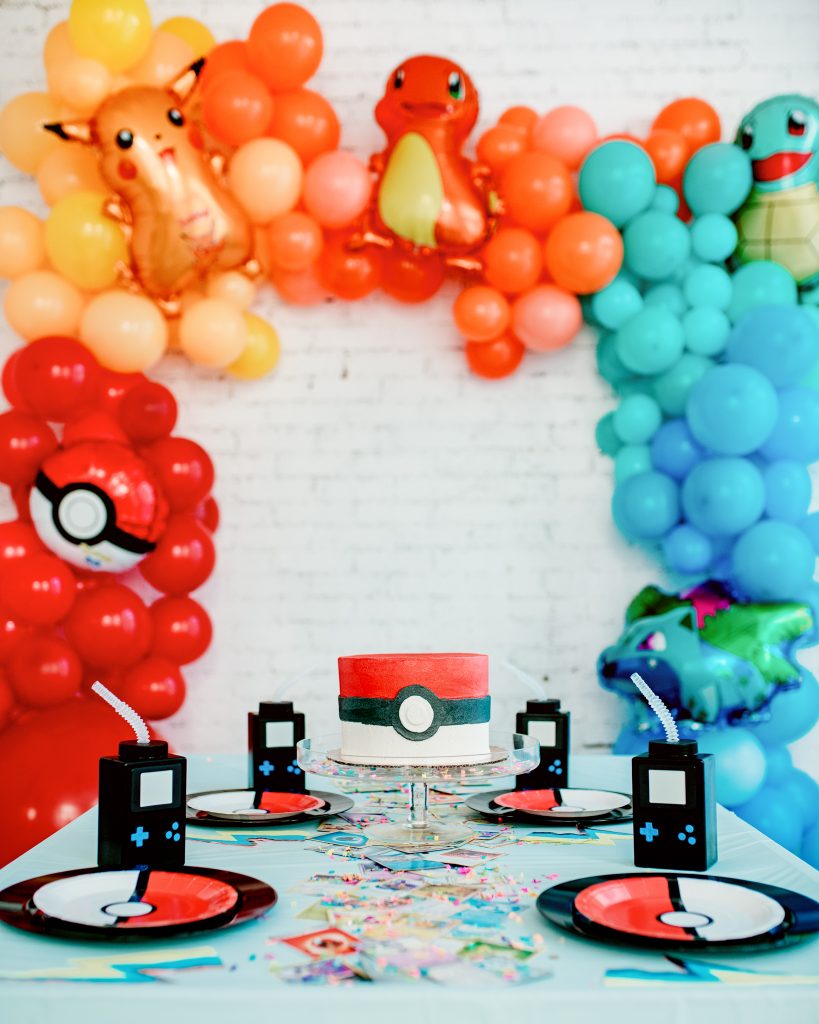 Table Decor
The table included Poké Ball plates, lightning bolt napkins, video game tumblers (Dollar Tree find!), a scattered Pokémon card "runner", and colorful confetti.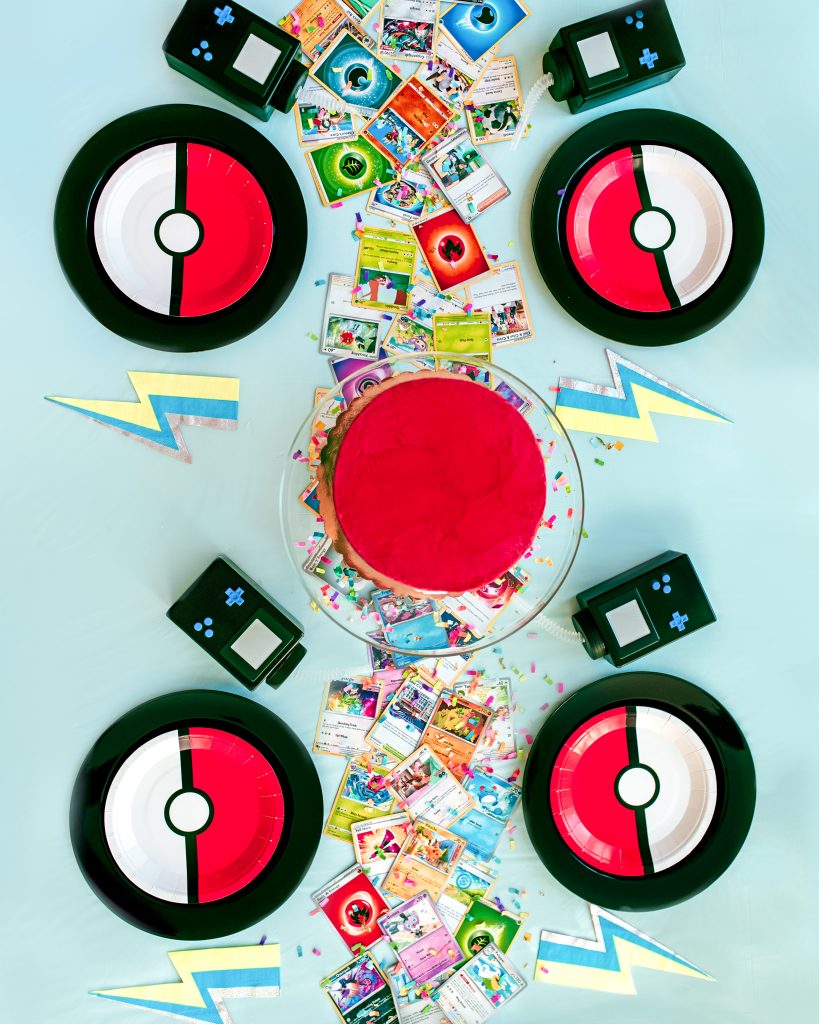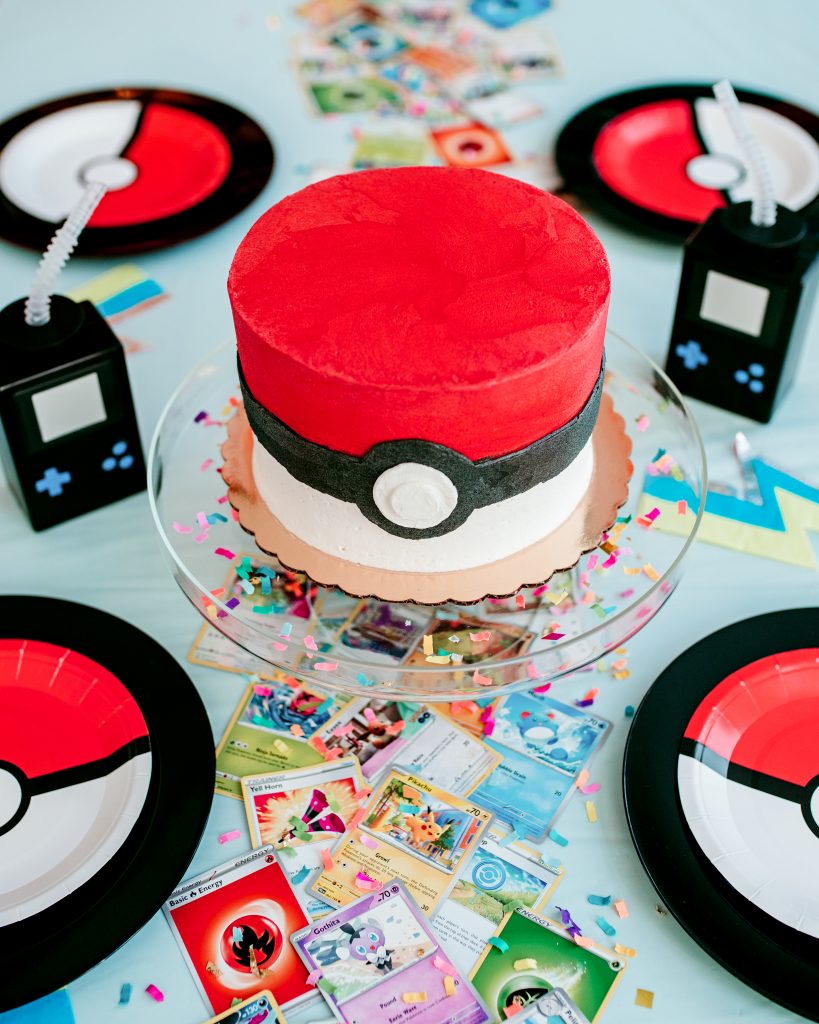 Photo Prop
One of my favorite Pokémon birthday party ideas was the ginormous Pokémon card that I found on etsy. I printed it as a poster board from Walgreens and cut out the center to create a photo opp. We used it to take his birthday picture but another fun idea would be for the party guests can all hold it up for photos and put it together as a guest book album.
Pokémon Birthday Food Ideas
Pokémon Birthday Cake
The centerpiece of our table was the 7″ round Poké Ball cake! A local vegan bakery made the most amazing Pokémon birthday cake for our little allergy guy. The cake was delish and we are so happy to have found a bakery that can make safe and amazing cakes for our parties!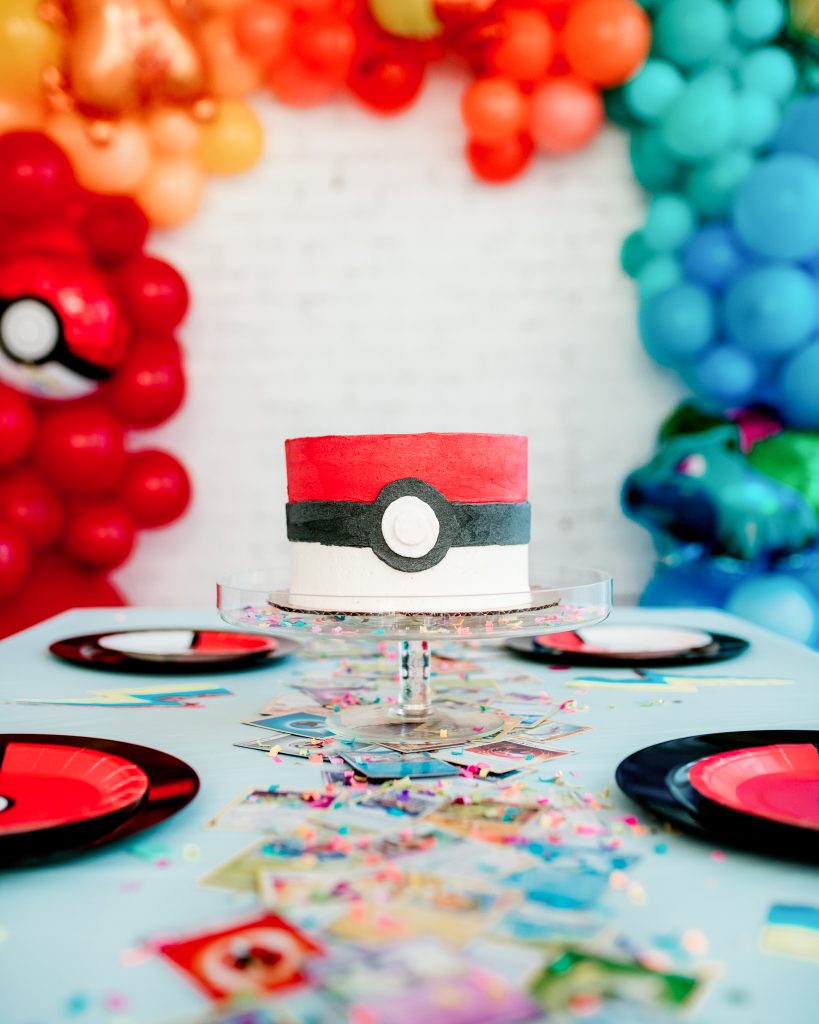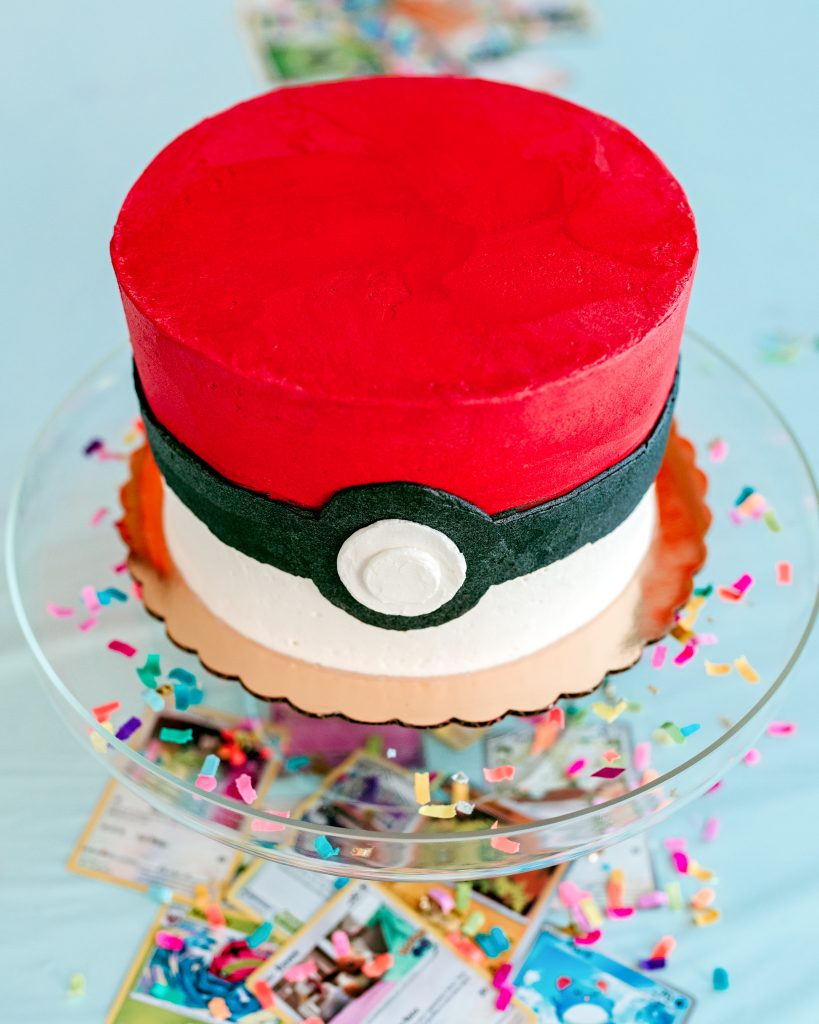 Poké Ball Pizza
The Poké Ball pizza was a big hit and so easy to make! You can make it as big or small as you'd like, but I used english muffins to make personal sized pizzas. Preheat the oven to 350. Spread pizza sauce on each crust and top with shredded mozzarella cheese. Cover half the pizza with pepperoni. I added the "belt" part using olives and the white button with a circle of sliced mozzarella cheese cut with a cookie cutter.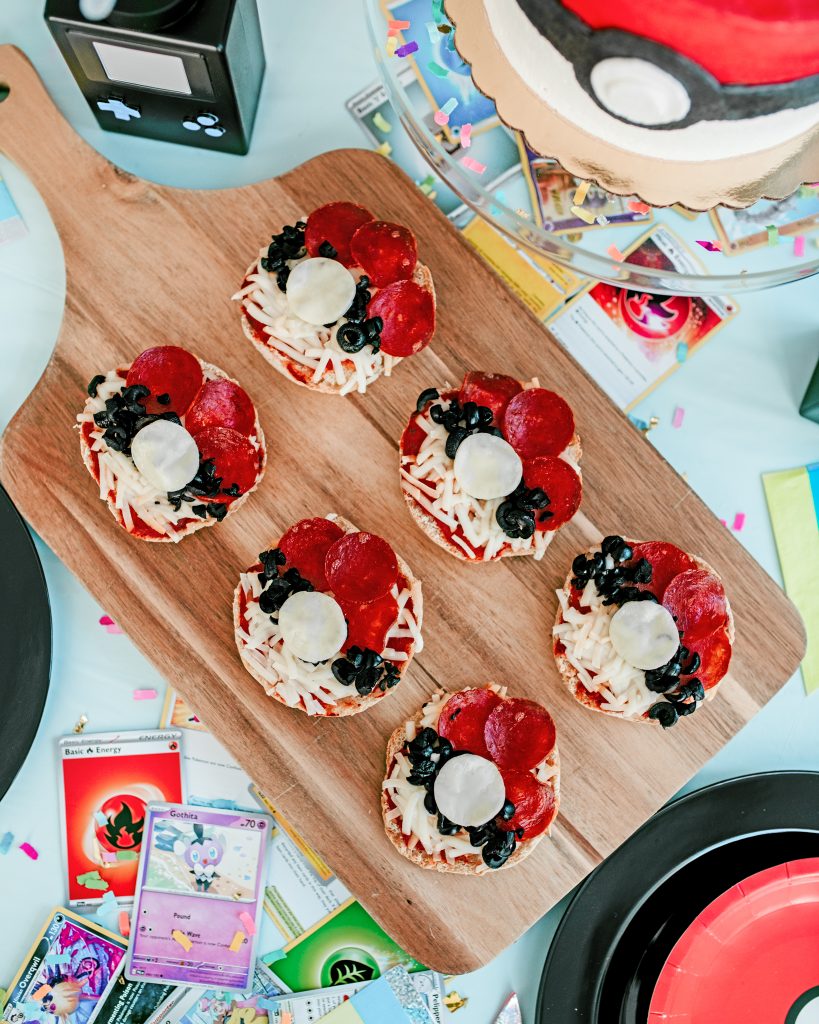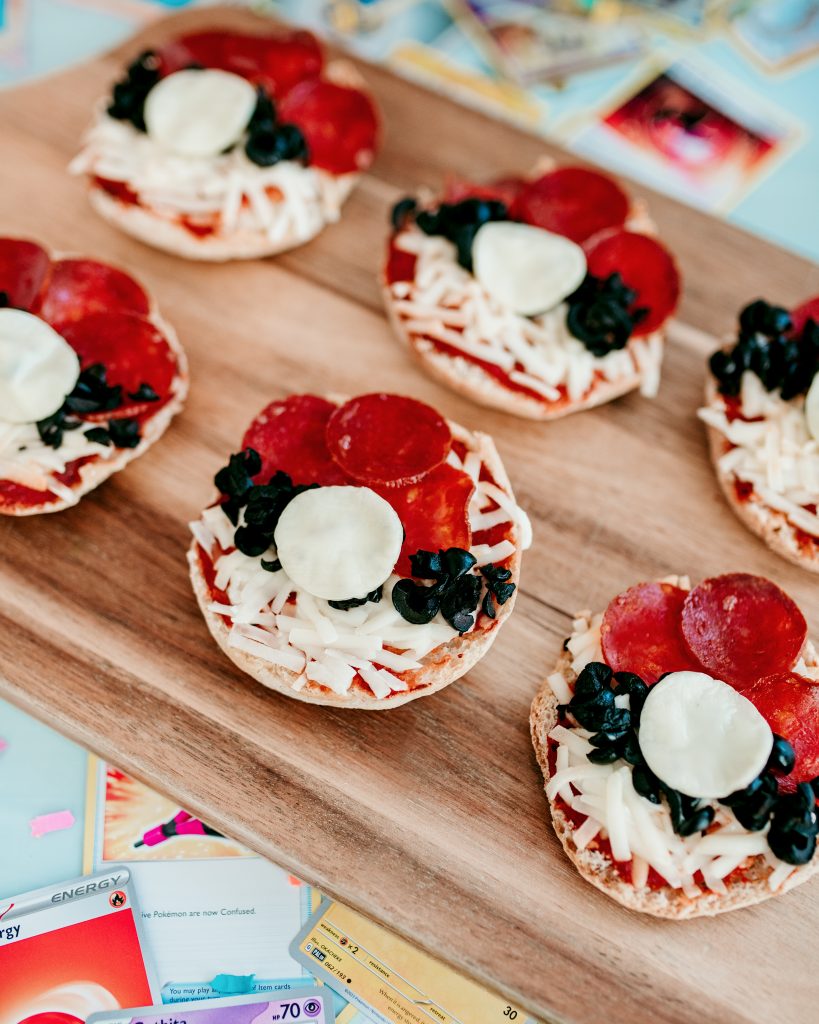 See even more birthday parties I've thrown for my kids !