A simple fall sensory bin inspired by the beautiful colors of the season. My kids could spend every crisp fall day on nature walks, collecting and exploring leaves and acorns. I put together this fall sensory bin for when the weather is not quite as cooperative and keeps us indoors.
My kids of all ages play in sensory bins as they develop their own way to learn. Along with cognitive development, there is also an element of imaginary play as they narrate the squirrel gathering its acorns in the fall forest. The sound of the chickpeas as they are poured, transferred, and filled is engaging and adds an additional sensory element. For a full sensory experience, add a drop of essential oil with an autumn scent to the chickpeas.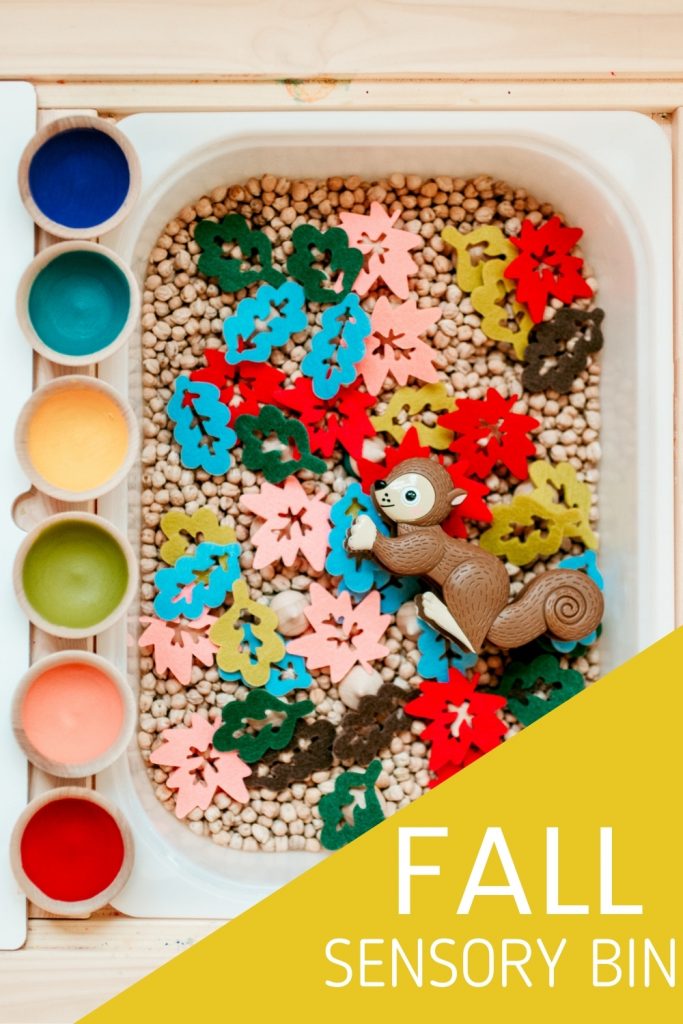 Make A Fall Sensory Bin
The base of our fall sensory bin is one of my favorites, dried garbanzo beans. It is less messy than something like rice or sand and the larger pieces are easy to cleanup once play is over. I then hid a set of hand-painted wooden acorns in the beans and added felt leaves on top. Kids can count and sort acorns by color into coordinating bowls. We borrowed the squirrel from Sneaky Snacky Squirrel (a favorite game!) for a little extra fine motor muscle strength practice.