Ethan has been OB-SESSED with the world of Mario since we introduced him to the classic Nintendo game several months ago. If you follow me on Instagram, I'm sure you've noticed that he is in a phase of only wearing Mario shirts to school, only to change into his Mario pajamas at bedtime. So it came as absolutely no surprise that he decided he wanted to celebrate turning 6 with a Mario Birthday Party! Below you will find Super Mario birthday party ideas and plenty of DIY so you can put together your own awesome party!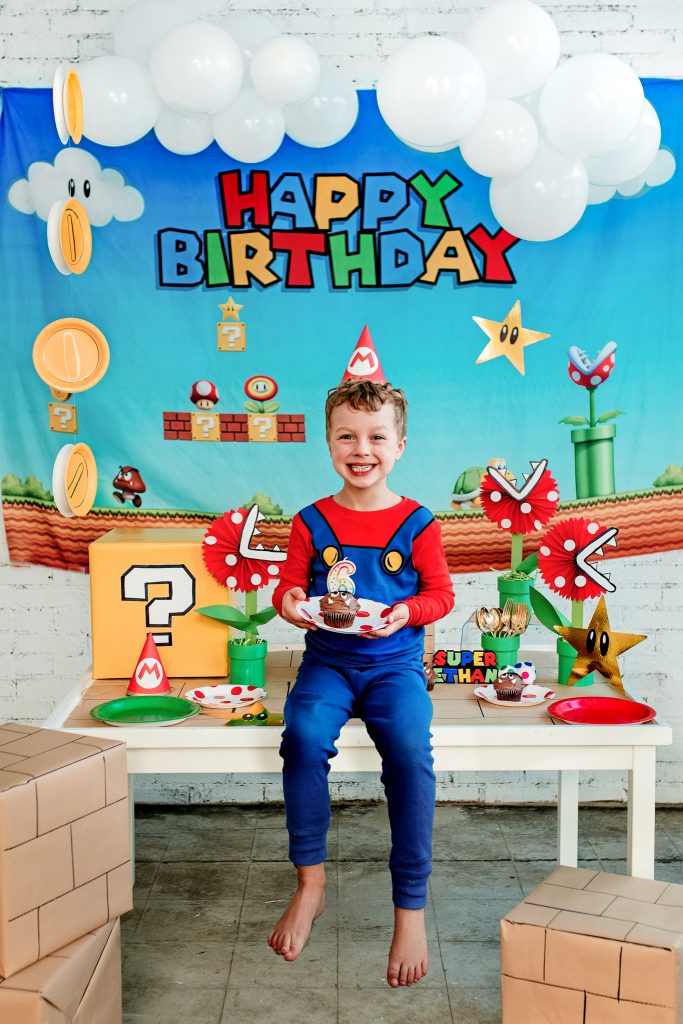 Mario Birthday Party Decorations
This party was SO much fun to put together. I started with this affordable backdrop as a background. Ethan thought the life-size video game scene was pretty awesome! The rest of the decor was pretty much all DIY. To add to the supersized Mario vibe, I wrapped his presents in cardboard boxes with kraft paper and drew a brick pattern. They were stacked around the room (and so fun for him to break open up later on!). I rolled kraft paper out as a table covering and continued the brick pattern there as well.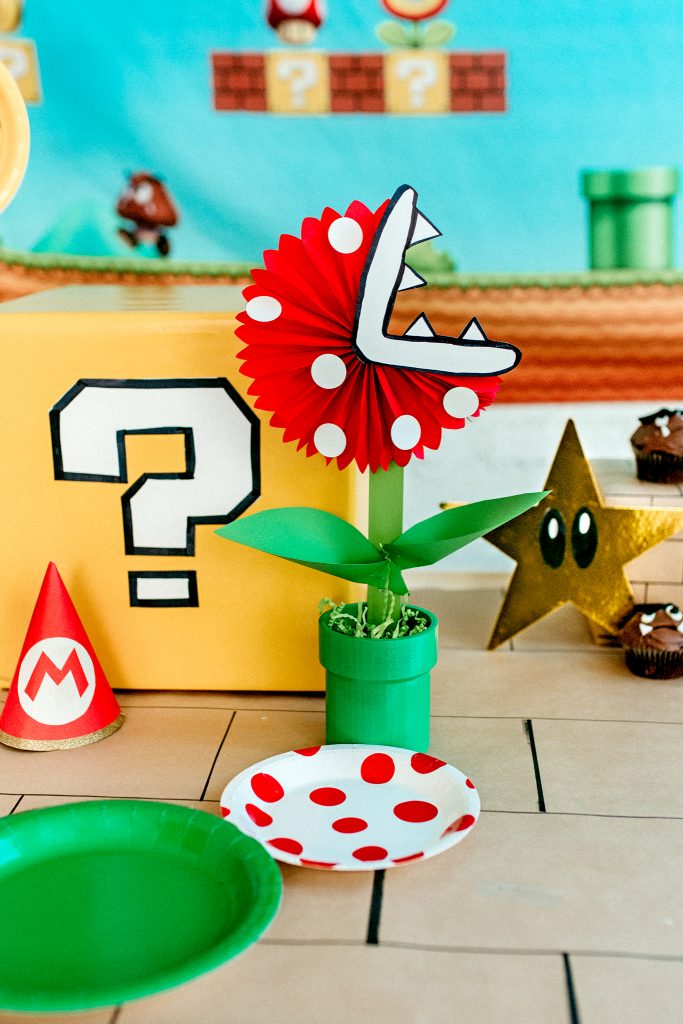 These whimsical DIY piranha plants were a simple project that made a big impact on the table! To make the plant, I spray painted PVC pipes and fittings along with paint stir sticks green. The top was made from party fans. I cut the details such as the mouth, dots, and green leaves from cardstock. They were assembled using hot glue.


In addition, some other DIY details included floating coins; they were made from hot gluing yellow paper plates to fishing line. They were hung from the ceiling using white gaffer tape. I also added the Mario hat logo to a red party hat!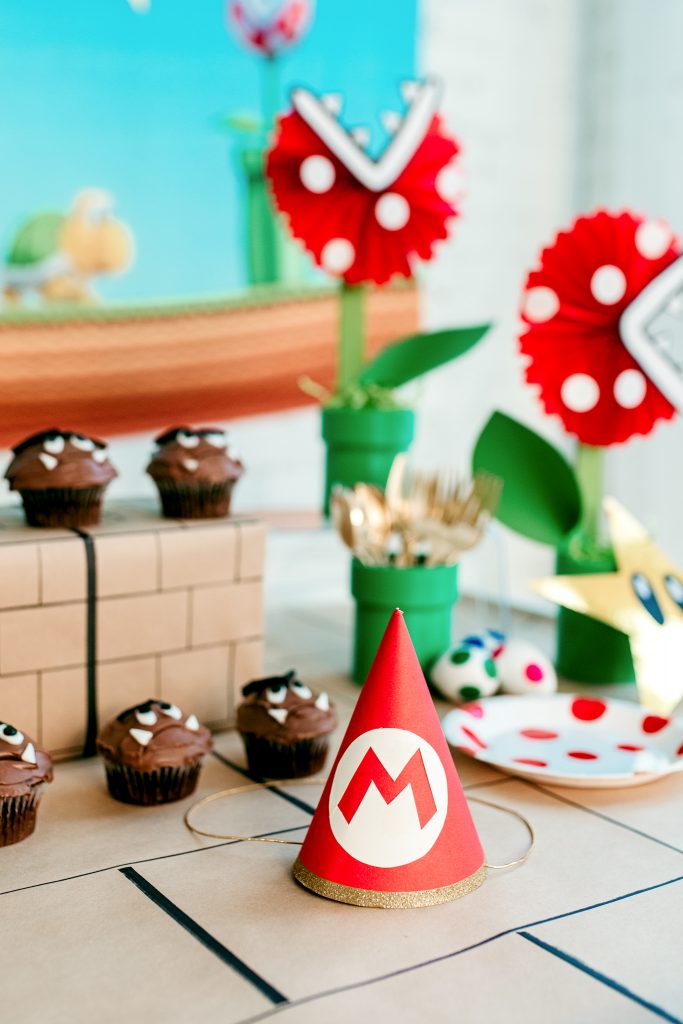 Goomba Cupcakes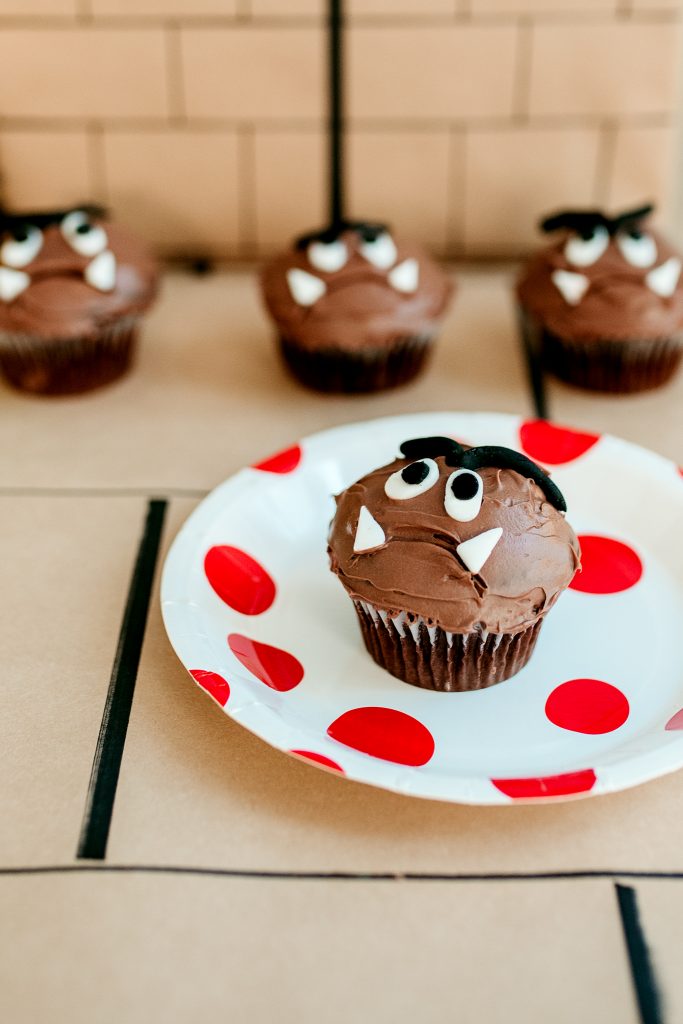 If you have followed Ethan's other birthday parties, you may already know that he has food allergies and I typically make his cakes. This year we skipped the cake and I made these simple goomba cupcakes- aren't they just the cutest! I was excited to finally find a boxed cake mix that was dairy free and egg free. I topped them with a can of chocolate frosting.
Not going to lie, I was nervous about using fondant for the faces, but it was so much easier than I expected! I rolled the white fondant and cut out oval eyes and triangle teeth. The black fondant was cut into small circles and I rolled little "snakes" to use for the eyebrows.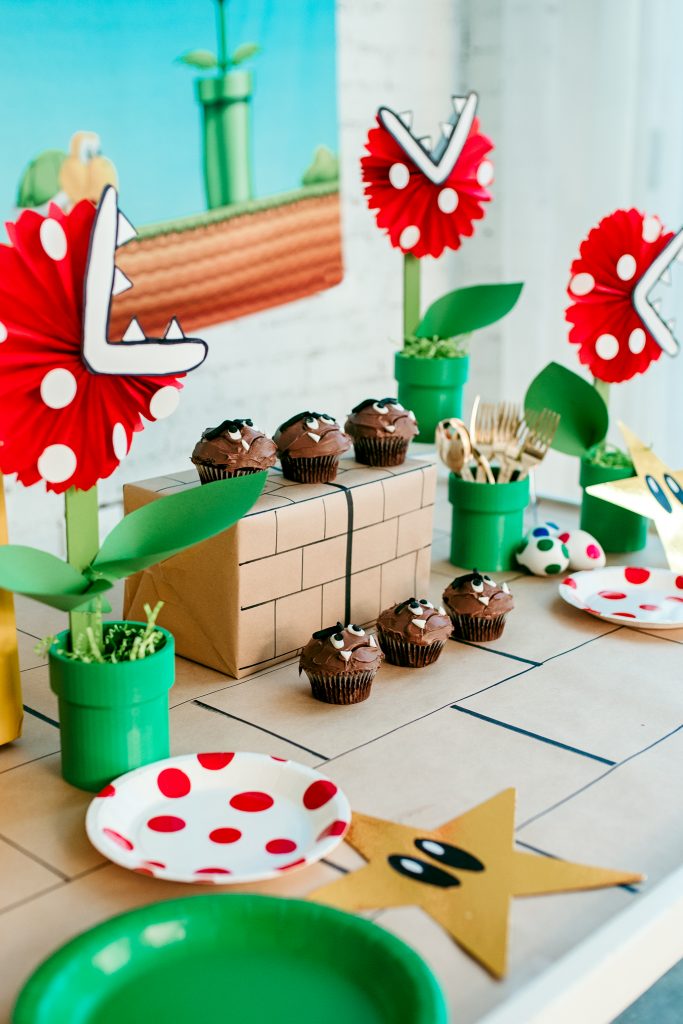 Mario-Lover Birthday Gifts
Ethan loves to draw his own Mario levels and set them up using various toys, blocks, and stuffed animals. He even went as a "Mario Maker" for career day in pre-k! I wanted to get him a present that facilitates this creative play aspect since we don't play the game console as much as he would probably like 😉
I cannot say ENOUGH good things about these Lego Mario sets! They are easily one of the coolest toys I have seen. Kids can build their own Mario levels using legos and then they can actually physically play their game with the Mario characters that interact with the pieces! You have to check them out!
More Mario Birthday Party Ideas
Take a closer look at a few more details: