To shop, just match the number to the numbered link below ! Keep scrolling for even more finds added in 2021!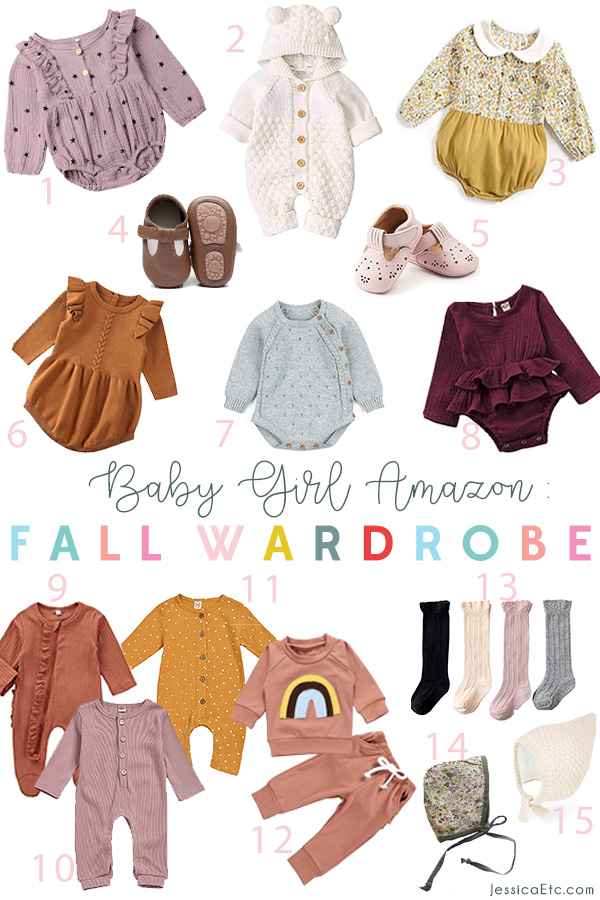 This post contains affiliate links
Updated 2021: Even more Cute Baby Girls Clothes Finds!
Click any image to add to your Amazon cart!!

Florals and ruffles and dainty knits, oh my! I alllllmost forgot how fun it is to shop for a little baby girl. I'm so excited to mix up Josie's mini wardrobe as the seasons change and leave it to Amazon to send me down a middle-of-the-night-nursing rabbit hole of SUCH cute baby girl fall fashion finds. Best of all, they're fun looks that are so affordable! Here are some of my favorites that are on their way to me or waiting on my wishlist! (I'll update with sizing and quality as I can, but I suggest reading Amazon's reviews and shipping times before purchasing)
I love all of the the bright fall tones and textures. I'm swooning over the classic romper, knee high, bonnet, and mary-jane look on her (hello, squishy thighs) and already envision trips to the apple farm and family photos in that adorable combo! I also mixed in a few cozy options for when we're just hanging out at home with our distance learners this school year 🙂
I am always updating my list of cute baby girl Amazon finds here!
Winter Cute Baby Girls Clothes – Amazon