I can't believe Josie is already a month old and I want to make sure I jot down her birth story because it already feels like time is flying and those early details are getting foggy! This is a lengthy post, but this blog space is somewhere that I've looked forward to using as a place to save all of these little details for myself to look back on. I LOVE reading birth stories and I know many others do too, so I'm happy to give you a peek into this intimate memory!
Harper and Ethan were both born at 39 weeks so we were surprised when 40 weeks came and went and we were still waiting on this baby to make his or her move. She made up for lost time with a fast and furious delivery on May 18 at 1:08am. I had randomly been having cramping a few days prior, but nothing progressed or lasted for longer than an hour. Then on May 17 (40+2) I started noticing contractions around 9:30pm while we were laying in bed watching How I Met Your Mother (ironically, the episode where Marshall and Lily argue about naming their future child AKA the story of my life for the past 9 months). By 10, I noticed that they seemed to be getting more consistent. I started getting anxious and finished packing our hospital bag between contractions and made the call to my mom to come stay with the kids.
Around 11pm (contractions were now every 3-4 minutes), I spoke with the on-call doctor in L&D and he told me to wait at home longer because it didn't sound like my contractions were strong enough yet. Fortunately, this being my third labor, I listened to my gut -and my husband pleading to go early as to not have a car birth 😂- instead and at 11:30 we left for the hospital.
This is when everything kind of starts to become a blur and I'm glad my husband started snapping photos on his phone because I've had to look at the timestamps to believe just how quickly things went from this point. Ironically, my DSLR was the first thing on my hospital list – and it never even made it out of my bag until the following day. Thank goodness for high quality smart phones and my amazing husband who knew I would love to have this birth documented.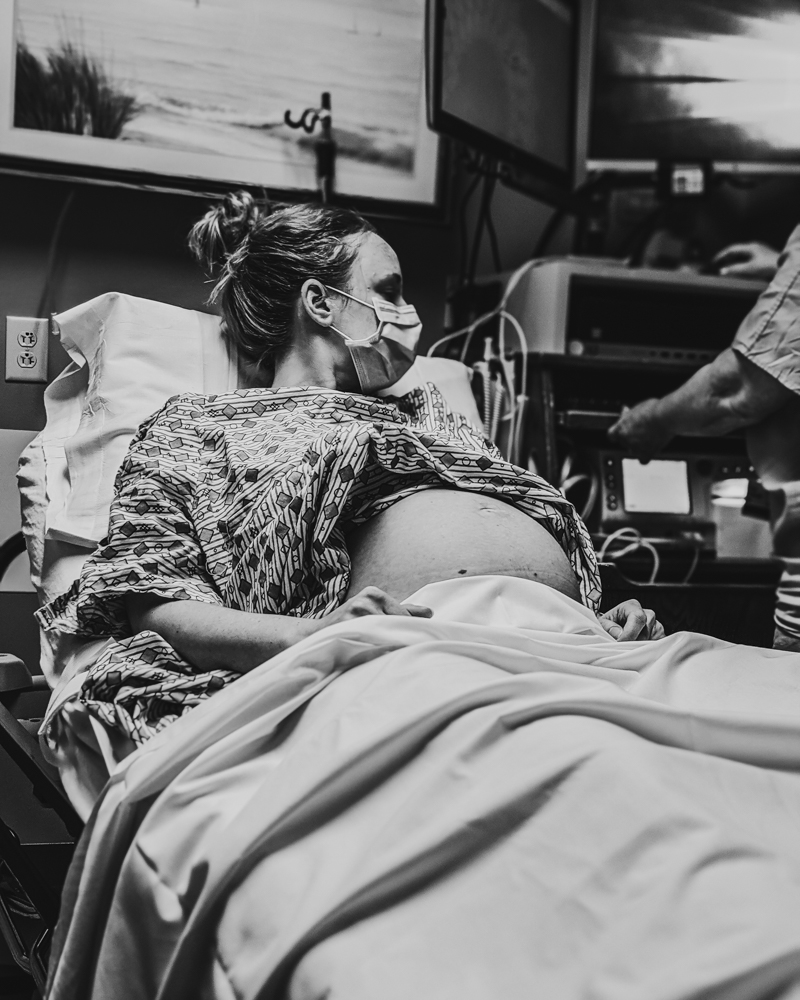 Labor
We arrived at the hospital around 12am and walked from the parking garage because I felt like I was still managing the contractions fairly well and prefer to be mobile during labor (sitting still in the car or in a wheelchair is torture for me!). Once we entered we went through the COVID temperature screening and were sent to L&D Triage. I was hooked up to the fetal monitor for a 20 minute reading on the baby (again, absolute torture to have to sit still in the bed while it recorded) and a quick exam. I was confirmed to be in active labor, currently at 5 cm, and so they began moving forward to have us admitted.
We weren't entirely sure what to expect at the hospital due to constantly changing Coronavirus protocols as well as different experiences I had heard about throughout the country. I was under the impression from my last OB appointment that I would be given a rapid COVID-19 test upon arrival; if it was positive, the current recommendation from the American Academy of Pediatrics was to separate mom and baby. Which stressed. me. out. I was surprised when the intake nurse told me I could decline it; actually, she kind of alluded to saying I SHOULD decline it. Given that our household had strictly self-isolated (like we haven't left our house for anything but a walk around the neighborhood since mid-March strict), we declined the testing. We kept our masks on in the hallways and I attempted to keep it on between contractions but was given the okay to remove it once we were in our L&D room. All nurses and anyone else in and out of our room wore masks at all times.
As we waited in the triage room, my whole body was shaking. I thought it was from nerves or adrenaline or a mixture of the two. I remember telling Dave I felt like this labor was different; like I wasn't in control and couldn't get on top of the contractions or my breathing. In hindsight, it was probably because I was already moving into transitional labor. At 12:45, a nurse took us to our room in the Family Birth Unit, a new part of the hospital where laboring women who have chosen to have an unmedicated birth can receive support of midwives and more holistic birthing options than the main labor and delivery floor. Harper and Ethan were both born without an epidural and I was planning on the same for this delivery. That's about where my natural birthing and holistic opinions end because when we got to the room and they asked if I had a birth plan, my answer was, "to get this baby out" 😂.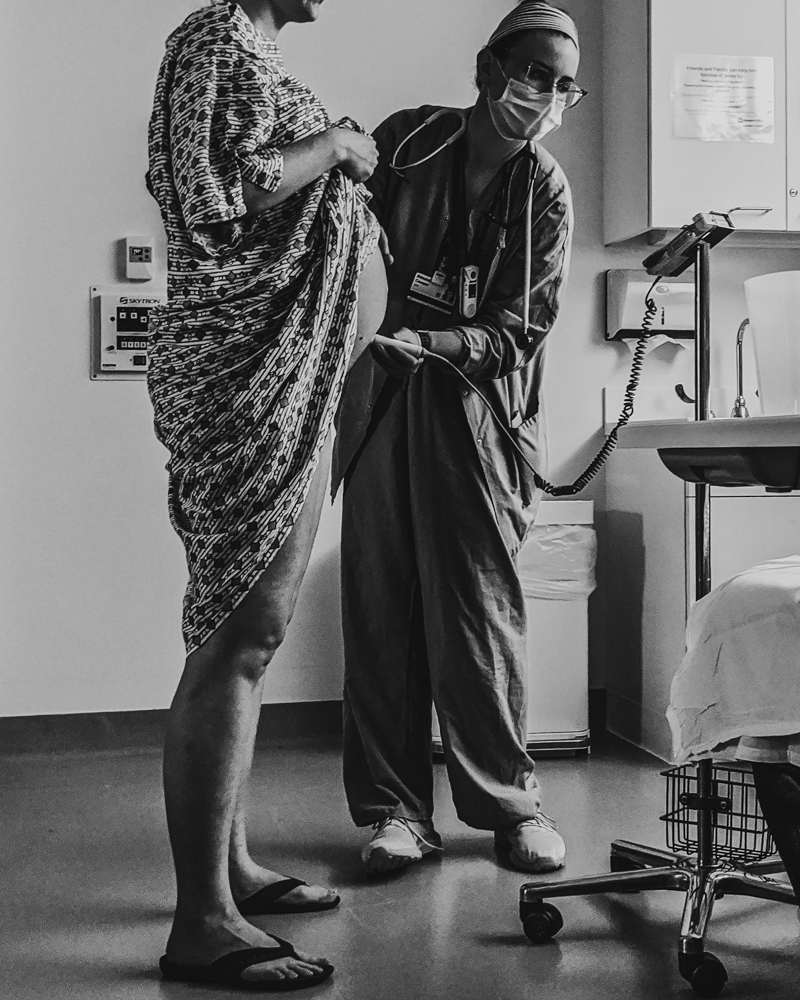 The nurses and midwives were calm, supportive, and had a very loving "do what you need to do" approach; I'm sure all of which contributed to this being my favorite labor and delivery experience. I'd imagine it was similar to having a doula at my side. I paced the room, still feeling jittery, but worked through intensifying contractions. In between contractions, we were discussing when and whether I wanted them to check progress, techniques to manage my next contraction, if they should start filling the labor tub, establish baseline doppler readings, and trying to place my IV line. Conversations and procedures would start and stop based on me having to step away and walk through another contraction. It was such a stark contrast to my previous labors where at times I felt forced to uncomfortably and painfully sit while they checked something or other. This birth really felt like I was in charge and had a room of advocates cheering me on and aiding in a smooth delivery. However, I was still feeling mentally shaken up. Thinking that I still had hours of contractions ahead of me, I considered asking to go back to the main L&D for an epidural because I felt like I just wasn't in the right headspace for whatever reason – again, not realizing I was wayyyy past the point of return.
Delivery
A little after 1am – 10ish minutes after we arrived in the L&D room if you're counting. I started feeling pressure and after another contraction or two it was pretty intense. My nurse directed me to the bed and I'm not sure if it was to check my progress or just give me somewhere to rest, but I found myself holding the side of the bed for support while my water broke mid-contraction at 1:07. To my surprise, the pressure didn't lessen and I told them, "I think the baby is coming now". The room became kind of chaotic as I heard different voices saying, "I've got the head", "Don't push yet", and "Try to move onto the bed". I made it as far as crawling onto the bed and was still on my hands and knees when the baby wasn't waiting for us any longer. Our baby girl was born at 1:08am.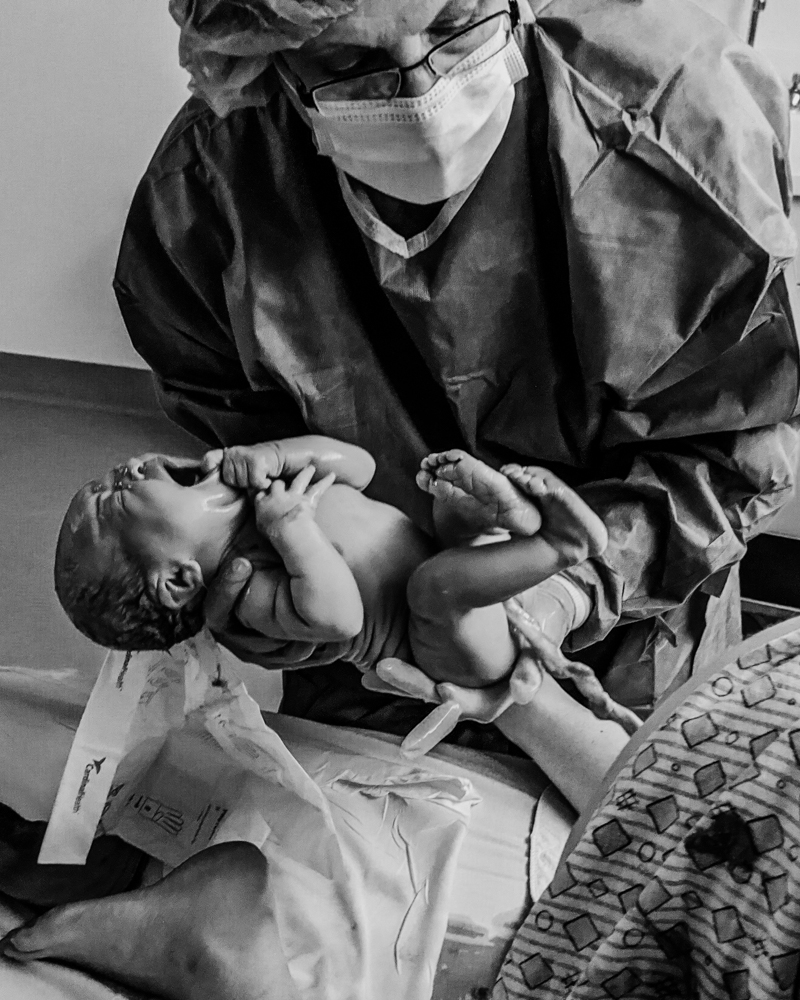 Still on my knees, the midwife passed her through my legs so I could pull her up to me and onto my chest. One of the most amazing things to me about labor and delivery is that all the pain from minutes before suddenly disappears and nothing else matters apart from the sweet tiny face cuddled close, looking up at you. Feeling empowered and marveling at the beauty of creating and bringing an actual life into the world is a serious high that I feel like I become addicted to after each of my babies – give me 100 more 🤗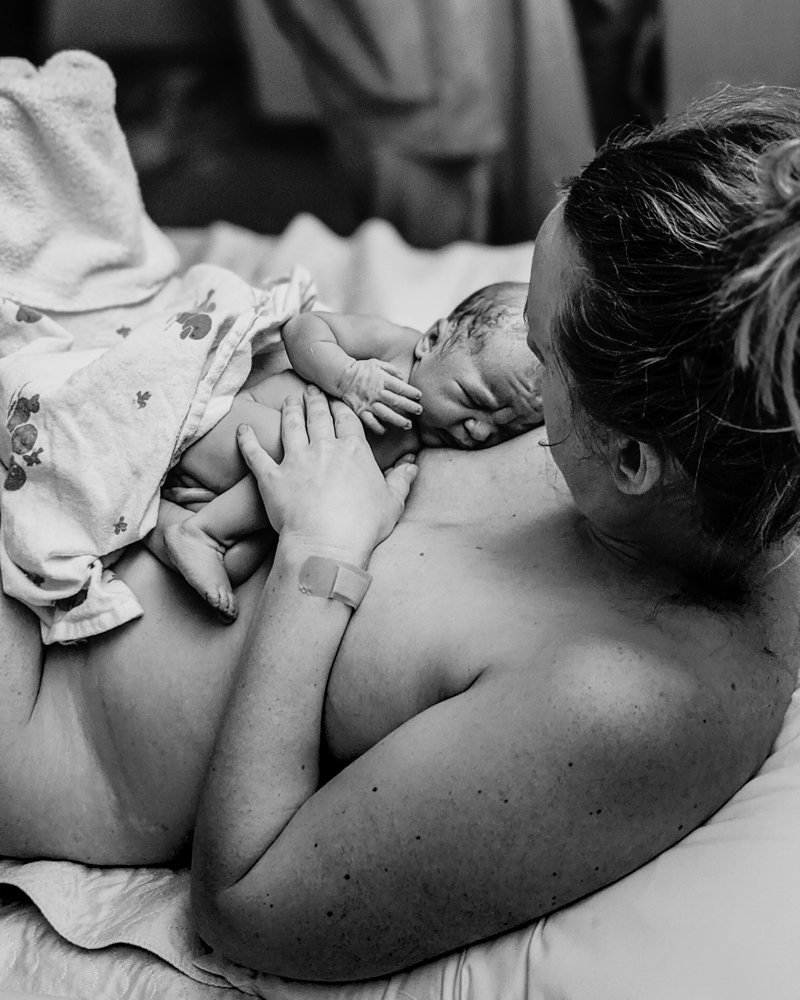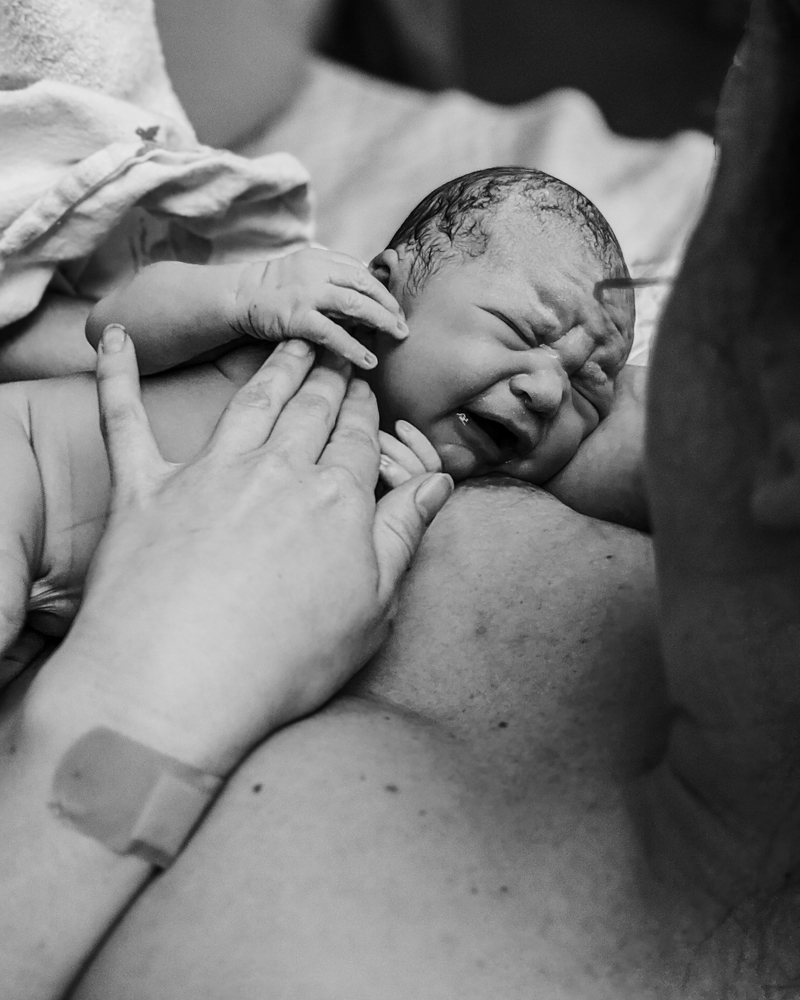 Another benefit of the Family Birth Unit was not having to relocate to a different recovery room. We were able to stay in the same room that I delivered in and bond with our baby, immediate and unlimited skin-to-skin, and take our time with our initial attempt at breastfeeding for as long as we wished before letting the nurse know we were ready for her to be taken to the other side of the room for her newborn assessment.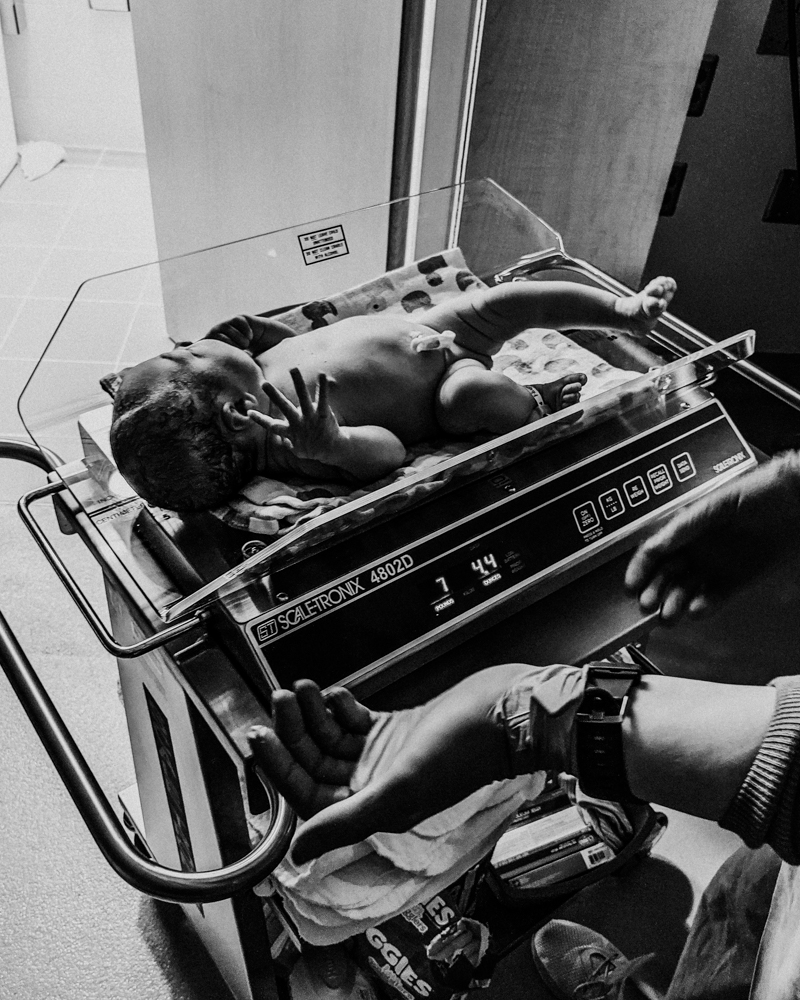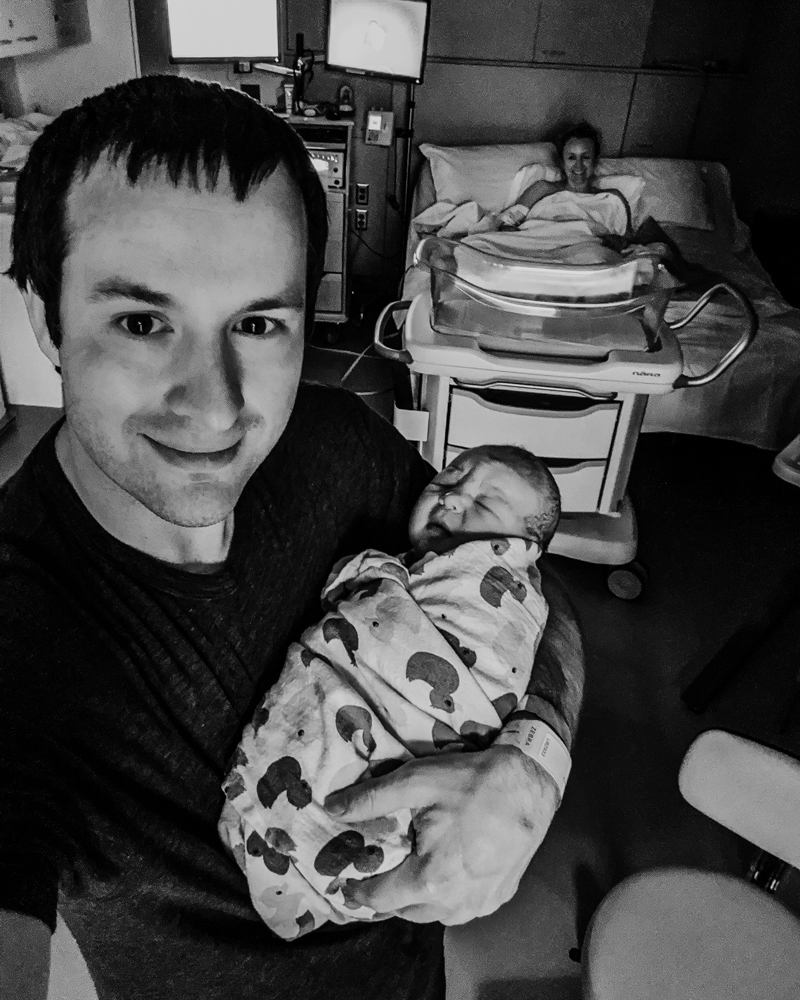 Recovery
For the next few hours, nurses were in and out to check on both of us pretty frequently. Checking baby's vitals and my uterus. Seeing how breastfeeding was going. As the sun was coming up, it was finally quiet and we were ready to go to sleep, only to be quickly reminded that we now had a newborn that would have none of that and woke us up after only an hour long catnap. Recovery looked a little different this time around because we couldn't have any visitors (including the kids), so the rest of the day was spent looking into this beautiful new face, trying to sleep between feedings, visits from nurses and lactation support (all procedures were done in our room, including her hearing test), and discussing 5 million names because, you guys, we really had no clue what to name her.
Since we didn't know the sex of the baby beforehand, we made EVERYONE wait until we went home to announce if it was a boy or girl so that we could introduce our surprise to Harper and Ethan first. One of my favorite memories is of Harper running into the hospital room when Ethan was born and since we couldn't relive that again, this was my way of creating a special moment with them. It made for some interesting texts and phone calls as we tried to use gender neutral pronouns in our state of sleep deprivation, but we did it!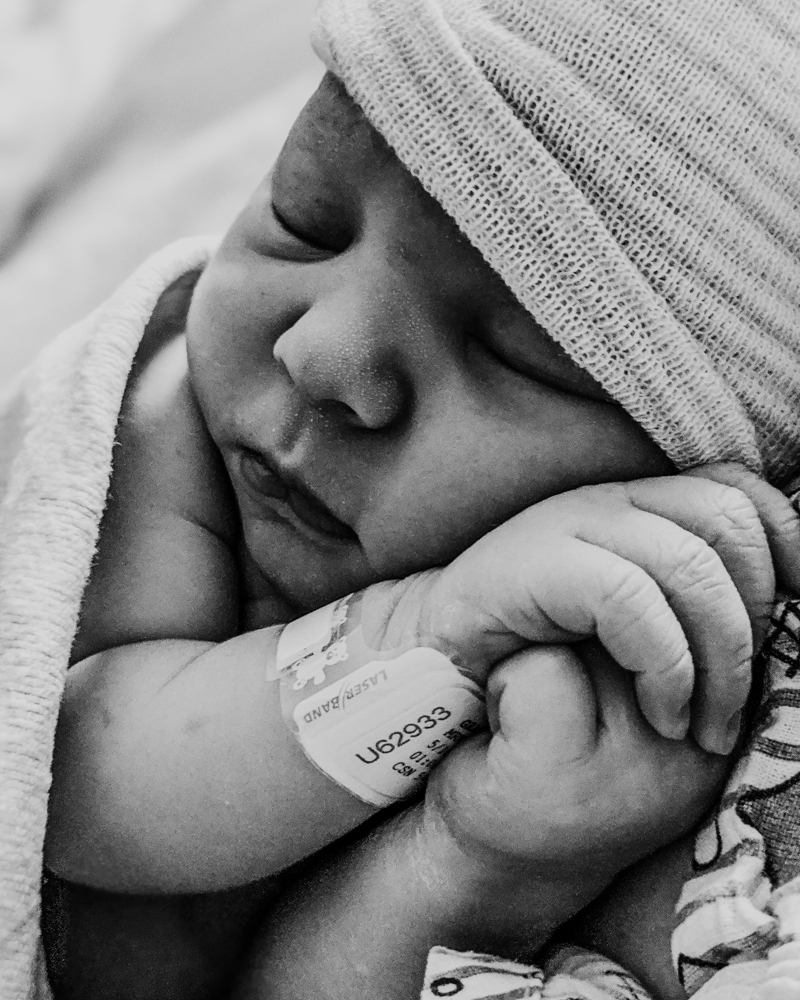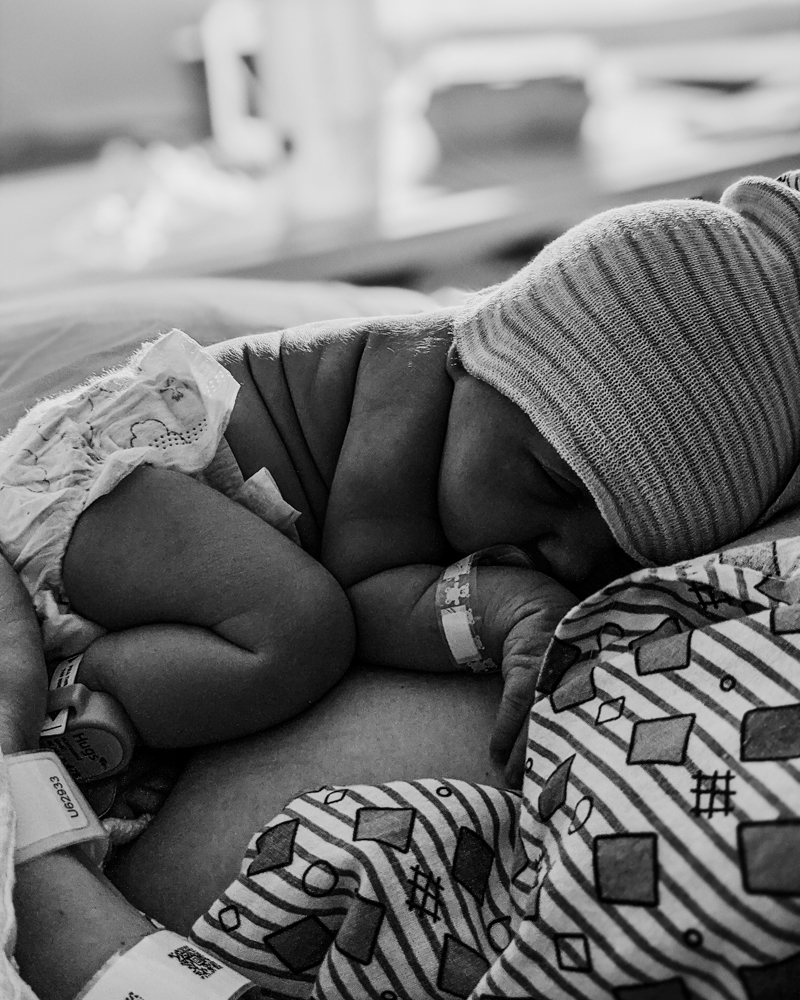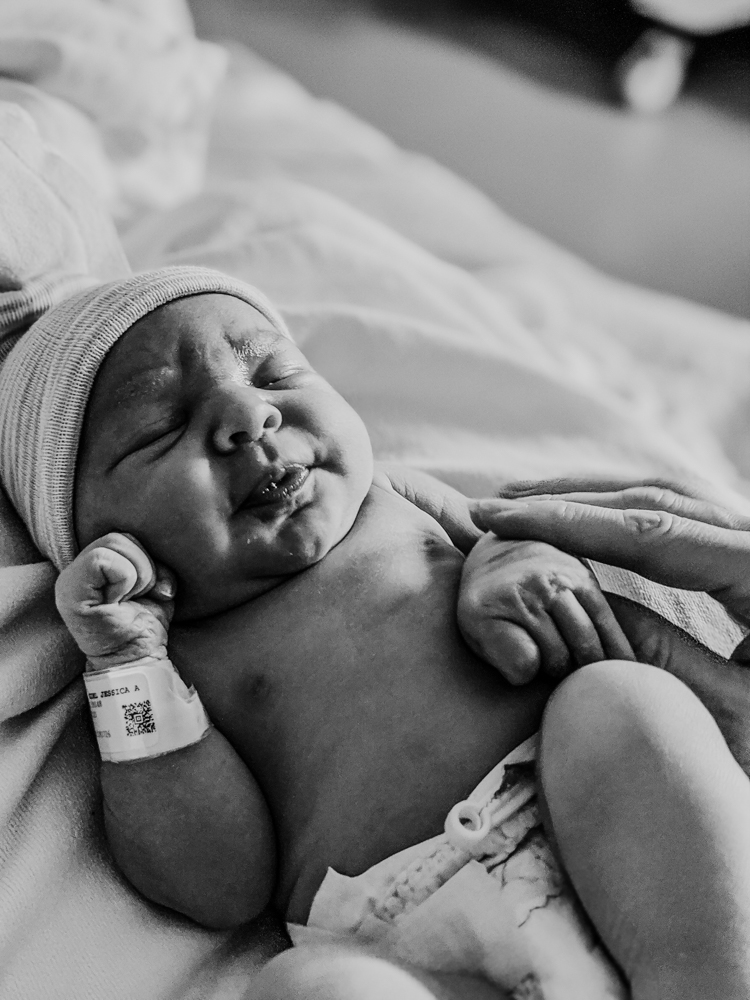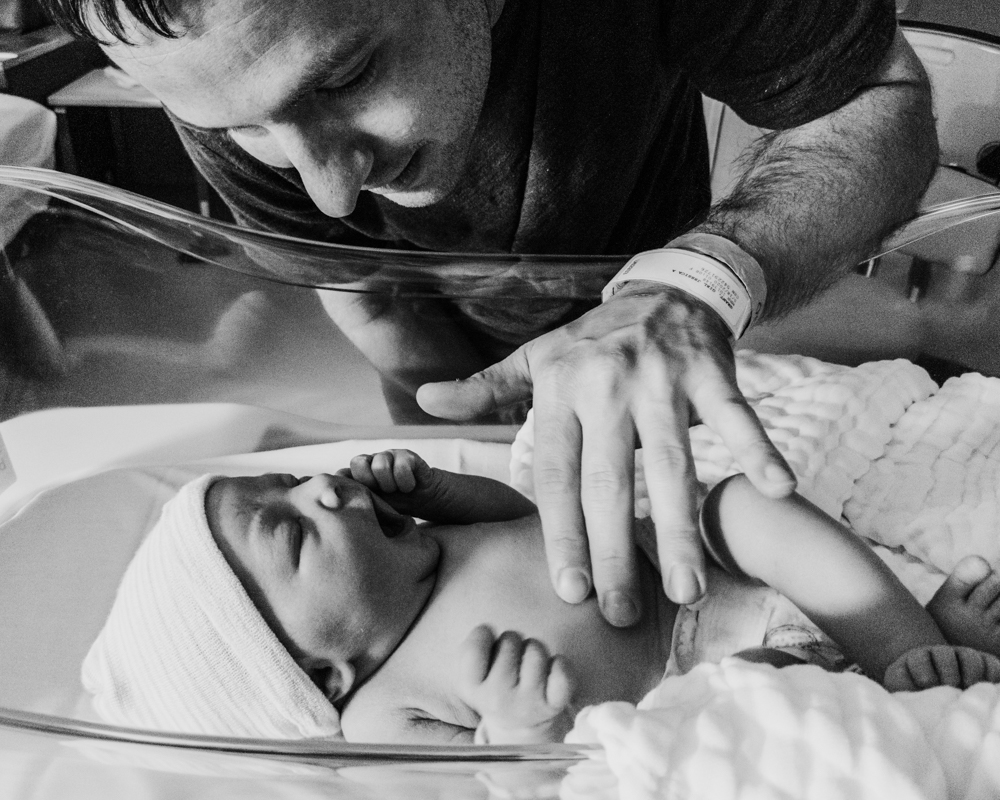 We chose to be discharged as soon as possible after the required 24 hours (which ended up being more around 36 due to her time of birth). The only thing holding us back from leaving was finalizing a name. I am the indecisive mom who required every minute of my babies' previous hospital stays to choose from our short-lists, so making a decision in half the time when we had absolutely no choices and very little sleep was daunting. After swiping through baby name apps and scrolling through online lists for hours, we circled back to the initial name I suggested months ago (funny how that happens at crunch time) and it couldn't be more perfect for her.
Our sweet Josephine Luna Grant. We love you to the moon and back.