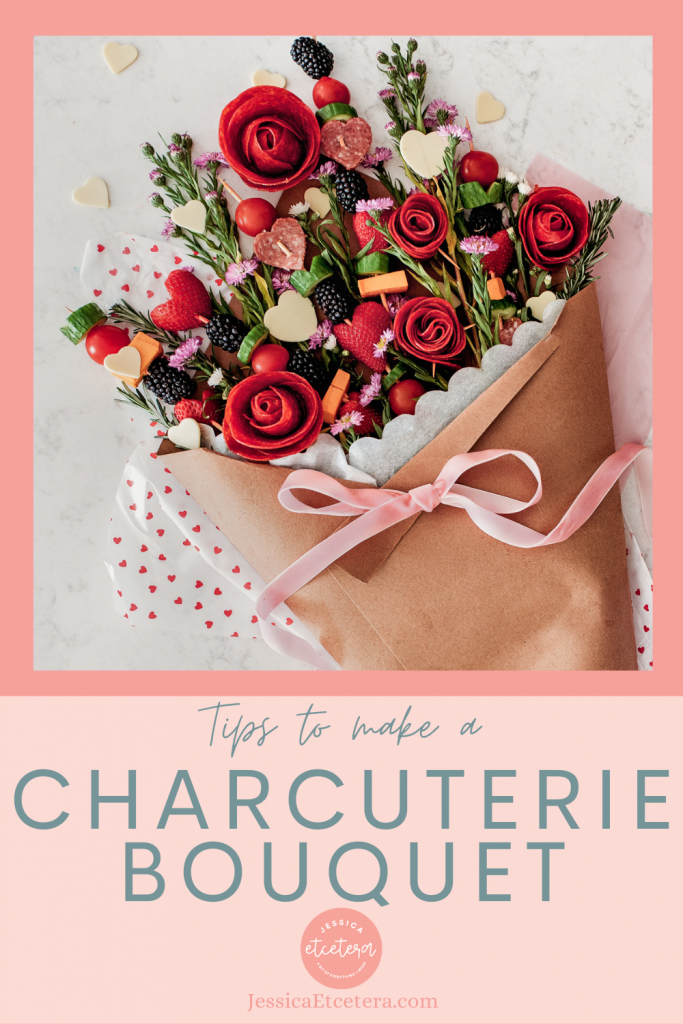 I scrolled past a charcuterie bouquet on Pinterest about a month ago and haven't been able to get it out of my head! So for Valentine's Day, I thought it would be a perfect way to serve up a yummy and beautiful snack or lunch for my kids. I could see this being the perfect addition for any occasion. Put together a charcuterie bouquet for your next Galentine party with your girlfriends or a romantic night in with your sweetie.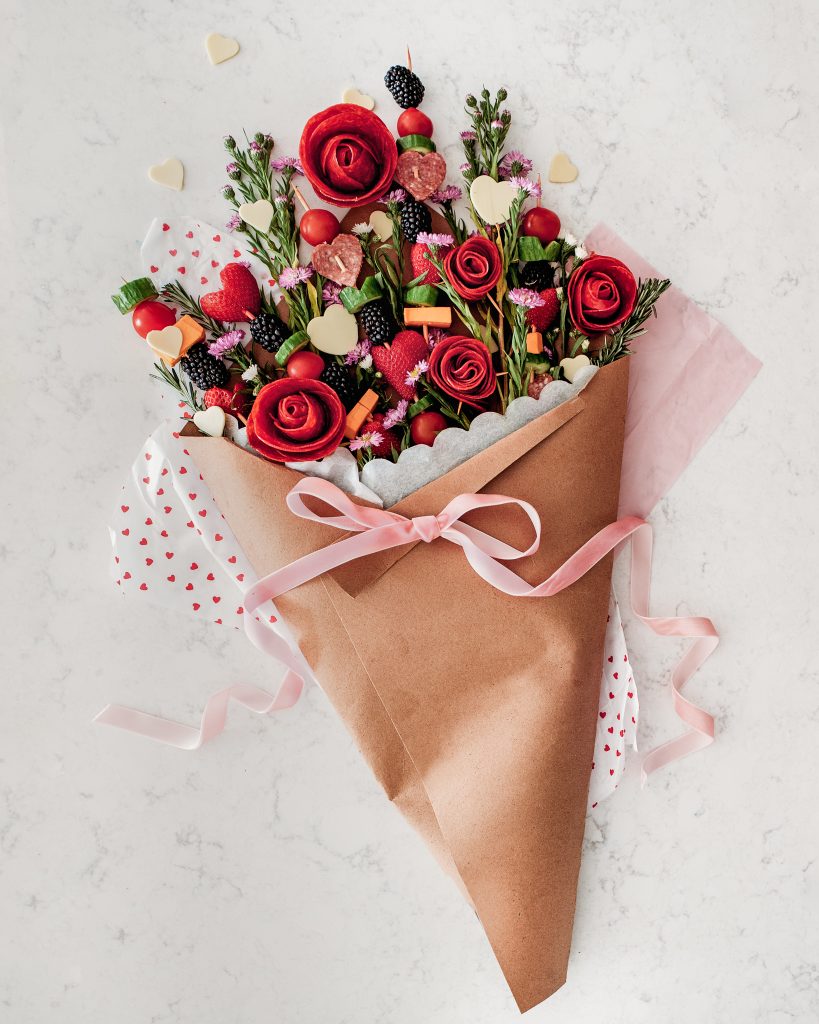 Tips to Make a Charcuterie Bouquet
•Prepare your food items- I chose foods that would be good for snacking: bite size salami, cheese slices and cubes, baby cucumber, blackberries, strawberries, cherry tomatoes. I used a heart cutter for the meat and cheese and a knife to cut strawberries into hearts.

•Use wood skewers for the stems- Fill each skewer with a variety of meat, fruit, veggie, cheese, etc. so each person can take one and have their own snack stick!

•Fold a piece of brown packing/craft paper as shown; one corner is the top and then wrap the two sides together creating a cone shape as if holding a flower bouquet. Press flat. I secured it with a few staples and added a decorative ribbon to hide them.

•Filler – add real flowers (check my list below to make sure they're food safe!) and herbs like rosemary. The purple and white flowers in my bouquet are Aster.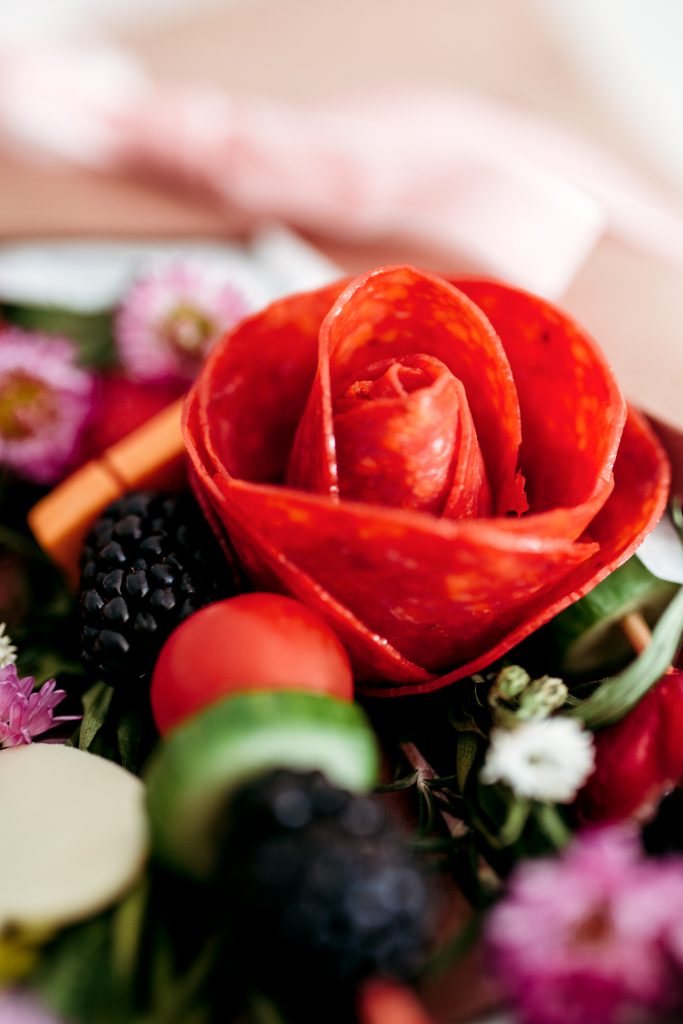 How to Make a Charcuterie Rose
Check out the video below that I posted on Instagram and let me preface these directions by saying making this pepperoni flower is easier than you may think!!
• I used a water bottle, but you can also use a regular cup for a different look. Shot glasses or champagne flutes also work well!
•Fold a piece of pepperoni or salami over the rim.
•Continue adding more pepperoni around the rim, overlapping as you go.
•Add as many as you'd like or will fit; more = fuller flower. Mine had about 7-10 slices.
•Turn it over onto your board and lift the glass to complete your rose !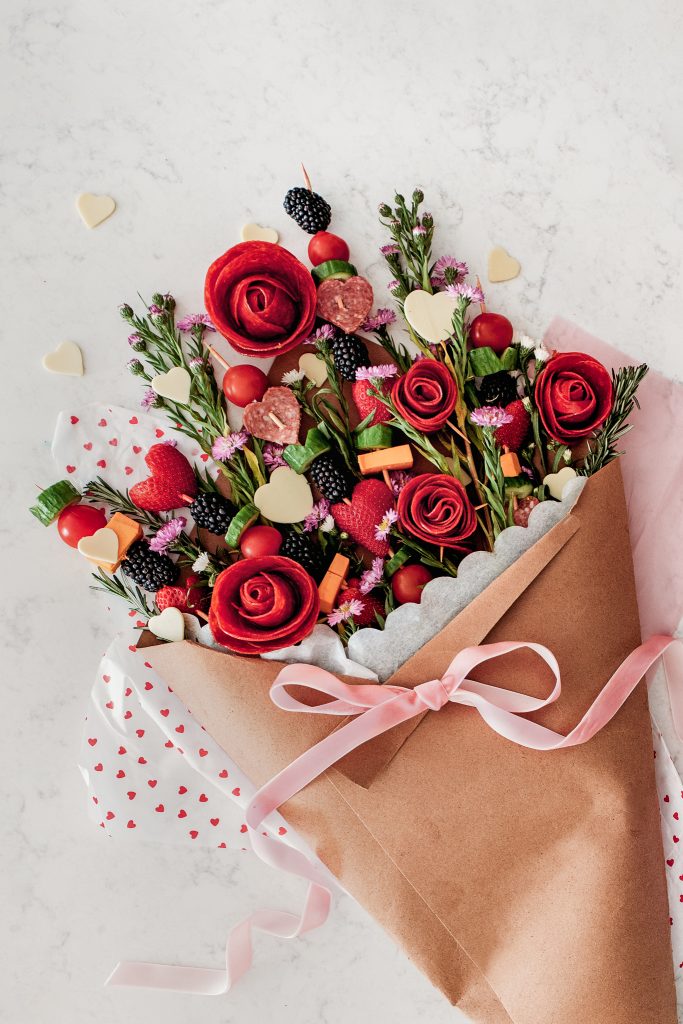 Which Food Safe Flowers To Use for a Charcuterie Bouquet
Something I had not thought about until I was standing in front of the flower aisle at the local grocery store was which flowers were safe to add to my charcuterie board. I planned to layer pretty flowers in with the snacks and needed to be sure that the varieties I chose would be safe to have in contact with consumables. Here is just a short list of non-toxic flowers that I found can be safely added to your charcuterie bouquet, if in doubt a quick grocery-aisle Google search is always your best bet! Also be aware that flowers may have pesticide or other chemical residue. If you're ordering ahead of time, check out this online edible flower florist !
Marigolds
Hibiscus
Pansy
Lilac
Lavender
Rose
Dahlia
Mums
Borage
Nasturtium
Bachelors Button
Chamomile