I'm just about 2.5 months postpartum and finally got a chance to round up 10 self-care products that have been essential to have at home during the first few weeks after having a baby! Take a look at some of my postpartum favorites below!
This post contains affiliate links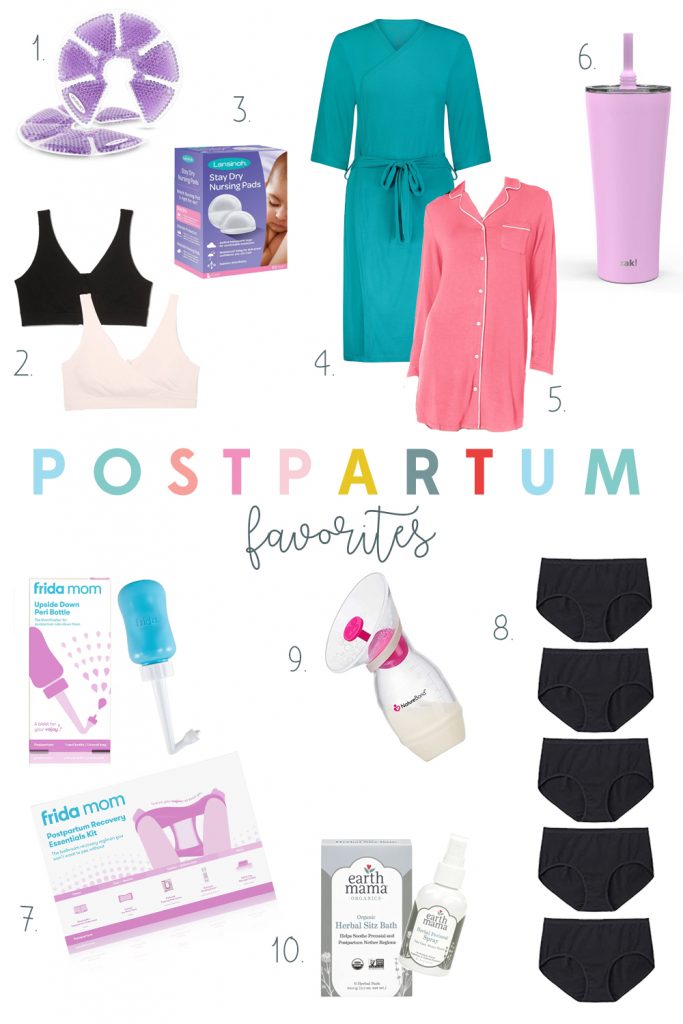 Lansinoh Therapearl Hot/Cold Therapy: Let's jump right into it, these hot/cold therapy packs were the BEST to get my boobs through the first few months. In fact, I had two sets so that I could rotate them out of the refrigerator and microwave as needed. When cold, they help relieve engorgement. When hot, they helped with plugged ducts and let-down.
Comfortable bras : These are my favorite for the first few weeks+ of sleeping and lounging around. The wide straps are comfortable and the material is stretchy and soft! A must to hold nursing pads in place overnight!
Nursing Pads: After 3 babes, this brand remains my favorite disposable nursing pad. I typically switch to reusable pads a few weeks in, but these are the best for those early days where extra laundry is not at the top of my to-do list. These ones are smooth under clothing, ultra-absorbent, have a sticky side, and are pre-packaged so they're easy to take on the go.
A Cozy Robe: This robe was perfect for both in the hospital and recovery at home. It was lightweight and butter soft ! (also available in gray and pink!!)
Button Down Jammies: I LIVED in a constant rotation of these pajamas for my last few weeks of pregnancy as well as the first few weeks postpartum. The button down front is perfect for easy nursing access and skin-to-skin time. This nightgown version was perfect for the hospital. More colors available here
A Giant Water Cup : The thirst is real, like 24/7. I had an unquenchable thirst (thanks to breastfeeding and hormone shifts!) and this 30oz water bottle remained at my side for the first few weeks! This one is huge and does a great job keeping liquids cold / hot. This 34 oz tumbler is another great option!
Frida Mom Products: Anything Frida touches is gold (I've loved their baby products for years!), and their Mom line is no different! The Postpartum Recovery Essentials Kit is perfect to have set up and waiting when you return home from the hospital and has a variety of self-care products to get you through the first couple of days of recovery. Each kit contains disposable underwear (4pairs), instant ice maxi pads (4), cooling pad liners (24), perineal foam, and a caddy to store it all in. Upside Down Peri Bottle: Somehow they even made a better peri bottle 😆 It has rave reviews so I had to try it – it didn't disappoint and was much more convenient to use than the hospital bottle thanks to the angled nozzle!
Postpartum underwear: Bring on the granny panties. I highly, highly, recommend a set of cheap, dark colored underwear. These ones are the perfectly full coverage with a little stretch to hold yourself together. I ordered a size up for an even more comfortable fit.
Silicone Manual Breastpump: This is the single greatest invention since my older kids were babies! This pump suctions on to "catch" milk that would otherwise just leak into a breast pad. I built quite a freezer stash just by attaching it to the opposite side that she was nursing on or as a way to relieve engorgement. Haakaa is the most well recognized brand, but I used this one from Naturebond that is the same concept but comes with a lid and stopper.
Earth Mama Perineal Spray : Tears, stitches, and general discomfort is soothed and cooled by this herbal spray. If you can find it, I also recommend making padsicles with the Earth Mama sitz bath!